As a professional or amateur baker, there is nothing more satisfying than a delightfully light cake that simply melts in your mouth.
From the ooey-gooey texture of the sponge to the sweetness of the frosting swirled on top, every bite you take becomes a true party.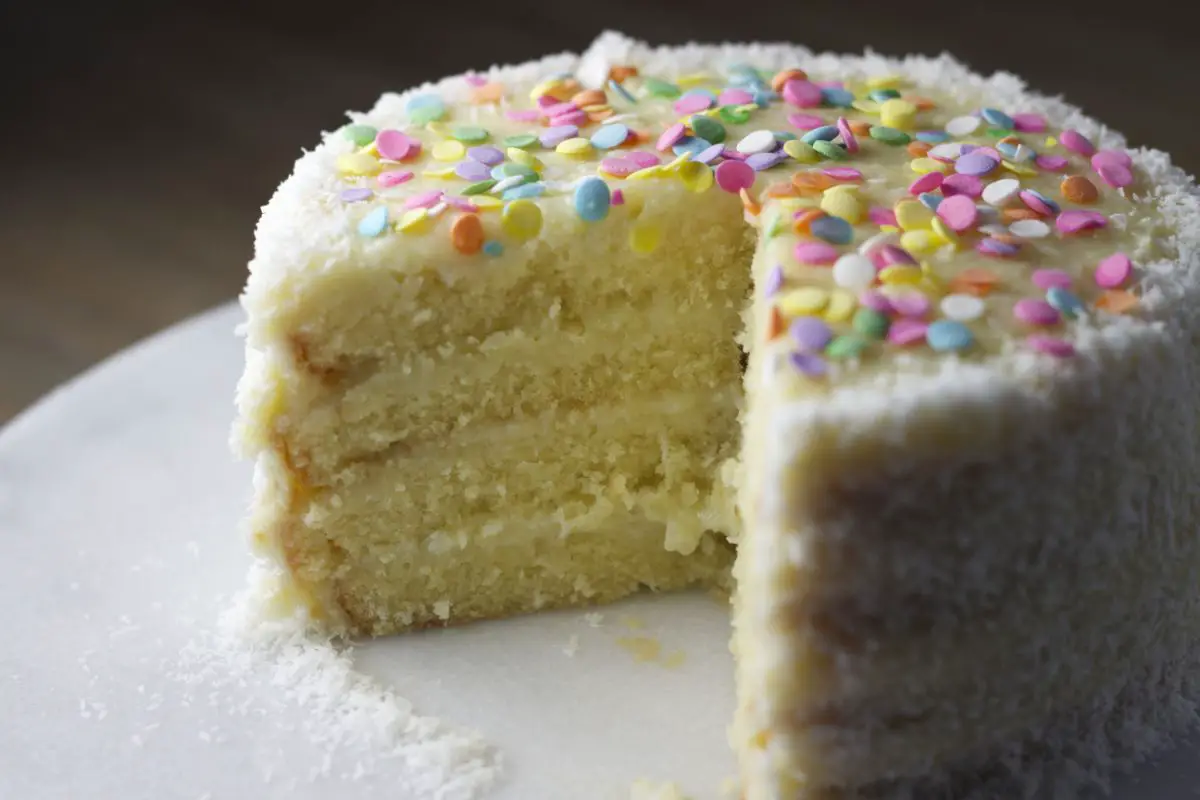 You may not believe it, but baking a light and fluffy cake sponge is one of the most difficult kitchen skills out there.
It's not just about knowing how to mix ingredients, but understanding which flavors complement each other, and when it's appropriate to go all-in on the decoration.
This guide contains everything you could ever want to know about cakes.
Not only does it include some of the most delicious cupcake recipes out there but it also contains some helpful advice for all types of cake baking to set you up for success.
We'd also like to welcome the readers of Jenniferbakes.com to our domain. We've recently acquired the website and simply cannot wait to begin showing you all the content we have to offer!
That being said, let's jump right in so you can be on your way to cupcake town in no time at all!
A Brief History Of Cake
Origins
Cake is arguably the most beloved type of bake in existence. It has a pretty rich history that reportedly stems back to Ancient Egypt, where only one variation of the treat existed.
At this time, cake was originally made as flat and round unleavened bread cooked on hot stones before being served to whoever wanted to indulge.
Nowadays, it is so much more than a few simple ingredients, and there are countless recipes out there.
The evolution of all baked goods carried on for years afterward all through the discovery and incorporation of new, fresh ingredients, and the creation of impressive baking techniques.
This was especially prevalent with cake.
People quickly began to realize that cake could be more than just a handful of ingredients.
As a result, they started to become more experimental with the types of fillings used to enhance flavor, and decorations used as decoration.
(Side note: you'll be happy to know that the light, airy, and fluffy types of cake we enjoy baking in today's world also bear no resemblance to bread!) 
Baking Cake In The Modern Era
Cakes come in all shapes, sizes, colors, and designs, ranging from bright and colorful cupcakes to small and delicate wedding cakes.
Nowadays, a good cake is all about extravagant flavors, a moist and easy-to-eat sponge, and perfect decoration.
The trick to baking something that tastes as good as it looks is all about having confidence in what you are doing and the skill to mix ingredients.
The best part is that you don't need to be the best or most experienced baker around to make something delicious! 
For example, if you're strapped for time and money when it comes to your wedding day and you don't possess the skills to bake something complex, it is possible to turn the taste of a simple box cake recipe into a cake fit to accompany your special day.
Remember that a great bake involves getting the flavor and texture just right.
If you're a bit stuck with where to go with a particular type of cake or want to add something extra to a recipe, you can never go wrong with chocolate flavoring!
The Cupcake Craze
Now we move onto the wonderful world of cupcakes.
These small bundles of deliciousness were first established in 1796 in American Cookery by Amelia Simmons when a recipe calling for "a light cake to bake in small cups" was written. 
These sweet treats appear to have replaced the traditional cake in recent years and are now commonly seen as the peak of fashion in the baking world.
Now, not only can cupcakes be decorated and tailored to a specific theme but they can also be flavored with just about anything for a perfect on-the-go baked treat.
Since cupcakes are handheld and small, they're a brilliant bake for multiple occasions — including those times when you don't want to bake an entire cake or bust out your best plates, knives, forks, and napkins.
If you're an amateur baker, we'd recommend starting your cake-baking journey with cupcakes. They require a shorter baking time and minimal ingredients, making them pretty hard to get wrong!
You can make the process even easier at the start by using a box mix to make your cupcakes instead of hand-mixing the ingredients. This will save you even more time.
3 Of The Most Indulgent Chocolate Cupcake Recipes You Cannot Skip
We don't know about you, but we have a huge sweet tooth and are always looking to find inspiration for new delicious cupcake recipes to try. Especially when it comes to chocolate cake.
A good chocolate cake should be defined by the following three descriptors: moist, rich, and decadent. Add some form of frosting on top or in the middle of the cake, and you'll have a delightful bake on your hands.
If you're interested to find out more, let's dive into some mouth-watering chocolate cupcake recipes.
1. German Chocolate Cupcakes
The title of "German chocolate cake" is pretty deceiving as the original recipe does not hail from Germany. Instead, it originated in America in 1852 from an American baker called Samuel German.
It is traditionally a light-colored cake with a mild chocolate taste (thanks to the inclusion of sweet baking chocolate), and buttermilk, and is also covered in a delicate coconut pecan frosting.
It's also typically anywhere from two to three layers.
The flavor of a German chocolate cupcake is generally less indulgent than a typical chocolate cupcake but is no less delicious.
2. Oreo Cupcakes
These delicious cupcakes are an automatic hit with people of all ages! Packed with ooey chocolate goodness, there's nothing better than sinking your teeth into one of these indulgent treats at any time of the year.
An Oreo cupcake has a rich chocolate flavor that pairs exceptionally well with the sweetness of a thick vanilla frosting. This can then be topped with an Oreo cookie for decoration if you want to.
There are even keto, vegan, and gluten-free variations of the Oreo cupcake for you to try if you have any dietary intolerances or preferences! We will dive into this in more detail later in this guide.
3. Black Bottom Cupcakes
A black bottom cupcake is filled with cocoa powder and provides a wonderful chocolate flavor and a dark coloring that astounds. 
The flavoring of the chocolate compliments the addition of a cream cheese filling perfectly, giving you a deliciously rich cupcake in return!
They are generally pretty quick and easy to make too, with a baking time of around thirty minutes.
This means that you can whip up these cupcakes in no time, as long as you have a good recipe guiding you through the process.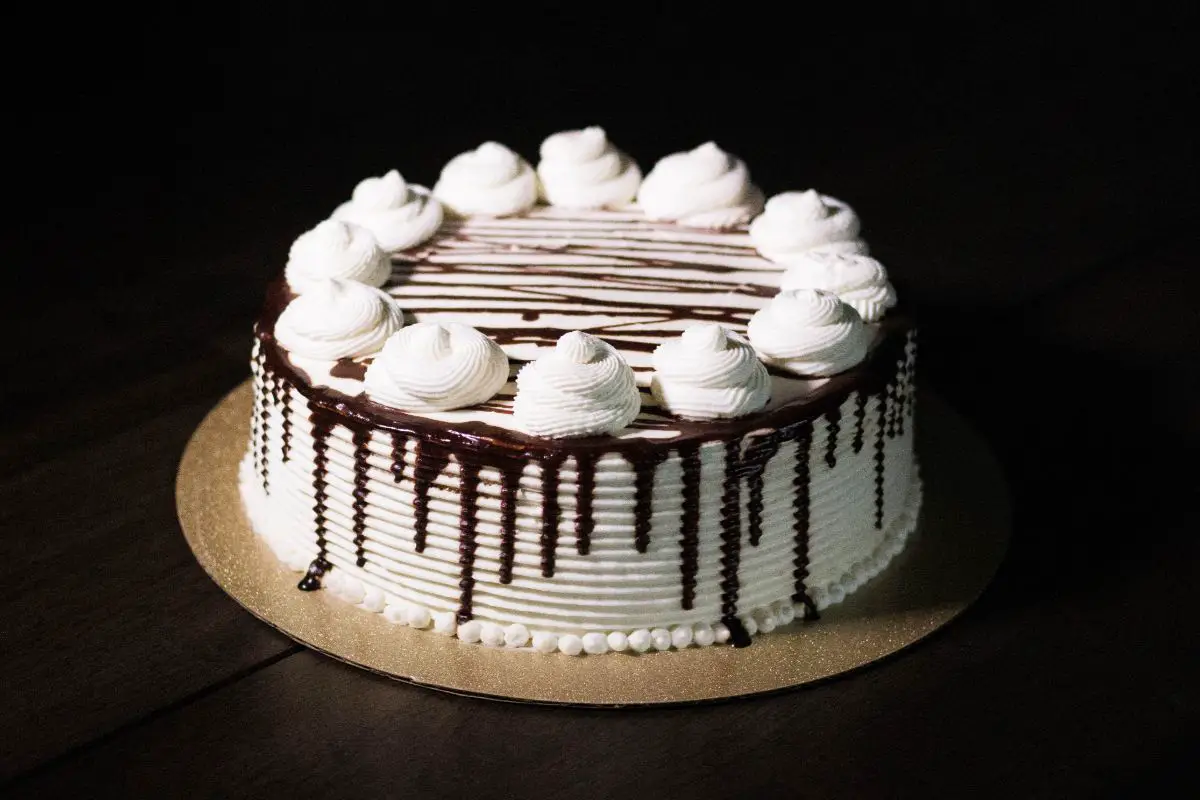 The Best Celebration Cupcake Recipes Around
Cupcakes have also become synonymous with celebration. These creations can add extra happiness to any occasion, symbolize success and milestones, and also make for the perfect gift for celebrants of any age.
In simpler terms, there's nothing that quite matches the power of cupcakes when it comes to lighting up the party and making things extra special!
If you want to celebrate in style, you've come to the right place! Certain celebrations call for the most delicious creations possible — with the sweetest fillings and lots of fun and appealing cake decorations to boot.
This is when these recipes will come in very handy.
Regardless of the cause for celebration, there's a great cupcake recipe out there for you to try. Here are our top suggestions for these big milestone celebrations.
Birthday
Baking a batch of cupcakes to celebrate a birthday (whether for your special day or for someone you love) is just as brilliant as baking a standard birthday cake.
However, they're easier to eat, generally less messy, and considerably more hygienic!
For instance, you can never go wrong with baking a light and moist vanilla cupcake topped with whipped buttercream and finished with rainbow sprinkles. These not only look adorable but also taste great, too!
If regular-sized cupcakes aren't to your taste, you can easily bake some luscious mini cupcakes to add to your birthday dinner table.
They are sweet, tiny, and charming to look at, plus you can eat several of them without feeling guilty! 
The best part is that they are easy to bake and take little to no time at all. In less than half an hour, you could have two dozen of these sweet treats at your fingertips!
Baby Shower
A baby shower is a party that is thrown to celebrate the impending arrival of a new baby.
The guests, usually close friends and family, have the opportunity to showcase their emotional support for the parents-to-be while gifting essential items to help prepare for the new arrival.
Baby showers typically feature plenty of games and entertainment, in addition to a buffet packed with great-tasting finger foods. However, no baby shower is complete without a cake!
The cake, or cupcakes, in a baby shower, often sets the timeline of the event, with the arrival of the sweet treats signaling the end of the festivities. 
The event may even feature extra special gender reveal cupcakes, with a pink or blue sponge, to wow every guest. These may even be decorated with girl/boy-specific decorations to reveal the gender of the baby. 
Generally, if you want to provide a thoughtful gift for the parents-to-be, baking some baby shower cupcakes is a great way to go!
Dinner Party
If you want to be the host with the most, or simply want to end the night with a flourish, try serving an array of delicious cupcakes at your next big dinner party. 
Not only can you tailor cupcakes to meet the specific needs of your guests, but you can also bake and decorate them in little to no time!
1. Kid-Friendly Dinner Party
Whether you're hosting your entire family at your house or holding a party for your kid's birthday, knowing exactly what kid-friendly foods to serve is crucial.
Children have pretty simple taste palates which means that easy-to-cook party foods like pizza, pasta, chicken nuggets, and cookies are a no-brainer for any type of party.
But you may be a little lost when it comes to deciding on a dessert to serve because let's face it, kids adore all-things sugar related!
A simple, universal solution would be to bake some cupcakes with a design that directly appeals to kids. You could make Minnie Mouse cupcakes, for example, as the character is a pretty familiar one for kids of all ages.
Or, for more grown-up kids, you can opt to create a subtler but still appealing floral design on top of the cupcake, such as a sunflower.
To achieve this sort of final look, all you need to do is top cupcakes with colorful piped frosting and chocolate chips in the center, and voila! 
2. Generic Dinner Party
Or, if you want the dessert to really impress your guests as a hostess, you could opt to make professional-level cupcakes at home.
We're talking delicious flavors and enticing decorations that will take your guests on a taste journey. 
Even if you lack the technical skill to pull off cupcakes that look like they've been bought from a bakery, we're sure your guests will appreciate your homemade cupcake efforts regardless!
You can even bake some dog cupcakes for your canine friend to enjoy along with you.
Graduation
Often one of the most overlooked celebrations in your life, graduation is a huge rite of passage that deserves some special recognition! 
Whether you're celebrating an advancement from preschool to Kindergarten, or are planning to celebrate a well-earned college degree, there are plenty of graduation cupcake recipes out there that will make the perfect addition to any party!
You can opt to try a simpler-but-no-less-effective bake with generic flavored cupcakes (think chocolate and vanilla) topped with stunning graduation-themed sprinkles.
This will yield amazing results as lots of people adore these flavor combinations.
Or, you could get crafty and try your hand at making a graduation cap out of fondant. This may be a bit trickier to accomplish so you must not be disheartened if it does not turn out perfectly the first time.
Whatever you do, baking some graduation cupcake recipes is a brilliant way to brighten up any graduation day.
7 Fun Cupcake Themes You Must Try
We've toured through perfect cupcake recipes for dinner parties, birthdays, and baby showers, and we've now reached the next stage. What is it, you ask? Why, themed cupcakes, of course!
These are arguably a little more difficult to pull off as you must be able to pair some form of appealing decoration with enticing flavors to fit a specific theme.
Despite this, you do not need to be a professional baker to create something for you and your guests.
Here are a couple of themed cupcake ideas for those times when you may be feeling a little bit uninspired.     
1. Mermaid Cupcakes
Who doesn't love The Little Mermaid? 
Whether you're a Disney fanatic or someone who can appreciate the mythological creature that is the mermaid, you should consider making some mermaid-themed cupcakes at some point in your life.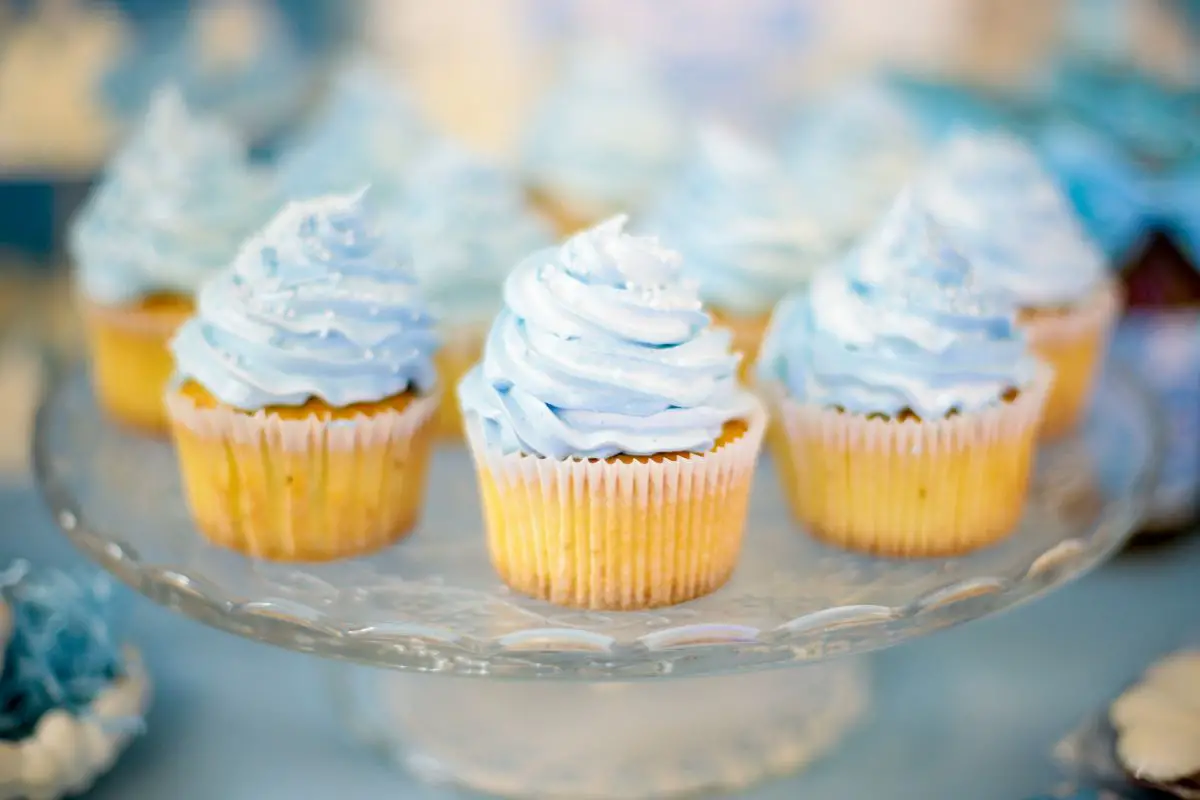 These cute, colorful, and cheerful bakes are a brilliant addition for birthdays and kids' dinner parties, and also make a fun weekend bake if you're looking to brush up on your skills! 
2. Dinosaur Cupcakes 
Do you have a little one who adores dinosaurs? Are you planning to throw a Dinosaur party? Or are you simply looking for a fun bake to pass the time on a rainy afternoon? 
If you said "yes" to any of these options, let us introduce you to the world of dinosaur-themed cupcakes!
The best part about these cupcakes is that there are lots of amazing recipes for you to try featuring delicious cupcake flavors ranging from indulgent chocolate to classic vanilla. 
You can also try your hand at decorating these cupcakes using colorful fondant and piped icing (in the shape of a dinosaur, of course) if you're feeling adventurous.
3. Superhero Cupcakes
Arguably one of the most common cupcake themes is superheroes.
Whether you're planning to make these types of cupcakes for a birthday party or as a little pick-me-up, there are plenty of recipes out there for you to try out.
If you're a big Marvel fan or want to bake cupcakes for someone who is, you should consider taking a look at Iron Man or Spider-Man-themed cupcakes.
Not only are they easily recognizable characters but there are plenty of design options available which will keep you feeling inspired.
On the other hand, if you're more of a DC fan, there are lots of additional themed cupcake options out there for you to choose from.
Think of your favorite DC characters like Superman or Batman and get creative with your bakes. 
4. Easter Cupcakes
You can get the whole family involved in some serious Easter fun by making some cupcakes for the occasion! The key to a good Easter cupcake is to include lots of colors and a cute design.
The bunny is arguably the most prominent sign of Easter, so it makes sense to turn it into a cupcake theme.
If you're seeking some inspiration for your cake design, there are plenty of incredible bunny cupcake recipes out there just calling your name.
Again, you don't need the skills of a professional baker to produce some great cupcakes. And, if you do opt to make some commemorative (and just as tasty) Easter cupcakes, remember to have fun!
5. Halloween Cupcakes
From witches' hats to pumpkins, there are so many decorating possibilities when it comes to baking Halloween cupcakes.
If you're attending a Halloween party or simply want to make something a bit different to hand out to the local trick-or-treaters in your area, there's nothing quite like some delightfully spooky cupcakes.
We'd recommend sticking to chocolate cupcakes to add an extra dimension of color and flavor to your bakes, although you can stick with whichever flavors you most prefer.
6. Thanksgiving Cupcakes
Cupcakes during this holiday season can truly rival those from any other holiday. After all, who doesn't want to turn their favorite Thanksgiving dessert into a compact cupcake?
From sweet potato pie to pumpkin spice, there are plenty of appetizing flavors and recipes to choose from when you bake Thanksgiving cupcakes.
You can also get as creative with the top of your cupcakes as you like.
Feel free to stick with a simple dollop of thick frosting or channel your inner baker by creating a turkey out of leftover Halloween candy and frosting. The choice is yours!
7. Christmas Cupcakes
The Christmas season is all about spending time with family and gorging on some of the tastiest food around — ranging from Turkey to hand-crafted gingerbread houses. 
Since baked treats are pretty indulgent, they are meant to be served at times that are truly worth celebrating — something that is especially true at Christmas.
As a result, Christmas is renowned as the best season for baking and is generally the time when people put their skills to the test in the form of Christmas cupcakes and cookies. 
If you're planning to host a Christmas party during the holidays, you can push the boat out by creating some delicious cupcake additions to your party spread. 
For example, you can try your hand at baking some Christmas tree cone cupcakes. They're relatively simple to bake, look amazing, and will taste phenomenal all throughout the holiday season.
3 Delicious Dessert Cupcakes You Need To Bake For Any Occasion
If themed cupcakes aren't your thing but you'd still like to try something new, there are plenty of delightful cupcake recipes out there.
Rather than focusing on the decoration, you can switch your focus to the taste of your bake.
Fortunately, we've narrowed down this endless list to a couple of incredibly sweet (but equally tasty) treats for you and your guests to enjoy.
They're still pretty simple but provide a different taste profile and aesthetic than you may typically be used to.
If you want to get started, read on!
1. Cheesecake Cupcakes
Love cheesecake but couldn't eat a whole one? Cheesecake cupcakes are the perfect solution!
They essentially split the deliciousness of a normal-sized cheesecake into bite-sized portions that are easy to digest without becoming too sweet.
Now that is something worth baking!
All you'll need for these bakes is a good packet mix (depending on the type of cheesecake cupcakes you want to bake) and some serious patience.
This is because they may be a bit trickier to achieve than other cupcake recipes included in this guide.
You can opt to bake your favorite decadent red velvet cheesecake or stick with a classic vanilla or cookies and cream flavor — the choice is completely up to you.
2. Banana Cupcakes
Do you love banana bread but wish portions were a bit smaller? If so, banana cupcakes will be perfect for you!
You get all the goodness of hearty banana bread but with some added sweetness from frosting and other supporting flavors.
What more could you ask for?
Any variation of the banana cupcake would make a great addition to a dinner or birthday party. It would also pair well with a cup of your favorite tea or coffee if you're not a party person.
If you are considering baking some banana cupcakes, there are so many variations to try.
You can stick to a plain old banana flavor (which is still highly delicious), choose a banoffee flavor, or could even choose to mix banana with white chocolate for added flavor.
3. Rainbow Cupcakes
Are you looking for a cupcake that's sure to put a smile on anyone's face? Then the rainbow cupcake is your next bake. 
These colorful bite-size treats are easy to make and even more enjoyable to eat. All you have to do is add an array of gel food coloring into your batter to get a full rainbow effect. 
The best part? Every cupcake will be unique, even if they're made from the same batter. So, it truly is a one-of-a-kind cupcake!
What Are Cake Balls, and Why Are They So Good?
For an even easier (and much quicker) bake, you could try creating some bite-size cake balls to add a pop of color and fun to your dessert table.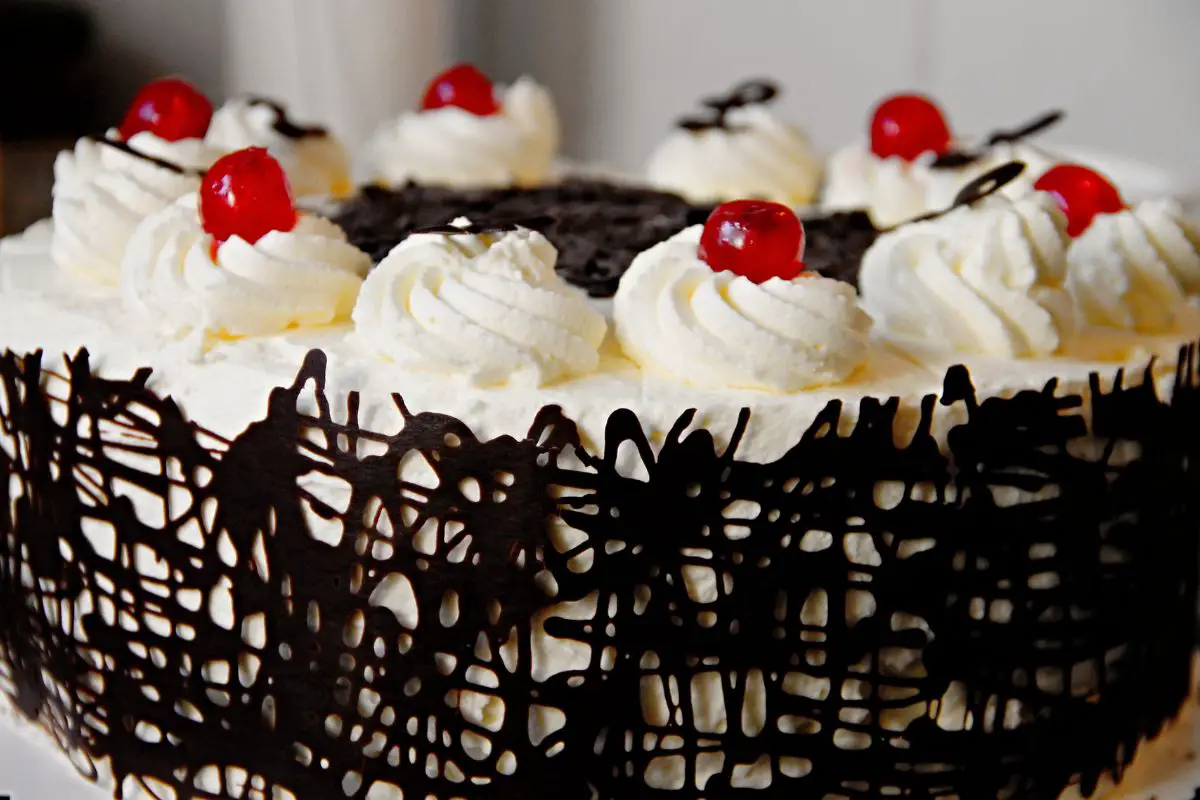 These are usually small spheres consisting of reconstituted cake crumbs that are then coated with frosting or chocolate to give them some extra flavor. 
Cake balls can also be decorated using chocolate shavings, sprinkles, nuts, or other fun confectionery toppings for some added texture.
Cake balls don't have the same consistency as traditional baked, sweetened, and leavened cakes. However, it does offer a similar dough consistency which can be attributed to blending the cake crumbs with icing.
To create a cake pop, all you need to do is add a lollipop stick to your cake ball and secure it in place!
Are You Vegan Or Gluten-Free? Don't Sweat It
Did you know that cupcake recipes are easy to modify to accommodate dietary restrictions? Well, they are!
There are a whole load of great ingredient substitutions out there which means recipes can be tailored to specific needs.
Simply put, having any type of dietary restriction will not, and should not, stop you from indulging in a cupcake (or a few, we won't judge!)
For example, if you were to make any variation of a gluten-free cupcake, including red velvet and vanilla flavors, the recipe would call for an alternative flour that does not contain gluten.
If you are vegan or are baking cupcakes for someone who follows that dietary lifestyle, you will make your cupcakes without any type of animal products.
This includes eggs and dairy. Although this can seem daunting, the process of baking vegan cupcakes is pretty much the same as 'regular' cupcakes!
How To Bake Amazing Cakes (And Become The Envy Of Everyone)
As easy as it may seem, and as straightforward as some of the above cupcake recipes are, baking is pretty complex with lots of different methods and techniques to learn.
These are especially important if you are planning to pursue baking in a professional capacity. 
There are a few simple things you can do to help yourself feel more at home as you bake, such as working with a more experienced baker or opting for more straightforward recipes.
Before you do any of these things, though, there are a few general tips and tricks you must know about baking. These will provide you with more of an idea about what you must do.
1. Ensure You Understand The Differences Between Cooking And Baking
One of the most significant things you must do is make sure that you understand the key differences between cooking and baking.
Although they are both based in the kitchen, the outcome for both is completely different. 
Whereas baking a cake requires an oven, cooking does not. And while cooking describes the process of heating raw ingredients and changing their chemical compound, the way that you heat them is what constitutes baking. 
And for something to be considered "baked", it must be heated using a consistent dry heat.
Making even the smallest mistake while baking could be pretty detrimental (and may result in a disastrous bake) whereas cooking mistakes are much easier to rectify.
2. Use Only The Best Ingredients
Buying ingredients to make any type of dessert can be a pretty expensive experience, especially if you must follow a precise recipe!
Whether you're making a simple marble cake to eat alongside a cup of your favorite coffee at home, or are tasked with baking an extravagant wedding cake featuring multiple tiers, you must source the best possible ingredients.
There are a few key reasons for using high-quality, fresh ingredients: one of which is the success and overall taste of your bake, and the other is supporting local suppliers.
For example, using quality dark chocolate for a chocolate cake recipe will help you to achieve a much better taste than lower-quality chocolate.
3. Know How To Mix Ingredients
After measuring your ingredients, your next step will be to mix everything. This distributes ingredients evenly and incorporates air to provide a good rise and a lighter texture.
Your ingredients must be added together in a specific order so that you can achieve the desired outcome. The mixing technique that you use will have a significant impact on the product's appearance, texture, and volume.
There are a couple of ways of mixing ingredients, including the following:
Folding
Blending
Cutting
Creaming 
Beating 
Whipping
Kneading 
Once the mixture is complete, you can add it into a cake tin or separate cake liners if you are making cupcakes.
4. Allow Time For The Bakes To Cool
The baking process does not cease once a product is removed from the oven. This is because there is residual heat that is contained in the hot pan, which will continue the baking process as the product cools. 
Once you've managed to get your cake from the pan, or cupcakes from the tray, you must leave ample time for them to cool down before you consider adding frosting.
This is because your bake will finish baking as it cools.
If you try to decorate a cake with frosting before it has fully cooled, nothing will stick and you will be left with a big mess!
5. Learn How To Present Your Bakes
Of course, like any other type of bake, a cake must look appealing in terms of its presentation. As strange as it sounds, the way that a cake looks can significantly impact the overall taste!
With cupcakes, for example, presentation is usually a quick layer of ready-made frosting or a generous dollop of cream on top, unless the bake is carried out by a professional in the field.
In this case, the cupcakes must have a uniform design and also needs to be packed well in a box, a Tupperware box, or a special cake tin.
Bigger or more unusually shaped cakes such as the round cake must also be decorated according to specifications and, if necessary, presented in a way where it is very easy to cut the cake into neat slices for parties or other special occasions.
Is It Okay To Freeze Cake?
Now you know a lot about the different types of cupcakes and cake recipes out there, we've got one more bit of advice to dish out. This time, it concerns whether you can freeze pieces of cake or not.
When left at room temperature, any form of cake will typically stay fresh for three to four days after being baked.
This is the point where a lot of the moisture will be drawn out from the sponge, and the frosting will harden, resulting in a much drier cake.
If you've made too many cupcakes or simply can't face eating what's left of your full-size cake, it can be a real shame seeing the product go to waste.
This is when you may want to consider what your options are for preserving your bake. Namely, whether you can freeze it or not.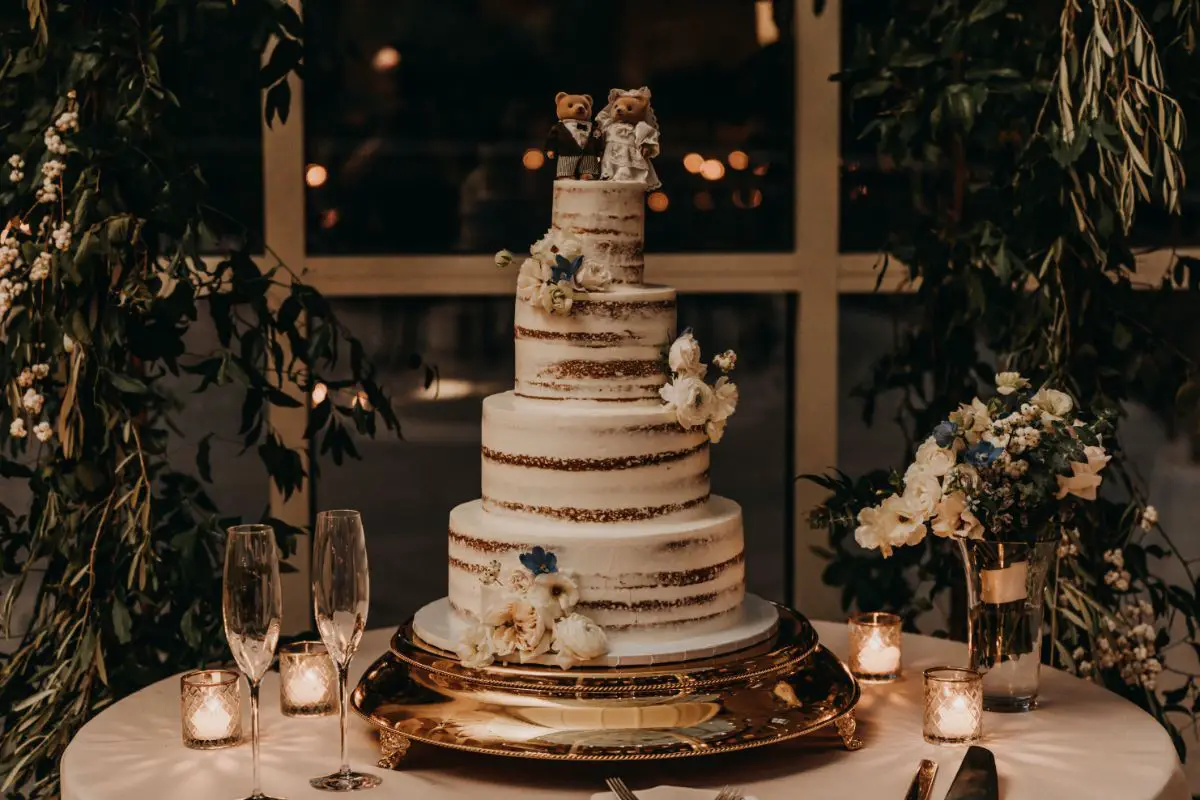 Can You Freeze Desserts?
For context, desserts such as cheesecake can be easily frozen, either as individual slices or as a whole cake, without having to change any part of the recipe.
However, it's a little trickier to freeze a batch of brownies, for example, as this treatment can seriously impact their texture.
What About Cupcakes?
You may be surprised to learn that cupcakes will survive surprisingly well in the freezer for around 3 months.
When stored in the freezer, the cold air manages to keep cupcakes pretty moist, despite the bakes having not been exposed to room temperature for a considerable time.
And Wedding Cakes?
If you decide that you want to savor a chunk of your wedding day for years to come, or want to defrost wedding cake on your first anniversary, you'll be glad to know that it is possible to preserve a part of your wedding cake as a memento. 
You can do this by preparing and then storing your slice of cake safely in the freezer.
However, effective wedding cake preservation is all about how you go about preparing the cake for an extended period in your freezer.
And if you don't do this properly, you may find that when you want to eat your cake a year down the line, it is completely inedible!
To guarantee that the first-anniversary cake tradition is the charming reminder of your special day that you're hoping it will be, or to simply ensure that any type of cake remains intact in the freezer, there are some steps you must follow.
How To Freeze Cake 
There are a couple of steps you must follow if you are planning to freeze any type of cake, be that a simple home bake or a wedding cake. We've outlined these below so that you can preserve your bake.
Before freezing your cake, remove any garnish or decorative pieces from the cake. This will leave just the cake itself and the frosting.
The cake that you plan to freeze should also not feature mousse layers or fresh fruit because these are delicate and can suffer damage caused by deep freezing.
Freeze the cake for around 20 minutes or simply until the icing has hardened and is easy to wrap.
Wrap the cake tightly in a few plastic wrap layers, ensuring that no air bubbles or space remains between the cake and the plastic wrap. Doing so will help to prevent freezer burn.
Place the cake in an airtight container. This step is especially important if you are planning to freeze part of a wedding cake.
Wrap the entire container in tin foil for additional protection from freezer burn.
Leave the wrapped cake to settle in your freezer until it comes time to thaw your cake.
How To Thaw Cake
Remember: the sooner you thaw any piece of cake, the better it will taste.
If you're doing the first anniversary cake tradition that we mentioned above, you should still get to experience a delightful slice of wedding cake provided you packed and defrosted the cake correctly.
Transfer the wrapped cake from the depths of your freezer to your refrigerator at least one day before you serve it. 
Ensure the slices of cake, or cupcakes, remain tightly wrapped until they are completely defrosted. Otherwise, you risk condensation forming in the food itself rather than the wrapping.
Once the cake has completely thawed you can then serve it with your drink of choice, whether that's a glass of champagne or a piping cup of tea.
Summary
Cake is one of the most delicious and highly versatile desserts out there.
It's fit for just about any occasion all year round and uses customizable recipes that mean the bake can be tailored to your needs and preferences.
From indulgent wedding cakes to simple dinner party cupcakes, there are so many amazing cake recipes out there that deserve attention.
Hopefully, after reading this guide, you now have more of an understanding of what your next delicious cake recipe is going to look like!
Remember: you can never go wrong with cupcake experimentation! If you want to develop your skills and learn more techniques, the only way you'll improve is via lots of practice.