If you need some inspiration for Thanksgiving treats and desserts, you have come to the right place. We have put together this mouth-watering list of the best cupcake recipes for Thanksgiving that are fun to make.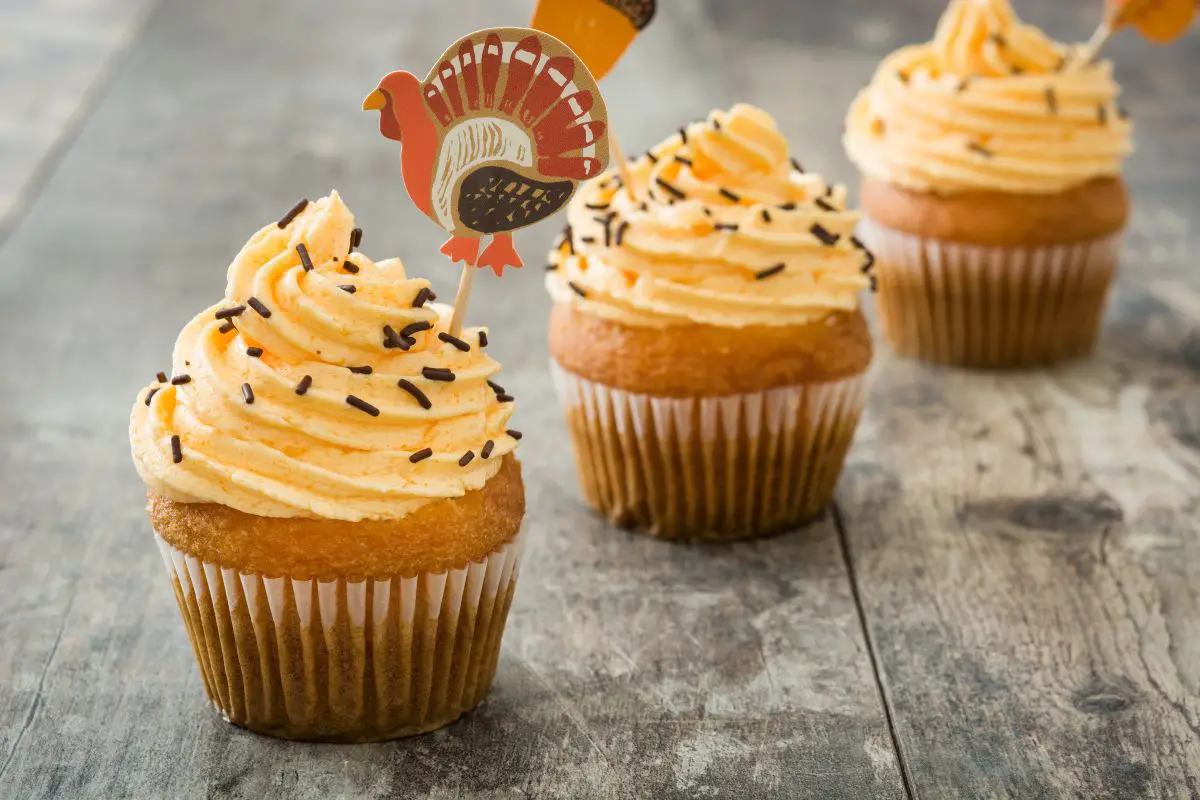 These cupcakes will impress your guests and make the perfect sweet treat for your Thanksgiving celebrations. 
Keep reading to find your perfect Thanksgiving cupcake recipe that you want to have a go at making for your friends and family. 
This recipe takes a classic Sweet Potato Pie, a traditional Thanksgiving dessert, (see also: 10 Of The Best Easy Thanksgiving Desserts You Have To Make Right Now)and turns it into delicious cupcakes. It has delicious flavors of nutmeg and cinnamon along with pureed sweet potato for a delicious sponge.
The marshmallow frosting is sweet and fluffy and the graham cracker crust is a bit salty, and represents the pie crust. The cupcakes are finished off with chopped toasted pecans and cinnamon sugar (see also '10 Tasty Christmas Cupcakes To Make This Weekend'). 
These cupcakes are perfect for serving to your Thanksgiving guests, or enjoyed as a Fall treat (see also '10 Of The Best Spiderman Cupcakes You Have To Make Right Now'). Serve them with a pot of coffee or after dinner for dessert. You can get creative with the decorations and pipe some details on if you want to. 
These mocha cupcakes are rich but not too sickly. The coffee brings out the flavor of the chocolate. You don't need to brew any coffee to go in this recipe.
It uses instant coffee espresso powder and coffee extract to create that smoky, coffee flavor. Use unsweetened cocoa powder to create a dark chocolate flavor. 
These cupcakes are perfect for after your Thanksgiving dinner. They are indulgent but not overly sweet, and your guests will love them. Decorate the cupcakes with a little coffee bean to make them look extra cute and enticing. 
Nothing says Fall like Pumpkin Spice, and these cupcakes will be the perfect addition to your Thanksgiving celebrations. They are simple but very effective.
The sponge is flavored with deliciously warm spices – cinnamon, nutmeg, ginger, cloves and allspice. Rich molasses gives the cake a treacle-sweetness which contrasts with the slightly sour cream cheese frosting. 
To make sure that your cupcakes are nice and fluffy, make sure you whip the butter and sugar together before you add the eggs. Beat in the eggs and then add the rest of the ingredients. This will ensure that there is enough air in the mixture.
Once you have frosted the cupcakes you can dust them with a little cinnamon sugar if you want to. 
You could try making a variation of these cupcakes with some espresso powder, or with a coffee cream cheese frosting. This would make them into pumpkin spice latte cupcakes. 
These chocolate turkey cupcakes (see also '10 Of The Best Turkey Cupcakes You Have To Make Right Now') are fun and delicious. The chocolate cupcakes are decorated with chocolate frosting for a rich and sweet dessert.
Then you decorate them to look like turkeys! The large tails feathers are made out of salted pretzels, with candy corn pieces for more feathers.
The beak is also a piece of candy corn, and the side feathers can be made with MnMs or minstrels. Use candy eyes to finish off the face. 
Try and use a plain brown or clear cupcake case to blend in with the color of the turkey. You can also experiment with different types of candy to use as decoration to see what turkey shapes you can create.
Turkey cupcakes are ideal for Thanksgiving, but you can also try and create other animals.  
If you want a simple cupcake that is a real crowd pleaser then try these chocolate creme cupcakes. The cupcakes are made with cocoa powder, vanilla extract and buttermilk.
This makes them sweet and light, with just the right amount of moisture in the sponge. They have a creamy chocolate filling which is also used to glaze the top of the cupcakes.
Semisweet chocolate is mixed with heavy cream, cream of tartar, egg whites, butter, powdered sugar and vanilla essence to create a well balanced topping. 
These cupcakes make a nice change from frosted cupcakes, and they are not as sickly. They are petite- ideal for an after dinner snack that won't leave you feeling too full. The chocolate filling is a nice surprise and makes the cakes perfectly moist. 
This recipe uses ground pecans in the sponge to evenly distribute the flavor throughout the cake. The sponge is also flavored with nutmeg and cinnamon, and a mix of white and brown sugar is used for a caramelized flavor.
The frosting is really simple to make – powdered sugar is mixed with cream, nutmeg, vanilla essence, and butter. The spices in the frosting complement the spices in the sponge. 
To make these cupcakes extra special you can decorate them with candied orange slices. This not only looks festive but also releases a lovely citrus aroma which works well with the spices in the cupcakes.
They look particularly effective if you bake them in fancy muffin cases in a nice dark color to contrast the light color of the frosting. 
Carrot cupcakes are better than a whole carrot cake as your guests can help themselves whenever they want to and it is easier to keep the cakes fresh. They also look fantastic and there are lots of different options when it comes to decoration.
Along with grated carrots, the sponges also have cinnamon and nutmeg for a warm, spiced flavor and some chopped pecans for a crunchy texture. The milk in the sponge keeps them light and fluffy. 
The cupcakes are topped with a simple cream cheese frosting, just like traditional carrot cake, with a bit of vanilla and cinnamon for sweetness and spice. You can finish off the decoration with some chopped, toasted pecans.
You could also use cinnamon sugar, or even some carrot shaped decorations. 
The spicy flavors of these cupcakes make them a great choice for Thanksgiving. You can also make them for Easter or other celebrations. 
These salted caramel cupcakes are deliciously moist and fluffy with an indulgent flavor. They have a secret surprise in the middle- they are stuffed with salted caramel sauce! You can leave this out if you prefer, but it does make the cupcakes very special.
Avoid using fat free substitutes in this recipe as a lot of the moisture in the sponge comes from the fat, so you could end up with dry cupcakes. You need a mixture of brown sugar and granulated sugar for depth of flavor. 
An important tip for making these cupcakes is using room temperature ingredients. The butter, eggs, milk and sour cream should all be at room temperature rather than refrigerator temperature.
This will ensure that the ingredients mix together properly and the texture of the cake isn't too dense. 
You can use the surprise filling technique on other flavor cupcakes as well. Why not have a go at peanut butter and jelly cupcakes with a surprise center, or chocolate cupcakes with a nutella filling? There are so many flavor options you can experiment with. 
Pineapple and carrot might seem like a strange combination, but the two flavors come together perfectly in this cupcake recipe. The first step is to make the pineapple flowers that will decorate the top of the cupcakes.
This is quite fiddly but they create a beautiful effect at the end so it is worth taking the time to get it right. 
Once the pineapple flowers are cooling, you can move on to make the cupcakes. The sponge has toasted chopped walnuts, pineapple juice, ginger, carrots, and pineapple pieces.
It is an exciting mix of flavors and textures which is quite unusual. The frosting is also very tasty, with powdered freeze-dried pineapple and cream cheese. 
These S'Mores cupcakes have four different layers. The bottom layer is a graham cracker crust that is pressed into the bottom of the cupcake case. The next layer is a vanilla and pumpkin cupcake which is soft and has a warm, yellow color.
This is topped with a chocolate ganache that drips down the side of the cake. Each cupcake is then finished off with a marshmallow and returned to the oven to melt and brown off the marshmallow topping. 
These cupcakes give you all of the flavors you know and love from S'Mores, but with the added flavor of pumpkin cupcake which is perfect for Thanksgiving. 
Summary 
These cupcake recipes will certainly impress your family and friends at your Thanksgiving celebrations. You can make them for dessert or even give them as a gift. There are lots of options when it comes to flavors, so there is something for everyone.
Whether you want fun turkey cupcakes, simple chocolate cupcakes or fancy salted caramel cupcakes, you will find something that you will love.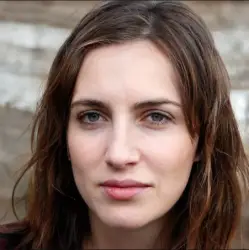 Latest posts by Anna Ingham
(see all)