If you're after a fun recipe that's sure to put a smile on anyone's face, you have to try making rainbow cupcakes!
Rainbow cupcakes are perfect for sharing with your kids if you're a parent, with the class you're teaching, or with your friends and family. Children will love taking on this baking project, especially as they have fun using all the different colors!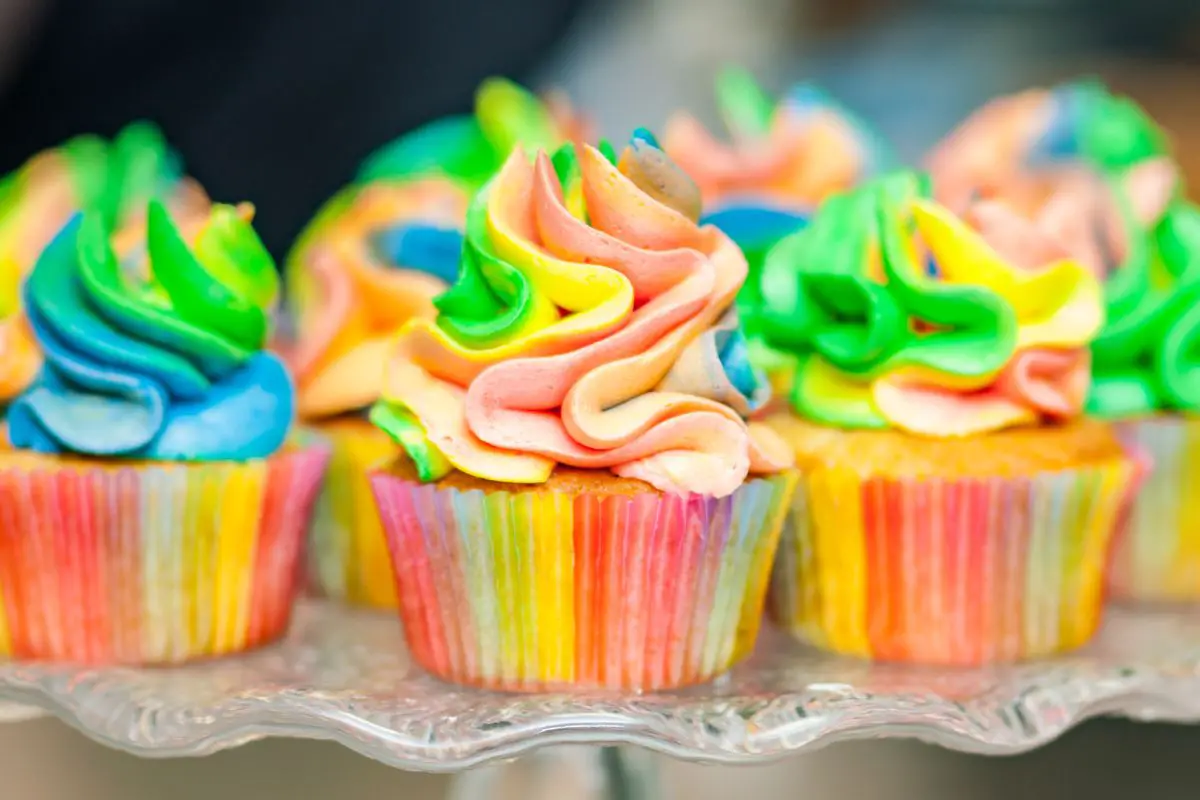 Whether you go for different colored frosting or bright shades in the cake itself, each rainbow cupcake you make will elevate your usual cupcakes to a different level. These recipes are great to try if you want a cupcake with a difference. 
Keep reading to find the tastiest rainbow cupcake recipes below! 
We'll kick off this list with these adorable cream cheese cupcakes. You'll love biting into the creamy icing and purple exterior to find the rainbow-colored cake in the center. There are also rainbow sprinkles inside which will entertain children for a while!  
These cupcakes don't just look great, they taste amazing too. The cake has a classic vanilla flavor with gentle almond notes running through each bite.
There's also a nice crunch from the rainbow sprinkles that tastes amazing against the smooth icing. 
You'll need to divide your cake batter into six portions and color each bowl a different shade, so make sure that you have enough bowls. It's also best to use gel food coloring instead of liquid, as this ensures that the icing is vivid instead of pasty.
Now we have a recipe that's perfect for St. Patrick's Day. These Pot of Gold cupcakes look like real pots of cold with rainbows shooting out of them!
The recipe used Baileys to make each one of these an indulgent, boozy treat. It also uses cocoa powder and chocolate chips for a tasty chocolate kick.
There's a lot of frosting needed to create the look of a black pot, as well as gold sprinkles to mimic the look of gold.
The rainbow is made from fondant, but the colors are painted on with gel food coloring, so while they are edible, most people choose not to eat the fondant.
If you're not a fan of Bailey's or want to make the cupcakes alcohol-free, you can swap the batter for a different chocolate cupcake recipe instead (see also '15 Remarkable Bunny Cupcakes To Make For Your Next Dinner Party'). 
These cupcakes are topped with lots of glittery rainbow frosting. The recipe is a little different from your usual cupcakes, as each one tastes of strawberries and cream (see also '10 of the Best Mermaid Cupcakes You Have to Make Right Now').
They also use Greek yogurt to keep the insides of the cakes moist, preventing them from drying out later. 
You'll be piping different colored frosting into one piping bag to create an ombre effect. This looks amazing on top of each cupcake, matching the bold rainbow-colored batter well.
At only 169 calories per cupcake, feel free to make a batch and tuck into them whenever you fancy! 
Kids will love this rainbow cupcake-baking project! The rainbow effect here is down to the different colored icing and rainbow candy toppings. 
This is a fantastic activity for younger children, as they'll love to choose their own fun colored toppings. Jelly beans, sprinkles, or colored chocolate beans, are all options, but the possibilities are endless! 
At first glance, these look like ordinary cupcakes but take a bite, and you'll be surprised with a load of rainbow sprinkles! Whether you're an adult or a kid, these are so fun to indulge in.
The rainbow center and tasty frosting are sure to cheer up anyone, whatever the weather! 
The best part is that you don't need a whole load of ingredients to make this recipe, just a box or cake mix! Simply make the cake batter, portion it into muffin cups, and bake.
You'll also need a little spoon or a melon baller to carve out the middle and fill it with the sprinkles. Use rainbow cupcake liners or metallic foil to match the cupcake rainbow center! 
These marble cupcakes look a lot more complicated than they are to make! The cake itself has an impressive rainbow-marbled finish. This is very easy to do, as you just need to drop spoons of colored batter into each cupcake liner.
The more imprecise you are, the more intricate the marble effect will look. 
These are great to whip up for a kid's party, particularly if it's themed. Unicorn, fairy, and mermaid themes all match these fun rainbow cakes. It's best to use white frosting and cake mix, as this helps the food coloring pop later on. 
A lot of rainbow cupcakes use traditional vanilla-flavored batter, but not these! A treat for chocolate lovers everywhere, the batter uses sugar and cocoa powder for a gentle, sweet, chocolate flavor. 
The vanilla frosting uses different shades of food coloring to make a rainbow-effect topping. You can use any colors you wish, but red, yellow, green, blue, and purple will deliver a classic rainbow look. 
Remember to use a gel color for the frosting, as liquid coloring will make the frosting runny instead of creamy. You'll also need a lot of coloring to make the frosting nice and bold, so stick to gel. 
Here's another recipe for chocolate fans, with a little caramel difference! 
These cupcakes are made with a chocolate batter and have a salted caramel center. You'll love how the sauce oozes out of the middle as you bite into it!
The sauce also helps to keep the cakes moist on the inside, so they're ideal for storing away for a few days until you want to tuck into them. 
The rainbow frosting looks amazing in contrast with the deeper-colored cake, especially if you take your time to create big, masterful swirls. Try pastel colors for a prettier look, or keep to bolder ones for a classic rainbow feel. 
You can't go wrong with lemon-flavored desserts, especially if they're made with rainbow batter! 
If you're bored of traditional chocolate, vanilla, or devil's food cake, these rainbow cupcakes are sure to cheer you up. The sweet, yet tart notes of sugar and lemon will dance on your tongue, particularly against the indulgent cream cheese frosting. 
You'll need a bit of time to make these, as you'll be manually spooning layers of different colored batter into each cupcake liner, so plan accordingly. 
Rainbows and marshmallows are two things that kids love! This recipe uses a white cake mix that helps the food coloring make the batter bright and bold.
You'll be layering small amounts of different colored batter on top of each other to create the rainbow effect. 
The marshmallow frosting is super easy to make, as you just need to cream marshmallow fluff, butter, and sugar together. This makes creamy white frosting that looks like a cloud when piped on top of the rainbow cakes. 
Choose to top yours with rainbow sprinkles, peanut butter cups, or even rainbow belt candy for a cute finish!
These fun cupcakes are made with rainbow candy and blue buttercream frosting. You'll be making classic vanilla cupcakes from scratch, using common baking ingredients you most likely have in your kitchen already. 
The rainbow effect here is thanks to the rainbow sprinkles mixed into the sweet batter. These melt a little in the oven to spread the color throughout each cake.
They contrast well against the blue frosting, especially if you make yours a pretty, pastel shade of blue. 
Top yours with a rainbow candy belt and white buttercream clouds, as this resembles a rainbow in the blue sky! 
Plant-based eaters, this one is for you. These rainbow cupcakes are dairy-free (see also '13 Tasty Dairy-Free Desserts To Make This Weekend'), egg-free, and use natural colors to make them vegan-friendly.
You'll be using substitute ingredients, like apple cider vinegar, plant-based milk, and vegan yogurt (see also '15 Best Vegan Cupcakes To Make Today') to make the cakes fluffy and moist. 
Instead of food coloring, you'll need natural dye ingredients, like matcha powder, turmeric, and blue spirulina. These substances won't make the icing particularly vivid, but they will deliver a beautiful pastel finish that is a lot prettier to look at! 
Here's another vegan recipe that will save you time washing up! One-bowl recipes are great as they make cleanup easy. 
The rainbow effect here is thanks to the vegan sprinkles which will trickle fun colors into the batter and icing.
You'll be using classic cupcake ingredients, like flour and vanilla extract, but keeping the recipe vegan by using organic cane sugar, plant-based milk, and vegan butter for the frosting. 
Coconut milk and almond milk taste the best in cupcakes, but you can use any plant-based milk that you like!
If you are celiac or on a gluten-free plan, you may have had to give up some of your favorite treats. 
Fortunately, these cupcakes are gluten-free, fun, and tasty! They are made with vivid rainbow batter and topped with creamy vanilla frosting, giving the appearance of rainbows and clouds in the sky. 
You'll need a hand mixer to make the frosting, as beating it by hand will take too much time, leaving your arms tired in the process! 
Lastly, we have these sherbet cupcakes. These don't just taste like tangy sherbet, they look like it too! The recipe involves melting sherbet candy and mixing it into the cake batter. 
Flavor options include orange creamsicle, key lime, and simple strawberry (see also '10 Of The Best Strawberry Shortcake Cupcakes You Have To Make Right Now'), but you can choose whatever sherbet you like! 
Each cupcake is topped with a swirl of rainbow frosting, but we'd recommend using pastel orange, pink, and green colors to match the sherbet flavors! 
Conclusion
We hope you enjoyed this rainbow cupcake recipe roundup. 
Whether you like bold colors, gentle flavors, or something unique, you're sure to find a fun rainbow cupcake recipe you'll love on our list. 
Happy baking!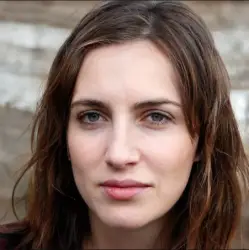 Latest posts by Anna Ingham
(see all)