While there's nothing necessarily wrong with spreading traditional butter on our food, there are always those times we feel like having something a bit more exciting.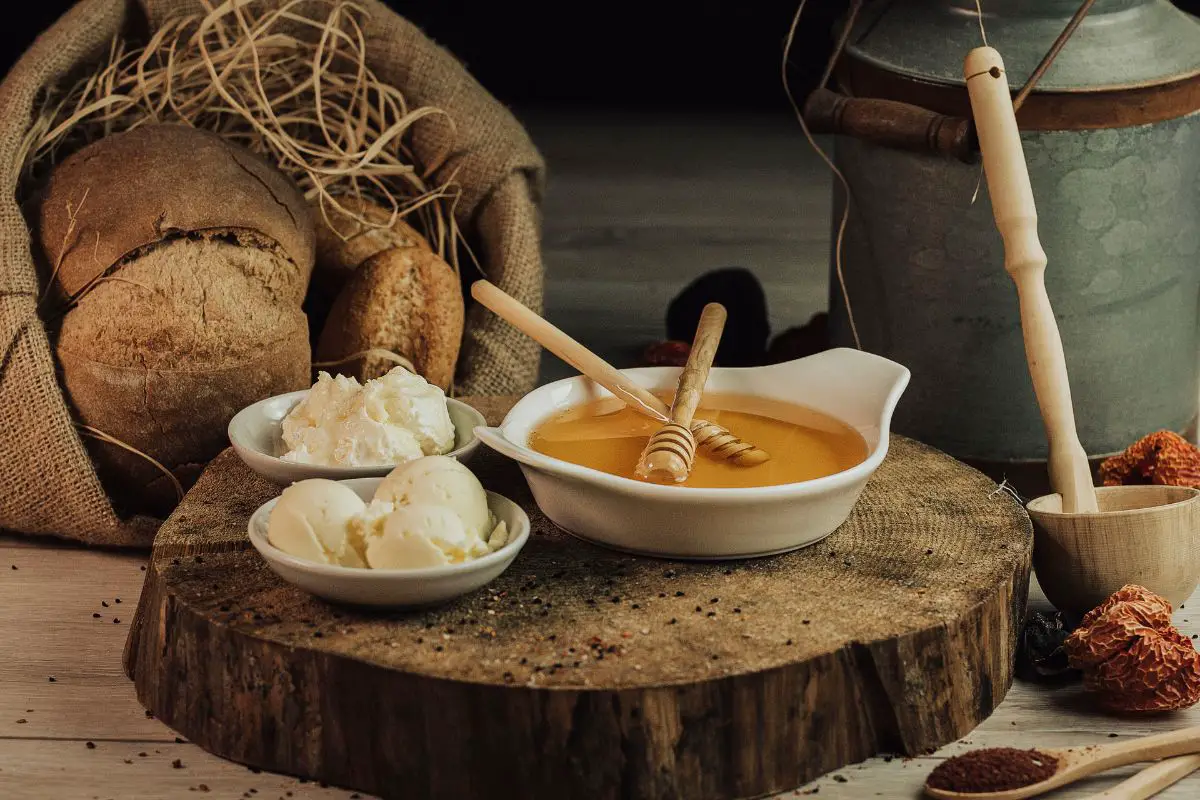 The fact you're reading this tells us that time has arrived.
If you want to smother your dinner rolls, crusty bread, crêpes, pancakes, or waffles in something other than traditional butter, you've come to the perfect place because we have the solution for you.
That solution is our delicious honey butter. Rich, sweet, salty, and utterly irresistible, our honey butter recipe will leave your taste buds tingling. You'll almost certainly be coming back for more.
In today's post, we're going to show you how to make honey butter. We'll also tell you what makes our recipe so good and share some honey butter tips. 
Let's get stuck in!
What Is Honey Butter?
For those of you that haven't tried honey butter before, let us start with a quick explanation. To put it simply, honey butter is exactly what it sounds like. It is a mix of butter and honey. 
Our recipe does call for other ingredients to make it more impressive but those are the only two ingredients you need to make it. When it comes to using honey butter, it can be used as a spread on virtually anything, just like traditional butter. 
Almost always, honey butter is made using a mixture of equal parts honey and softened butter.
What Makes Our Honey Butter So Great?
So, from all the honey butter recipes on the internet, why should you make ours? Well, while we don't like to boast too much, we firmly believe that our recipe is the best.
It's incredibly easy to make, super delicious, and extremely versatile. What else could we ask for from a honey butter recipe? 
The flavor of our honey butter is pretty impressive too. It has a rich and creamy texture and an irresistible sweet and salty taste. 
What Ingredients Do You Need?
Aside from taste and versatility, one of the greatest things about making honey butter is how few ingredients you need to make it. You can make our honey butter recipe with just 4 basic pantry ingredients.
We've listed the ingredients you need to make honey butter below!
Unsalted butter – One stick
Honey – 3 tablespoons
Ground cinnamon – ¼ teaspoon
Fine salt – ⅛ teaspoon
Recipe Note: You can make honey butter with just the honey and unsalted butter but adding salt and cinnamon to the recipe takes things to a whole new level and unlocks more flavors.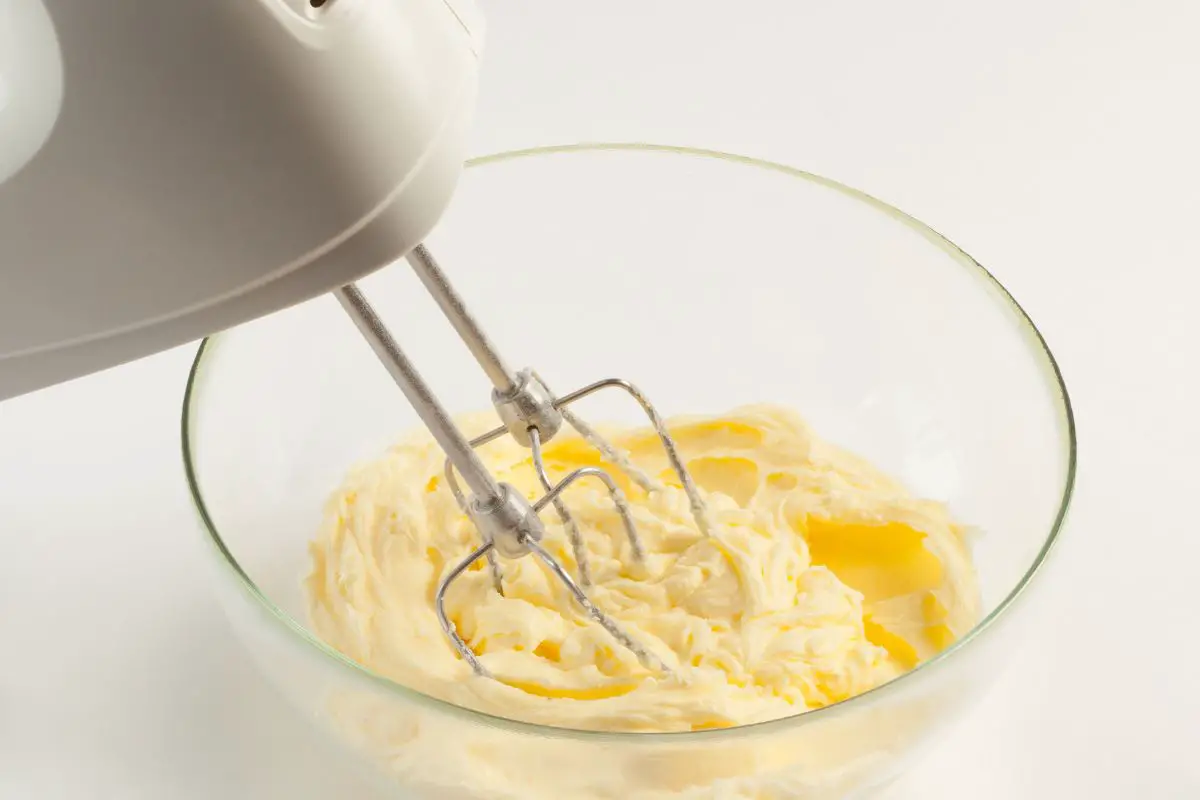 How To Make Our Honey Butter
Now you know what you need to make our honey butter, we'll show you how to make it. Making this honey butter recipe is super easy and only takes 5 minutes, so you can whip it up whenever you need it.
There are only 4 steps to follow, all of which we have detailed below!
1. In a liquid measuring cup or mixing bowl with tall sides, combine the softened unsalted butter with your honey, salt, and cinnamon. You need to mix the ingredients well to ensure the flavors are even throughout.
2. Next, using a hand mixer, whip the mixture together until it starts to turn light and fluffy. This will only take a few minutes if that.
3. Once the butter becomes light and fluffy, transfer your honey butter mixture into a small serving bowl. Now, you can garnish your honey butter by drizzling some more honey and sprinkling some salt over the top.
4. All that's left to do now is serve your honey butter. We recommend serving the butter promptly or placing it in a refrigerator for later.
Nutritional Facts
Here are some of the most important nutritional facts you might want to know about this honey butter recipe:
Calories: 84
Total fat: 7.7 grams
Saturated fat: 4.8 grams
Cholesterol: 20.3 milligrams
Carbohydrates: 4.4 grams
Protein: 0.1 gram
Top Tips For Making Honey Butter
Making honey butter is very easy, but there are a few things you need to remember if you want to make the best butter possible.
To help you make the best honey butter, we've listed some of our top tips for you.
If you take these tips onboard, your honey butter will taste incredible.
Softened butter is crucial – You have to use softened butter to make honey butter. This type of butter is key because hard butter doesn't blend with the other ingredients and melted butter won't whip.
You can use salted butter too – Don't worry if you don't have unsalted butter. You can easily use salted butter by not adding any additional salt to the butter. You can still finish off your butter with a sprinkle of salt garnish at the end though.
Change things up with cinnamon – Most honey butter recipes don't call for cinnamon but it makes a huge difference. Adding cinnamon to this recipe adds an extra layer of flavor to an already delicious recipe.
Soften butter quickly in a microwave – If you're in a hurry and need softened butter now, you can soften your butter in the microwave. Simply place your stick of butter in the microwave for 10 seconds, turn it over, and microwave for another 10 seconds.
Serving Suggestions
Below, you'll find a list of the different foods you can serve honey butter with.
Crusty bread
Dinner rolls
Crêpes
Waffles
Muffins
Flour tortillas
Oatmeal
Final Thoughts
There you go, you now know how to make honey butter. Honey butter is a delicious alternative to traditional butter that can be used almost the same.
Now you have this recipe at your fingertips, why don't you make honey butter and see what you think?
We already know that you'll love it.
Frequently Asked Questions
Does Honey Butter Contain Sugar?
Yes, honey butter does have sugar in it. However, the only sugar you'll find in our recipe comes from the sugar in the honey. There is no need to add any other type of sugar.
How Long Does Honey Butter Last?
If you keep your honey butter in an airtight container in the fridge, it will last for quite some time. If you store it correctly, your honey butter might last up to a month.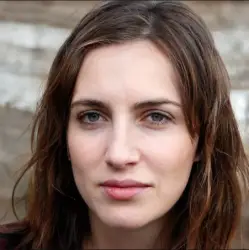 Latest posts by Anna Ingham
(see all)