Gender Reveal Cupcakes-the perfect way to celebrate the gender of your baby. At a party, a baby shower, or just because you want to, this cupcake is perfect for any occasion.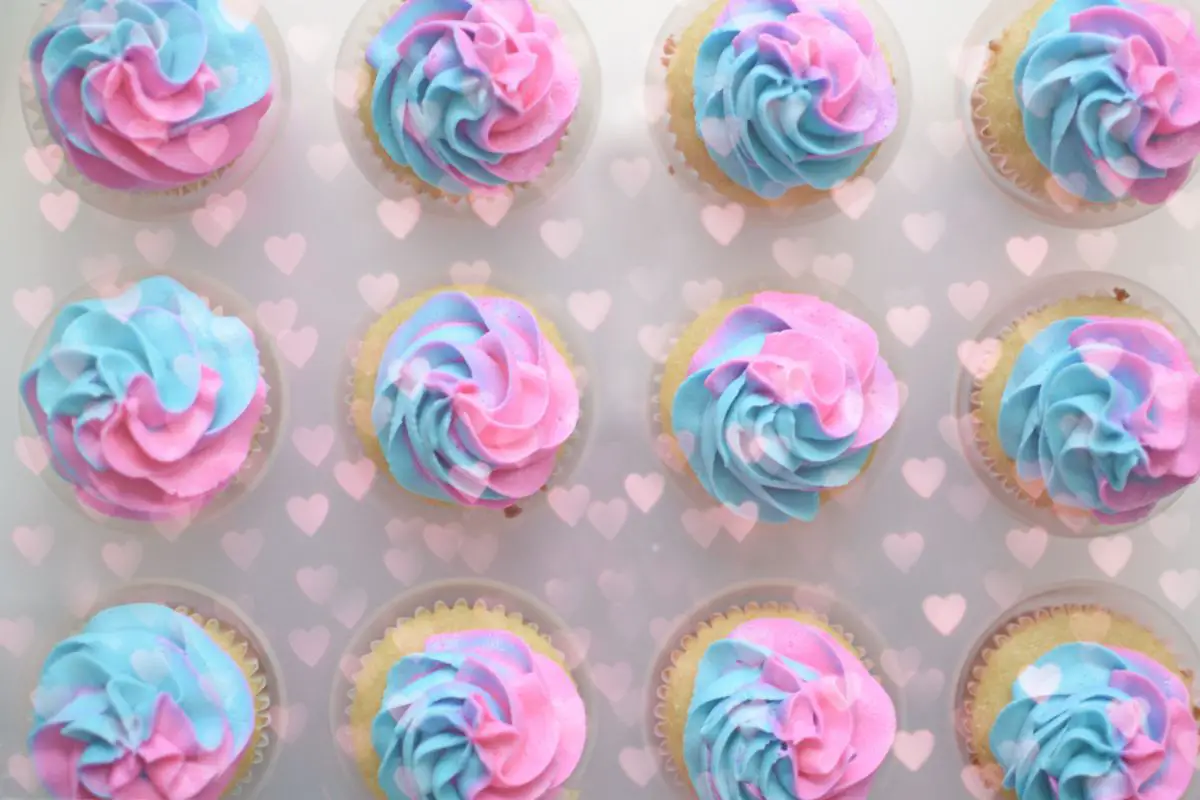 Surprise your friends and family with these beautiful and tasty cupcakes.
At first glance,these vanilla gender reveal cupcakes may not look like anything special but magic happens on the inside!
 Vanilla cupcakes are a great choice for gender reveals, it is a popular choice with many people and really ensures the focus is the centre of the cupcake.
This is a quick and simple recipe which only takes a total time of 25 minutes and 9 easy steps.
Sometimes the simplest of recipes are the best and these are no exception. After taking out the middle of the cupcake you can easily fill it with whatever you choose.
Dark chocolate gender reveal cupcakes filled with yummy pink or blue frosting is a fun way to reveal your baby's gender. These cupcakes are moist , rich and delicious.
These cupcakes are not only delicious but also look great thanks to the stunningly shiny ganache. This is great recipe as it is very moist and not at all dry,
This is a quick and simple recipe only taking a total time of 15 minutes to bake which creates 15 tasty cupcakes! Plenty for your gender reveal party. This recipe also only takes 8 simple steps.
If you're a chocolate lover this is the perfect cupcake for your party.
Reveal the gender of your baby to your friends and family in a fun and exciting way when you bite into one of these light fluffy white chocolate cupcakes and reveal the coloured surprise (see also '15 Remarkable Bunny Cupcakes To Make For Your Next Dinner Party').
White chocolate cupcakes are a rich and special treat. These cupcakes are a fantastic way to enjoy the taste and flavours of white chocolate without the guilt.
With a total baking time of 50 minutes and just 9 steps this is a relatively quick and simple recipe creating 15 delicious melt in the mouth cupcakes!
These cupcakes last for around 3-4 days at room temperature in an airtight container and up to a whole week in the fridge, so you do not have to eat them all at once!
Buttercream cupcakes are a fun and exciting way to reveal the gender of your baby.
They are a sophisticated treat therefore a perfect choice for an important event like a gender reveal.
This recipe shows you how to make the vanilla cupcake and buttercream icing from scratch.
The buttercream icing really steals the show with this cupcake. Not only is  it super creamy and tasty but the mix of pink and blue swirls look great. 
The middle of these cupcakes are cut out then filled with blue or pink frosting, which when cut open will reveal the gender of your baby.
These strawberry , vanilla and meringue cupcakes are not only light , fluffy and delicious but they also look incredible. These are the perfect treat to display on your celebration dessert table!
This quick and easy recipe only takes a total of 1 hour 25 minutes and 5 simple steps.
This recipe creates 12 cupcakes.
These strawberry and vanilla cakes are the perfect dessert to create for any occasion! They are simple to make, sensationally sweet, and have just the right amount of vanilla flavour.
The mini pink and blue meringues are occasion appropriate and look great. 
These delicious gender reveal cupcakes look great on the outside and the inside. These cupcakes are filled with either pink or blue M&M's which are revealed once you bite into them.
To do this you will cut out the top of the cupcake with a small knife and keep the top as a lid.
Then you will add the coloured M&Ms into this gap , if you can find mini M&M's this works even better!
Depending how much time you have you can make a homemade buttercream or a canned alternative if you are looking to make them quicker!
Topped with a beautiful, thick and creamy homemade buttercream frosting these are a great addition to your celebration dessert table! 
Finding out your baby's gender is one of the most precious and momentous events in your life, so why not celebrate and find out using these baby pink or blue gender reveal cupcakes.
These are quick and simple to make, using only a few ingredients which you most likely already have in your home!
The traditional madeira sponge cake is likely to be a hit with all of your guests due to its light and fluffy properties,  the classic sponge is ideal for all types of occasions.
If you're a chocolate lover this recipe is for you! These delicious cream filled cupcakes are a great way to reveal the gender of your baby with a pink or blue colored cream.
After making your chocolate cupcake (see also '15 Remarkable German Chocolate Cupcakes You Have To Make!') you will need to cut a section of the top off and fill with some dyed filling.
The ganache topping is not only super tasty but the shiny glossy appearance gives a professional sophisticated look.
The ganache is quick and easy to make and topped with a question mark or whatever you would like to decorate it with to make it appropriate.
This recipe takes just under an hour and creates 12 cupcakes. 
These pinata style gender reveal cupcakes are perfect for your gender reveal party. They are the perfect sweet treat which are colourful, beautiful and super simple to make!
These are fun projects that will be enjoyed by all ages from kids to adults and are made with just a few ingredients.
After you have cut a hole in the middle of your cupcakes you can choose your filling which will spill out when you either cut it open or take a bite.
Celebrate the newest prince or princess entering your family with these fun and tasty crown gender reveal cupcakes. You can make them pink for a little princess or blue for a prince , or even both?
These cupcakes take a total of just over two hours to bake and decorate and create 12c servings, therefore perfect for your gender reveal party.
When you cut open these cupcakes there will be a pink or blue crown in the middle, if you're feeling crafty and really want to impress these cupcakes are for you.
Not only do they look great but they are delicious too, moist , light and fluffy! 
These delicious gender reveal cupcakes will add a dash of mystery to your special day.
The tender and moist cake will be loved by you and your guests and the hint of white chocolate is sure to be a hit.
Using this recipe you will be able to make 25 cupcakes in under 1 hour.
The thick and creamy buttercream frosting is a popular choice for all occasions and with these the addition of the blue and pink dye is perfect for this occasion.
To make 20 cupcakes it will take you under 1 hour to bake. These light cupcakes with a colourful surprise in the middle are perfect for your gender reveal party.
These yummy tangy cupcakes are quick and easy to bank and look great, topped with blue and pink sprinkles and filled with either pink or blue filling.
These are light, fluffy and delicious cupcakes (see also '15 Delicious Trophy Cupcakes You'll Love To Make!') that are perfect for your gender reveal party.
The subtle hint of vanilla paired with the chocolatey fudge is bound to be a hit with your guests and will leave them wanting more!
After hollowing out the middle you can fill the hole with dyed filling for the surprise when you cut it open! Topped with the indulgent frosting and stars this is a great choice. 
The duo coloured  buttercream swirled frosting on a vanilla cupcake is a popular choice for gender reveal cupcakes. Not only do these cakes look cute but also taste delicious,
These are simple and quick to bake and use ingredients that you most likely already have in your home!
These take less than one hour to make so if you are looking for a cost effective and less time consuming option that still looks great these are for you. 
These surprise filling vanilla sponge cupcakes are a popular choice for gender reveals. The simplicity on the outside is a great contrast to the surprise coloured inside.
If you're looking to cater for a larger group this recipe is for you, serving 24, in addition
As it is ready in just one hour and only uses 13 ingredients. 
Final Thoughts
We hope this guide assists you in choosing the best gender reveal cupcakes for your special day!
From chocolaty surprises, to pinata style cupcakes we have gathered the prettiest, the simplest and the most quirky cupcake ideas.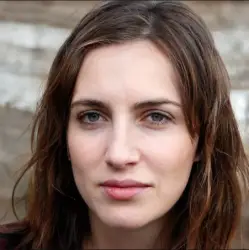 Latest posts by Anna Ingham
(see all)