If you are looking for a fun and exciting dessert to make for Thanksgiving then check out these recipes for turkey cupcakes.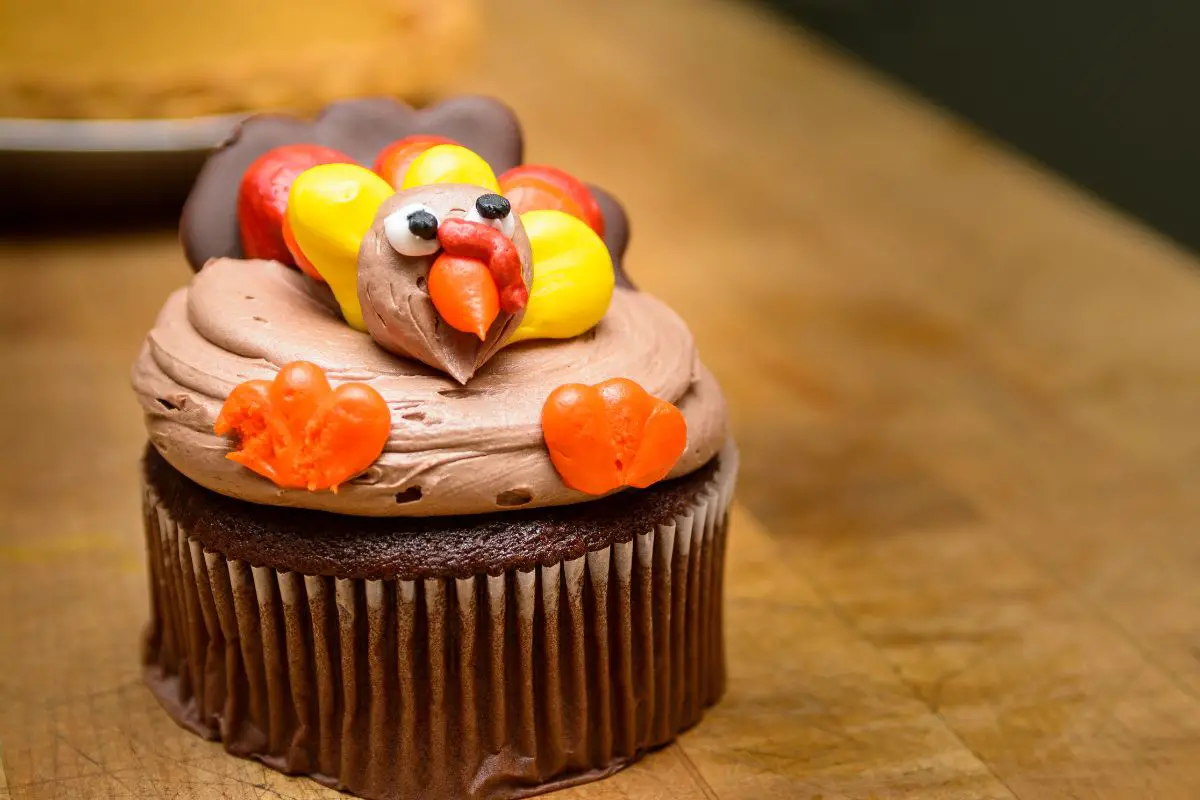 They taste great, look impressive, and will be a great addition to your celebrations. 
This recipe is perfect for using up leftover Halloween Candy. It uses simple sweet treats like candy corn, salted pretzels, and M&M's to create the shape of a turkey on the top of a delicious cupcake.
This Thanksgiving cake will get you into the festive spirit and will look amazing – your friends and family will be very impressed. 
You don't have to make the cupcakes from scratch. You can use a cake mix if you prefer, as this will save you some time.
The recipe uses a chocolate cake mix, but you can use whatever flavor you like. You can either use some brown food coloring, or bake the cupcakes in brown cases.
The frosting should be chocolate as this creates the right color for the turkey and the flavor goes with the chocolatey decorations. 
The great thing about this recipe is that the pretzels look like the large tail feathers of a turkey, and they stand upright in the frosting to create some height. It looks effective and eye-catching. 
These Thanksgiving cupcakes (see also '10 Of The Best Thanksgiving Cupcakes You Have To Make Right Now') are super cute and will brighten up your holiday celebrations.
This recipe will not only tell you how to decorate your cupcakes to look like Thanksgiving turkeys, but also how to make the cupcakes from scratch and ensure that they turn out perfectly every time. 
The decoration on these cupcakes is very effective but is not too complicated. You don't need to be good at piping or particularly artistic to get these cupcakes to look amazing.
It's just a simple chocolate frosting, candy corn feathers, a mini Reese's peanut butter cup face, candy eyes, an orange Reese's piece for the beak, and a bit of red gummy worm for the wattle. 
The chocolate cupcakes have a rich flavor and a light, fluffy consistency. You can make your own chocolate frosting from scratch or use canned frosting to save a little time. You don't need edible glue to put the turkey face together.
Just use a little bit of frosting to stick the decorations in place. You can use a toothpick to apply the frosting. 
This recipe is a different take on the turkey cupcake (see also '10 Of The Best Spiderman Cupcakes You Have To Make Right Now'). Instead of a cute turkey, it features a traditional Thanksgiving turkey dinner! The decoration is quite fiddly,but the clear instructions are easy to follow.
The recipe does not include the cupcakes themselves, so you will need a box mix to make those or you can use a different cupcake recipe. 
To decorate these cupcakes you will  need to use a variety of ingredients – pound cake, corn flakes, food coloring, frosting, honey wheat sticks, soft caramels, round orange candies, sunny seed drops, and cinnamon. 
These cupcakes are very impressive, so if you have the time and the patience to get the decoration right then your thanksgiving dessert (see also: 10 Of The Best Easy Thanksgiving Desserts You Have To Make Right Now)will be the talk of the town! 
These goofy, cute Thanksgiving turkey cupcakes ate great fun for all of the family to make.
You can make the cupcakes ahead of time, and prepare all of the decorations to that your guests can join in when they arrive. It's a fun activity that both adults and children will enjoy. 
The chocolate cupcakes are deliciously soft and the frosting is rich and creamy. It is worth making the cupcakes and the frosting from scratch because the flavors will be much better than anything you can buy in a store.
As well as chocolate frosting, you will also need to make royal icing. This is made with egg whites, cream of tartar and powdered sugar.
Some of the icing is left white, then a small amount is colored red and orange. The royal icing also acts as a glue to stick the decorations in place. 
Along with the frosting and the icing, you will use fudge stripe cookies, oreo cookies, candy corn, M&M's and candy eyes to create your turkeys. You can use brown or orange cupcakes, cakes depending on what you prefer, or a mixture of both. 
These turkey cupcakes are very simple to decorate but they still look adorable.
The recipe uses Reese's Pieces to create the turkey feathers, but if you are allergic to peanuts then there are some great substitutions suggested in the recipe that you can try out instead. 
Along with Reese's Pieces, you also use Hershey's kisses to create the face and beak. The beak is colored using orange gel food dye added into melted white chocolate. Dip the Hershey's kisses into the white chocolate to dye the pointed part, and leave the rest.
The eyes are made using melted white chocolate with a brown Reese's piece pressed on top. You can use candy eyes if you want to simplify them. 
When it comes to cupcake cakes, you can go with brown to blend with the chocolate turkey, or choose a bright color for contrasts. Orange, red or yellow would work well with the color of the feathers. 
If this recipe is too complicated for you, there is also a link to a simpler recipe included along with the instructions. They use oreos, nutter butters and candy corn instead to create the turkey shape. 
If you want to stick to something straightforward then this is the perfect recipe for you. The chocolate cupcakes are decorated with colored frosting to create the turkey. You need four different colors – brown, yellow, orange and red.
Pipe two red wavy lines in an arch on the outer edge of the cupcake. Then two wavy orange lines inside that, and finally two wavy yellow lines. This creates the feathers of the turkey. Use the brown frosting to pipe the neck and head. 
To create the face of the turkey you will need cady eyes, and a little bit of the orange and red frosting to make the beak and the wattle.
Once the turkey cupcakes are decorated you may want to pop them in the refrigerator to let the frosting harden a little. This will ensure that the turkeys keep their shape. 
It is best to use clear or brown cupcake cases for this recipe. This will blend in with the color of the turkey and will not take attention away from the colorful frosting. 
These turkey cupcakes are fun and creative. Decorating these cupcakes is something that the children can get involved in too, as it is not too complicated. Start by making chocolate cupcakes.
Spread a layer of chocolate frosting on top and then roll the frosting in chocolate sprinkles to create a nice texture. Use candy corn for the feathers, and create a face using chocolate frosting, candy eyes and a piece of candy for the beak. 
You can use gold cupcake cases if you want to create some fancy turkeys, or stick to brown if you prefer. Don't worry about getting the frosting perfectly neat as it will be covered in sprinkles anyway.
Dipping the cupcake into the sprinkles gets a much more even coverage than trying to sprinkle them on top. Press firmly enough to make the sprinkles stick but not too hard. 
When you pipe the frosting on for the face, try and do this neatly to create a circle. If it goes wrong, don't panic. You can use a toothpick to neaten up the shape of the face afterwards.
These cupcakes will make a wonderful addition to your Thanksgiving table, and can even be a fun weekend treat to keep the children entertained. 
If you want to know who to make something look polished and professional, you can always count on Preppy Kitchen to have the ideal recipe. These turkey cupcakes are fun but fancy, and they look amazing, 
First, you need to make a batch of tasty chocolate cupcakes following the recipe provided. You can switch these out for a different flavor of cupcake if you want to.
Once the cupcakes are completely cool you can make your buttercream and decorate the cakes. You will need to split the butter cream into four different bowls.
Color them brown, red, orange and yellow. Starting with red, pipe the frosting onto the cupcake to create feathers. You can do a simple wavy arch, or experiment with different piping patterns.
Then use the orange and finally the yellow to finish creating the feathers, then pipe the neck. 
Larry the turkey is made using pumpkin spice cupcakes which is perfect for Thanksgiving and makes a nice change from chocolate.
Ginger cookies, caramel jimmies, caramel frosting and candy corn are used to decorate the cupcakes to make the turkey shape. You will also need marshmallows, red fruit leather, graham cracker sticks and chocolate coated sunflower seeds. 
This final recipe uses vanilla frosting to make the turkey feathers. The frosting is colored using food dye. Instead of piping the feathers directly onto the cupcake, the feathers are created using brushstrokes and then added onto the cupcake afterwards. 
Summary 
Turkey cupcakes are a fun dessert to make for Thanksgiving. They look fantastic and will get you into the holiday spirit. Your friends and family will love eating these tasty cupcakes (see also '10 Tasty Easter Cupcakes To Make This Weekend'), and may even want to help you decorate them.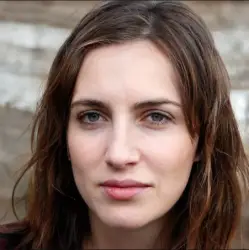 Latest posts by Anna Ingham
(see all)