If there are two things in this world that are truly great and delicious, they are cupcakes and ice cream cones. Now, what would you say if we could combine the two?
No, this isn't a wonderful dream, and ice cream cupcakes are becoming more and more popular, with countless recipes appearing online to help you make this dream become reality. 
So, without further ado, let's take a look at some of the best ice cream cone cupcakes that you absolutely need to try today!
The only thing better than cupcakes and ice cream cones is Christmas – and quite amazingly, this dessert contains all three!
These Christmas tree cupcake cones are a great addition to any festive buffet or get-together, and can make a good centerpiece that friends and family can share and enjoy. 
Taking cocoa powder, vanilla extract, and seasonal spices, these can literally be a taste of Christmas, and can be a great bitesize dessert to share with the ones you love during this magical time of year.
Or, if you don't want to wait until Christmas, then why not jazz these up a little – altering the coloring and decorations to make them appropriate all year round? Fall cupcake cones, anyone? 
One of the benefits of cupcakes is that they really let you get creative with colors, decorations, and flavors.
This recipe takes this idea to a whole new level, taking that classic summertime drink and infusing it with a solid cupcake recipe (see also '15 Delicious Trophy Cupcakes You'll Love To Make!') to create something truly unique and delicious. 
This is a perfect coming together of so many things – the crunchiness of the sugar cone, the fluffiness of the cupcake mix, the sweetness of the cream, and the tartness of the lemonade – combining together to create something that, despite seeming so simple, is laden with complexity, charm, and a mystique that will keep you coming back for more. 
This recipe also offers so much choice for creativity and exploration too, allowing you to switch up sodas and flavors to see where the process takes you!
Who doesn't like Neapolitan ice cream cones? 
These strawberry, chocolate, and vanilla cupcake cones pay perfect tribute to this popular ice cream flavor, not to mention making an attractive dessert that can be served and enjoyed all year round – whatever the occasion!
Taking vanilla cake mix, strawberry cake mix, and brownie mix, this really is as indulgent as it sounds (see also 'Can You Make Brownies Without Eggs').
But, quite literally the icing on this cake is the topping – with a delicious whipped cream whirl coated in sprinkles and adorned with a glistening maraschino cherry. 
Bellissimo!
Cookie dough is another popular ice cream cone flavor that has taken the world by storm.
Sticky, gooey, and oh so indulgent, these cookie dough cupcake cones pay perfect homage to this modern classic, offering a truly decadent, delicious dessert (see also '15 Delicious Veggie Desserts You'll Love To Make!') that can be enjoyed by the whole family. 
These cupcake cones are creamy, lightly seasoned with brown sugar, and laden with a fluffy cake core. Could there really be anything better? I thought not!
Everyone loves rainbow cake. We love to make it. We love to eat it. We love to just sit and look at it. 
There is no getting around it, rainbow cake just looks appealing – not to mention delicious – and these rainbow cupcake cones take this idea and make it even better, combining it with a crunchy cone outer shell, soft, fluffy cake center, and a vibrant, colorful swirl of cream on top that looks like something from a storybook. 
What's more, once you bite into this magical creation, the cupcake itself is rainbow layered, adding that little bit of color and wonder into any celebration or occasion. 
In recent decades, Easter has become another time of year where celebration and indulgence are the name of the game.
And these mini egg Easter cupcake cones continue this tradition in characteristically delicious fashion. 
Coated in delicious candy sprinkles, topped with a whirl of white cream, and adorned with a large vibrant mini egg, these seem like something from a childhood dream. But fear not, adults can eat them too!
These will make a great centerpiece to any Easter celebration (see also '15 Best Easter Desserts To Make Today'), and what better way to celebrate rebirth and renewal than going up a pants size?
We kid of course. But seriously, you won't be able to stop at one!
These desserts are already an indulgent sweet treat in their own right, but this particular recipe takes this idea and really runs with it – taking everything you expect from a cupcake cone, and dipping it into runny milk chocolate to create something truly mouth watering and delicious. 
Filled with buttercream, and topped with candy sprinkles, these really are like something out of a fairytale.
But fear not, they are certainly real, and will soon become a firm favorite amongst yourself, your guests, and anyone else who might be lucky enough to try one!
These aptly named desserts offer a slight twist on this classic recipe, taking a vanilla cupcake, and sticking an ice cream cone atop it – the sweet buttercream, sprinkles, and chocolate literally oozing out of it, to create something as inviting as it is delicious. 
They look great too, and despite the level of detail they might appear to demand, can be achieved in no time at all with the right ingredients, instructions, and patience. 
In a sense these can be made in two halves, with the base consisting of basic cupcakes adorned with chocolate, and the cone and cream being added separately. 
These look and taste amazing, and will soon become a mainstay at any family event and seasonal get-together!
Unless you are lucky enough to be of Portuguese descent, you might not be familiar with what dulce de leche actually is. But fear not, we have you covered!
Popular throughout Portugal, dulce de leche is essentially caramelized milk, and is a common confectionery used in cakes and many other creations. 
These cupcake cones pay homage to this long culinary tradition, taking a vanilla cupcake, adding sweet buttercream, and expertly drizzling the end result in this delicious regional delight, to create a moreish, gooey, sticky, caramel-infused cupcake cone that even the most strongest willed person couldn't even hope ignore. 
So if you are looking to branch out, experience other cultures, or merely pay tribute to this example of Portuguese mastery, then why not give this recipe a try?
Last on this list, but by no means least, these Funfetti cupcake cones are a great example of how something so simple can be absolutely to die for. 
While not as vibrant as the rainbow recipe, these do have a charming innocence about them – but don't worry, the subtleness only extends to their looks.
After one bite you will be smitten, especially when you consider just how easy they are to bake and put together. 
Taking Rainbow Jimmies, and introducing them to the mix, you can create a rainbow-infused cupcake base that is bursting with little balls of color (see also '15 Delicious Rainbow Cupcakes You'll Love To Make!') and crunch.
Then, once you add the sweet buttercream, you can then top with your favorite choice of sprinkles to create something sweet, innocent, colorful, and oh so delicious. 
These can really be jazzed up in any way you feel like – replacing the rainbow Jimmies with your choice of crunchy candy, and even going as far as to add more color and flavor into the cream and toppings.
Final Thoughts
And there we have it, everything you need to know to make ice cream cone cupcakes for your party or get-together!
Whether it's a surprise treat for a birthday party, or just a sneaky, sweet treat for yourself, ice cream cone cupcakes are a great way to combine these two wonderfully moreish desserts into one, and are a great way of jazzing up the basic cupcake recipe. 
So if you are looking for the perfect dessert to grace your buffet table, then why not give some of these recipes a try? Something tells me you won't be disappointed!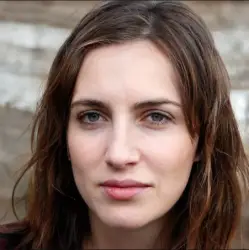 Latest posts by Anna Ingham
(see all)