Christmas cupcakes are an ideal dessert to enjoy over the festive period. They are ideal for parties and gatherings, as they can be eaten standing up or with your fingers.
They also look amazing on a buffet table. You can also make Christmas cupcakes (see also '10 Of The Best DC Cupcakes You Have To Make Right Now') to give as a gift to friends and family. 
Baking is a fun festive activity that the whole family can get involved with. Here are 10 amazing ideas for tasty Christmas cupcakes (see also '10 Tasty Easter Cupcakes To Make This Weekend') that you can make this weekend in your kitchen. 
These chocolate cupcakes are topped with vanilla buttercream, candied cranberries and tuile biscuits in the shape of holly leaves. They look very eye-catching, especially when they are gathered together on a plate.
They are perfect for a christmas buffet and will add some decoration to the table. It takes 45 minutes to make these cupcakes, but this does not include cooling time.
You must ensure that the cupcakes are completely cool before you add the decorations or the buttercream will melt. You can use the candied cranberries on other Christmas treats such as fruit cakes or cookies. 
To customize these cupcakes, you can choose whatever flavor cupcake and frosting you want. For a candy cane flavor, you can use vanilla cupcakes with minty buttercream. Or you could make spiced cupcakes with an orange and vanilla buttercream. 
Santa cupcakes are a fun and festive treat to make for your family and friends (see also '10 Of The Best Spiderman Cupcakes You Have To Make Right Now'). The cream cheese frosting is split into two batches, one left white and one dyed red with food coloring. The two icing colors are then used to pipe the cupcakes with little santa hats (see also '15 Remarkable Bunny Cupcakes To Make For Your Next Dinner Party').
You will need a piping bag, and you may want to practise your piping skills on some baking paper before you begin decorating the cakes. It might be fiddly, but it will be worth the effort. 
You can add a flavoring to the icing at the same time as the red food coloring to introduce another element to the recipe. Lemon would make a nice flavor, or you could use a cherry flavoring to go with the red food coloring. 
This recipe uses green buttercream piped onto the cupcakes, making them look like little Christmas trees. The icing is then decorated with desiccated coconut to look like snow, edible pearls, and chocolate stars to mimic Christmas tree decorations.
The decoration is quite fiddly, but to save time the recipe uses a cupcake mix. You can make your own cupcakes from scratch if you prefer. 
To make this recipe your own, try adding some peppermint flavoring to the green icing and making chocolate cupcakes instead of vanilla ones. This will create the flavor of mint-choc-chip, but in a festive cupcake. 
This recipe uses a creative idea to decorate the cupcakes. The cupcakes are arranged in a circle and decorated with green icing, candied cranberries and biscuits shaped like holly leaves to make them look like a wreath.
It would make the ideal centerpiece for your Christmas table. Your guests can dismantle the wreath by taking a cupcake each. This impressive dessert is fun and easy to make, and will be a recipe that you return to every year. 
You can get as creative as you want to with the decoration for your cupcake wreath. Add more candied fruits, or create different leaves and details with the biscuit toppings. You could also add some extra details with a gel icing or more piping. 
Christmas food is all about indulgence and decadence, which is captured perfectly in these cupcakes. The rich, chocolate cupcakes are stuffed with a creamy cheesecake filling, combining two desserts into one.
They are very sweet, so you probably won't be able to eat more than one! If your guests have a sweet tooth then they will love this recipe.
You can decorate the cupcakes with whatever you fancy. This recipe uses chocolate frosting and edible colored sprinkles for a fun and simple topping. 
The great thing about this recipe is that you can use whatever flavor combinations you want. You could add a peanut butter cheesecake filling to chocolate cupcakes.
You could make a strawberry cheesecake filling to go inside vanilla cupcakes. You could even make a toffee flavored cheesecake filling to stuff banana cupcakes. 
Brandy cream is usually served with a traditional Christmas pudding. Instead of fruit cake, this recipe serves the brandy buttercream with chocolate cupcakes. The combination is rich and tasty, ideal for a Christmas treat.
You can decorate the cupcakes with flakes of coconut, shaved chocolate, or any other topping that you fancy. If you want to make this recipe suitable for children or people who avoid alcohol, you can use a brandy flavoring instead.
If you can't get hold of brandy flavoring, you can use irish cream liqueur flavoring instead as this is easier to find and will also taste lovely with the chocolate. 
You could use this brandy buttercream recipe to top a fruitcake, or spiced vanilla cupcakes. You can also experiment with different types of alcohol in the buttercream, like whiskey or sherry. 
These pecan cupcakes with spiced vanilla frosting are an ideal winter dessert. They look particularly festive when they are decorated with candied orange slices, but this is optional.
The cake mixture is made with finely ground pecans and the buttercream is flavored with cinnamon and nutmeg. The warm spices complement the sweetness of the nuts to create a wonderfully festive flavor. 
These cupcakes would also work with other types of nuts like walnuts or hazelnuts. You could use mixed nuts if you want to.
You can also include some larger chunks of nuts to add some more texture, but make sure most of the nuts are ground so that the flavor is well distributed and the cakes are not too heavy. 
The decorations on these cupcakes are simple but effective. Decorative black gel icing is swirled into the white cream cheese frosting to look like the wire of the Christmas lights. The lines are then dotted with MnMs in various colors to mimic the colored lights.
The devil's food cake cupcakes are rich and delicious, but you can use this deocaring technique on any flavor cupcake you choose. Make sure you use a plain cupcake case so that you don't draw the attention away from the decoration. 
You can add the icing gel in a swirl so that each cupcake is individually decorated, or lay the cupcakes out next to each other and make it look like the lights are strung across the whole batch. 
Gingerbread and eggnog are two distinctive yet complementary flavors that come together in this recipe to create a Christmas delight.
The cupcakes have brown sugar and golden syrup to make them taste like authentic gingerbread, with ground ginger and mixed spice to give them a warm kick.
The eggnog frosting has white chocolate, ground nutmeg and your choice of brandy, whiskey or dry sherry. You can also use a non-alcoholic drink or leave it out altogether if you prefer. 
This recipe tops the cupcakes with gingerbread trees, piped with white icing to make them beautifully detailed. You could make miniature gingerbread people instead if you wanted a fun topping.
You could also get the children involved with this, as they could decorate their own gingerbread people to go on top of the cupcakes. 
Friends and family of all ages will love these fun reindeer cupcakes. You can use whatever cupcake flavor you want to, but the recipe uses chocolate cakes as it makes a brown color for the reindeer. The cupcakes are then decorated with chocolate frosting.
Salted pretzels are used for the antlers, white chocolate buttons for the muzzle, blue or green MnMs for eyes, and a red MnM for the nose.
The rest of the details are added using black gel icing. You can add different details to give the reindeers alternative facial expressions. Children can get involved with decorating these cupcakes, which makes a fun festive activity for the whole family to enjoy. 
If you want to make Santa's reindeer, use brown MnMs for all of the noses except one. Though you may end up with your guests fighting over who gets to eat Rudolph!
You could also use the reindeer cupcakes as part of a challenge to get your guests to name all of the reindeer. 
Summary 
These Christmas cupcake ideas are perfect for the festive period. They look fantastic and will be a big hit at any party or gathering. You can bake them yourself or get your friends and family to help you as a fun activity everyone can enjoy.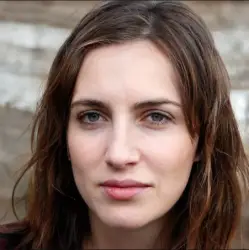 Latest posts by Anna Ingham
(see all)