Let's face it, who doesn't love a good slice of chocolatey goodness? And why should you have to compromise and opt for a different flavor for your wedding day if that's what you love? You shouldn't.
And if you've been told by anyone that chocolate cake can't be elegant, remarkable, or beautiful, they're lying to you and they should be cut off immediately – you don't need that kind of negativity in your life.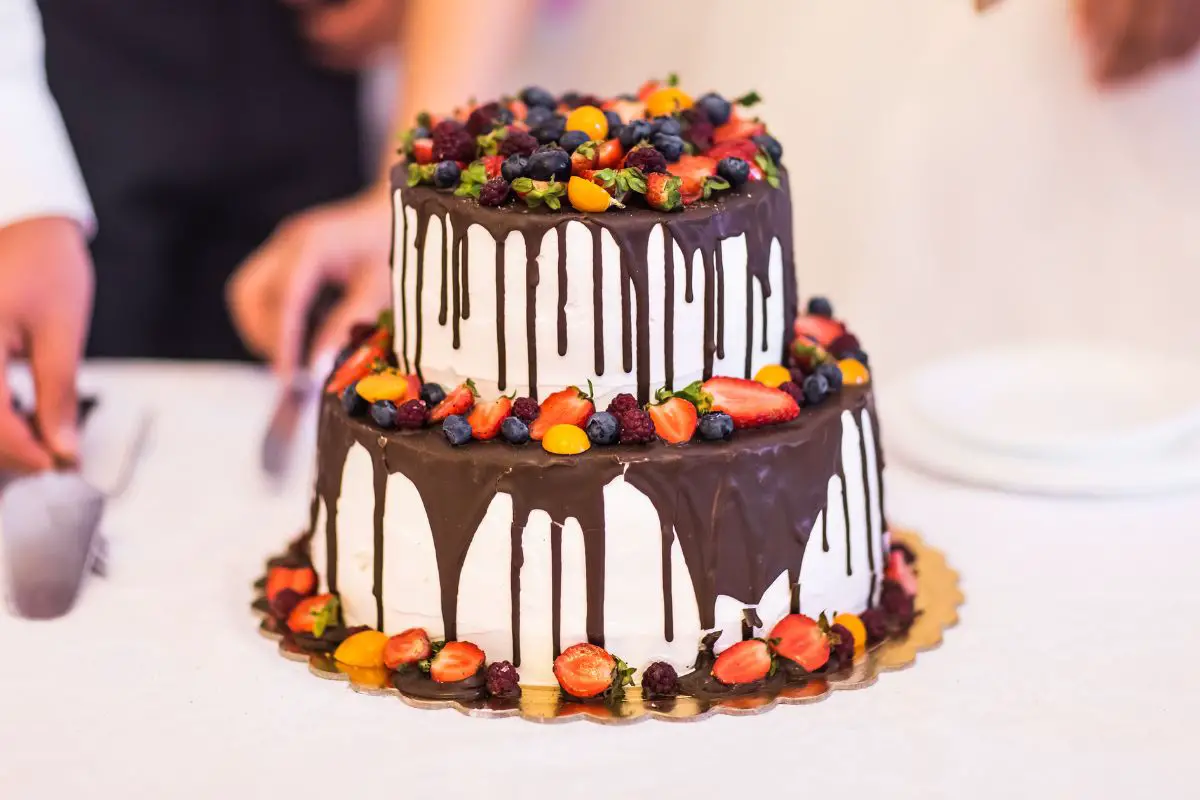 Okay, maybe that's a little harsh, don't rip up their invitation just yet, they probably just haven't seen these chocolate wedding cakes. 
If you're looking for something that looks luxurious and decadent on the outside but resembles more of an Augustus Gloop meets Bruce Bogtrotter fever dream on the inside then you've come to the right place.
These glorious chocolatey creations will take pride and place at any wedding – and you can be sure both bride, groom, and guests alike will devour these scrumptious slices of cake in a matter of mere minutes. 
15 Best Chocolate Wedding Cakes
This handpainted stunning chocolate wedding cake looks almost too good to eat…almost. How beautiful do these handpainted flowers look atop this chocolatey buttercream frosting?
The work and detail that has gone into this three-tiered cake is instantly evident and is sure to be a real crowd-pleaser. 
And then there's the cake itself. Salted caramel and chocolate are a pairing made in heaven much like the newlyweds.
I'm sure a moment of silence will fall over the entire venue as everyone tucks into this super tasty treat. 
If you want your wedding cake to still have that traditional look on the outside with a secret surprise of chocolatey goodness when you cut into it, why not opt for a chocolate cake that is covered in white vanilla buttercream?
That way you don't have to make a chocolate compromise but still, get to enjoy that elegant and more traditional aesthetic. 
To make the outside as equally sweet as the outside, you can opt for luscious and bold blooms of flowers for a real showstopper.  
I love how this wedding cake is pretty simple and yet so striking. It's such a pretty visual that has this almost innocence to it.
Plus, sure bouquets of flowers look great on cakes, but they only have to be removed when it comes to tucking in. But not these ones, all the flowers that adorn this cake are totally edible! 
The earthy tones of the chocolate juxtaposed with the bright and beautiful florals really go a long way to create such an elegant cake.
Sprinkling a few petals around the table is the piece de resistance to create absolute perfection. 
Some love to stick to traditions and the typical conventions of a wedding, and that is perfectly understandable and generally more common.
But then you'll always get those who throw caution to the wind, ditch the rulebook, and play by their own rules. And if that sounds more like you then you may want to opt for a cheekier and more playful option. 
And what says cheeky and playful more than a wedding cake decked to the nines in decadent chocolate truffles?
It's unexpected, it's quirky, and it's different. And if that sounds like a representation of you then why not go for it – you can't deny it sounds delicious. 
Caution: this cake may cause guests to constantly wait for the cake cutting. It just catches your eye so well, and one look instantly has you licking your lips and your stomach rumbling.
Personally, I think this cake is absolute perfection, especially if your wedding is fall-themed. It has that mood vibe and I just think it would tie together amazingly well. 
The layering combined with that stunning chocolate drip, and the hints of gold and fresh fruit are just divine. 
I admit this one is a little out-the-box, but hey, so am I – and I would love to do this at my wedding.
The blackberry and chocolate flavor pairing is enough to get your guests talking (all positive things, of course) but adding a cool and funky topper (see also 'How To Make Cake Toppers With Cricut') is just the cherry on top. Or the blackberry/funky topper on top – but you know what I mean. 
And the great thing about this is that you could choose any kind of topper that is personal to you.
It could represent a personal joke between you and your partner perhaps. If it was my cake there would definitely be two cats up there, but that's just me.
You know what they say, the bigger the better. And you can't really make a bigger statement than this huge semi-naked chocolate cake.
This is sure to turn heads. And the stunning addition of the roses makes it look so very tasteful. This cake has a whopping 2 layers of cake and buttercream and it is sure to go down a hit. 
I think this would be the perfect option for larger rustic weddings. It's simple yet effective. And large, definitely large. 
How gorgeous does this cake look? The stunning bouquet of pretty pink and white flowers is a real statement, but what a beautiful statement it is – much like your vows.
And would you believe me if I told you that it actually tastes even better than it looks? 
This traditional Austrian cake sports a dark chocolate torte and layer upon layer of chocolate and apricot preserves. It has me salivating just thinking about it.
And opting for a square design instead of a round one gives it that more contemporary look for modern couples. 
If you, like me, find beauty in minimalism, then why not opt for a sleek yet simple wedding cake? You love the idea of a chocolate wedding cake and you are proud to display it in all its decadent glory.
Adding a bit of texture to the frosting allows you to keep that simple look while also making it look a little more visually appealing. 
Then accompanied by a beautiful bouquet beside it on the table, it is an amazing simple and sleek statement. 
Macaroons are always the perfect addition for cake decoration. They're so elegant, pretty-looking, and just downright delicious.
And since there are so many different colors to choose from for these tasty treats, you can even pick colors that match your color theme. Pretty pastels are my favorite option, but ultimately the choice is yours. 
Then add a few details of pretty petals and just look at how perfect that chocolate wedding cake looks. 
Some brides prefer a very simple and minimalistic wedding, while others want all the frills, if you fall into the latter category then you can't get much better than this literally frilly cake. And how scrumptious does it look? 
It's unique, different, and yet still elegant and luxe. This is a cake that is not going to be forgotten any time soon, that's for sure. 
If you want an untraditional wedding, and are not that big of a fan of cake, why not opt for something else entirely?
And as far as substitutes go, I don't think you can get any better than a massive mountain of gooey indulgent chocolate brownies. 
Not only will they taste amazing, help cut costs for a brides on a budget, and highlight your quirky side, but they also look amazing when covered in plenty of roses. 
For autumnal or winter weddings, a black forest wedding cake is a great choice.
The indulgent cake with thick frosting and plenty of berries is enough to have anyone's mouth watering, but when combined with that gooey and dripping ganache just really sets it apart. 
This cake is so full of flavor and that is very obvious from first glance. Guests will definitely look forward to the cake cutting when staring at this beauty. 
If you're stuck between your two favorite flavors, why not incorporate both? There's no rules that say you can't!
And the dark and dripping decadent chocolate cakes juxtaposed against that brilliant white vanilla layer looks absolutely stunning. 
This is the perfect way to conjoin contemporary with tradition. 
This is the perfect option for smaller weddings, or for those who just aren't a fan of big and bold cakes.
And you know what they say, great things come in small packages. Why not focus more on packing a one tier cake full of flavor? 
You could even add a few cupcakes in a similar design too! 
Final Thoughts
Everyone loves chocolate, right? How can you not? And if chocolate is what you like, then chocolate is what you'll get – it's your day after all.
As you can see from this article, a chocolate cake doesn't mean that you can't still have a stunning and beautiful cake to boast to your guests. So which is your favorite?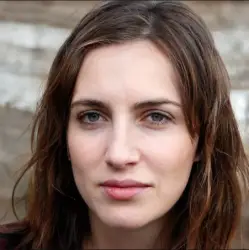 Latest posts by Anna Ingham
(see all)