Cake: if it tastes good, it's hard to go wrong with decoration. However, if a cake is easy on the eye, it can boost its appeal tenfold.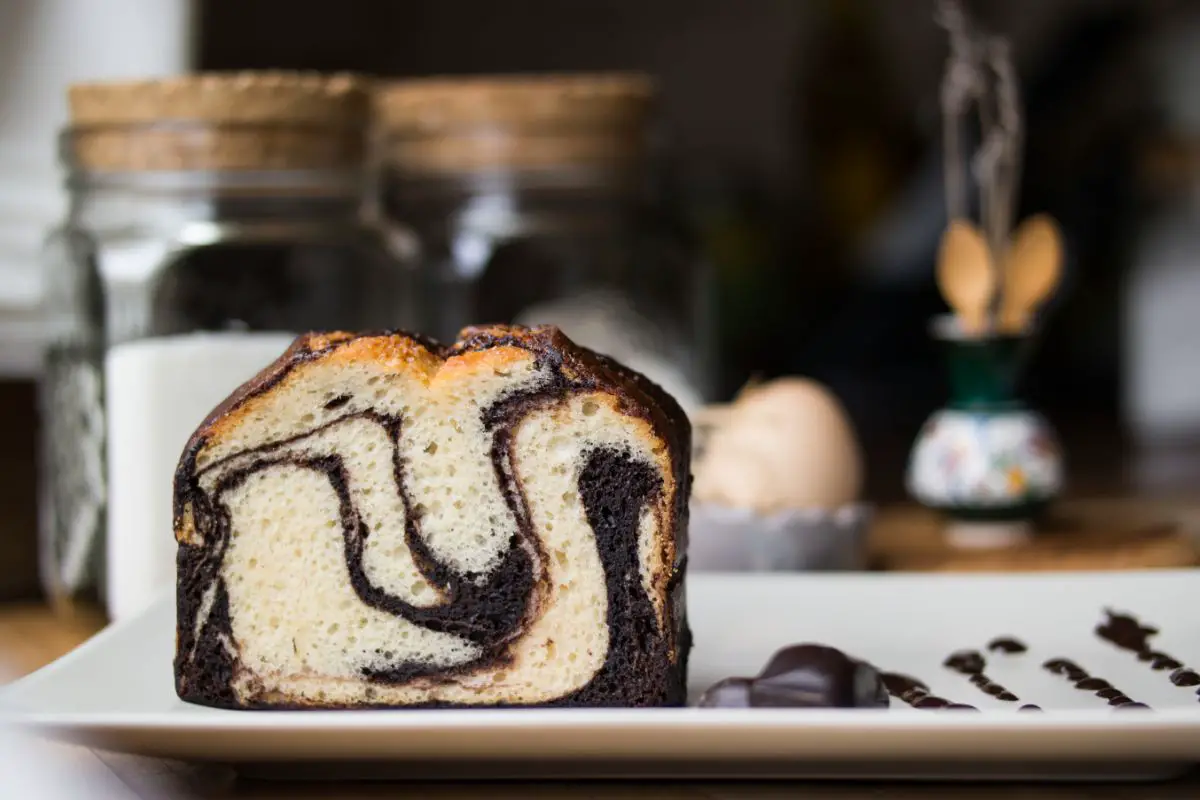 If you're looking to wow your guests, an aesthetically pleasing cake is a must, and there are few as mesmerizing and iconic as marble cake.
Marble cake may look impossibly complex to create, but with a little bit of practice (and patience), it can be pretty easy to make your own – and we're here to show you how.
What Is Marble Cake?
First things first, what is marble cake?
Marble cake, sometimes called mamor, is a type of cake that's well-known for its marbled or mottled appearance.
Marble cakes rely on a blend of light and dark batter to create their stunningly streaky appearance.
Marble cakes are usually a mixture of vanilla and chocolate; however, they can also come in other flavors.
Marble cake first appeared in Germany in the early nineteenth century, and its first-ever versions were made of a sweet yeast bread – one half was colored with molasses and spices to give it a darker batter.
Variations of the marble cake grew, and just before the Civil War, it made its way over to America.
During the Victorian era, the marble cake was popularly known as 'Harlequin Cake', and was recognized for its checkerboard pattern.
Is Marble Cake Difficult To Make?
If you're new to baking, you might be intimidated by the appearance of marble cake.
However, you might be surprised to know that it's not all that difficult to make!
Even if you have limited baking experience, you'll still find it relatively easy to create that distinctive marble patterning – you may just need to pay a bit more attention in the kitchen than you would with a packet mix.
How To Make Marble Cake?
Want to try it for yourself? Here's one of our favorite, super-simple recipes to create the perfect marble cake.
Spoiler: you WON'T need to follow two cake recipes to create this!
Marble Cake Ingredients
To create this decadent marble cake, you will need…
Cake
454g Flour
454g Sugar
1tbsp baking powder
1tsp salt
1tsp baking soda
4 eggs
5oz vegetable oil
14oz buttermilk at room temperature
8oz unsalted and softened butter
2tsp vanilla extract
1/2tsp of almond extract
1oz of cocoa powder
3oz hot water
1tbsp cocoa powder (for dusting)
Ganache Frosting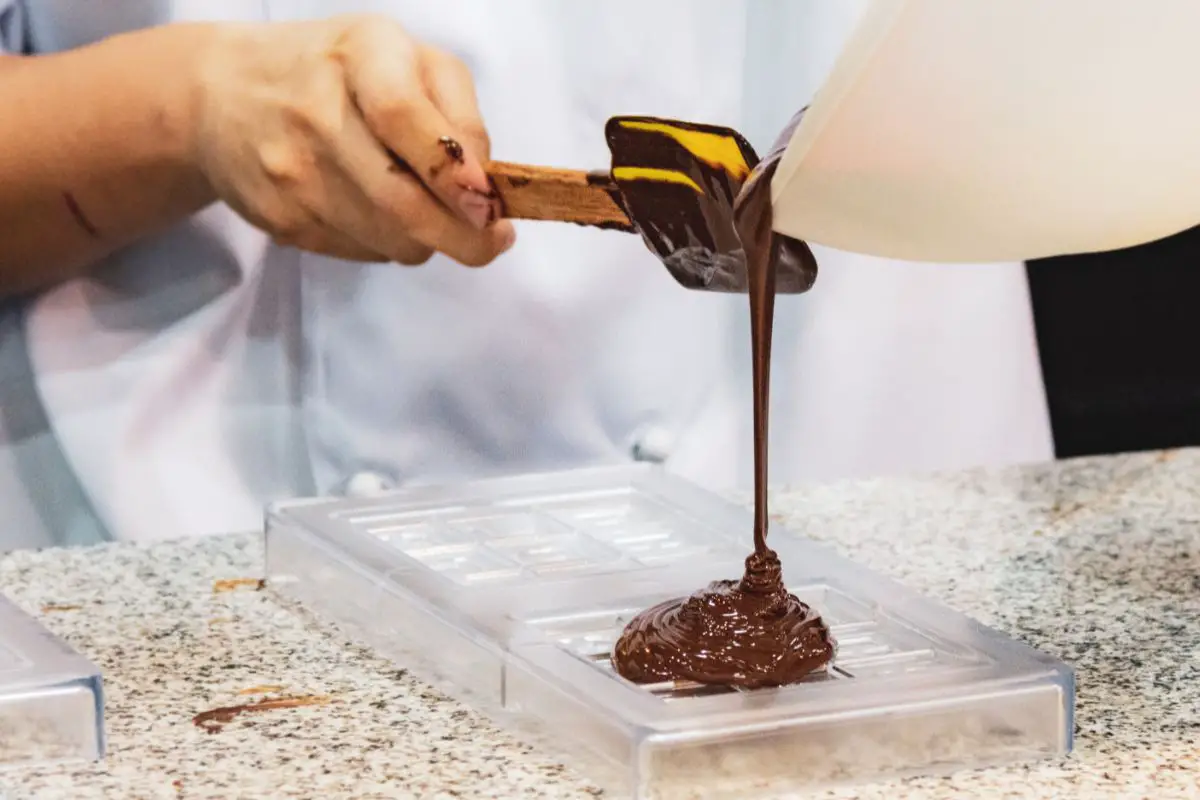 16oz chocolate
16oz heavy whipping cream
1/4tsp salt
1tsp vanilla extract
Ganache Drip
4oz heavy whipping cream
6oz chocolate
Marble Cake Baking Instructions
Cake Batter
To create your cake batter, start by lining three 8×2 cake pans with a pan spray or butter, and preheat your oven to 168 degrees.
Then, leave your eggs, milk, and butter to sit at room temperature. Do NOT use ice-cold ingredients – everything should be slightly warm so that your ingredients can generate emulsion.
Heat your water until it starts simmering, then add in your cocoa powder. Mix the two together until your cocoa powder is moist and slightly lumpy.
Leave your mixture to the side and let it cool.
In a different bowl or container, add ¾ milk and your oil together and leave them to the side.
Then, in another separate container, mix together your remaining eggs, milk, almond extra, and vanilla extract. Whisk your mixture enough to break up the egg, and set aside.
With a bowl and a stand mixer, mix together your sugar, flour, baking powder, salt, and baking soda using the paddle attachment on your mixture. Mix these together for approximately 10 seconds.
Once you've mixed these together, you can add your softened butter to your flour mixture. Use your stand mixer on a low setting to mix this together, and stop when the contents look a little coarse. This should take no more than 30 seconds. This method, called reverse creaming, will deliver a moist and velvety cake.
Now, add your oil and milk mixture in, mixing it on a low setting until all of your dry ingredients have become moist.
Crank up the speed on your mixer to medium, and let it all mix together for just over 2 minutes to help create the cake structure. Skipping this step and not allowing your cake to mix could result in a damp, collapsed cake.
Now, you can scrape the edges of your bowl and turn the speed to low.
Add your egg mixture in three separate steps while the speed is on low. With each addition, let the batter mix together for around 15 seconds before adding in another batch.
Once you've added in all of your egg mixture, scrape around the bowl again to make sure everything has mixed together.
Marble The Cake Batter
Now it's time to marble the cake batter. To do this, you will need to…
Remove your ⅓ batter and mix it with your cooled chocolate mixture. Fold it until it's combined.
Now, spread out your batter into your pans and layer it. Begin with vanilla, then chocolate, then vanilla again.
Now, use a butter knife to mix your batters together. Remember to swirl your mixture together gently; otherwise, your cake will not be marbled.
Once your batters are swirled, place your cakes in the oven and bake them for approximately 35-40 minutes. When you take the cake out of the oven, hit the pan firmly to remove any steam from the cake. This will prevent it from shrinking.
Leave your marble cakes to cool for around 10 minutes in the pan before taking them out.
Now, you can flip your cakes onto a cooling rack and leave them to cool off entirely.
Ganache Frosting
Add your chocolate into a heatproof bowl
Heat up your cream until it starts to simmer, but don't boil it
Now, pour your cream over your chocolate and leave it to sit for 5 minutes
Add in your salt and vanilla extract to the chocolate and blend together until it's smooth
Transfer your mixture into a shallow pan and leave it to cool. It will take around 20 minutes to thicken
Use the ganache to frost your cake, and leave it in the fridge for around 20 minutes to set
The Bottom Line
Marble cake is one of the most delicious and iconic cakes there is, and even with limited baking experience, you can have a go at making it yourself!
Go on; you know you want to…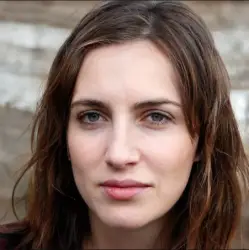 Latest posts by Anna Ingham
(see all)