Your wedding cake should reflect who you are as a couple. A generic cake will make you seem boring or basic, and it won't express the uniqueness of your relationship.
You don't need to go crazy and hire a $100,000 chef. Instead, think of what your cake says about your relationship. What do you want everyone to see?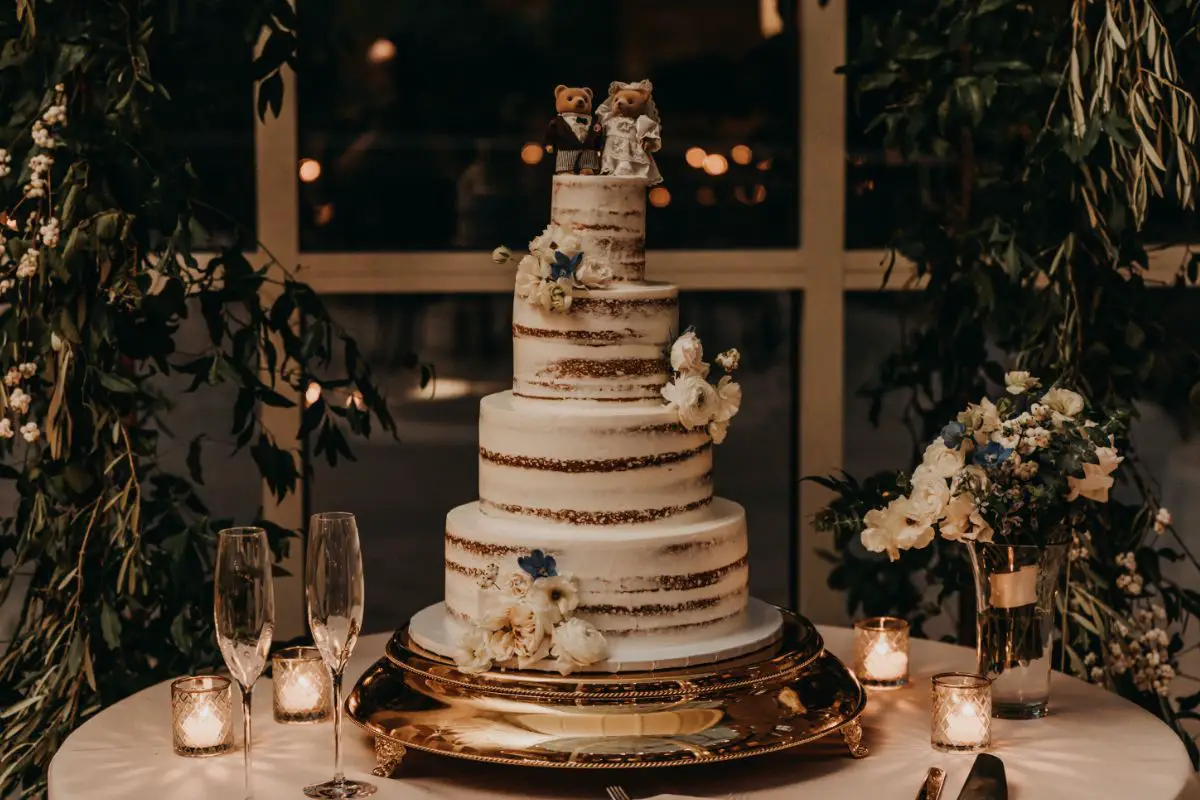 Before we get started, let's say hello to the readers of PerfectWeddingCake.com. We have recently acquired the website and cannot wait to welcome the happy couples into our community.
Wedding Cake Themes Based On Seasons
During the four seasons, the food we eat often matches the aesthetic or the temperature around us. If your wedding doesn't have many themes to go off, use the season of your wedding as inspiration.
Summer Weddings
Summer weddings are often hot. Everyone can wear light dresses or pale suits as they bask in the sun of the season.
Food during this time should be light and airy – especially your desserts. Cakes and puddings can easily feel stodgy in the heat, so you should consider refreshing flavors like lemon, champagne, or raspberry.
Our 10 lemon-flavored wedding cakes should give you enough inspiration to plan a bright and light dessert. Our favorite from the list is the elderflower and lemon creation.
The sophisticated bake will make everyone wonder what the secret ingredient is.
Spring Weddings
Spring weddings can also benefit from light and refreshing flavors. But because the weather is milder, you can also afford a tart combination.
Our collection of 7 Spring wedding cake ideas will take you through fantastic options from heavily decorated to fashionably nude. One recipe even manages to make chocolate cake feel appropriate for spring.
The amazing thing about Spring weddings is the use of flowers. Throughout Spring most flowers are in bloom, which means you'll have access to the best colors and unique petals that other seasons only dream of.
This burst of growth extends to edible flowers too. Depending on the flavor you have chosen, you could decorate your cake with calendulas, dandelions, daylilies, or kale flowers.
An expensive and decadent option is squash blooms. They create a 6-pointed star with their delicate petals and taste subtly of squash.
Of course, all these flowers are yellow, making them perfect for a lemon cake.
Other spring flavors could include almonds, raspberries, rhubarb, and pineapple. Whatever flavor you pick, search for an edible flower that represents their color – making the taste and aesthetic match the season of Spring.
Winter Weddings
In Winter your flavors can be rich and enticing. Chocolate cake is a popular choice, but remember your main can contain warming tastes. Instead, think outside of the box and consider rosemary, orange, toffee, or hazelnut flavors too.
If you have a multi-layered cake, each layer could contain a new flavor.
If your main is super rich, allow your cake to add lightness to the plate. If your main isn't super filling, order a cake that acts as the final display.
For an exciting ending to the dinner potion, your dessert could be a lava cake. You slice into the tower and allow a river of caramel to flow down the plate.
Such a creation would add entertainment to your display, but if your cake decorations are the main event, you may not enjoy the exploding erosion.
Cake decorations often take up the most stress in the dessert decision process. Of course, you want the treat to taste delicious, but the cake is going to be on display for most of the day.
You want everyone to marvel at the edible version of your love.
We have gathered 15 winter wedding cake displays for you to consider. Each comes with a link to the recipe, so you can either make it yourself or send the link to your baker.
Our favorite is the first. The Unique Winter Wedding Cake. It contains the knitwear aesthetic of a winter jumper without instantly looking like a Christmas cake.
Fall Weddings
Fall weddings have the most versatility. The flavors available are vast, and the color choices are unending.
Fantastic flavor options are apple, cinnamon, salted caramels, pumpkin, and ginger, but the list can go on forever. We recommend collecting a group of flavors that work well together, creating a waterfall of flavors from each layer.
An easy way to decorate Fall cakes is adding orange leaves to the exterior. These could be real leaves from the local area or sugar leaves made especially for the occasion.
Although real leaves will be cheaper, remember to remove them when serving your cake just in case someone thinks they are edible.
If you don't like the concept of autumnal aesthetics, you can instead use a rustic theme to create the same effect.
You could do this by using edible gold paint to create an exposed look. Adding lines of chocolate to a white buttercream base, creating an illusion of birch wood.
Or simply by balancing a naked cake aesthetic with the colors in your wedding rooms.
Wedding Cake Themes Based On Colors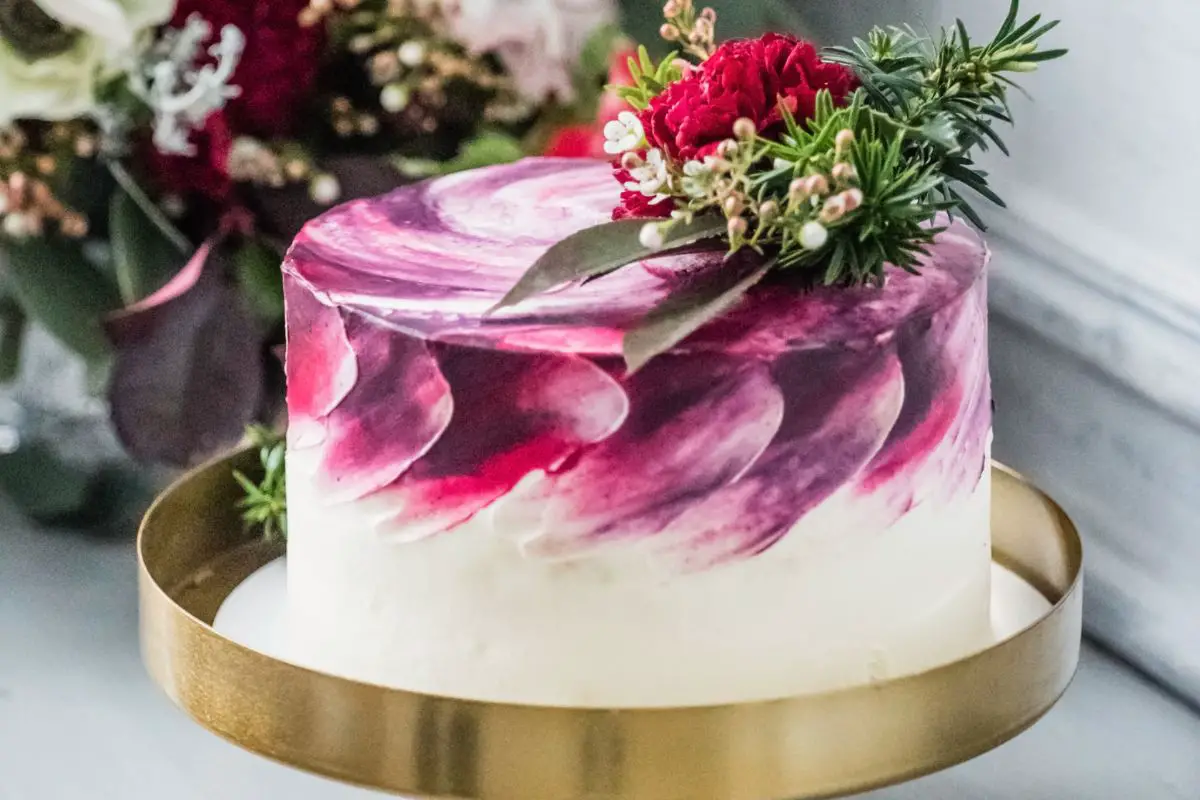 If you live in an area where seasons don't affect the weather dramatically, creating a season-based cake won't make sense.
So what do you base your wedding theme around? Another simple suggestion is using colors. These could be colors that symbolize your connection to your partner or simply colors you enjoy.
Pick a color palate that provides depth. If you only choose green, for example, you won't have much room to work with. Choosing forest green with ocean blues and light browns creates a woodland vibe.
While picking pastel purples, bright pinks, and pure whites create an excited and child-like aesthetic.
Here are some more suggestions to get you thinking.
Gold Palettes
Gold can easily look tacky, especially if you douse your cake in the sparkling color. But, if you pair edible gold with creams and whites, you can create an elegant aesthetic.
Gold is used best in small amounts, either brushed against the sides of your cakes or decorating the edging.
If white seems too plain and you're hoping for an extra pop of color, try including burgundy in your palette too. This deep red paired with natural greens and touches of gold create an elegant aesthetic of love, nature, and magic.
Red Palettes
Red cakes always pair wonderfully with white. Take the classic red velvet as an example. You could either surround the red cake with white frosting or offer small red cakes with a dollop of cream on top.
Red symbolizes love, while white symbolizes purity. Adding gold could create a wealthy addition to your themes, but switching to pink could present a softer aesthetic.
If you're sharing your cake late at night, you could opt for a darker theme. Red with dark blues and grays can create a warming palette, perfect for the winter.
Alternatively, you could have a white cake with different shades of red presented through edible flowers.
Purple Palettes
Purple is an unusual wedding cake color, but if "unusual" sums up your relationship, then have fun with these combinations.
Most gradients don't create an impressive visual, as we see these shifts in colors so often, the design is no longer interesting. Purple, however, hasn't been overexposed.
This means you can create a beautiful ombre layer cake using different shades of purple.
The design will create a sense of whimsy and lightheartedness to perfectly reflect the couple.
Alternately you can mix purple with white, brown, and orange. The Filipino design will create an earthy and exotic collection of colors.
Black Palettes
Black is another unusual option for a wedding cake, but it doesn't have to look ominous.
Black cakes often appear like works of art, especially if you use light and pastel colors to add small drops of decoration onto the background.
Pastel reds and pinks, surrounded by white, are a fantastic way to create an uplifting cake decoration while still using glamorous black backdrops.
Gold is also a great pairing for black, as it adds to the elegant aesthetic, while not detracting from the darker mysteries.
You could even use simple black and white shapes to show a story – out of the darkness into the light. From a black bottom tier to a marble effect of black and white , leading to an all-white tier at the top.
Each layer could be separated by a thin line of gold to really add to the glamorous aesthetic.
Blue Palettes
Blues are a fantastic choice. It's an uplifting color that can create so many emotions. A bright blue will create Mediterranean vibes, while a light blue creates an imagery of royalty and princesses.
From this list of blue wedding cakes, our favorite is the first. Using a single color, the baker has done so much. They have created an elegant and sophisticated cake, which suggests a mature couple's dignity in getting married.
The drape effect looks elegant and simplistic while being a very difficult technique to pull off. And tying the piece together is a beautiful flower made of sugar.
The baker created all of that with just one color. Outstanding.
However, if you want to marry up blues with other ideas, we suggest going one of two ways. The first is shading the blue down to white.
This means going from dark blue to navy, then light blue to pastel and finally white. This, like purple, can give you an array of colors to pick from while technically sticking to one.
For a more adventurous aesthetic, consider mixing light blues with light forest greens. Keeping the colors light will keep the overall theme of "wedding", while pairing blue with green creates a soft ocean-to-grass aesthetic.
Wedding Cake Themes Based On Interests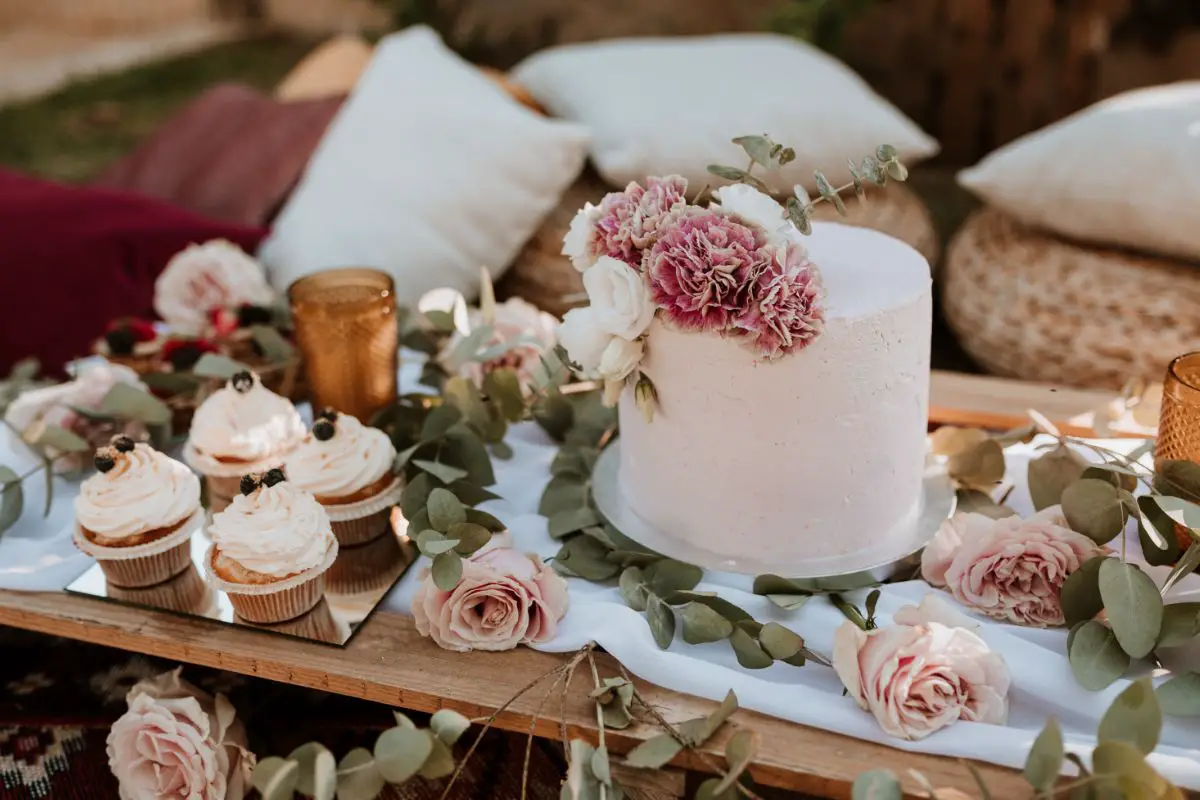 If you and your partner share the same interests you can use that idea to shape your cake design and your wedding.
Walking
You can design your cake like a walking trail. Using chocolate or fondant, you can create signs which point to your favorite or most significant locations.
Shape the cake like a mountain, and create a path made of graham crackers and chocolate flakes.
TV Shows And Movies
If there is a particular movie or TV show you bond over, you can take that idea as your main inspiration. There are two ways you can do this.
The first is the most obvious – taking lines or images from the show and sticking them onto the cake.
Perhaps buy figurines from the movies and use them as your toppers. If you have the money to pay for a detailed cake creator, you could ask them to re-create an important part of the show.
If that concept seems too "in-your-face", you could take themes from the show and use that instead. The themes could be their color palette, unique shapes, or hints toward lines.
For example the line "and then I met you. You inspired us. You inspired me" is beautiful. It comes from an animated TV show called She-Ra Princess of Power.
Instead of writing the whole quote into the cake, and including mini swords, you could instead have the words "and then I met you" written in icing.
The colors could match the TV show, so only those with the same interests will recognize the quote. The rest will simply think it's beautiful.
Games
You can create the same aesthetic with games. Either pull a direct correlation by making little cakes in the shape of dice or opt for something more subtle.
Subtle game designs for cakes could include a square shape of chocolate cake topped with mint frosting. Some will see this as a pretty design, others will connect it to Minecraft.
Pick out the key themes from your game and consider the same concept with a soft approach.
Music
Music is already considered romantic. You could wrap your cake in fondant and print music sheets into the sugared layer.
The sheet could be the music to your favorite song, your first dance as a married couple, or whatever makes sense to you.
Crystals
Spiritual couples have the amazing ability to add wonder to their cakes. The concept is simple, but the outcome is beautiful – turn your cake into a geode. Simply create a multi-tiered cake as normal.
Cover it in buttercream or fondant. Then cut into the cake and move a large slice, from top to bottom.
Lastly, cover the newly formed hole with buttercream and throw editable sugar shards in!
Your cake will look like a gorgeous crystal perfect for your wedding day. You can really add to the illusion, by painting the main body gray- like a rock.
Wedding Cake Themes Based On Unique Ideas
If you and your partner don't have the same interests, you could still create a cake based on your love of uniqueness.
Donut Cakes
If cakes aren't your thing, you can still enjoy a large dessert at your wedding. Donut cakes are a large collection of sophisticated donuts proudly displayed on your romantic day.
It can be as simple as sticking different donut types to your cake stand, or as complex as adding donuts to your multi-tiered cake.
Our link above shows 12 ways to make donut cakes. Pick your favorite ideas and show them to your local baker. They might have more concepts to share!
Cheesecake
Instead of using a typical cake batter, you could instead opt for a cheesecake special.
Wedding cheesecakes can be just as elegant or jaw-dropping as traditional wedding cakes.
The positioning of ingredients such as strawberries can create a delicate and beautiful pattern while the flavors will be smooth and tart.
It's your wedding, you can have whatever cake you want. If that's cheesecake go for it!
Ice Cream Cake
Along the same lines as cheesecake, your wedding cake could be made from ice cream. It's your cake, so why not!
Ice cream cake still has the structure of a cake and the flour foundations, but layered inside is delicious ice cream.
Don't use this option for a summer wedding. Your cake will be out of the freezer for hours on end. Any other season could handle the heat, but a summer wedding could lead to a melting disaster.
Final Thoughts
When you decide upon a wedding cake, you should consider how it fits into your current wedding themes.
Your cake should feel at home in your other designs, so pick colors or quirks which match your decorations or location.
If you want your cake to stand out, think about how that would work. Perhaps it's the only item of its color in the area, or maybe it pulls all the other themes together.
Throughout this article are links to more ideas. More color choices, more donut designs, more everything. Use this page as a platform and bounce to the next concept as you narrow down your inspiration.