A winter wedding is a unique occasion, not a lot of people do it, but when those who do know how special it can be. And what is the centerpiece of most modern weddings? That's right, the big cake itself.
But there's no reason why you can't get a wedding cake that fits in with your winter wedding décor.
Whether it is the white frosting that represents snow or an edible tableau that decorates the top, there are plenty of wintry additions to your cake that you can buy or make yourself.
So what ideas are there for a winter wedding cake? What are some of the ingredients involved? How long will it take you to make one of these cakes?
Well, we're going to help you out with this one. That's right, we've made a list of some of the nicest winter wedding cakes that you can find on the internet.
15 Great Winter Wedding Cakes
This first cake comes in two tiers and is coated with delicious icing that recreates something that you might find in the snowy alps.
Littered with logs, sprigs and ferns, this is like a woodland scene that you might find from the pages of a fairytale book.
If you want to conjure up a bit of that woodland magic, this is the right cake for you.
This comes with love hearts and snowballs, you can be sure that your guests will be cooing over this cake for the whole of your wedding day.
Next up, we have a tranquil winter scene, with houses made from gingerbread embedded into the side of a cake that is covered in icing. This also comes with edible green trees that are dusted with sugar snow.
This whole cake radiates beauty and serenity, almost as if you are trying to render your future life after you are married.
However, one thing you might have to watch for is certain guests slyly stealing the gingerbread houses for themselves.
This candy village is another amazing one that you can be sure will draw people's eye very quickly. This is red and orange licorice, with candy lollies and candy canes sticking out of the top.
If you want a cake that will give you a sugar high and keep you energized for your hectic special day, then this one is made with bags of the stuff.
If you have children at your wedding, then this might keep them gazing (and sometimes clutching) at the colorful rooftops and chimneys.
This next cake is another wintery town theme, although slightly more luxurious than some of the other versions we have listed here.
This whole scene is well-rendered and comes dusted with a light coating of sugar powder.
This comes with blue patterning on the corners and the sides. It has trees and snowmen that are all exquisitely rendered, painting a scene that will automatically make you feel tranquil.
Now we have something truly special that you might not find during a summer wedding: that is a light-up winter wedding cake. This type of cake gives the impression that there are people living inside.
This comes with icing that gives the houses their Christmas vibrancy and ornate patterning. It has a three-tiered system, with the top tier reaching up to the ceiling.
This is a grand cake that most of your guests will be able to spy on from the back of the room.
This next wintery wedding cake is for those who relish a baking challenge (or are willing to pay top dollar for an expert baker to make it for them).
If you feel that this incredible cake is beyond your expertise, you can always ditch the clouds and focus on the frozen river and wooden bridge.
This comes with the scene painted on the side of the cake, with is a great alternative to making the pieces separately and then trying to stick them on.
If you like something wintery but not Christmassy, then try this next cake, which displays a simple winter scene with some snow-capped peaks and a painted forest scene on the side.
This is a little more avant-garde than your regular wedding cake, with a ripped icing effect around the rim.
The centerpiece of this cake is the frozen river on the top in the center. If you like your natural winter scenes, then we would recommend this one. It will also blend in with the white décor of a traditional wedding.
Now we have a forest winter scene that is simple to make. This is ideal for beginners who might want to save a few dollars on making their own cake.
The decorations are very easy to mold, and you can cut a few corners by spraying a detailed winter scene directly on the side of the cake.
This cake is very simple, with streamlined edges that are very aesthetically pleasing to look at. This comes on a white plinth, which adds that wonderful clean and wintery final touch.
This is a very small but incredibly detailed cake, colored with a majority deep blue and snowy exterior, you can be certain that there's be a huddle of people wanting to all get a good look at this diminutive masterpiece.
This might not be that easy to make, so you can always outsource it to a master baker.
A great winter color scheme would be white with different shades of blue, and this cake will be magnificent as the focal point of that color design.
This is another snowy scene winter cake that really needs to be seen to be believed. This takes the traditional cake form and literally dissects it.
This comes with a wooden shack at the top that has a light in it, again, for that extra dose of reality.
With a cheeky snowman and bare winter trees, the scene is complete. This is a great winter wedding cake and a perfect option if you want something that you can get the kids involved with.
Next up, we have a very simple cake that will not take you that long to make at all.
The combination of blue and white looks simply amazing, and we would always recommend this color scheme for anyone who is looking to get hitched from September to February.
Next up, we have an amazing winter wedding cake that you can be sure will add that touch of class, elegance and nostalgia to your wedding proceedings.
The stand is what really completes the look of this amazing wedding cake, with a latticed fringing.
This is a very easy wedding cake that you can make, all you need are a couple of simple ingredients and a few hours to bake and decorate it.
This has simple snowflake patterns around the sides, which really elevates it to the next level. It goes to show that you don't have to be too complicated to have an impact.
This is a cake that will certainly add that touch of royalty to your wedding.
It comes with a white and gold color scheme, both of which work together to create something that will really catch the eye and leave your guest's mouths hanging open.
Finally, if you want to ring in the holiday season as well as celebrate your wedding day, then this is the cake for you. It is dusted with sugar frosting and comes with an ornate wreath design.
If you are having this for a wedding then you might want to lose the candle, other than that, this is a great wedding day option.
Frequently Asked Questions
Why Have A Wedding During The Winter?
A: One of the main reasons why you'll want a winter wedding is the fact that it will be a lot cheaper than during the summer, the season when most people have their wedding for the decent weather.
However, a winter wedding can be just as picturesque and memorable as a summer one.
What Flavors Of Winter Wedding Cake Can I Have?
A: You can get as many flavors as you like, from vanilla cream to peanut butter to even chocolate. The best part of having a white wedding cake is surprising people with the colors and flavors inside.
Conclusion
We hope that our small section of winter wedding cakes has given you a good idea of what is out there in terms of style and detailing(see also: Harry And Meghan's Wedding Cake: All The Details).
You can try to make any of these cakes yourself, although we would avoid the hassle of a DIY cake and go with a professional cake maker.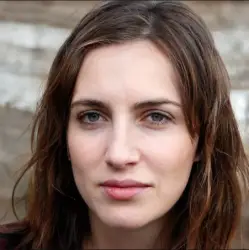 Latest posts by Anna Ingham
(see all)