On your wedding day, you will want a special cake that will make your day extra special. What better way to celebrate your day than with a lemon wedding cake?
The beauty of the humble lemon cake is that it can be enjoyed all year round, whether this is winter or summer – the flavors compliment whatever time of year it is.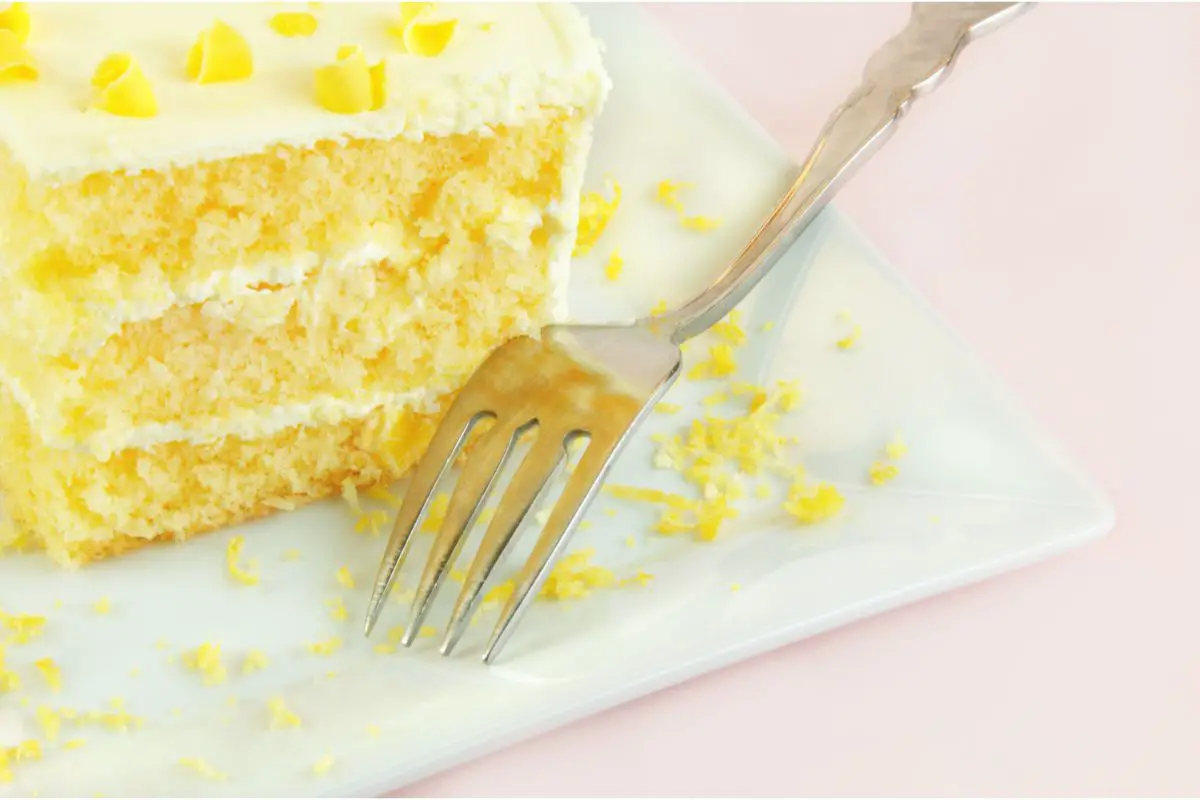 Plus, who doesn't love lemon cake?! It is sure to be a hit among all your guests. 
Thanks to the cake's simplicity, you can decorate it to your heart's content. Whether you decide to go all out or keep the decorations to a minimum, the result is a gorgeous wedding cake. 
However, when it comes to making your own wedding cake, this is a somewhat nerve-wracking thought. 
Luckily for you, we're here to help! Don't let nerves stop you from having a special day, instead, follow one of the recipes we have outlined for a simple yet beautiful wedding cake(see also: The Best Fillings For Your Wedding Cake (With Recipes)). 
Let's get straight into it! 
You can never go wrong with a white wedding cake to match the theme of your wedding. It is timeless, elegant, and is sure to go down a treat with all your guests. 
If you're worried about making your own wedding cake, then this white wedding cake is the perfect solution. Not only does it come out perfect every single time, but it is also coated in delicious white buttercream frosting. 
Whether you're having a small wedding, are on a strict budget, or simply want to make a memorable wedding cake, then making your own cake – or having a family member help you – is a great way to go. 
This recipe is incredibly simple, with enough servings to feed all your guests. You don't always need a professional baker to make your wedding cakes. This recipe is a testament to this. 
Instead, make your wedding day that much more memorable by getting stuck into the preparations. 
This lemon and elderflower tiered cake is certainly suitable for a Royal wedding! 
Celebrate your wedding in the footsteps of Harry and Megham who went for this unconventional wedding flavor. This is unconventional since tiered cakes unusually contain fruits, well, in the U.K. at least. 
However, regardless of how modest or Royal your wedding is, this lemon and elderflower wedding cake is sure to make your day extra special. 
Moreover, if you're having a Spring wedding, then these flavors will complement the atmosphere perfectly. That said, the flavors here are somewhat subtle, especially the elderflower. 
If you're looking to add some buzz to your wedding cake and enhance the flavors, then consider adding elderflower liqueur or cordial to your cake. 
The cake itself consists of a 23cm/ 9in base with a second tier containing a slightly smaller layer of 15cm/ 6in. 
For the frosting, this recipe has opted for a simple mascarpone which makes this royal wedding cake (see also: 7 Best Royal Wedding Cake Recipe Ideas For Your Special Day)simply decadent. 
The finishing touches are achieved through the freshest flowers. Here, just make sure you're using edible or unsprayed flowers. 
Nothing quite compares to the fresh, zesty lemon cake that is slathered with a deliciously creamy lemon frosting – making the perfect summer wedding cake. 
To amp up the flavors, this lemon wedding cake is made from half butter and half oil – creating a moist and light texture. Here, the oil contributes to the 'just-baked' freshness. 
This recipe consists of two sets of lemon wedding cake (see also: 15 Best Wedding Cake Knife Set For Every Wedding)recipes. One is to make the first set of layers using two x 2" deep tins, while the second set requires two x 3" deep tins. 
Before putting your cakes in the oven, it is highly recommended to use baking strips around the pans. This prevents your cakes from creating a domed middle. Plus, it also ensures less wastage of having to cut and flatten your layers. 
This Rachel Khoo's DIY wedding cake is simple and beautiful yet completely foolproof, too. It is sure to look and taste the part for your very special occasion. 
With hints of delicate lemon flavoring and sweetness from the light cream cheese frosting, this cake is the perfect make-ahead recipe that will help round off your perfect day. 
The cake itself is a simple yogurt cake that stays moist and remains in its shape throughout the day.
Since it's not too dense, you don't have to worry about this cake putting your guests in a food coma. Instead, they will be up on the dance floor boogieing the night away. 
A light, delicious, lemony sponge packed with lemon-cured and glorious lemon buttercream. The result is the perfect lemon celebration cake. 
Lemon is always a safe flavor to go with. Not only does everyone love it, but it is also the perfect after-dinner accompaniment since it cleanses the mouth – leaving you feeling refreshed. 
This recipe is a somewhat hybrid between a classic Victoria sponge cake and something that is filled with heavenly lemony flavors. The best part? It is utterly delicious. 
This lemon cake is super soft and velvety containing homemade lemon ganache drip, lemon curd, and an utterly addicting lemon cream cheese frosting. It is so soft, it practically melts in your mouth. 
The cake itself contains tons of natural lemon flavors thanks to the pure lemon extract, lemon juice, and lemon zest. 
Instead of buttercream, this recipe uses a lemon ganache drip – creating something that is lighter and more refreshing. 
If you love lemon, this recipe is sure to be one of your favorites. It's buttery, moist, sweet, and packed with tons of fresh lemon flavor.
Garnished with whipped cream and enveloped with delicious lemon cream cheese buttercream, you need to try this recipe. 
In addition to these flavors and textures, one of the best parts about this recipe is its ease. It contains extremely simple ingredients of creamed butter, eggs, super, milk, flour, and, of course, lemon. 
Between the frosting and the cake itself, this recipe requires 2-3 lemons. However, don't worry about any sour faces, this is perfectly balanced out with the sweetness. 
This luscious lemon lavender cake contains bright flavors of lemon alongside hints of lavender throughout for an extra special wedding cake. 
The recipe starts with tons of lemon zest, lavender, and swiss meringue buttercream. Instead of lemon buttercream, this recipe allows the lavender flavors to take the spotlight. 
The result is a perfect lemon lavender wedding cake that is sure to bring a smile to all your guest's faces. 
You don't have to worry about any overpowering lavender flavors. Unlike some other cakes that contain perfumed lavender, this one contains a nice, light floral tone. Combined with the lemon it makes for an elegant cake. 
This lemon elderflower cake is the perfect combination of fluffy and light. Although, it remains moist thanks to the homemade lemon curd and garnished with creamy elderflower Swiss meringue buttercream. 
The result is something that both tastes and looks incredible. Plus, it is sprayed with soft pink buttercream peonies which make for the perfect finishing touches. 
This lemon raspberry wedding cake is garnished with delectable vanilla buttercream.
If you're making your wedding cake a day ahead, then we recommend soaking the layers in a zingy lemon syrup – it is sure to make all the difference. 
Once you have everything whipped up, the next stage is the decoration. This recipe uses olive branches to bring out the characteristics of Italy, as well as pomegranates and lemon branches to bring the whole cake together. 
The result is a perfect wedding cake, something that is not too sweet, but moist and fragrant – everything you could ever want from a wedding cake. 
Start your marriage on a sweet note with this recipe. 
For this tiered cake, all you need are 4 standard 24cm cake tin. Although, if you're looking to make a two-tiered cake, then all you have to do is double the recipe. 
The overall recipe contains enough servings to feed 70 hungry guests. Plus, you don't have to worry about any leftovers, they are sure to be gobbled up before long. 
Final Thoughts
There are many reasons why you may choose to make your own wedding cake. Whether you're looking to add some personal touches to your wedding day, are on a strict budget, or simply want to try something new.
Well, these 10 best lemon wedding cake recipes are sure to point you in the right direction. From extravagant tiered cakes to something more modest – there is sure to be something that matches your big day perfectly.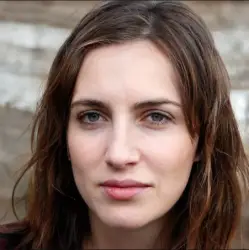 Latest posts by Anna Ingham
(see all)