Are you looking for the perfect wedding cake for your special day? We know that planning for a wedding is one of the most important, stressful, and exciting events in life. 
The cake selection is one of the details that couples put lots of thought into, and we want to help you find the best ideas to help you on your way!
Buttercream is by far one of the most popular choices when it comes to wedding cakes – (see also: The Ultimate Guide To Wedding Cake Buttercream Frosting)it's classic, creamy, and beautiful.
Here are some of our favorite buttercream and frosted wedding cake recipes that will make your special day (see also: 15 Best Black Wedding Cake Recipe Ideas For Your Special Day)even sweeter!
This wedding cupcake buttercream is perfect for decorating cupcakes with swirls or rosettes. It can also be used as a filling between layers of cake or as a topping on cakes or other desserts. 
The sweetness of this frosting pairs perfectly with any type of cake flavor, from chocolate to lemon or even carrot cake!
With its creamy texture and subtle sweetness, this buttercream will make your wedding cupcakes look beautiful and taste delicious!
You're going to love this double-layer vanilla buttercream cake with raspberries and orange cream-cheese frosting because it is a showstopper.
The moist, fluffy layers of white cake are brushed with a hint of vanilla syrup for added flavor and sweetness. 
The orange tangy cream-cheese frosting adds the perfect balance to the sweet cake. Fresh raspberries are layered between each layer of cake, adding a burst of tartness that complements the other flavors perfectly. 
This delicious cake is sure to be a hit on any special occasion, from birthdays to weddings.
This stunning and delicious cake is sure to impress your guests at any wedding or special event. It's easy enough for novice bakers to make yet sophisticated enough for experienced bakers to enjoy. 
The combination of the warm spices in this recipe makes it truly special. The ginger and cinnamon add a subtle warmth that pairs perfectly with the carrots.
This cake is also surprisingly healthy, as it uses no refined sugars or artificial ingredients. 
Whether you're looking for something special for your wedding celebration or just want to enjoy a delicious dessert, this Classic Carrot Cake will not disappoint!
With its simple ingredients and easy-to-follow instructions, you can have this delicious cake ready in no time. Enjoy a slice of this moist and flavorful cake with friends and family – it's certain to be a hit!
The best part about this recipe is that it's easy to make. All you need to do is mix together the wet ingredients in one bowl and the dry ingredients in another before combining them together. 
Once your batter is ready, pour it into a greased pan and bake until golden brown. Once cooled, top with your favorite chocolate buttercream frosting for an extra special treat! 
This classic yellow cake with chocolate frosting will be sure to please everyone at your next wedding celebration or gathering.
The frosting is made with melted semi-sweet chocolate chips, butter, powdered sugar, peppermint extract, and heavy cream. 
Its light yet creamy texture makes it the perfect complement to the dense chocolate cake. This delicious treat can be served on any occasion – from birthdays to weddings – and will be sure to impress your guests!
The cream cheese-style frosting is swirled with sweet blackberry for an extra burst of flavor and color. 
The contrast between the deep red velvet cake and the bright purple compote makes this dessert truly stunning. 
Whether you're serving it for a special wedding occasion or just want to treat yourself, this red velvet cake with blackberry-cream cheese whipped frosting will be sure to impress.
The best part about this recipe is that it's surprisingly easy to make. All you need to do is bake the sponge cake layers, prepare the strawberry compote, and whip up the thyme-infused cream. 
Once all of these components are ready, simply assemble them into one beautiful layer cake. To finish it off, top it with fresh strawberries for an extra burst of flavor and color. 
Serve this Strawberry Shortcake with Thyme and Whipped Butter Cream at your next summer wedding gathering for a showstopping dessert that will have everyone asking for seconds!
This decadent spiced chocolate torte is a showstopper of a dessert. 
The combination of flavors and textures creates a truly unique and luxurious experience that will leave your guests wanting more.
The presentation of this spiced chocolate torte is as impressive as its flavor. The intricate weaving of the ribbons around the cake gives it an elegant look that will be sure to impress any crowd. 
Not only does it look beautiful, but the ribbons also add another layer of texture to the already delicious dessert. 
Whether you're serving this at a dinner party or giving it as a gift, this spiced chocolate torte wrapped in chocolate ribbons will be sure to make any wedding occasion special.
The Thiebaud Pink Cake is a unique and delicious dessert that looks like it was painted by an artist. 
The cake itself is a light pink color, with swirls of white frosting and bright red strawberries on top.
It has a sweet lemon flavor that pairs perfectly with the tartness of the strawberries. The texture of the cake is soft and fluffy, making it a pleasure to eat.
The taste of this cake is truly something special. The combination of sweet and tart flavors creates an explosion in your mouth that you won't soon forget. 
Jam Cake is a classic Southern dessert that has been around for generations. 
This traditional cake is made with a moist, buttery cake base and filled with the sweet jam of your choice.
The cake is then topped with a rich caramel frosting that adds an extra layer of sweetness to the already delicious treat.
This version of Jam Cake takes it up a notch by replacing the traditional caramel frosting with a decadent caramel chocolate ganache. 
This is a decadent treat that will tantalize the taste buds of any chocolate lover. 
The beer adds this toasty-rich flavor directly to the cake, while brewed coffee boosts the chocolate's sweet flavor even further. The result is a moist and flavorful cake that pairs perfectly with vanilla ice cream.
This delicious coconut layer cake is a classic dessert that is sure to please any crowd on your wedding day. 
The top secret to its amazing flavor and texture lies in the use of Coco López, a sweetened cream of coconut.
This ingredient adds an extra layer of sweetness and richness to the cake, while also providing a subtle hint of coconut flavor.
The cake itself is made with layers of moist white cake filled with a creamy coconut filling. The top is then covered in a thick layer of fluffy white frosting and sprinkled with shredded coconut for added texture and flavor. 
This easy chocolate cake is the perfect solution for those looking for a delicious dessert without having to use milk, eggs, or butter. It requires minimal effort, and you likely already have the ingredients at home. 
All you need to do is stir together the ingredients and bake them in the oven. 
The best part about this vegan chocolate cake is that there's no need to cream, beat, or whip anything. 
You can simply mix everything together in one bowl and pour it into a greased pan before baking it in the oven.
This makes it an ideal choice for busy bakers who don't have time to fuss over very complicated recipes. 
Plus, with its rich flavor and texture, this vegan cake will be sure to impress even non-vegans!
The pumpkin spice layer cake is easy to make and can be served as an impressive dessert for any special wedding occasion. 
It looks beautiful when presented on a platter or cake stand and will be sure to impress your guests.
Serve it with a scoop of ice cream or some fresh whipped cream for an extra special touch. This pumpkin spice layer cake is sure to become a favorite during fall!
This Fuji Apple Spice Cake is a delicious treat that is sure to please. The combination of sweet apples and spices creates a unique flavor, making it perfect for any occasion. 
Fuji apples are ideal for this recipe because they are both sweet and firm enough to hold up in the oven.
Final Thoughts
No matter what type of wedding cake you're looking for, there are plenty of delicious recipes to choose from.
From vegan chocolate cakes to classic coconut layer cakes, these recipes will make your special day even more memorable. 
Whether you're a novice baker or an experienced one, these recipes are sure to be a hit with your guests!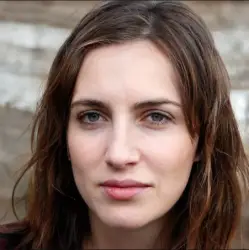 Latest posts by Anna Ingham
(see all)