We've all heard of a white wedding, but what about a gold wedding? That's right, if you want to add that little touch of lavishness and maybe even royalty to your wedding day, then we would suggest adding gold.
The great thing about this color is that it matches almost anything.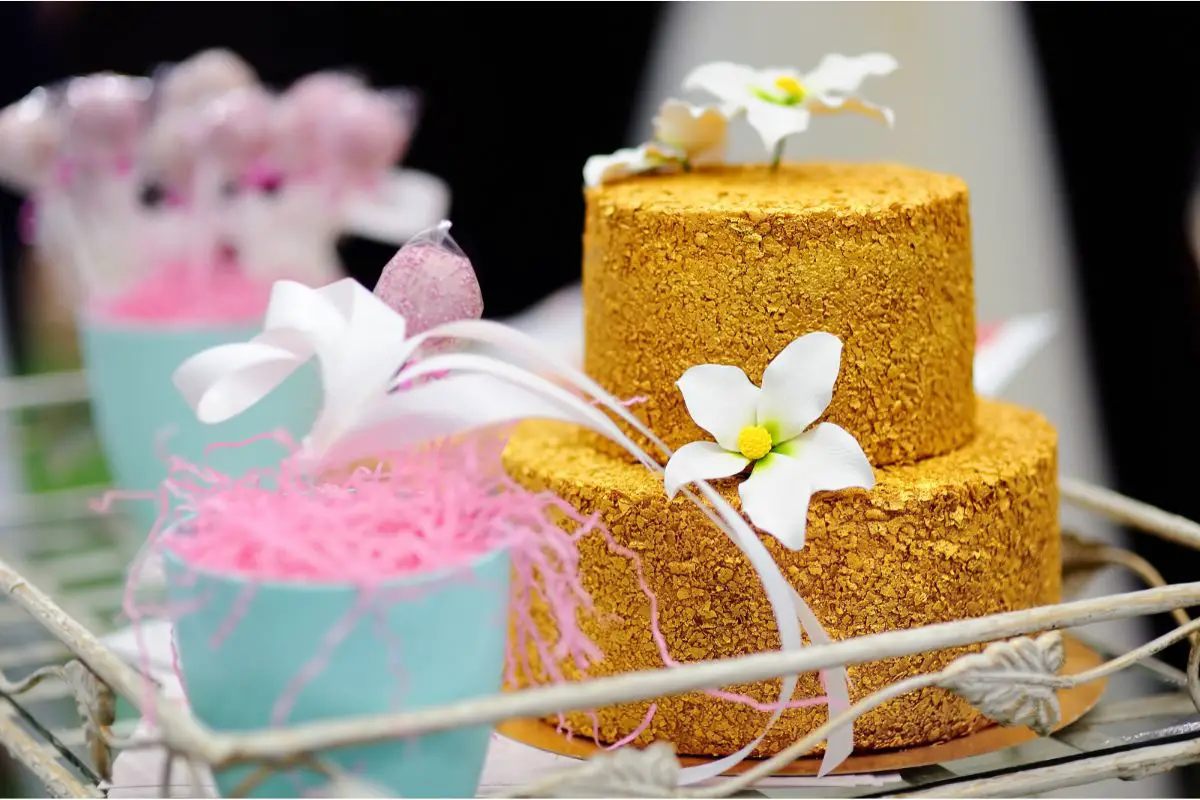 You don't have to spray the cake gold to get the desired effect, although this is certainly an option.
You can add gold trimmings to your white cake, you can decorate your black wedding cake with golden leaves, or can add gold trim to your duck egg blue wedding cake.
So where are the best gold wedding cakes? How can you make your cake seem opulent without being too showy? Can you have your entire wedding cake covered in gold?
Well, we have 15 great golden wedding cake ideas to kickstart your wedding mood board, so let's tuck in.
15 Best Gold Wedding Cake Recipes
This next cake is simply amazing when it comes to glitz, glamor and the vibe of a certain American capital city. This has golden smears on the side, which add that shine to your wedding cake.
It also comes with roses and lilacs that snake their way up the side of the cake itself.
This is an exceedingly tall cake, so you can be sure that people will be able to see it from the back of the room. You can be sure that there will be plenty of cake to go around.
This comes in different tier heights, which gives the cake that eccentric style.
We told you that gold goes with many different colors and this cake demonstrates how that is true. With multiple layers of varying different shades of purple, this is a very extravagant cake that offers something a little more left-field.
With dripping gold off the side, it looks like it's been wrought in a smelting factory.
The red and pink combination on the bottom two tiers are really what makes this cake. You can also have this one as a centerpiece for a white wedding, as the colors are mild and will not clash.
This comes with a string of flowers at the bottom, which adds a natural flourish.
If you are having your wedding around the yuletide period, then why not get a cake that matches the festivities?
This cake comes with golden trimming and baubles that really bring that edge of not only Christmas but a sophisticated Christmas.
This has the white element to represent both the purity of the wedding day with the winter snow. You can decorate this one however you want, but the gold elements really complement the white.
This is one for people who like traditional but don't mind subverting it slightly.
This next cake is a stunning combination of white and gold, with the sharper golden elements slightly subdued for the white to really stand out.
This comes with white and gold leaves, both of which work together nicely to create a wintery effect.
This cake is only small, which makes it perfect for a scaled-down wedding. This is made with buttercream and vanilla, resulting in a traditional flavor palate.
It has two tiers, which are high enough to make an impression but not so high as to be too showy.
This cake is amazing, with textures and colors balanced just right. It comes with a patterned design on the body that will really impress, especially if you view it in the daylight. This is certainly a cake that rewards the attentive viewer.
The thing that makes what might be an otherwise humdrum cake really stand out is the flower arrangement.
With gold and white leaves, this creates the impression of fireworks exploding out of your cake. This makes it look exciting and spontaneous.
This next cake has a lot of different elements in harmony, which makes for a cake that is very traditional but also eccentric and quirky.
This comes with white flower petals that have golden bulbs in the center, which adds an overall far more dramatic affair.
This comes with cracked leaves trailing up the side, almost as if the cake has been purposefully broken. This comes in cream coloring that is subtle yet beautiful.
When you think of a wedding cake, you imagine pristine sides and largely this cake conforms to that idea.
This is a cake that can easily be applied to a wedding or a birthday party. It comes with an abstract, wavelike effect on the sides which are trimmed with gold and made with transparent white icing.
We would certainly recommend that you give this one only to the most skilled baker to attempt.
This cake has a plain body with a broken uneven surface on the top, which adds character. It also has fur coming out of the top, which is a texture that you might not always associate with a regular iced cake.
Gold doesn't have to go solely with white, it can also work just as well with black icing. This is a one-tiered design that is very simple, with the noble stag at the top of the cake drawing all the attention.
This cake is very sophisticated and will certainly turn some heads from people passing by the buffet table.
This is a solid smooth cylinder, which gives off a minimalist, no-nonsense appearance. The bottom is trimmed with golden laurel leaves, which certainly gives the impression of royalty.
If you want that touch of elegance and eccentricity, then you can't go wrong with this unique cake.
This is another wedding that utilizes the simplicity of black and gold to amazing effect. It has a plain design that is set off by black and gold leaf patterns that give it that sense of excitement and intrigue.
We would recommend this cake for anyone who has decided to have their wedding at night, perhaps on a balmy summer evening in the center of a thriving city.
This could work well with black and gold pot plants dotted around the room and black curtains hanging from the ceiling.
This cake is more like a work of art than something you cut up and serve to hungry wedding guests. It has a cylindrical design that is contrasted with the straight golden shards stuck to one side.
The shards themselves are textured, so you can see how much effort has gone into making this cake.
The shards themselves are edible, so you won't have to worry about removing them before cutting the cake(see also: Cutting The Cake: The History Of This Couple's Tradition). You can even add a little bit of gold netting over the top of this cake for that extra panache.
This cake has been sprayed gold as a final touch.
Again, this is a cake that is just as well suited to a wedding as it is to a birthday. With a tasteful gold leaf pattern tracing across the circumference of a dark cake, then this one exudes moodiness and meaning.
You'll have your wedding guests pondering all night about this cake's deeper significance.
Now we revert back to form, with a conventionally white wedding cake with some gold dripping down the sides for that extra touch of drama.
This has gold and white sugar flowers bursting from the top, which give this cake that extra flamboyancy.
Sometimes simplicity is best, and this cake is proof of that. Take an unadorned white cake and bake it with gold streaks through the center, add a gold laurel ring around it and you have something that will both please and astound.
Bursting with many different colors and textures, this cake seems to have it all. It has furry cotton plants on the side that are a wonderful contrast to the smooth white of the icing.
The gold is hardly visible here, but it is there, and you would soon notice its absence once it was removed.
Finally, we have something that takes tradition and turns it at an angle. With a primarily white body, this is very sparing with the gold detailing.
But if you look closely around the rim of the cake, you will see that gold is what really makes this cake.
Conclusion
We hope that our list of gold wedding cakes has given you a better idea of exactly what is on offer here. Whether it is white, black or burgundy, you can have a gold cake for every occasion.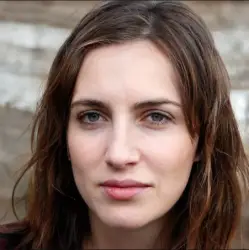 Latest posts by Anna Ingham
(see all)