Not all people want a white wedding and when it comes to choices of wedding cake colors, then you can often be quite limited. But one color that can add that certain degree of class to any wedding is burgundy.
Burgundy is that deep sultry color, lying somewhere between red and purple on the color spectrum. It is often used in royal gatherings as window dressing in a lot of high-class hotels.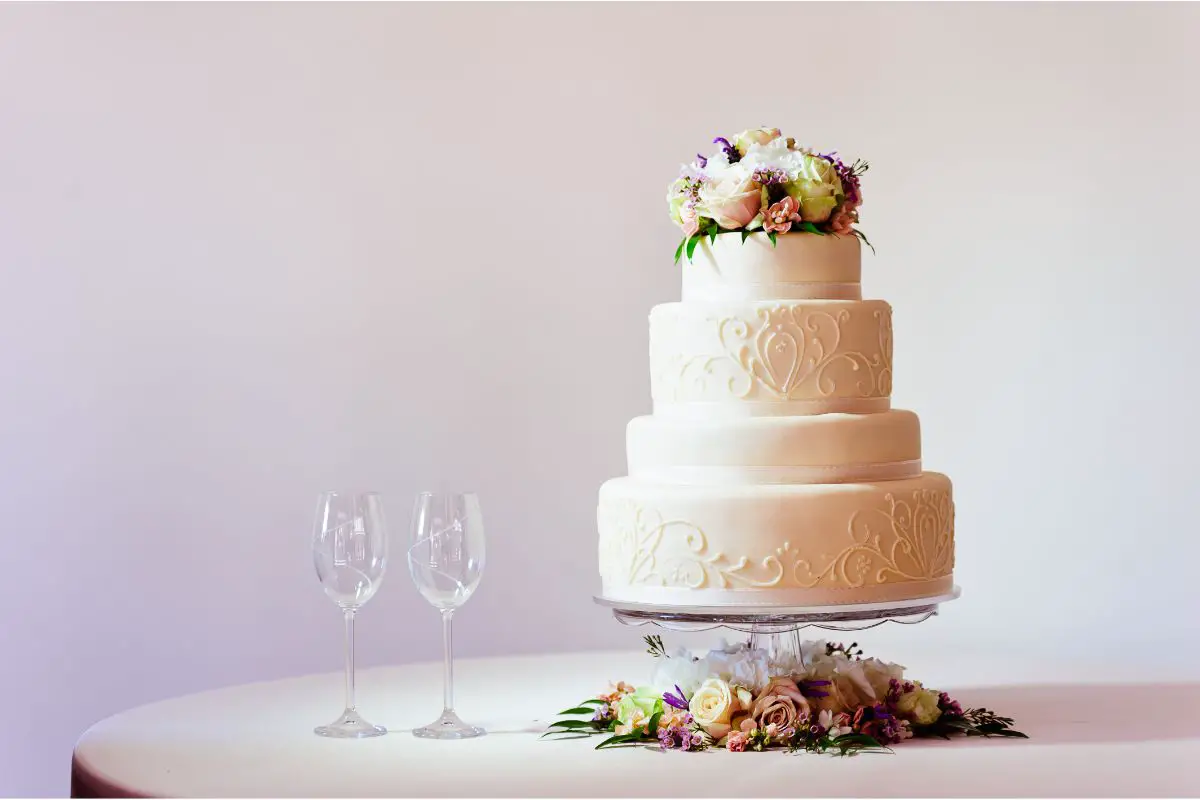 But you might be skeptical as to how these colors work for your wedding cake.
Where can you find the right burgundy wedding cake? How versatile are these wedding cakes? What colors match burgundy in a complementary way?
Well, we have compiled a list of 15 of the nicest burgundy cakes we can find, all of them in a variety of different shapes and styles.
15 Best Burgundy Wedding Cake Recipe Ideas
As you can see, this first wedding cake comes with all the trimmings. It is an autumnal floral design, with deep burgundy flowers running around the rim.
This will make the perfect centerpiece for weddings that aim to look sophisticated but not too showy.
This has a gold stand, but you can easily have it on an oak stand or just lay it flat on your white buffet table.
This cake will contrast nicely with more somber colors as opposed to bright white décor, although you can have this with a more traditional wedding color scheme.
With a high that could rival the Empire State building and a cascading waterfall of flowers, this is one for those who don't shy away from luxury.
This comes with all sorts of sultry colors that complement each other in the best way imaginable.
The bottom layer is dark and comes with a cross hatch pattern, with the middle tiers getting progressively brighter.
The simplicity of the cake body itself is contrasted with the floral feature, which adds a little bit of glamour and drama to the cake.
This cake is more for the people who like a hint of burgundy within a more traditional wedding cake color scheme. The burgundy itself comes in hints in the decoration, with the main body of the cake being white and pink in color.
With baby-pink ribbons around the base, this cake is neither too showy or in-your-face. The burgundy flowers around the edge attract the eye in a subtle way.
All you need are two bursts of flower fixtures to really bring this cake to life.
This cake is monogrammed, so if you want a personalized cake for your wedding, then you can't do much better than this one.
This cake goes great with gold trimming around the base and sits on a golden stand, both of which will really offset the cream frosting.
The burgundy flowers are what really bring this cake to life, punctuating the tiered layers in a way that draws the eye from the bottom of the cake to the top and then back down again.
Don't forget the delicious creamy icing that covers the whole thing like a layer of thick winter snow!
Next up, we have a cake that looks not too dissimilar to a bed, with a quilted layer in the middle that is deep burgundy in color.
This is a fantastic centerpiece to your wedding buffet, with a color scheme that delights the eye as well as the stomach.
This cake will really blend in with most wedding décor, especially if you are going with something a bit darker with contrasting colors.
These are dotted with sugar roses, which are edible and add an extra element of sophistication to an already refined wedding cake.
That's one of the great things about burgundy is that it suggests wealth, even if you aren't wealthy. You can really elevate the status of your wedding with a cake that includes burgundy, and this cake is no different.
This is a grand and regal design, with a burgundy base, a marbled center, and a pure cream top.
This looks more like something you might find holding up the roof in the Sistine chapel than something you would tuck into on your big day.
This is another quilted cake, with studded pearls in the center and a deep burgundy base that is perfect for anyone who considers themselves to have a taste for the finer things in life.
This cake comes with silver trimmings and sugar roses that you'll be able to save after the wedding.
This is a wonderful burgundy cake for a large wedding and makes a great centerpiece that you can see from any part of even a large marquee room.
Why not think big about your wedding day? This is a classy cake with some real charm and pizzazz.
You might not think of gold as being the optimal color for a wedding cake, but when you look at this one, then you might change your mind.
This cake has a raked gold outer body that comes in three lofty tiers that almost reach the ceiling.
But the gold in this cake is very understated and not too ostentatious. It comes with burgundy in floral decorations, which draw the eye to the main body of the cake.
You can add anything you like to decorate this cake, although we must admit that the plastic bird nestling at the top is a beautiful touch.
You might have to take another look at this cake, as it looks like a two-tiered cake, but it has a third tier that is colored gold and looks almost like a solid metal base.
This has burgundy floral decorations on the side, swirling downwards in a very dramatic effect.
This is ideal for anyone who wants that regal and refined wedding day. Why not match the burgundy and cream motif with your bridesmaid and groomsman outfits?
You can decorate the whole wedding room with burgundy, cream, and gold flowers like something from Ancient Rome.
If you want to go all out on your wedding day, then this is the cake to get. It looks like it's been welded out of solid metal.
This is a four-tiered cake, so you won't miss it even if you are sitting on a table placed all the way at the back of the room.
This cake comes with a burgundy wrap with studded trimmings that then gives way to shining gold near the top.
This cake is topped with gold roses that form a nice contrast to the otherwise geometrically shaped lower half of the cake.
This next cake combines the traditional bright white of a wedding with the deep and sultry burgundy at the base. The middle tier is sparkling, and the top tier just comes in plain white.
With a creeping floral burgundy and white pattern up the side, this cake has both drama and class.
Now we have a very busy cake, but one that somehow manages to rise above its constituent parts. The base is swirling white cream, then a pure white middle tier, topped with gold sparkles.
This comes laced with burgundy and gold flowers, which adds the final flourish.
If you want something a little different that still looks elegant, then why not try this wedding cake that has tiers that vary in height and width?
They also come in different colors, all of which are subtle and complementary, resulting in a very aesthetically pleasing wedding cake.
This next cake is so splendid to look at that you might even be reluctant to cut it. It has three pure white tiers with burgundy and red roses cascading down the side in a dramatic swirling effect.
For those who like the flamboyant touch, this is a great cake for you to have. You can also personalize your cake with your own trimmings.
Finally, we end on a high note, a three-tiered wedding cake that has dripping gold, burgundy swirls on the bottom and a gilded silver crosshatch design on the sides.
This cake is sumptuous and eye-catching, perfect for a lavish wedding where no expense has been spared.
Conclusion
When you are picking out your wedding cake, you don't always have to go for the most traditional design. Trade white, red and baby pink for gold, cream, and burgundy.
As you'll have seen from some of the suggestions above, there are plenty of options to choose from when it comes to different colors, shapes and textures.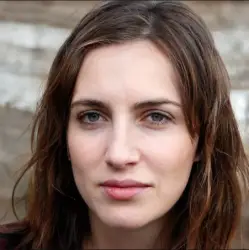 Latest posts by Anna Ingham
(see all)