When it comes to your wedding, the cake is most certainly a centerpiece. With its high tiers and beautiful finish, everyone will want to take a picture of it.
A rustic wedding cake means that you will have lots of potential as soon as you start coming up with ideas.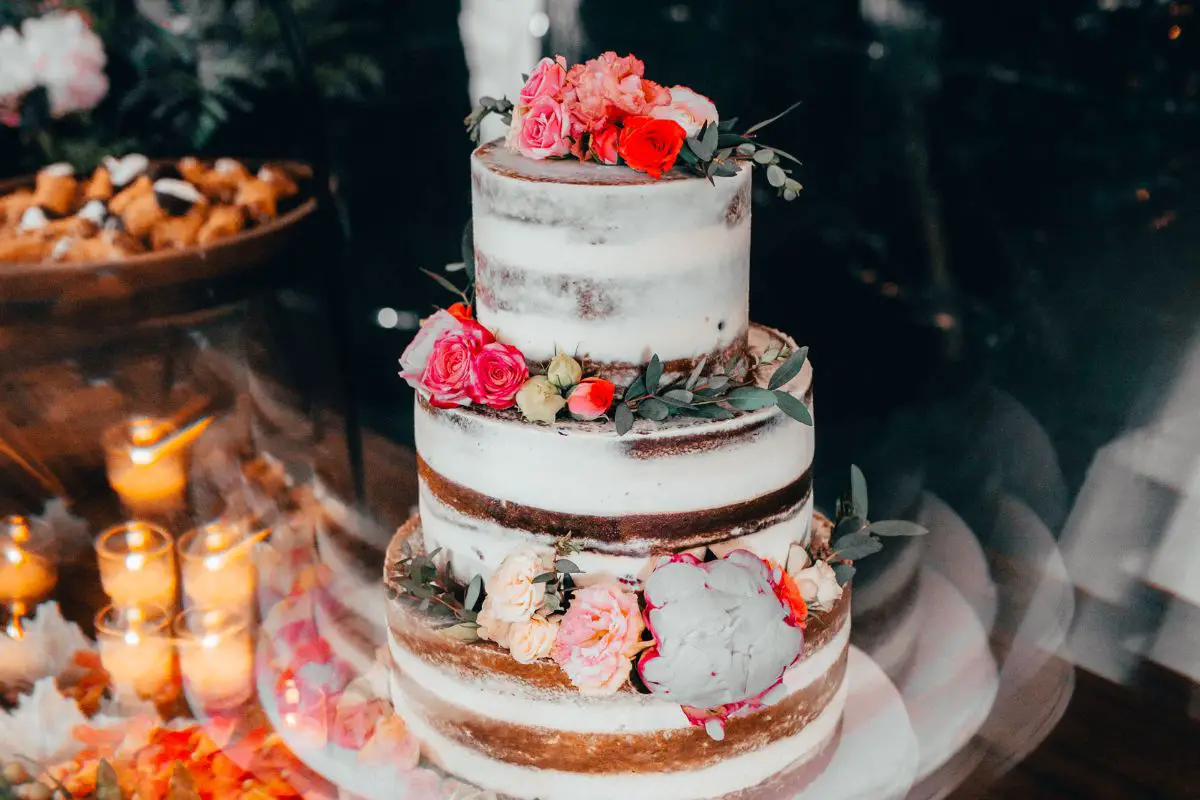 While a lot of creativity comes from fall colors, if it is a summer wedding, you can use nature itself to be the overall inspiration.
Speaking of inspiration, if you are currently looking for rustic wedding cake ideas, (see also: Rustic Wedding Ideas That Don't Cost The Earth)then you have come to the right place.
In this article we shall take a look at 15 remarkable rustic wedding cake ideas for your special day.
1. Blue And Gold With Flowers Rustic Wedding Cake
We had to begin the list by showing this striking blue and gold cake. The beauty is in its rough finishing, giving it an overall rustic feel.
Despite the gold blending into the blue, while it may look like an unfinished paint job, it also makes it look complete.
Teamed alongside both sugar crafted flowers and real flowers in a light mint green and deep red, this cake is 'insta-worthy' all day long.
It is perfect for those who want to mix the traditional with the non-traditional. Who wants a white cake anyway?
2. Birch Log Rustic Wedding Cake
You could go all out and have your cake inspired by nature by making each tier look like a log from a tree.
This particular cake has been created to look like it has been carved from a birch tree. One of the reasons for this particular tree is because it is white in color and suits being a wedding cake.
You can add real leaves and so on as decoration, as well as add it using sugar craft work. For an extra touch, ask your cake maker to put your initials into the 'wood' to make it look like it has been carved in.
3. Layers Sponge And Fruit Rustic Wedding Cake
A great way to have a rustic wedding cake that looks effortless (though it took a lot of effort to make) is to leave the layers exposed.
The tiers of the cake look wonderful as they 'stripe' from sponge to frosting, over and over. Adding fresh fruit and the odd real flower to the decoration keeps it looking 'homemade'.
Your guests will love the addition of fruit, especially if you make sure the cake is not overly sweet. Keep the frosting a planer flavor such as vanilla.
4. Farm Rustic One Tier Wedding Cake
If you want something really simple yet fun, you could go with a one tiered cake, especially if you only have a handful of guests.
Leaving the cake with no frosting, but adding a few swirls on top with something like Reese's Peanut Butter Cups gives it a rustic look.
A cute topper also adds to the feel, and lets people know it is the wedding cake.
5. Chocolate Frosting Rustic Wedding Cake
If you want to step away from the norm when it comes to wedding cakes, you could opt for a chocolate frosted version.
While it is traditional to choose white, when it comes to going for a rustic theme, you can be a little more inventive with your ideas.
A chocolate covered wedding cake is perfect for the fall season. Add some burnt orange flowers for an even more dramatic effect.
6. Open Layers Chocolate Sponge Rustic Wedding Cake
While we have already shown a cake that has no frosting on the sides, this cake is a little different.
It has a darker sponge that when teamed with the white frosting in between the layers, it gives a dramatic effect.
The use of flowers and fruit making their way up the four tiers gives this wonderful cake such beauty.
Adding on 'randomly' placed fruit also makes it look less perfect. Overall, it can add to your wedding's theme colors as well as fit right into the presentation for the special day.
7. Quote Frosted Rustic Wedding Cake
This cake may not seem as rustic as some of the others, but it is – and we shall tell you why.
When it comes to the icing and frosting on the outer layer of a cake, it is often super smooth and perfect.
This cake has different textures giving it a rustic appeal. It also helps the layers to be different from each other in a subtle way.
However, what we love the most is the writing. It is such a cute quote, and you too can add in a quote that is special to you and your partner.
8. Different Layers Rustic Wedding Cake
Again, here is another cake that may not look as rustic as some of the others, but listen up! This cake is dramatic. While considered to be simple, the use of different tiers makes this cake stand out.
Including a hexagon shaped bottom tier along with two circle upper tiers gives it a unique style. We also love the different patterns and the use of pink alongside the white.
Add some real flowers on top for a beautiful finish.
9. Nature Inspired Rustic Wedding Cake
When it comes to exposing the layers of a cake, you could go for an in between look. Having the frosting scraped along the sides of the cake gives it a rustic style.
While some of the icing does cover the side of the cake, it also exposes some of the layers too. It gives the cake color and texture.
Adding some foliage from nature brings the outdoors in, making this cake perfect for a barn wedding.
10. Farm Inspired One Tier Rustic Wedding Cake
Simplicity is sometimes the best choice. This one tiered cake makes the most of exposed layers alongside a scraped frosting finish.
It has that rustic homemade look without it looking so terrible that you wouldn't want anyone to see it.
Just adding a topping gives the cake a finish, without the need for anything else. It is also a great cake to serve only a handful of guests outdoors without worrying it is going to fall over.
11. Dripping Caramel Rustic Wedding Cake
If you are looking for a showstopper wedding cake for your special day, then this one is sure to inspire you.
With a simple white ice base, sweet caramel has been poured over the top and dripped down the sides for a dramatic effect.
Late summer and fall inspired flowers have been added to the two tier cake for an added feminine touch.
This one is sure to make people stop and say "wow".
12. Summer Inspired Rustic Wedding Cake
If you are looking for a rustic wedding cake inspired by an easy summer, then this cake is for you. It uses the technique of scraping the frosting around the sides of the cake to expose the inner sponge.
Summer flowers have been added to give this simple yet effective cake a feminine touch for the wedding day.
Adding flowers at the base also gives the three tiers some shape.
13. Fruit Inspired Rustic Wedding Cake
If you want your cake to have fruit as its main design aspect, then you will love this cake. It uses orange slices instead of flowers, which can work in both summer and fall.
The lower tier has scraped on frosting to reveal the sponge underneath, whereas the top tier has a carefully piped layer that adds texture to its finish.
The use of white stems – the fake leaves have been painted – adds to the overall dramatic look and feel of the cake. It also brings nature to the wedding too.
14. Dried Flowers Rustic Wedding Cake
Real flowers always look beautiful on a wedding cake. They can provide some color without the use of bright frosting or a garish topper.
Spacing the dried flowers over the white frosting will allow the petals to do the talking. You can also choose flowers which follow your rustic theme colors.
Just make sure that the flowers are edible, otherwise your guests will have to pick them off their cake slice one-by-one – and that is never going to be fun!
15. Creeping Flowers Rustic Wedding Cake
There is something about a trail of pressed flowers finding their way up to the top of a cake that is both rustic yet chic. To create a dramatic effect, this cake has four tiers to allow the pressed flowers to crawl up one side.
The late summer flowers look dramatic against the white backdrop. In fact, this particular style of cake will suit an outdoor wedding beautifully.
Just make sure to add height, as the flowers need to creep upwards from the bottom layer to the top for the most dramatic effect.
Final Thoughts
From using real dried flowers to forgoing the outside frosting entirely, there are many ways to create a beautifully finished rustic wedding cake.
Hopefully you have found some wonderful inspiration for your special day.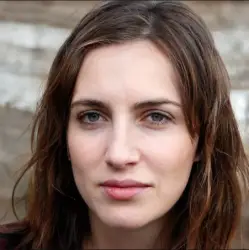 Latest posts by Anna Ingham
(see all)