When it comes to your wedding day, you want everything to be special.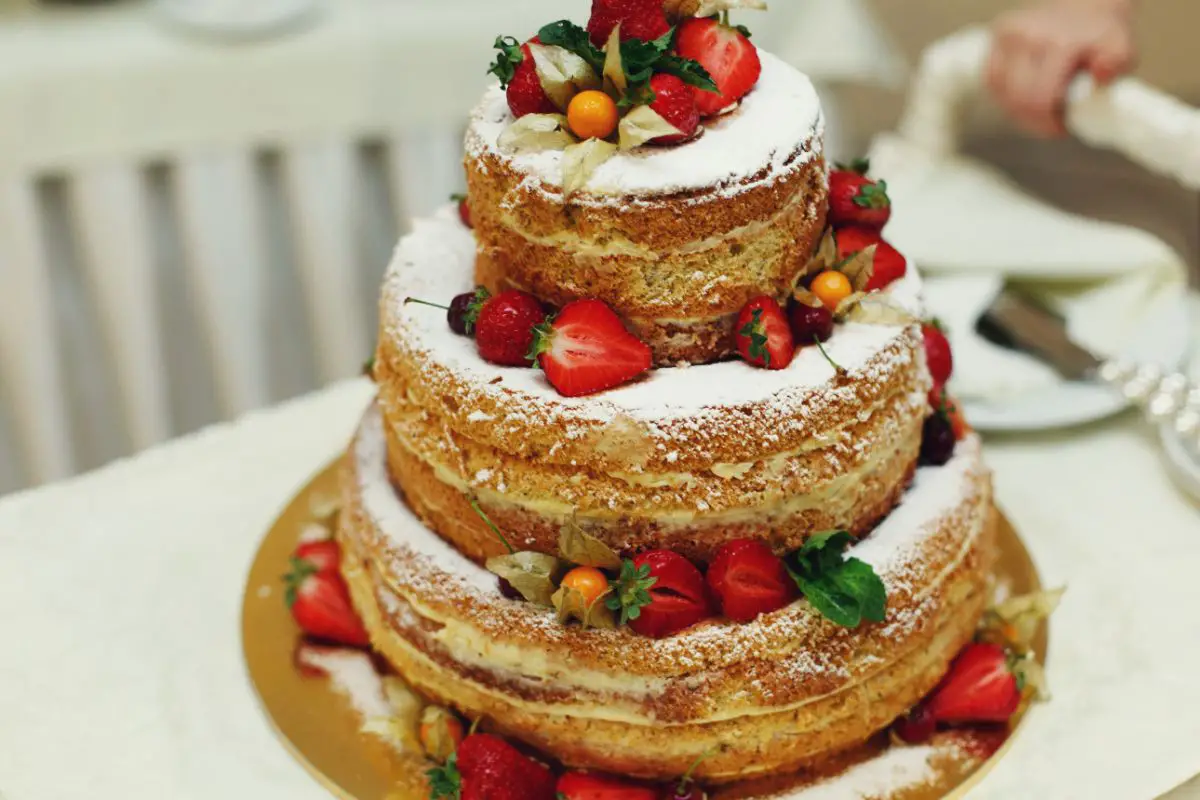 From the decor to the clothing, everything needs to be perfect – and perhaps your idea of a perfect wedding cake is one that is three tiers tall.
However, is three tiers enough to make your wedding cake special?
Here are 15 remarkable 3-tier wedding cakes to check out and find inspiration from.
Take a look at the options below to find the perfect 3-tier cake for your wedding!
For a 3 tier wedding cake that is smooth, modern, and really remarkable, we would recommend you check out this design.
It makes use of the common trend of geometric shapes and uses props including a golden hexagonal frame to help turn this wedding cake into a centerpiece.
There's also plenty of rustic features including floral decorations, a wooden base, and touches of gold to help bring a touch of elegance to balance the rustic.
For a gorgeous modern cake like this, we would recommend some luxurious cake flavors including chocolate, cream cheese, or red velvet.
This wedding cake design is a spectacle with a glittery middle layer and lace-like patterns around the bottom layer.
With colors of blush pink and ivory, this 3 tier wedding cake is perfect for summer weddings and for couples who want their wedding cake to be a centerpiece at their wedding.
It's the kind of cake  that is perfect when paired with sweet flavors including strawberry, peach, or vanilla or prosecco – something sweet, bright, and summery!
Just because you have three layers of cake, doesn't mean your cake can only have 3 tiers in total.
This design includes 3 layers of cake and in between each layer is a glass box filled with fairy lights.
This not only gives your wedding cake more height, but turns it into a centerpiece.
It's perfect for winter weddings to help light up a dark, evening reception.
As for the rest of the cake, you can decorate it how you want.
We'd recommend a more plain design with minimum decorations and patterns to help the light-up tiers stand out!
Floral waterfalls are a great way to decorate a 3 tier wedding cake.
Thanks to a 3 tier wedding cake's height, you have plenty of space to cascade dozens of flowers down the one side of your wedding cake.
This design uses sugar flowers but you can use any kind of floral decorations as you see fit.
You can also use any flowers to make completely different designs – sunflowers for summer weddings, red roses for winter.
This wedding cake uses beautiful sugar flowers of pale lilac, nude pink, and ivory – perfect for a cool, delicate design.
Geometric shapes are used to great effect once again in this design with pristine square layers, straight gold lines and patterns, dust, and acrylic boxes used as plinths between each layer.
In these boxes you can use fairy lights like one of our previous picks, or flowers just like this design.
It's a great modern design that gives your cake great height and character.
As for flavors, this pale pink cake deserves sweet flavors like vanilla or strawberry.
Cascading wedding cakes are growing in popularity but one design we absolutely love for a 3 tier wedding cake is this one.
It's a rustic design that uses 'naked' icing design to create bare layers, and a cascading plinth made of wooden logs.
The overall colors are traditional creams and ivory for weddings, plus splashes of pink and plum.
So, if you want a 3 tier cake that suits the rustic theme of your wedding, then this is a great cake design to go with.
Flowers are usually used to decorate wedding cakes but if you want to take your 3 tiered wedding cake one extra step further, then this design is one to try.
It uses fruit instead of regular floral decorations to help create a wonderful summer design.
Each layer is also decorated with a chocolate drizzle that drips down the sides, topped with great summer fruits including strawberries, blueberries, and raspberries.
This tiered cake is ideal for hot summer weddings, but the additional fruit means that you should stick to a plain vanilla sponge for the body of the cake.
Gold and roses – two main pieces of iconography best suited for weddings.
If you want to combine the both for your 3 tiered wedding cake, then this design is a perfect choice.
Each layer is elegantly decorated with roses made of buttercream icing, with a middle layer of plain icing and golden studs to help bring balance to the design.
This design is great for any season and you can choose any kind of flavor for the cake itself – so it's the perfect 3 tier design that is neutral for all kinds of weddings.
For an elegant, modern design, we would recommend you check out this emerald 3 tier wedding cake. Each layer is uniquely designed.
The bottom tier is a rich, emerald color, the middle patterned with delicate icing, and the top tier a plain white.
Interspersed are winter flowers, and a streak of gold runs from the top to the bottom of the cake – a splash of luxury in this elegant wedding cake. 
This design is perfect for those wanting to combine traditional wedding cake designs with modern elements – such as a perfect cascading tiered cake! 
Each layer is thickly decorated with white icing and topped with plenty of floral decorations but the cascading plinth helps make this wedding cake stand out from traditional designs.
The black and gold floral decorations also bring a touch of elegance and modernism to this otherwise 'traditional' wedding cake – so you can get the best of both worlds with this design.
This 3 tiered wedding cake puts a spin on traditional tiered wedding cakes – by adjusting the angle of each tier, turning it ever so slightly so it spirals upwards.
This is only possible thanks to the square shape of each tier.
As for decoration, we are in love with the rich purple color of this cake and makes the design truly elegant and modern simultaneously.
So, if you want a 3 tier wedding cake that is both traditional and modern, then this design is definitely one you will want to check out.
French blue is a bright, icy shade of blue that is perfect for winter and spring weddings – and it looks amazing when used in a 3 tiered wedding cake.
This design balances the blue with bright white to create a cool design that is delicate and visually stunning.
Coupled with intricate patterns and ruffled roses, this wedding cake has plenty of texture and color to help make it a stand out design – and one that is sure to help make your wedding day that little more special!
Geometric shapes, sharp gold, and marble patterns are all the rage these days and they are great for a modern wedding cake.
This 3 tier cake has all three including a smooth gray marble icing that is cool and sleek.
The cake is also decorated with pale pink flowers to help bring a touch of color and delicacy to this otherwise modern wedding cake.
As for suggested flavors to pair with this wedding cake design, we would go with something rich – think red velvet, chocolate, or raspberry and vanilla sponge.
This 3 tiered wedding cake is perfect for spring weddings and looks like it just stepped out of Monet painting.
The images of pressed flowers are painted with colorful icing into the sides of each round layer – daisies, blue leaves and stems, green buds, and more.
This design may be more simplistic to some but it's ideal for those who want a 3 tier wedding cake that isn't too 'crazy'.
It also pairs amazingly well with muted sweet and sharp flavors including lemon and vanilla.
Our final 3 tier wedding cake is this amazing floral masterpiece.
The cake uses muted pink and nude colors matched with rich gold and brown, combined together to make a gorgeous autumnal color palette that is perfect for weddings.
Around the cake is a waterfall of beautiful floral pieces including roses, golden leaves, tulips, and more. This makes a gorgeous 3 tier cake that is ideal for fall weddings.
Some great flavors to use with this decorative cake include pumpkin, toffee apple, carrot cake, or plain vanilla.
Final Thoughts
3-tier wedding cakes are a spectacular display but you can't just rely on tiers alone to help make a centerpiece wedding cake.
The design, colors, materials, and style of the cake also contributes to its overall appeal – so check out the amazing designs above to find the best 3-tier wedding cake for you!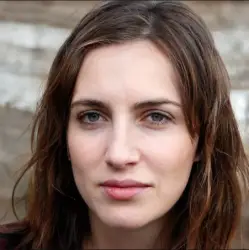 Latest posts by Anna Ingham
(see all)