Black wedding cakes are probably the most extreme deviation from the norm but trust us, they can work.
If you want a wedding experience that is completely unique and an alternative to the white wedding, then a black wedding cake will really set you apart.
But a black wedding cake does not have to be part of a goth wedding. You can have a black wedding cake that is very stylish and classy.
You can adorn it with red roses to add that bit of color, or you can customize it with silver trimmings, again, adding drama and excitement.
We know what you're thinking: convince me why I should have a black cake for my wedding. Okay, we've compiled a list of 15 of the best black wedding cakes that we can find online.
They are versatile and designed to fit in with most styles of wedding décor. So put your prejudices to one side and get stuck in.
15 Best Black Wedding Cakes
First up, we have something that is brooding and classy, coming with a beautiful floral design that really stands out against the dark backdrop of the cake.
This is a three-tiered wedding cake that looks like a monolith rising up out of the earth.
This comes with a metal stand, which overall gives it a vintage feel. You can imagine cutting this open to reveal some dark red velvet cake inside.
This is one of the best cakes that you can have for a wedding day at a graveyard.
Next up, we have a wedding cake like no other you will ever have seen before. If you have this at your wedding, you can be sure that your guests won't be able to close their mouths.
This comes with gold-flecked patterns and a cage in the center where you can keep roses and other bright flowers.
This looks more like a work of art than a wedding cake, something that would be more at home in a gallery than on a wedding buffet table.
Some people will want their wedding to really stand out and have a totally unique wedding cake like this will be the way to do it.
Next up, we have another cake that looks more like a work of art than something you might serve at a wedding. It is covered in an uneven soil-like effect, which makes it looks like something that has been unearthed from a volcano.
The reason to have a black wedding cake is the immediate dramatic effect that it causes. You can sit back and look at your guests' faces as it is unveiled.
However, it isn't all grim and moody, it comes with baby pink flowers at the top that gives that lightness and hope at the edge of darkness.
This next wedding cake is deceptively complex. From a distance, it just looks like a simple, four-tired black wedding cake, but take a closer look and you can see that all the tiers have a different texture.
The bottom is encrusted, the next tier is covered in flower-like swirls and the tier above is textured.
Complete this cake with a smooth top and you have something that is utterly unique. This is an object of beauty that has obviously had a lot of artistry put into it.
This will require a skilled baker to accomplish, but it is perfect for a gothic nighttime wedding.
Now we have a cake that is very similar to the one that we've listed above, with a uniform black color whose appeal is in the multi-textured layering.
Have this one placed in the right light and you can see all the detail and effort that has gone into building it.
This is an ideal wedding cake that doesn't have to bring the mood down.
If you prefer a minimalist and modern wedding that is devoid of all the traditional frills, then this might be the cake for you. This is a wedding treat that takes no prisoners.
The great thing about black is that there are so many different complementary colors. Red, pink, and gold all go really well with black, and this cake is no exception.
This has a subtle floral design sculpted into the side of the cake itself, along with a gold leaf design snaking across it.
This is a simple cake that rewards those people who bother to look closer. You can imagine it filled with a white sponge that will give people further cause to gape at it. This is a classy cake that has regal overtones.
Next up, we have a wedding cake that comes with a fantastic design, with squiggly gold roses adorned on the side.
This cake possesses a quiet beauty that is only reserved for those that value unique things in life.
This is a hefty two-tiered cake, so you can be sure there will be enough to go around. It comes with a burned sprig on the top that gives the whole thing that organic feel.
Again, this is a cake that shows how much gold really complements those dark colors.
Who's to say that black wedding cakes can't be bursting with color?
This cake is amazing if you are looking for something that will both complement and contradict the traditional white and pink wedding colors. This suggests a winter evening, full of cold, floral beauty.
You can't say that black wedding cakes are not compelling, and this one proves that.
It comes with ripe pink peaches hanging from the side, blending the darkness of the cake with the optimism of spring and summer. The great thing about this cake is that you customize it with whatever fruits you want.
Next up, we have another gold embossed design that you can be sure will turn some heads. Although it might not look like it, this entire cake is edible, even with the gold detailing on the side.
This cake doesn't have to just be used for a wedding, you can have it for a birthday party, a baby shower, or an anniversary.
This cake is very classy, which is great if you are having your wedding in a lavish hotel or conference room. You can even match this with black curtains and floral designs adorning the windows.
Next up, we have a dazzling pink and black cake that is perfect for your special day. This is a relatively straight design, with three tiers, all of which are smooth without any detailing.
The true beauty of this cake lies in the floral flourishes that have been added. The cake really is more of a backdrop against which the flowers can really stand out.
This is an understated cake, so if you do not want anything that draws too much attention to your wedding style, then have a cake like this.
The flowers are also a nod to the conventional wedding, which often features baby pink and lilac in the color scheme.
This cake is the coolest one we have on this list, great if you are a fan of hard rock or metal music and you want your wedding cake to reflect your lifestyle.
The marble contrasting with the black is what really makes this cake stand out for us. It's almost as if the cake is lifting its dress to reveal the deliciousness that awaits inside.
Despite all this talk of deviating from the classic wedding motifs, one of the great things about black is that it does go very well with white.
So, if you want to keep those traditional wedding colors, then why not try a monochrome cake like this?
Now we are onto something far more artistic, a three-tiered cake that has a different theme for every layer.
It starts off with a textured black tier before graduating up to a marble design before topping it off with speckled grey. This cake has lots of elements but does not come across as busy.
This next wedding cake is certainly going to appeal to something with a provocative sensibility. It is very extravagant, with gold, black and vivid red components.
The raspberry topper of this cake is really what sets it apart from everything else on this list.
Finally, we have a simple cake with a vibrant strawberry head. This is great for anyone who likes a touch of glamor and darkness on their special day.
Conclusion
We hope that this list has changed your mind about black wedding cakes. As you can see from some of these designs, there is something for each style of wedding.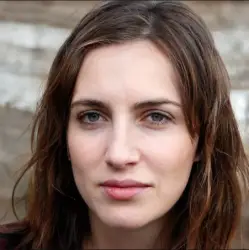 Latest posts by Anna Ingham
(see all)