The wedding cake is going to be one of the most important parts of your special day.
After all, you'll be ceremoniously cutting the first slice with your new spouse, then enjoying the delicious cake with all your guests!
As a result, it's important to make sure you get the cake right. This can be difficult, because there are so many different styles and flavors of cake to choose from.
However, an ice cream wedding cake is one of the best!
It might not be your first thought when you picture a wedding cake, but an ice cream wedding cake is a delicious twist on a classic, and it'll refresh and delight your guests no end.
After all, who doesn't love ice cream? And who doesn't love cake? So why not combine them!
In our tasty list below, we've got the 12 best ice cream wedding cake recipe ideas for your special day(see also: 17 Best Italian Wedding Cake Recipe Ideas For Your Special Day). You're sure to find a recipe you love!
12 Best Ice Cream Wedding Cake Recipe Ideas For Your Special Day
We're starting our list off with this fantastically delicious ice cream wedding cake that's decorated with cherries and sprinkles on top, making it super colorful.
However, these aren't the only parts that make this cake wonderfully colorful, because its insides are a multi-colored delight.
Basically, the inside of the cake alternates between layers of tasty cake sponge and layers of cool, refreshing ice cream. This makes the inside of the cake have this brilliantly colorful striped appearance, alternating beige, brown, and pink.
This pattern works wonders for the taste buds, too, because you get perfect mixtures of soft sponge and soothing ice cream. 
Next on our list is a recipe that combines layers of scrumptious chocolate cake with mouth watering layers of cookies and cream(see also: 12 Scrumptious Coconut Cream Cake Recipes You Will Love) flavor ice cream. The result is something totally sickly, but in the very best way! 
Those aren't the only flavors that this wedding cake makes use of, though, because you'll also be making a ganache dip mixture too, which is a combination of whipping cream and chocolate.
In addition to that, you'll also be using a light and airy whipped cream in the cake too!
Not every wedding cake (see also: 15 Best Wedding Cake Square For Every Wedding)has to look like a large, upright dessert. Instead, you can break tradition and have something different, like this wonderful ice cream cake roll!
Making a few of these for your special day will delight the guests, and they'll keep coming back for another slice.
Basically, this cake is like a chocolate roll, but with a brilliant swirl of soothing ice cream wound throughout its inside. You can use any flavor you want to, as long as it's one that comes in a square box.
This means that you can customize your ice cream wedding cake to be your absolute favorite flavor!
Next on our list we've got this recipe for a totally wonderful chocolate ice cream cake, with aniseed flavoring and refreshing strawberries.
If you've never tried aniseed, then it's got a licorice taste to it, which is sure to make your wedding cake even more exciting. It tends to taste a little bit spicy, a trait which is then expanded on in the cake with the inclusion of CHinese five spice too. 
These two ingredients help to make a delicious dessert that's got the slightest hint of warm spice to it, which is a characteristic that pairs perfectly with the soothing coldness of the ice cream.
This next recipe is one that's sure to get your wedding guests talking, thanks to its ingenious and creative design. 
Basically, you know those Flake chocolate bars that you can get from Cadbury? They crumble in your mouth and taste brilliantly rich?
Well, those flakes have always paired well when stuffed in an ice cream, so why not make an ice cream wedding cake that uses them?
When it comes to the cake, it's a delicious chocolate cake that's then combined with sumptuous vanilla ice cream and 30 (that many!) Cadbury flake bars.
The result is a taste bud treat that mixes soft sponge, cold ice cream, and crumbly chocolate flakes.
This is another ice cream wedding cake that's going to surprise your guests – in the best way!
This fantastically colorful ice cream cake is covered in all kinds of different colors and treats, with multi-colored sprinkles, M&M Minis, and party mix. 
That isn't even mentioning the ice cream cake itself, which has a delicious vanilla flavoring.
That being said, the ice cream is stained rose pink with some liquid food coloring, which makes the cake even more delightful. This pick is sure to make your special day even brighter! 
Next on our list is the recipe for a super fancy, super indulgent ice cream wedding cake that's sure to go down a storm with all your wedding guests.
It's got a base made out of chocolate wafers, plenty of cool ice cream on top of it, and then a sickly decorated topping of Ferrero Rocher chocolates and melted chocolate drizzle.
The vanilla flavoring of the ice cream pairs brilliantly with the rich chocolate of the wager base, and the Ferrero Rocher chocolates on top will certainly melt in your mouth.
One of the most refreshing food combinations out there is mint and chocolate chip, with the soothing sharpness of mint and the deep richness of chocolate pairing perfectly into something excellent.
It gets even better when you throw ice cream into the mix, as this cake proves! It's a great, exciting pick for your wedding cake.
The cake alternates layers of doughty chocolate cake with layers of mint chocolate chip ice cream, as well as adding a sickly hot fudge filling in between them. 
This cake is totally oozing with goodness, and you can even top it with crushed up pieces of Oreo cookies to give it an added bit of crunchiness. 
Next on our list is the recipe for this fantastic ice cream wedding cake that's got a soft, fluffy whipped cream frosting on top (as well as plenty of tasty sprinkles!)
In order to get the whipped cream frosting, you'll need to follow another recipe mentioned in the article. It's a terrific frosting that you'll be making for other cakes in the future, I'm sure!
As for the cake itself, it has a layer of chocolate cake on the top and on the bottom, with a thick layer of mouth watering ice cream in between the two.
Not only is the cake sponge chocolate flavored, but it also has a hint of coffee to it, thanks to the inclusion of hot coffee in its construction. This adds a delicious, earthy flavor subtly underneath all the cocoa!
This brilliant no-bake ice cream cake is a super easy treat to whip up for your wedding, but has the taste complexity to look like it took hours and hours to make!
Better yet, this only takes five ingredients to make. You'll need half a gallon of cookies and cream ice cream, which will give you a brilliant blend of chocolate and vanilla flavoring.
Additionally, you'll need some whipped topping for fluffiness, a jar of hot fudge for extra sickly goodness, some butter, and plenty of crushed Oreos.
It all combines to make a fantastic ice cream wedding cake that your guests will love, with the delightfully unique taste of Oreos alongside rich chocolate and tasty vanilla. 
The Oreo ice cream wedding cake we just looked at is a great pick, but what if you wanted more? That's where this 2 tier version comes in!
It's pretty common to have a multi-tier wedding cake, with different sized tiers of cake stacked on top of each other in an elegant tower.
This Oreo ice cream version is one of the best (and most creative) ones you'll find, with 2 tiers of soothing ice cream cake filled with countless crunchy pieces of Oreo. 
We're finishing our list with a completely indulgent and delicious pick – this salted caramel ice cream cake!
Salted caramel is a huge trend at the moment and this ice cream wedding cake uses its famously gooey, sickly flavor to great effect.
Better yet, it's all mixed with the rich flavor of chocolate, thanks to a chocolate ganache and some chocolate graham crackers. Tasty!
Final Thoughts
There are loads of delicious ice cream cakes perfect for your wedding – use our guide (see also: Your Guide To The Perfect Wedding Cake)to find the tastiest!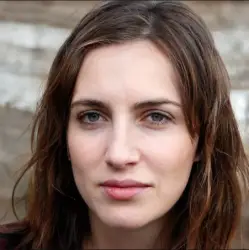 Latest posts by Anna Ingham
(see all)