When it comes to dessert choices, we can often get lost in a world of sweet and tasty confusion.
There's just so many out there that we can choose from and we need a little guidance to help us choose the best option.
One of the choices we might turn our attention to is toffee cake – but once again, there's plenty to choose from, so what are your options? Luckily for you, we've made the selections a little easier.
We've written a list of our top tasty toffee cake recipes (see also: 14 Tasty Vegan Gluten-Free Cake Recipes You'll Love To Make)that you'll not only love to eat, but you'll love to make! 
So, if you're ready to learn more – then read on and find out much more!
[1] Pecan Toffee Cake 
A huge favorite among toffee cake lovers is the pecan toffee cake. There's plenty of desserts out there that incorporate pecans in the recipe, but when it comes to toffee cake – it makes it even more delicious.
The mixture of sweet and savory blasts around your tongue and you can't help but admire the glorious variations and contrasts that the toffee and pecans do together. 
Once again though, not only is this cake beautiful to taste, but it's one of the best and easiest to make on our list.
It's gloriously nutty and provides both a soft touch with a finishing crunch that you'll want to make again and again! 
[2] Toffee Apple Cake 
This is a cake that you might see around Halloween time, but you can make it and enjoy it at any time of year, and that is certainly encouraged!
It's a relatively simple cake to make but you might need to visit the store to buy some of the key ingredients.
One of the most important is to find fresh, cooking apples. You can't eat these raw, but luckily you're going to be cooking them during the baking process.
Do not use regular apples because the citrus and sweetness reduces too much in the oven. 
Lather the apples when cooked in toffee and cook them within your cake mixture during baking.
Whilst this is happening, make some toffee sauce on a hot pan, so you can drizzle piping hot toffee sauce all over the finished toffee apple cake. 
Certainly this is one of the favorites among toffee cake lovers, and notably – it takes less than an hour to prepare and bake this cake before it's ready to serve! 
[3] Spiced Toffee Apple Cake 
If you're looking for more of a Christmas spin on the previous choice in our list, then look no further than the spiced toffee apple cake.
The process remains the same, but one of the key ingredients you must add is cinnamon or nutmeg.
These spices provide a new aroma and taste which seem to spark a Christmas feeling with your senses.
Luckily too, the spices do not take away from the sweetness of the cake either. In fact, they almost enhance them.
The mixture of spices and sweetness give you an almost brand new dessert, and despite the fact that the spices are something that you would normally associate with the Holidays, you can enjoy this cake at any time of the year.
[4] Sticky Toffee Pudding 
If you've ever been to Europe, many of the countries you visit will have this dessert on offer.
In particular, the United Kingdom offers this dessert as a staple to their normal menus, and it's easy to understand why when you try it.
This cake is very spongy and soft, but when you poke your spoon into the center, the toffee explodes through, allowing the steam to fly out into the air and you absorb the aroma of sweet toffee.
It's a simple cake to make, but it's not the process of making it that's as important as you might think. If anything, it's the way you finish the cake that makes it such an amazing dessert.
When you're finishing up, you'll want to pour piping hot toffee sauce all over the cake and add a small amount of whipped cream, to both cool the cake down and to add just a little more flavor to the whole thing. 
[5] Toffee Banana Bread 
Okay, so while you could argue that banana bread isn't necessarily a cake – we have to include it on this list because it is among everyone's favorite with toffee desserts of its kind. 
If you have a lot of bananas in your home that you can't seem to eat in time, then you should definitely consider using them with this homely favorite.
An easy dessert to create and you only need some basic ingredients to get the job done – it's simple to see why it's so loved.
And let's not forget how amazing this dessert tastes.
If you want to really ramp up the flavors though and make them a little sweeter, you could make your own caramel in a pan and cover the banana bread, and the plate with it – along with some of your favorite ice cream.
[6] Toffee Cake Squares
If you're the type of person who enjoys making cakes with your kids, or you're looking to make some tasty desserts for a kids' party, then look no further than these toffee cake squares.
Due to their simplicity, you can easily direct your kids to what to do in order to make them. Perhaps the funnest part of this cake is decoration, and of course – kids really love doing that. 
If you can, head to the store and pick up a frosting kit which will allow you to put your own designs on the toffee cake squares, like stars or moons etc.
It's not only fun to make, but the finished product is extremely tasty! 
Due to their size, you can easily hand them out at parties or put them into your kid's lunch box for school.
As these are so versatile, you will 100% love to make them and you'll likely get hooked and make them much more often! 
[7] Toffee Ice Cream Cake 
If someone asks you, how do you make cake even better?, then your answer might be to add ice cream!
This is the case here, as a glorious cake has had significant improvements with the addition of vanilla ice cream. 
Vanilla ice cream is the best option here, but if you want to, of course you can add your own ice cream choice. The reason vanilla is the best option though is because the flavors do not overpower the toffee.
The toffee is in the center of the cake, which is then covered with three scoops of vanilla ice cream just to make everything mold together perfectly.
The best part of this dessert is the contrast between the hot sauce and the cold ice cream, which melts in your mouth.
If you want to add more to the cake, you can include some chocolate shapes to the top of the ice cream, or maybe even jimmies. 
[8] Toffee Cheesecake
It probably goes without saying that anybody who loves desserts will likely love a cheesecake.
Cheesecakes are some of the easiest cakes to make and as they are so popular, you can make a cheesecake the way that you want it. 
So, of course, you can make a toffee cheesecake! Essentially, you can mix in toffee sauce to the cream cheese during the preparation process, and then add some nuts.
Later, add some toffee sauce to the top of the cheesecake with some toffee and chocolate pieces. 
Once you have completed the cheesecake, be sure that you slice it into individual slices and serve with some whipped cream or a fruity sauce.
If you have leftovers, you need to be careful how long you leave it in the refrigerator, as the dairy products can go bad quickly.
[9] Toffee Cupcakes 
If you're more of a person that likes smaller sized cakes, then a cupcake might just be the thing to think about.
They're pretty simple to make, and anyone that has ever made cupcakes before will know how popular they are! 
The process is pretty much the same as making a larger toffee cake, except the mixture will go into individual muffin cups, rather than a larger baking container.
Once they are finished, serve them individually with chocolate frosting! 
[10] Toffee Birthday Cake 
Is it someone's birthday soon? Then why not celebrate by putting a twist on the classic toffee cake, but adding something a little more special.
To make the cake into a birthday cake, consider adding MnM's to the top, along with a generous helping of toffee sauce – and of course, the candles! 
Final Thoughts 
Toffee cakes are beautiful and we hope that our list has helped you pick a great idea that you'll love to make!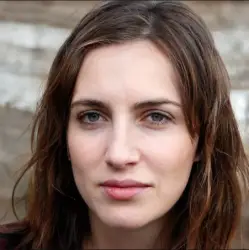 Latest posts by Anna Ingham
(see all)