It's cold outside, the snow is falling, and it's not just Christmas that's around the corner. Your wedding is fast approaching, too!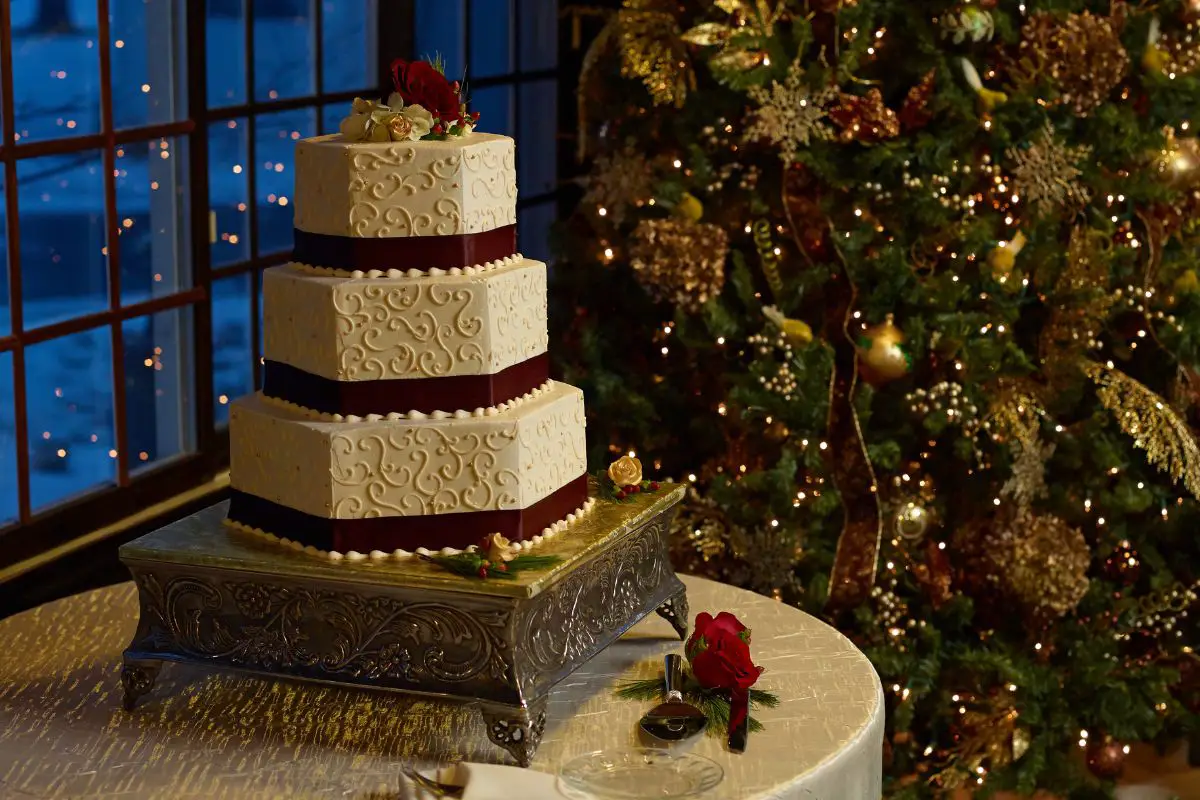 If you've settled on a winter wedding, don't forget to pick a cake that honors the tastiest flavors of the season.
In this post, we're going to show you some of our favorite Christmas wedding bakes – from gingerbread to apple and cinnamon, there's something for everyone. 
What tastes more like Christmas than gingerbread? Bring this classic Christmas flavor straight to your wedding with this festive sticky gingerbread wedding cake.
Decadent, creamy, and dangerously indulgent, this cake tastes as impressive as it looks.
Loaded with ginger, cinnamon, and treacle, this sugar sweet cake is topped off with a delightful cinnamon cream cheese frosting and decorated with an abundance of Christmas decorations including red currants, candied orange slices, and cinnamon sticks.
You can add as many tiers as you fancy, and finish off with as much cream cheese as you can handle. This cake is ideal for an engagement party or the main event! 
Kick your winter wedding off with a bang with this classic snowflake wedding cake. Sleek, stylish, and totally moreish, this cake boasts a traditional decor that gives a subtle nod to the winter season.
The best part about this recipe is that it all focuses on decoration – this gives you plenty of room to be creative and make whatever base cake you like!
Whether it's vanilla, chocolate, almond, red velvet, or a Christmas cake like gingerbread or spiced carrot, load up the interior with whatever you fancy and save your creative juices for the decoration. 
This 3-tier recipe is loaded with fondant, royal icing, and plenty of dark blue decorations. Let's not forget those snowflakes, either!
Most of the decorations are made with either fondant or royal icing – just give them enough time to set before attaching them. Don't forget to pipe your vertical lines and add your blue horizontal fondant strip to make it traditional. 
Transport your guests to a winter wedding wonderland by adapting this classic cake recipe, and turning it into a main event.
This recipe uses some pretty simple ingredients, including vanilla extract, flour, egg whites, sour cream, and sugar, and it's decorated with a decadent buttercream frosting.
To turn this into the wedding cake of your dreams, bake up to three tiers of different sizes, and stack them up in a staircase-style fashion.
Keep your decor simple – we'd recommend keeping the top and bottom tiers pure white with minimal decoration and piping some buttercream bubbles in the middle tier.
Top off your cake with some festive flowers including berries or pine for a fresh winter feel. 
This recipe may not look like much, but when paired with the right decor, it's destined to blow you away. This easy apple fruit cake contains all your favorite Christmas flavors, and it can be whipped up in no time.
Loaded with mixed spice, cooking apples, sultanas, and raisins, and decorated with white fondant, the recipe works best as a wedding cake when it's tiered and elaborately decorated.
If you're stuck for ideas, why not add some subtle snowflakes and top with some classic amaryllis for a simple, stylish cake?
If you really want to push the boat out, add even more festive flowers or add extra bakes on the side, such as mini gingerbread houses or reindeer. 
Although marbled buttercream may not be your first choice for a wedding cake, it really does look spectacular for a winter wedding.
This marble buttercream cake can be tricky to decorate, but it's so intricately put together that the end result looks just like real marble stone! This decor will add a real wintery feel to your day that can't be topped. 
This recipe uses a chocolate and vanilla batter that's delicately swirled together, and covered in a generous coating of delicious vanilla buttercream.
It also blends together a homemade pound cake and a store-bought mix, which will save you some time and effort in the kitchen!
Both the interior and exterior have different shades of marble, which makes for a visual, as well as a literal, feast. Display this cake on a gold cake stand for a real winter show stopper that takes the cake. 
When we think of Christmas, we think of two of our favorite things: chocolate and red wine. If you enjoy these festive treats as much as us, why not bring your favorite flavors to your wedding with this chocolate and red wine cake?
Light, fluffy, and bursting with boozy flavor, this is one wedding cake your guests WON'T forget. 
The actual cake is pretty easy to make and uses a few basic ingredients including dry red wine, eggs, vanilla extract, and unsweetened cocoa powder.
Its delightful chocolate-colored exterior can also be easily decorated in any way you like. If you're looking for something subtle and snowy, why not sprinkle it with confectioners sugar and top it off with some artificial holly?
You could even go all-out with multiple tiers and fondant decorations – the choice is yours! 
Here's one wedding cake idea we can't get enough of –  spice cake with cinnamon streusel.
Not only is this cake the ULTIMATE comfort food, but when decorated with a generous layer of cream cheese frosting and cinnamon streusel, it becomes a decadent masterpiece that's more than worthy of being the main event on your big day. 
This spice cake with cinnamon streusel could be described as pretty dense and fudgy, which is great if you're a lover of all things filling and moreish.
However, it does include plenty of applesauce which can take the edge off the texture if you're looking for something a little lighter. It has the perfect blend of density and moisture, and it's so tasty, you won't be able to get enough of it.
It also includes all of your favorite flavors of the season, including cinnamon, ginger, cloves, and nutmeg, making it the ideal winter wedding cake!
The streusel is optional, but personally, we think it takes this cake to a whole new level. Decorate this with extra festive additions or serve it as it is – it's just as good either way! 
Are you a pumpkin spice fanatic? This classic flavor may be more commonly associated with fall than winter, but with just a few simple tweaks to this recipe, you can make it wedding-ready!
Not many happy couples opt for this cake for their big day, but if you want to stand out from the crowd while giving a nod to the colder months (and your favorite Starbucks drink), it's one recipe you'll want to try. 
This pumpkin spice latte cake is loaded with pumpkin puree, espresso powder, pumpkin pie spice, and brown sugar.
To blend your pumpkin with some more traditional festive flavors, try adding a dash of cinnamon, nutmeg, or cloves to the mix. You could even decorate the top with some cinnamon sticks and holly for an iconic finish.
Round it all off with a delicious coffee buttercream, and decorate as desired! In this recipe, fondant pumpkins are center stage.
However, if you want to make this a bit more relevant to the season, why not get creative and decorate the top with a winter woodland scene?
Add plenty of fondant trees (sprinkled with a dusting of sugar), cinnamon sticks, and even some festive flowers to really make your mark. 
Here's one non-traditional wedding cake (see also: Traditional Wedding Cakes: What You Need To Know)we can't get enough of – the maple streusel pumpkin cake.
With all the flavors of maple cinnamon frosting, pumpkin, and that classic cinnamon streusel, there's SO much to love about this cake, and it's absolutely delicious!
The cinnamon streusel adds a crunchy, moreish texture to the cake which you don't usually get it with traditional cakes, and it pairs beautifully with its maple frosting and pumpkin cake.
This cake is a real nod to the winter season as a whole, and it already includes those classic Christmas flavors like cinnamon, nutmeg, and cloves inside! 
If you follow this recipe precisely, the end result will already come out looking wedding ready. We'd recommend displaying this on either a gold or wooden cake stand depending on the theme you're going for.
You can leave the decor as it is, or top it with amaryllis for a classic Christmas look. 
Last but not least, we have this apple crisp cake. Apple is the main event here, and this cake layers plenty of spices with a delicious homemade apple filling and an apple crisp crumble top.
This is a pretty unconventional winter wedding cake, but if you love apples and Christmas spices, you're going to want these flavors on your big day!
Finished off with a cinnamon swiss meringue buttercream and loaded with cinnamon, oats, and nutmeg, this cake has a subtle seasonal flavor that can be easily tweaked by adding in more Christmas spices – particularly cloves!
You could even add in a hint of clementine for something a little different. To make this cake wedding ready, stack up with two extra tiers and decorate the sides with festive fondant decorations, or seasonal flowers. 
Final Thoughts 
If you want to honor the flavors of the season in your wedding cake, look no further than these delicious cake recipes.
Whether you want something traditional or unconventional, we hope you've found the inspiration you need to bring your vision to life, and make your Christmas wedding an exciting, fun, and super tasty event for everyone!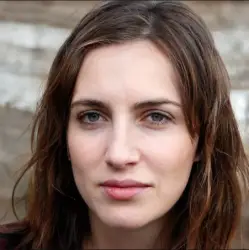 Latest posts by Anna Ingham
(see all)