When it comes to planning your special day, the wedding cake is going to be one of the most important aspects.
After all, there are countless different designs that you can choose, each with their own textures, colors, designs, themes, and tastes!
On top of that, you'll also need to decide how many tiers your wedding cake will be.
A single tier cake can be delicious, but it's always nicer to have more cake for you and your guests to enjoy.
That's why a 2 tier wedding cake is always a great pick, allowing for a wider range of designs and providing you with more tasty cake to enjoy. 
In our fun guide below, we've got 15 remarkable 2 tier wedding cakes for your special day. You're bound to find a design you love!
15 Remarkable 2 Tier Wedding Cakes For Your Special Day
We're starting our list off with a very elegant, minimalistic 2 tier wedding cake design. Both tiers are frosted white, giving them a very pleasing appearance, but they're different sizes and shapes.
The base tier is short and squat, while the top tier is thin and tall. The contrast between the two makes for a very interesting design.
There's also the addition of two sets of flowers, one on each tier. The flowers have a mixture of soft pink and pale white petals, and they've got lush green leaves accompanying them. 
Perhaps the most unique part of this design, though, is the golden hexagon arch that surrounds the cake.
Attached to the wooden board that holds the cake, the clear angles of this golden arch clash with the smooth curves of the cake, all to make a really fascinating design.
You don't have to have the arch, but it really adds to it!
Next up is this exciting 2 tier cake with a ruffled design on each tier, giving the cake a real texture to it. In addition to that, the cake has a pair of roses coming off it, along with various types of green leaves. 
The passionate red of the roses really contrasts with the pure white of the cake, making the red blaze even more.
Red is certainly the color of romance, and this beautiful cake design will help emphasize the romance of this special day!
This watercolor-looking 2 tier wedding cake has an extremely soothing, blissful design. Most of it is white, but there's a gentle layer of blue at the very base.
The blue is dark at the bottom, then growing paler until it disappears completely, which gives it the appearance of some waves gently lapping onto a beach.
To top it off, there's a beautiful white rose at the top of the cake.
This is a deliciously rich and sickly-looking 1 tier chocolate wedding cake, thanks to the chocolate frosting that drips down the sides of both tiers. It makes the whole thing look very gooey and tasty.
However, each layer comes with a selection of berries too, whose healthiness contrasts with the sickly chocolate!
They include blueberries, raspberries, strawberries, and even cherries, with the different colors and shapes making them look particularly appealing.
A really beautiful design, this 2 tier cake has gorgeous decorations on each tier that really set it apart from other choices.
The bottom tier is layered with ruffled petals all around it, the bottom ones in a dark purple and the top ones in a soft pink. The petals look so delicate, and the changing colors really give it texture. 
The top tier, meanwhile, has a lovely stencil design of stalks and leaves. 
Another ruffled 2 tier cake design, but this has bumpy lines circling around each cake tier. It gives it a very delicate appearance, matched by the pure white design of the whole thing.
However, there are also circles of wintery branches circling each tier, with little white buds on the ends.
These look like they're from a snow-covered tree, and they make the cake feel very festive. Perfect for a winter wedding!
We included a 2 tier wedding cake earlier where the base of the bottom tier had a layer (see also: Tiers Vs Layers: The Wedding Debate)of blue on it, but this takes it one step further: the whole bottom tier is blue.
Using such an emphatic color as blue and including it in a solid bulk really stands out, especially when it's contrasted with the solid white of the top tier. 
It really makes the whole cake "pop", as does the selection of flowers and leaves attached to the side.
This delicious-looking 2 tier cake takes a similar approach to the last one, with two very differently colored tiers clashing against each other to create a cake that really makes an impact.
However, this one uses solid brown as the color for its base tier, with hints of gold dotted around it. 
Of course, you can make it so that the base tier is made of chocolate and the top tier is made of regular sponge, giving you and your guests the best of both worlds when they take a slice to eat. 
If you want to combine the treat of a delicious cake with a handful of tasty cinnamon donuts, then this is the 2 tier cake for you!
Two tiers of lovely sponge are topped with frosting that dribbles down the sides, while a selection of cinnamon doughnuts are scattered on top and at the bottom of each tier. 
If you've got a wedding in the fall, then this cozy cake, with its warm and fiery cinnamon donuts, is a great pick.
This beautiful 2 tier wedding cake looks like it should be in a painting, thanks to the wonderful selection of petals and leaves that run up its side. 
As for the cake itself, it uses a plain white frosted design, but this is no bad thing. In fact, it complements the petals and leaves perfectly, because it draws the attention more towards them.
Their colors – green, purple, red, yellow, and more – look gorgeous next to the mass of white.
This all-blue 2 tier wedding cake is a great choice thanks to its fascinating design and its use of colors.
The 2 cake tiers are fairly short and wide, making it an understated cake, and their pale blue coloring is serene.
On one side of the cake, though, there is a trio of large flowers: yellow, purple, and pink. The beautiful detailing on the delicate petals is sure to grab attention.
Pink is arguably one of the softest, sweetest colors there is, and a clear indicator of romance. What better color, then, for a wedding cake on your special day? 
This involves 2 large tiers of cake, both colored solid pink and covered with little silver dots and balls for an extra hint of magic.
Additionally, there are also clusters of pink flowers, adding to the overall beauty.
Marble is one of the most beautiful textures out there, with its unique and classy appearance.
This 2 tier wedding cake uses a marble look, typically achieved with marbleized fondant and icing, that is both edible and elegant. 
This also uses a hexagon on the side that can have you and your partner's initials – romantic!
This is a cool pick for your wedding, and especially fun for the guests! The 2 tier cake itself is simple but sweet, with a plain white ruffled design.
However, underneath the cake is a cake stand absolutely filled with delicious cupcakes. 
This is perfect for your wedding guests, because they'll be able to enjoy a tasty cupcake – or two.
When you have a cake, there may not always be enough for everybody to have a slice! With this, everyone eats.
We're finishing the list with this fantastically unique 2 tier wedding cake, which has a design of various splodges of color, making it look like a painter's palette.
This cake is sure to amaze any guests, but it'll be an especially good pick if you or your partner are in the art world!
The blend of blues, oranges, pinks, whites, greens, and more really make it stand out. It looks so good you won't even want to eat it!
Final Thoughts
A 2 tier wedding cake makes your special day even more special – use our list for inspiration!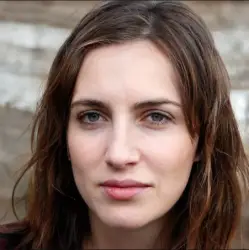 Latest posts by Anna Ingham
(see all)