Getting engaged is one of the most exciting times of your life. It promises new opportunities and a lifetime of love and laughter with the person that you are in a relationship with.
It allows you to plan the biggest and best day of your life – your wedding day – and that alone is one of the most exciting parts of getting engaged. 
However, once you start planning your wedding day, you will likely begin to notice just how expensive it is.
Weddings aren't cheap, and the average wedding will actually cost more than 28 thousand dollars.
If you haven't got a big budget for your wedding, this is when the excitement can start to dwindle as your dream wedding starts to seem out of touch. 
However, there are lots of parts of your wedding that you can do on a budget. Doing this allows you to achieve your dream wedding at a fraction of the cost.
One area that you can reduce the costs of your wedding is catering. 
Wedding catering isn't cheap and in many cases, it is one of the most expensive parts of the day.
But in this guide, we're taking a look at catering your wedding on a budget, and ways to save money on your reception.
Keep on reading to find out more!
What Is The Average Cost Of Wedding Catering?
Wedding catering is by no means cheap. In fact, it is estimated that the average cost of wedding catering is between $9,000 and $10,000.
That makes it one of the most costly parts of your wedding day. 
Catering costs differ depending on where you live, your wedding venue, and if you choose a wedding package.
Typically, if you choose a wedding package that includes catering, you will end up paying more for food than if you were to sort catering independently.
Catering your wedding doesn't need to be expensive. In this guide, we'll take a look at some of the easiest ways to reduce costs.
Don't Forget The Hidden Costs Of Wedding Catering
Part of what makes catering your wedding so expensive is the fact that there are a lot of hidden costs. Having an unexpected bill is never pleasant and it really can knock your entire wedding budget. 
When you are looking at your wedding catering package, double-check that everything is included in the package.
Including the hiring of plates and cutlery, set-up fees, delivery fees, and even the cost of cutting your wedding cake.
Unexpected costs is one of the easiest ways for wedding caterers to increase the cost of their packages. So ensure you know everything that is included before you pay a deposit.
What Are The Most Affordable Food Service Options?
Traditionally, a wedding meal would consist of a plated roast dinner served to your guests.
But nowadays, there are lots of different food service options available to you. Looking at the different options is a great way to reduce costs.
A plated meal will always be the most expensive option, especially if it is served to your guests at their table. A serve-yourself dinner will be much cheaper, and a buffet-style dinner will be cheaper again.

Buffet-style food was typically reserved for the evening part of the wedding reception.
However, an increasing number of people are choosing it for their wedding meal as it allows guests to have a lot of choices. It also keeps costs very low. 
Ways To Save Money On Your Wedding Caterer
If you are certain that you want to use a wedding caterer for your special day, then there are some ways to save money while using a wedding caterer. They include the following:
Avoid Corking charges by purchasing wine through your caterer rather than independently. 
Avoid cake-cutting fees by purchasing your wedding cake through your caterer. 
Supply your own alcohol and pay the caterer a bartender fee rather than paying for an open bar. 
Ask for substitutions if there are things you don't like on the wedding menu. 
Close your bar for small periods throughout the day, such as when dinner is served or when photos are being taken.
Ways To Save Money On Your Wedding Meal
As well as the ideas outlined above, there are lots of ways to save money on your wedding meal.
Below we'll take a look at some of the best ways to reduce the costs of your wedding meal.
What About A Food Truck?
Something that is becoming increasingly popular for weddings is food trucks.
Food trucks are great because they can make your wedding unique and they also allow you to reduce costs too. 
Food trucks are perfect for outdoor weddings, and they are great for a number of wedding themes too. They also tend to offer a much cheaper price per head than traditional catering options. 
When you hire the food truck, design a set menu with the owners that your guests can order from.
This will reduce a line-up as the food will be ready to serve as every guest reaches the truck. It really is a great option! 
Reduce Costs On Your Wedding Bar
Food is typically the most expensive wedding cost, closely followed by the bar.
A lot of people like to drink a good amount of alcohol at weddings, so having an open bar can be a very costly option.
In contrast, the cheapest option is to have a cash bar where your guests pay for their own drinks.
Cash bars really divide opinions with some cultures finding them completely normal, and others really frowning upon them. 
Ultimately, you need to decide the best option for you and your budget.
A limited bar is an option, but you will still need to spend a considerable amount of money on this. So, if you want to make your wedding as budget-friendly as possible, opt for a cash bar. 
Reduce Your Guest List
Another somewhat controversial way to reduce costs for your wedding catering is to reduce your guest list. This won't be an option for everybody, but it is guaranteed to reduce the cost of catering your wedding.
If you have an extremely large guest list, then you will need to spend a lot of money on catering. Whereas if you have a smaller guest list, the costs will be much lower.
As long as you're above the minimum requirement then having a smaller wedding party will always make things cheaper. 
Generally, an average meal package for one person will cost around $70, so think about how much you could save by shaving 10–15 people off your guest list.
It may seem a little harsh, but it is guaranteed to cut costs. 
What About A Buffet?
If you can't cut your guest list, then changing the style of your wedding meal might be a better option.
One of the cheapest options for this is to have a wedding buffet rather than a traditional meal. 
Some people may frown upon a buffet meal for a wedding, however, in a lot of ways it is the best option.
It will reduce costs, give your guests plenty of choice with what they eat, and also avoid food wastage as fussy eaters can simply choose foods they like.
Let's be honest, there really isn't anything better than the buffet at a party, and this is true of weddings too!
Or Food Stations?
If a buffet is a little too low-brow for you, then perhaps you should consider a food station instead.
Food stations are very similar to buffets, except they allow you to serve dishes rather than sandwiches and sausage rolls.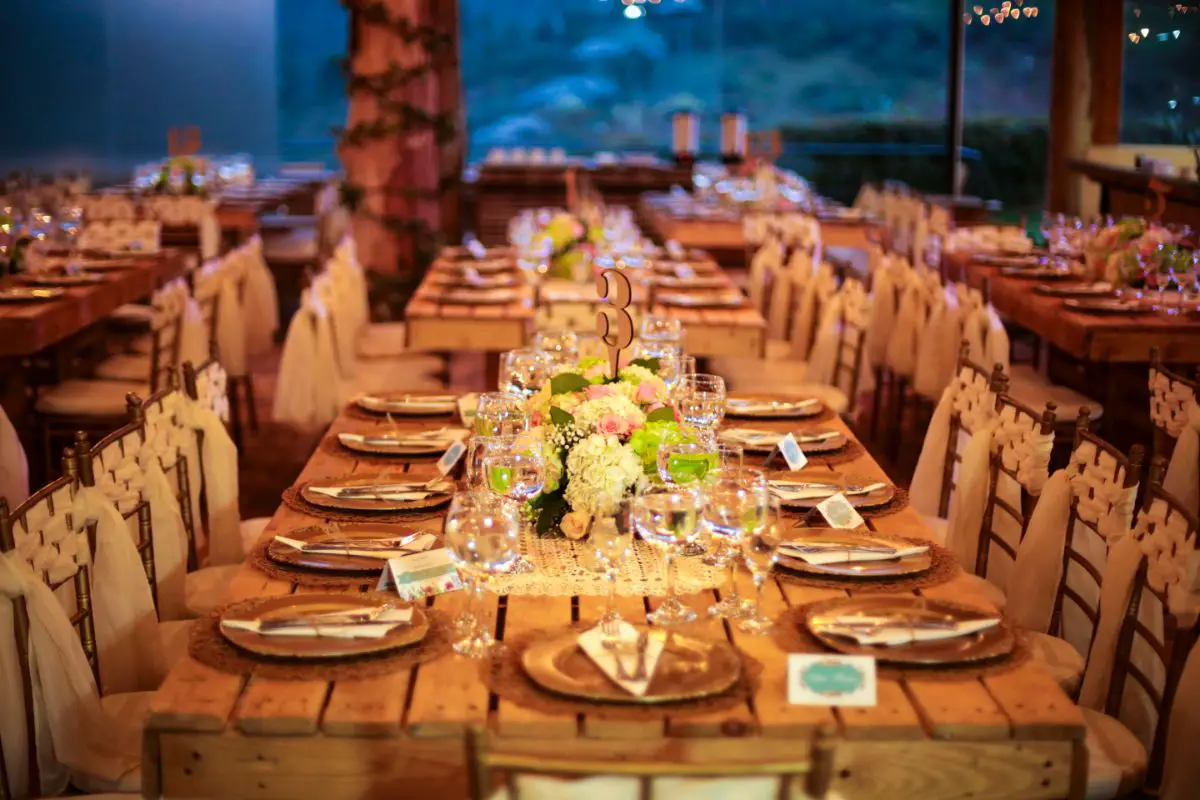 To give your guest a range of choices, you could select a couple of different food stations, such as a pasta station, taco station, salad bar, waffle bar, and lots more. 
With a variety of choices, you are guaranteed to make all your guests happy and the serve-yourself style allows you to reduce costs. It really is a win-win. 
Change Your Wedding Date
Wedding costs differ throughout the year, and in high season for weddings, you will typically find that caterers charge more for their services than in low season.
So if you really need to cut costs for your wedding, consider changing your wedding date. 
Summer weddings are the most expensive, and many caterers will offer discounted rates for winter weddings.
Likewise, if you book a wedding in the low season, you may be able to find a caterer that will alter their minimum requirements for wedding party size. 
It might seem like a drastic move, but getting married in the low season is guaranteed to reduce the costs of your entire wedding. 
Or The Time Of Day
If you aren't fully prepared to change the date of your wedding, then changing the time of day is a great way to keep costs down. 
It might seem like a strange option, but if you get married first thing in the morning then you will be able to have a "breakfast" as your wedding meal.
Breakfast or brunch wedding receptions are a lot cheaper to cater than evening wedding receptions, and they allow you to tie the knot when you're feeling fresh as a daisy too! 
With an early morning wedding, you can also reduce your wedding bar without your guests even noticing. Another win-win option. 
What About A Cocktail Party?
Depending on the time that you tie the knot, you may be able to reduce the costs of your catering by changing the style of your reception.
Instead of having a traditional wedding reception, why not have a cocktail party?
A cocktail party allows you to reduce the amount of food that you need to serve significantly.
There's no sit-down meal, so you won't need to hire tables, chairs, and linens, and you likely won't need to hire cutlery either. 
Serve appetizers with your cocktails for a very high-class feel while keeping your wedding catering very low.
Or Skip Food Entirely?
Finally, if you want to reduce the cost of your wedding catering as much as you possibly can, then you should consider skipping the catering entirely. 
Sure, it is common practice to offer food to your guests on your wedding day, but this isn't something that you have to do.
Your wedding day is your special day, so ultimately you should make decisions that make you happy, rather than decisions that make others happy. 
Instead of a full wedding reception, opt for a cake and punch reception instead.
Have your wedding service, follow it with your first dance, cut the cake, and then let your guests enjoy their cake with custom cocktails from the bar.
It won't be everybody's cup of tea, but it is a great way to avoid catering costs entirely and make your wedding (see also: How Much Will Catering A Wedding Cost?)day uniquely yours.
Sample Budget Wedding Menu Ideas
If you are interested in any of the ideas that we have outlined above as ways to reduce the cost of your wedding reception, specifically catering costs, then you may be looking for menu ideas. 
The best thing about your wedding day is that it is your day to do as you please.
You can serve your favorite meal on your wedding day, or you can opt for catering options that reduce costs. The choice is entirely yours. 
Below we've put together some ideas of what to serve on your wedding menu depending on the style of reception you opt for. 
Brunch Buffet Menu
For a brunch buffet wedding reception, then you are in luck because the majority of ingredients are super cheap.
All the classic breakfast options will cost next to nothing, so you can cater your entire wedding at a minimal cost. 
For a brunch buffet, we would recommend serving sausage, bacon, eggs, and pancakes, alongside a choice of different bread.
Spice it up with a signature cocktail, either a Bloody Mary or a Mimosa, and offer tea and coffee to your guests too. 
It'll be something a little different that we're certain your guests will love. 
Appetizer/Cocktail Party
For an appetizer or cocktail party, then you can really reduce the costs of catering by preparing the appetizers yourself.
They don't need to be done on your wedding day, they can easily be done in advance and frozen for your special day. 
Consider things that you can eat without requiring a knife and fork, such as stuffed mushrooms, mini Quiché cups, and meatballs.
Shooter cups could be a good option too with pasta, cheese sliders, and more. 
Cake And Punch Reception
A cake and punch wedding reception (see also: Cake And Punch Wedding Reception: For Weddings On A Budget)menu is the easiest to cater and you don't really need to worry too much about your menu.
All you need is your wedding cake and some cocktails, then you're good to go! 
Self-Catered Wedding Menu
If you want to cater your own wedding then you have so much freedom with how much you spend and what you want to eat.
Catering your own wedding is the cheapest option, but it can become quite expensive. 
Ready-Made Meals From Your Local Grocery Store
Finally, you can order food from your local grocery store or from your favorite restaurant.
It may seem like the more expensive option, but often you will find that the cost of purchasing a takeaway meal for one person is much greater than the cost of paying for them to be fed by a wedding caterer. 
Take Your Time Deciding
Finally, when it comes to catering your wedding, you must take your time when it comes to deciding what to do. Catering your wedding is a huge expense so you shouldn't go with your first option. 
Get multiple quotes, and explore different avenues to see what's available to you. Don't go with the most conventional route or the route that you believe others think you should follow.
It is your wedding day so do whatever you want for your special day, and follow this guide to cut costs throughout the day.
Summary
In this guide, we have taken a look at some of the best ways to save money on your reception and cater your wedding on a budget.
By using these ideas, you'll easily reduce the cost of your wedding reception, allowing you to do your entire wedding on a budget, or simply focus your funds elsewhere.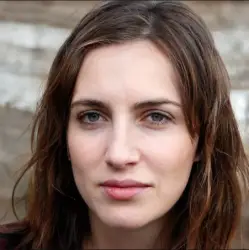 Latest posts by Anna Ingham
(see all)