Beach weddings can be one of the most beautiful wedding choices out there.
With the beautiful colors associated with beach weddings, white, sandy beaches and beautiful turquoise waters, you will have the chance to base your decoration on these wonderful colors. This applies to the wedding cake, too! 
Whatever you're looking for in a beach wedding cake, you'll find plenty of inspiration on this page. Read on for some of the best beach wedding cake recipe ideas for the best day (see also: 15 Best Sunflower Wedding Cake Recipe Ideas For Your Special Day)of your life!
This wedding cake is absolutely stunning, and the shades of pink set this cake aside from other wedding cakes. You will be tempted to grab yourself a huge slice of this delicious cake before the big day, but you won't. Don't worry. 
This cake suits beach weddings so well, it is very simple yet fairly bold in color. It has beautiful flowers decorating the 3 different tiers. It will not disappoint! 
This recipe highlights the different ways that you can decorate your white wedding cake for a beach wedding. This is a great way to incorporate the beach theme into your cake, without making it look over the top. 
A white wedding cake creates a very clean and simple look, and it can be decorated in whatever way you like to match the color code. Add some tropical leaves (made from icing of course) to the cake, if you prefer.
Or, you could accent the cake with some tropical fruit flavors in order to incorporate the flavors of the beach into the cake.
This beautiful cake is perfect. The base of the cake is in plain blue, and it matches the color palette of a beach wedding. The decoration on the cake is also very in keeping with the theme, with seashells being the basis of the decoration. 
This cake will stun your guests while setting your wedding aside from many others! It will definitely not disappoint. 
This wedding cake is perfect for any outdoor wedding, not just for a beach wedding. It is perfect for weddings where the cake will be presented outside, as it has a very outdoorsy theme.
The colors on this cake really incorporate the colors of the beach wedding, and they will make your guests feel like they're in paradise. They'll probably already be feeling this way, but this will just enhance the feeling! 
This Hawaiian wedding cake is absolutely delicious. It is a traditional wedding cake that is very simple and easy to make and will be loved by your guests.
This cake is designed for beautiful beach weddings, so it is something that you will absolutely love. This recipe makes a rich and delicious cake that is low in fat and calories for your guests to enjoy! 
As beach weddings are usually fairly understated, focusing on the beauty of the location rather than the grandeur of the event, this can be easily reflected in the wedding cake. 
It can be a perfect idea to look for a single-tiered wedding cake, making a delightful alternative to the traditional multi-tiered wedding cake. You could, instead, consider serving a one-tier cake.
This will not only set your wedding aside from lots of others, it will also save you a lot of money when it comes to paying for the cake.
If you do opt for a single tier wedding cake, you will need to ensure that you collect cake (see also: 12 Best Single-Tier Wedding Cake Recipe Ideas For Your Special Day)stands in lots of different heights.
This will allow you to create visual interest on your dessert table, (see also: How To Create A Dessert Table)allowing you to make the cake stunning and eye-catching. There are lots of beautiful single-tiered cakes that are decorated with fresh flowers and greenery. 
If you're not opting for a super traditional wedding, why not have a wedding cake that sets your wedding aside from others, too. If you love chocolate cake, there's no reason why you shouldn't opt for a delicious chocolate wedding cake.
Add beautiful decoration to chocolate cake to fit it in with your theme. 
If you like the idea of a chocolate wedding cake, you shouldn't be afraid to get creative on the flavors in the cake. Adding hazelnut, coffee, mint and lavender are all great options when it comes to chocolate cake.
There are many different options for colorful wedding cakes that allow you to bring together all of the different colors of your surroundings. There is no better place to have a colorful wedding cake than at a beach wedding. 
These cakes are great because they give you the opportunity to bring out your personality, interests or relationship through the beautiful colors that you can display.
If you don't want to stick with the traditional, all white wedding cake, then these wedding cakes may be perfect for you. 
A simple seashells wedding cake is perfect for a beach wedding. It is a charming way to incorporate the beautiful beaches with the seashore. The buttercream on this cake makes for a perfect canvas for the beautiful blue mussel shells. 
When it comes to the natural elements of your cake design, sea glass and cleaned seashells can be perfect. Give a simple seashell wedding cake a try today! 
Along with the stripped back nature of a beach wedding, why not strip back your wedding cake, too. 
Just because wedding cakes have become very traditional over the years, doesn't mean you have to stick to the tradition. It is totally acceptable to decide that you don't want to ice your wedding cake.
Many bakers are simply adding the filling between layers on the cake, and are then leaving the cakes exposed.
Frequently Asked Questions
How Much Does A Wedding Cake Cost?
The cost of a wedding cake can vary greatly depending on where you choose to source your cake. It will also depend on the cake date, whether you will need the cake delivered, any design requests and any dietary requirements.
When you are in the planning stages of the cake, you will recieve a quote from the baker. 
However, you don't have to have your cake made by someone else. You could opt to have a family or friend make the cake, cutting down the cost greatly. It really is up to you how much you wish to spend on the wedding cake. 
Can Wedding Cakes Be Delivered?
Most wedding cake makers offer delivery, although often collection is much easier. There will be a delivery charge on most wedding cake companies. Again, if you have a family or friend make the cake, this complication will no longer exist.
How To Know What Allergens Are In Your Cake?
This is a very important question to ask before you have your wedding cake made. You will need to make sure that you know the allergens in your cake so that you can let your guests know. 
You can have any kind of cake made, too, if you suffer from allergies yourself. You can opt for a nut free, dairy free or vegan cake. This may cost you slightly more to have made as there are some complications that come with these cakes.
How Should You Transport And Store A Wedding Cake?
You will be required to make sure you have a flat space in order to transport your wedding cake. If you are transporting it by car, you should place the cake in the boot of the footwell of your car.
You don't want to travel with your cake on someone's lap. If it's hot when you transport your cake, be extra careful. You don't want your cake to melt on the way home.
How Can I Store My Cake Safely? 
It is important to make sure not to leave your cake in the car for longer than you need to. If you arrive at your destination, you should get the cake out of the car and move it to a cold spot or a fridge.
Never leave your cake in direct sunlight for too long as you don't want it to melt and deform.
Final Thoughts 
There are so many different types of wedding cakes that you can opt for, whatever the location of your wedding. If you are planning a beach wedding, then it might be a nice idea to try and incorporate this theme into your wedding cake. 
You can do this by using the colors of the beach in the wedding cake, or by adding some of the typical things you see at the beach onto the wedding cake.
Whatever you choose, make sure that your cake reflects you, and don't fall into the trap of thinking that you have to have a super traditional wedding cake. Choose flavors and decorations that feel right to you.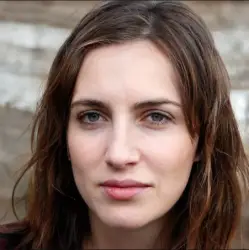 Latest posts by Anna Ingham
(see all)