Weddings are super expensive, and until you start planning your own wedding you won't fully appreciate the cost associated with them.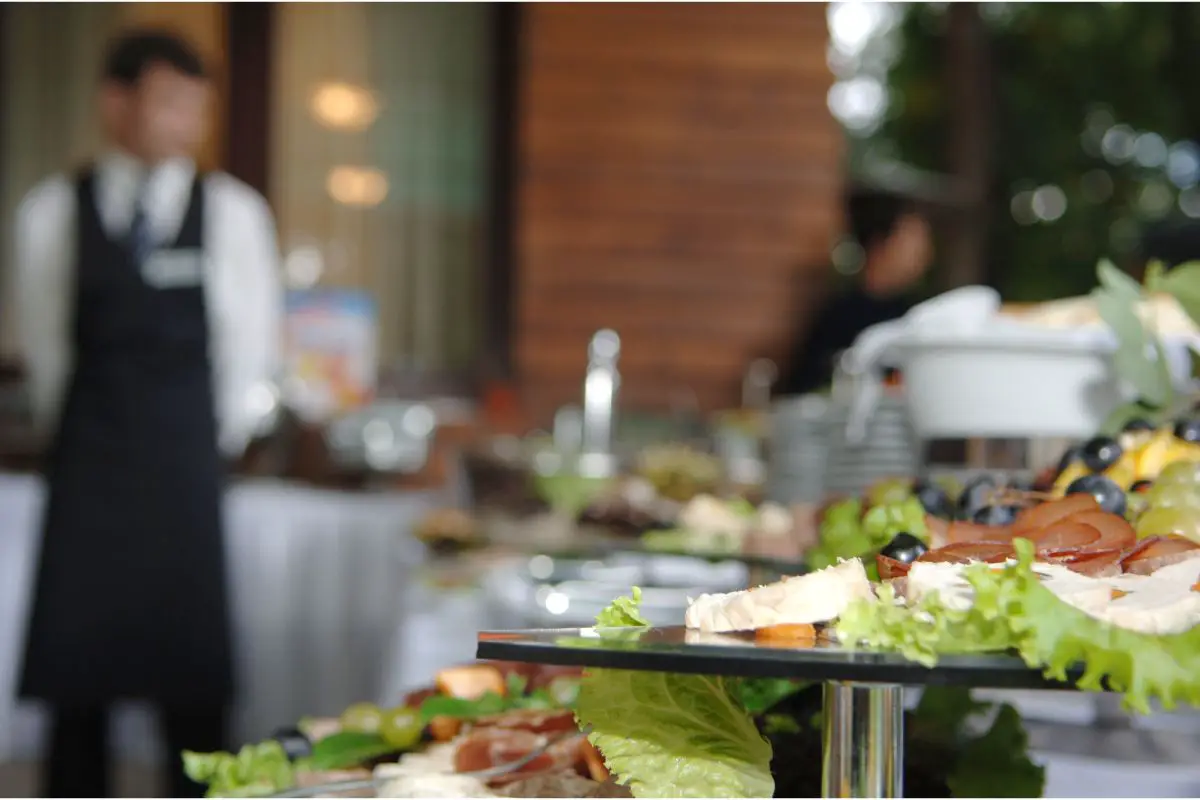 Every single part of your wedding can cost you thousands of dollars if you let it, and for many people, this simply isn't affordable.
That is why an increasing number of people are looking to celebrate their wedding on a budget. 
One of the most expensive areas of your wedding will be catering. So, if you want to reduce the cost of your special day, it makes sense to focus on the food.
Generally, wedding catering will cost between $9,000 and $10,000 which is a hefty price for a single meal.
But there are lots of ways to reduce the cost of your catering, and one of the easiest is to self-cater your wedding day. 
Weddings can be very stressful without the added stress of catering your own wedding.
However, with lots of forward thinking and planning, it is possible to cater your own wedding while also enjoying your big day. 
In this guide, we're looking at DIY wedding food and how to self-cater your wedding. So, if you want to find out more, keep on reading! 
DIY Wedding Food Inspiration
If you are considering a DIY Wedding meal, then it can be really difficult to know where to start.
A lot of people choose a traditional sit-down wedding meal, not because that is what they want on their special day, but because it is the most convenient option.
A lot of wedding venues include a traditional plated meal as part of their wedding package, and so many people just opt for this. 
However, if you fancy something a little different on your wedding day, then there are lots of DIY options to choose from. Here are just some examples for inspiration:

A no-cook buffet (sandwiches, pastries, chips, cakes, etc.).
Appetizer-Only Wedding Meal (small snack-size portions that don't require plates or cutlery).
Food stations (different styles of food that can all be prepared in advance).
Meals ordered from a restaurant/grocery store in advance.
Dessert-Only Wedding Meal (a selection of desserts that can be prepared in advance for the big day). 
Cake and Punch Wedding (no wedding meal, instead guests simply enjoy a slice of wedding cake and a cocktail).
Food You Can Make Ahead
Catering your own wedding can seem a little daunting. There is already a lot of stress associated with your wedding day, without having to prepare food yourself.
However, the hack for catering your own wedding is preparing things in advance. 
When it comes to your wedding meal, there are plenty of different types of food that you can prepare days before your wedding(see also: Affordable Wedding Food For Your Reception).
Even if you are making hot dishes and roast meats, you can still do this quite a few days in advance. Most foods can be prepared in advance and reheated on the day, but storing them can be a problem.
So before you choose this route, make sure you have ample storage. 
To make sure that you and your guests are healthy at all times, ensure that you follow the USDA's food safety advice when it comes to cooking, storing, and reheating food for your wedding day.
Ideas For Your Self-Catered Wedding Menu
Perhaps the most intimidating part of creating your own wedding menu is coming up with ideas regarding what to cook.
Some people have a specific meal that they want to eat on their wedding day, and that is great if you are searching for inspiration.
However, if you haven't got a specific meal in mind, then coming up with your menu can be a little trickier. 
Generally, if you are self-catering your wedding, we would recommend keeping it as simple as you possibly can.
Design your menu around how much time you have, what supplies you have access to, and how many people you have to support you.
We would always recommend going down the prepared-in-advance route.
That way you can get stuck into the cooking in the days before, and leave it to your helpers to reheat the food on your wedding day. 
Some great ideas to consider include:
Mixed salad
Potato salad
Roast chicken
Ham
Pasta dishes
Sandwiches 
Coleslaw
Barbecue 
Potatoes
Ideas For Your Dessert-Only Wedding Menu
Although, if you really want to make your wedding meal as stress-free as possible, we would really recommend opting for a dessert-only menu.
If you can't eat cake for breakfast, lunch, and dinner on your wedding day, when can you? So treat your sweet tooth with a dessert-only wedding menu. 
This is a super budget-friendly option because desserts are generally very cheap to make. Especially if you can bulk by the ingredients to prepare multiple desserts at once.
Desserts also have the added benefit of being very convenient to prepare in advance, and quite a lot of desserts won't even require reheating. 
If you prefer savory to sweet, then a dessert-only wedding menu probably isn't your idea of a good time. However, this is a really good option if you love desserts.
You could prepare your desserts in advance and then have guests help themselves, buffet-style. We're sure it'll be a hit with your wedding guests.
Ideas For Your Appetizer-Only Wedding Menu
If you prefer savory to sweet, then an appetizer-only wedding menu is probably more up your street.
We love this idea because just like desserts, most appetizers can be prepared in advance, and they allow you to keep your wedding a social affair at all times. 
On your wedding day, you may not feel like eating a heavy, sit-down meal, in which case, an appetizer-only menu is perfect.
Appetizers are great because you can make a wide range of different types to ensure that all your guests are happy.
Instead of having a sit-down meal, hire servers to bring around appetizers during the cocktail hour of your wedding, before the evening reception.
The range of appetizers that you could prepare for the big day is endless, and you can make them as fancy as you want.
We would recommend planning a mixture of hot and cold appetizers, including cheese boards that are scattered throughout the venue, and bite-size appetizers brought around on platters.
We're certain your guests will be impressed with the range of foods on offer!
Ideas For Your Buffet-Style Wedding Menu
Perhaps the easiest style of food to prepare for your self-catered wedding is a buffet.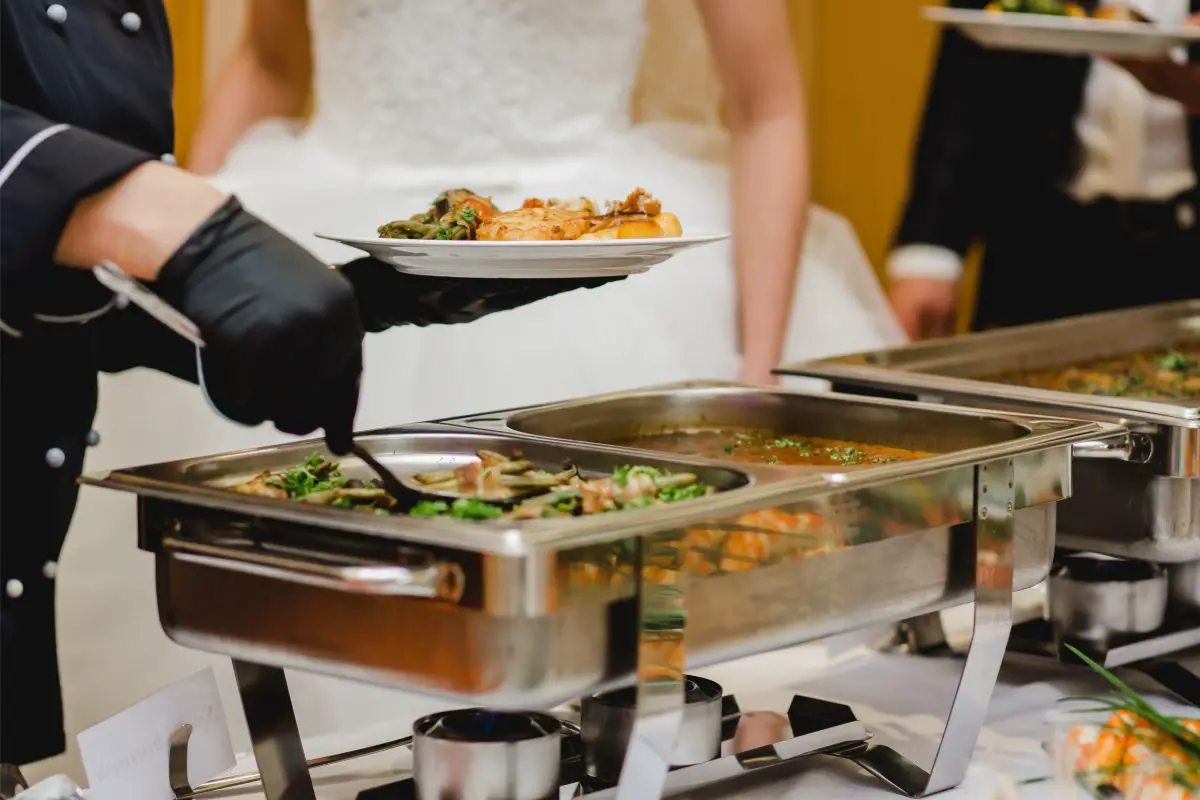 You really cannot go wrong with a wedding buffet, and most people have them at their evening reception. So why not have one as your wedding meal too?
The best thing about a buffet is that everybody can help themselves.
You don't need to worry about fussy eaters or food waste as people can simply choose whatever they fancy from the wedding buffet, and leave what they don't like.
Buffets can be surprisingly cheap to cater to because you can buy a lot of stuff in bulk, and even purchase frozen bits to cook on the day.
Side dishes can easily be prepared in advance, and bite-size sausages, pastries, and chicken nuggets can be bought frozen and cooked the day before.
You can cook your main dishes the day before or get your helpers to cook them on the morning of your wedding.
Then all you need is large platters, and some plates, and your guests will be able to help themselves when the buffet opens. 
What About Ordering From A Restaurant?
If you don't want to pay a caterer to cater your wedding, but also don't want to prepare the food yourself, then you should consider ordering from a restaurant.
Local restaurants will sometimes offer discounted rates for large take-out orders, so it is worth asking around. 
Ordering from a restaurant may seem like a more expensive option, but generally, the price per head is cheaper in a restaurant than in a wedding venue.
If you have a set menu and allow your guests to choose from that, then this is likely to reduce the costs of ordering even further. 
Logistically, ordering from a restaurant can be a little trickier because you will need to get that food from the restaurant.
If you choose a local restaurant, then they may kindly offer to deliver the food to your venue.
Alternatively, you will need to organize a couple of people to collect the food. Either way, it is a lot easier than preparing all the food yourself. 
Or From Your Local Grocery Store?
Alternatively, you should consider ordering from your local grocery store.
We know, it might sound like a bit of a strange option, but ordering from your local grocery store is a great choice. Especially if they have a deli on-site. 
You might not see it advertised in the grocery store, but a lot of these stores actually offer catering platters.
Typically, you will need to order these online in advance, and then they can be collected from the grocery store close to the day of your wedding. Perhaps even on the wedding day itself. 
If you have a couple of grocery stores close by, approach them all to find out prices and what they have on offer. This allows you to find the best option for you! 
Calculate The Costs Before You Self-Cater
Self-catering can often seem like the cheapest option, and if you do it right, it almost always will be.
However, it is important to remember that self-catering your wedding will not mean that catering your wedding is free. 
A lot of people who choose to self-cater their wedding make the mistake of not budgeting for the cost of production.
If you have a large wedding party, then you will still need to fork out quite a lot of money for the ingredients that you need to self-cater.
That's without considering storage space, the cost of purchasing plates and platters, and the amount of time that you will need to be able to self-cater.
Catering your own wedding will be very expensive in terms of time, and you will need to dedicate a lot of time in the lead-up to your wedding to food preparation.
So bear this in mind if you are considering self-catering your big day.
Consider A DIY Wedding Bar Instead
Many people consider self-catering their wedding, but ultimately opted against it because of the time and effort associated with this.
Self-catering your wedding requires huge amounts of organization, and it can take a little away from the excitement of your big day.
But if you are still looking for ways to reduce the cost, why not try a DIY Wedding Bar (see also: Tasty Taco Weddings: A Guide To Setting Up a DIY Taco Bar and Taco Wedding Menu)instead?
The bar is the second most expensive part of your wedding day if you choose (see also: The Best Bar Service To Choose For Your Wedding)an open bar, but you can reduce the costs by doing a DIY bar instead.
Buy beer and wine in bulk before your wedding and serve this to your guests, instead of putting cash behind the bar. It is guaranteed to save you some dollars.
Or A DIY Wedding Cake
If you are keen on DIY ing some of your wedding catering but don't want the stress of preparing food for all your guests, why not consider a DIY wedding cake instead?
Wedding cakes are expensive, and if you like to bake, you can save some money while having a good time creating your own cake.
You don't even need to bake the cake, you could even buy pre-cooked sponges from a grocery store, and simply decorate them yourself. 
This is a great way of making your wedding uniquely yours while reducing the level of stress that you put on yourself!
Make Sure You Have Support
Ultimately, catering your own wedding would be absolutely impossible if you were to take all the work on by yourself.
Even if you and your husband or wife-to-be were to help, it would still likely be too much work for two people.
When it comes to self-catering your own wedding, you need an army of people to help you. 
Without the support of others, self-catering is guaranteed to be stressful.
No Bride or Groom wants to be buttering sandwiches on the morning of their wedding day or heating up food in their wedding dress/suit. That is why having support is essential. 
Unless you have a team of people outside the main wedding party to help you self-cater your wedding, we really would advise against it. 
How To Find A Venue That Allows A Self-Catered Wedding
Before you decide to self-cater your wedding, you need to think about your wedding venue and if they will even allow you to self-cater it.
A lot of wedding venues make a chunk of their profits on the food, so they won't be happy about you catering it yourself. 
If you have your heart set on catering your own wedding, you may need to be a little more open-minded when it comes to your venue. That goes for if you want to do a DIY wedding bar too. 
Some great venues for self-catered weddings include:
Parks 
Community centers
State parks 
Nature reserves
Farms 
Libraries
Museums 
And more… 
Things To Consider When Looking For A Self-Catered Wedding Venue
Finally, when you are looking for a self-catered wedding venue, you need to think about the following things before you choose your wedding venue. 
Is there a large kitchen?
Is it easy to transport things to the venue without them becoming damaged?
Is there running water?
Will you need to bring your own pots, pans, baking sheets, plates, etc.?
Are there any kitchen rules?
Is kitchen hire included in the venue cost?
Is it easy to get from the kitchen to the serving area?
All of these things will determine if that venue is a good fit for you! 
Summary
In short, self-catering your wedding is only as stressful as you make it. With plenty of forward planning, you will be able to reduce the costs of your wedding by making all the food yourself.
As long as you are organized, DIY wedding (see also: Best DIY Cocktail Menu For A Micro Wedding)food won't impact your enjoyment of the big day, at all. 
In this guide, we've given you lots of inspiration for your self-catered wedding menu and given you lots of helpful information about planning for the big day and finding a venue where you can self-cater your wedding. 
We hope you've found this guide helpful. Thanks for reading!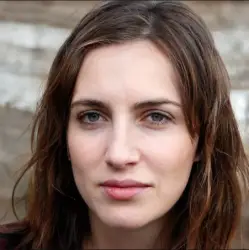 Latest posts by Anna Ingham
(see all)