Greek cuisine is well-loved around the globe for its wide range of flavor combinations and cultural heritage. While the Greeks are regarded highly for their savory dishes, have you ever tried an authentic Greek dessert?
If you're interested in making some Greek dessert dishes to serve to your family and friends at your next dinner party, you've come to the right place!
This article will go through 10 of the tastiest and easiest dessert recipes that you can whip up quickly in your own home. 
This extensive list is filled with delectable Greek treats, from the esteemed Baklava to traditional spoon sweets. We hope you enjoy baking up a storm with these 10 delicious Greek dessert ideas!
10 Best Greek Desserts To Make At Home
This collection of Greek dessert recipes covers everything from the classic baklava to regional favorites and seasonal specialties. 
In order to find the ideal dessert for you, browse through our amazing Greek dessert ideas, whether you want a quick and simple treat or are seeking for something more challenging.
Revani is a traditional Greek and Turkish dish made of semolina, sugar, and flour. Depending on the recipe, flavorings like vanilla, rose water, and lemon zest may also be included. 
Because the cake was soaked in syrup after baking, it has an overwhelming sweetness that defines it.
It is typically topped with desiccated coconut, crushed nuts, fresh fruit, and whipped cream when it is ready for celebrations and festivals. 
Even though the recipe is largely associated with Turkey and Greece it can also be found in many other Middle Eastern, Balkan, and African cuisines. However, the dish's name varies depending on the locale.
Since the time of the Ottoman Empire, Turkish cuisine has featured the traditional dessert known as revani. It is believed that the city received its name after the Ottomans seized Yerevan in present-day Armenia. 
Greek culture also uses the Persian term "revani" for the cake. Numerous Mediterranean as well as Middle Eastern cultures have modified this dessert. In Arabic, it is known as basbousa, and in Armenian, as shamali.
Revani is among the most popular sweets in Turkish cuisine and is eaten both at home and also in restaurants (see also '21 Delicious Restaurant Desserts You'll Love To Make!'). A layer of tender, golden semolina cake steeped in copious amounts of light syrup makes up this straightforward delicacy.
Greek cookies called koulourakia are usually prepared at Easter celebrations and eaten on the Sunday after Holy Saturday.
The cookies, which are made with vanilla, sugar, and butter, are often braided but can also take on a variety of other shapes.
Koulourakia cookies are typically served as a dessert or a snack with coffee or tea. Before cooking, sesame seeds are occasionally roughly scattered over the pastries, and a clove is inserted in the center to increase taste. 
It's interesting to note that the Minoans occasionally form the biscuits into snake shapes since they consider those creatures to have therapeutic properties.
There is plenty for everyone to enjoy in this recipe's 80 scrumptious festive Greek Easter biscuits. The best thing, though?
Making braids, boats, little 'S's, and other shapes out of the koulourakia with the family will be a lot of fun! The only limit is your imagination!
The king of all eastern sweets is baklava. One of the most well-known recipes originated in Ioannina, where a man named Nikos Kolionasios rose to fame for his golden baklava, the customary hand-wrapped crispy rolls that are liberally stuffed with premium nuts and mildly sweetened. 
You've probably heard of Baklava before, or even tasted it – but this perfect recipe makes it easy to put together and enjoy at home, so you don't have to worry about ordering Greek take-out anymore!
A combination of flour, yeast, sugar, and salt is typically used to create this well-known, indulgent, and sugar-heavy dish, which is then deep-fried and covered in honey or syrup. 
Lokma fritters have a long history, yet its origin is frequently disputed. Although some claim that they are of Arabic origin, it is assumed that they initially arose in Greece or Turkey.
The meal is regarded as one of the earliest sweets in Greek history to have been recorded. According to legend, the treats, known as honey tokens, were even handed as prizes to Olympians who won competitions. 
Loukoumades, also known as loukoumades in Cyprus, are a common sight on Greek streets and in stores that only serve this filling delicacy.
Fruit, nuts, and veggies are dipped in syrup, remaining solid and maintaining their natural color, flavor, and scent. Spoon sweets are an ancient Greek tradition and a show of hospitality.
Because guests at many Greek households are given a full teaspoon as the typical serving size, these sweets are known as spoon sweets.
Everyone is said to have spooned candy from a single bowl when the tradition originally emerged as a preventative step to ensure that the meal was not poisoned. 
Although spoon sweets are produced all over Greece, some of them are associated with particular regions: Andros is well-known for its orange and lemon blossoms, Chios for its grapes, mandarins, and figs, Kos and Santorini for their tiny, cinnamon-flavored tomatoes, Crete for its grapes and raisins, and the Peloponnese for every kind of citrus fruit.
A traditional dessert that can be found all throughout the country in a variety of forms is Greek-style apple pie. 
It can be made as a decadent coffee cake with cinnamon-spiced apples and tender, buttery dough, or as a straightforward pie with shortcrust pastry and a delicious apple filling on top.
Walnuts, various flavorings, plus dried fruits are frequently standard additions. Milopita is typically served as an afternoon treat with coffee in all of its shapes and variations.
A traditional Greek delicacy is these shortbread cookies, which are crunchy and buttery. 
They are generally made with a rich dough made of almonds, butter, and various flavors like vanilla or strong brandy, while certain varieties do occasionally use walnuts.
They are frequently cut into crescent and round shapes, and a thick layer of powdered sugar is sprinkled over them.
Kourabiedes are a typical Christmas cookie and have long been connected to festive occasions like Easter and other holiday celebrations.
If you've never had Greek kourabiedes, you're definitely missing out. They have a crunchy texture, a rich nutty and buttery flavor, and a captivating rosewater scent. They are a wonderfully buttery Greek biscuit.
Melomakarona are currently a traditional Greek holiday treat, despite their alleged Phoenician origin. Traditional flavors for these mouthwatering semolina cookies include honey, cinnamon, orange zest, olive oil, and occasionally cognac.
Melomakarona cookies are immediately covered in honey syrup and dusted with crushed walnuts after baking. 
While some contend that another Greek dish known as finikia pertains to a slightly distinct dessert that is sometimes cooked and offered without walnuts, both terms are now frequently used interchangeably.
A fantastic recipe for Greek yogurt cake that's been flavored with orange and lemon flavors and decorated with a syrup that smells like cognac!
Yiaourtopita, a typical Greek cake, is baked with yogurt rather than milk, which gives it added moistness and softness.
You're missing out if you've never added yogurt to your cake mix. Yogurt has a high protein and fat content, which when baked makes your cake wonderfully soft, moist, and smooth. 
Although you can prepare this cake minus syrup, this recipe for Greek yogurt cake asks for a generous amount of syrup that has been steeped with vanilla and cognac.
Your yogurt cake will be infused with this delicate syrup, giving it a decadently rich texture that you won't soon forget.
Try it with a generous tablespoon of yogurt or, much better, pair with some vanilla-flavored ice cream and fruit, and enjoy this delectable classic Greek yogurt cake. 
These simple to make and utterly delicious Greek almond cookies just need five ingredients! You just can't get it wrong with this tasty dish – it's sure to impress your family and friends at the next gathering!
Your visitors will never realize just how simple they are to prepare and serve because of the nuanced taste of almond with a splash of orange zest. They'll think you labored in the kitchen for days, they're that delicious!
These treats are simple, just perfect, and will have everyone coming back for more. This might be a go-to recipe if you want to impress but don't have a large amount of free time.
Final Thoughts
The usage of Mediterranean ingredients in Greek cuisine, including olive oil, almonds, and seeds, is well-known. 
However, Greek gastronomy also features renowned sweets, much like all other cuisines in the globe. Greek pastries make use of sumptuous ingredients like phyllo dough and are distinctive, tasty, and appealing.
The best part is that you don't have to spend the whole day in the kitchen attempting to put these together because these Mediterranean sweets are simple to make. 
Greek desserts differ from the standard pastries you're undoubtedly familiar with because of their distinctive taste combinations. These Greek dessert dishes are sure to suit any pallet, no matter what type of dessert you're craving.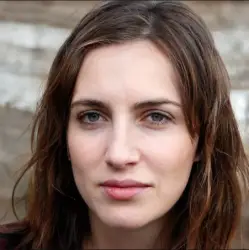 Latest posts by Anna Ingham
(see all)