If you are looking for some inspiration for what desserts to make this easter then you have come to the right place.
We have put together this list of 15 of the best easter desserts that you can make today to impress your family and friends. They are perfect for any Easter celebration or gathering. 
These easy lemon flavored sugar cookies are shaped like bunnies with some simple decorations. Use bunny shaped cookie cutters to create the shape, and royal icing mixed with shredded coconut for the fluffy tails.
You can also add a ribbon around the neck if you want to. You could switch up the decoration and show some bunnies from the front and some from the back.
It will take a total of one hour and 30 minutes to prepare, bake, cool and decorate these cookies. 
Sometimes Easter can be chocolate overload and you want to eat something that isn't full of cocoa. These vanilla blondies are the perfect solution.
They have all of the indulgence and sweetness of a brownie but without the cocoa. You can use chopped pecans, white chocolate chips, or whatever other fillings you want to – you could even use some chopped up mini eggs to fit with the easter theme.
The light brown sugar in the batter helps to create a caramelized flavor. 
This recipe serves the cheesecake in half an easter egg for a fun and novelty dessert. The buttery cheesecake base is hidden underneath the chocolate cheesecake filling.
You can decorate these tasty cheesecakes with drizzles of chocolate sauce with mini eggs and whatever sweet treats and candies you fancy.
This is a no bake cheesecake recipe that is super easy to make but is a very easy recipe to follow. 
These Easter bunny popcorn bars are fun and cute, perfect to make over Easter weekend. They are similar to rice krispy bars, but instead of using puffed rice cereal you use popcorn.
You can sweet popcorn, salty popcorn, or a mixture of both depending on your preference.
This recipe is very customizable as you can use whatever type of candies you want to mix into the bars – mini eggs, MnMs, chocolate drops, or whatever you fancy!
The popcorn and fillings are coated in a sticky marshmallow mixture and left to set in the refrigerator. You can decorate the bars with melted chocolate drizzled on top. 
If you're looking for something light this Easter then you should try this colorful rainbow meringue recipe.
The meringues are colored with beautiful pastel shades (or whatever colors you want to use) then sandwiched together with cream cheese frosting.
You could also add some fresh fruit like chopped strawberries into the cream cheese mixture if you wanted.
You will need to pay close attention to the instructions when it comes to making the meringue – the egg whites need to be whisked properly to create the right texture.
You can make these sweet treats ahead of time and you can also keep them in the refrigerator for up to 3 days. 
This simple dessert is made with deliciously light meringues, with whipped cream piled on top and a mound of fresh strawberries. It is eye-catching and tasty but easy to make.
The meringue you use to make a pavlova is crispy on the outside and soft in the middle, with a slightly chewy texture.
It is best to make homemade meringue for this dessert rather than using store bought meringue. If you meringue cracks try not to worry- you can always cover it up with whipped cream. 
This is a really easy recipe that looks impressive and tastes wonderful. All you need to do is blitz up oreo cookies in a food processor (including the filling).
Mix in cream cheese and then roll the mixture into balls (or egg shapes). Let them chill in the refrigerator for 15 minutes while you melt white chocolate.
Dip the balls in white chocolate and then put them back in the refrigerator to set. You can then decorate the truffle eggs with melted chocolate mixed with a little bit of food coloring drizzled on the top. 
This cheesecake uses clever decoration to make it look like a vegetable patch with carrots growing. The crust of the cheesecake is made with crushed oreo biscuits and butter.
The filling is a baked vanilla cheesecake made with cream cheese, eggs, sugar, sour cream and vanilla extract. Once the cheesecake is baked you should let it cool then refrigerate it overnight.
Next you need to make orange carrots out of strawberries dipped in melted white chocolate with coconut oil (which makes it easier to work with) and orange food coloring.
Leave these to set while you make a chocolate ganache to go on top of the cheesecake (see also 'Can You Freeze Cheesecake?'). This is topped with crushed oreos for the soil. You can then 'plant' your carrots in the soil. 
This is a very simple recipe for chocolate sugar cookies which you can cut into festive shapes that you fancy.
If you have bunny cookie cutters then this is an easy way to make delicious bunny shaped cookies to enjoy. Use some white icing to pipe on additional details to finish off your bunny cookies. 
These sticky buns make a nice change to classic desserts like blondies and cheesecakes. The dough for these buns is similar to cinnamon rolls and they also have a buttery, sugary filling flavored with cinnamon.
Instead of being topped with white icing, these buns are topped with a caramel glaze and chopped pecans.
They are actually made upside down – the caramel and pecans are baked into the bottom of the pan and the buns are turned out before serving. 
Rocky road is a great recipe to make if you want something easy, delicious, and something that will last for a few days.
You can use whatever type of chocolate you fancy to make this rocky road, and you can also choose your own fillings.
There are so many different types of egg shaped treats at easter that you can chop up and add to your rocky road, along with novelty marshmallows and candies.
This is also a great recipe to make if you have lots of leftover easter eggs that you need to use up. 
A lot of people get confused between macaroons and macarons. Macarons are French treats made with meringue. Macaroons are gluten free, biscuit type treats that melt in your mouth.
Shredded coconut is mixed with egg whites, granulated sugar and vanilla extract and then baked to perfection.
You can also drizzle the macaroons with melted chocolate  to make them extra special. These macarons are ready in just 35 minutes which is great for a last minute dessert. 
Easter is associated with Spring and new life, so using lambs to decorate your spring treats is ideal. These adorable sheep cupcakes look amazing and are not difficult.
Instead of fiddling with mini marshmallows to make the wooly coat of the sheep, this recipe uses piped buttercream (use the star tip to create the right texture).
The face is made with fondant, chocolate candies, royal icing and an edible marker. Children can also get involved with decorating these fun cupcakes which gives you an activity to do as a family.
You can use a store bought cupcake mix to save yourself some time. 
This light and delicious pie is always a crowd pleaser at family gatherings and Easter celebrations. It makes a change from all of the chocolate based desserts.
The pastry is perfectly buttery and flaky, the custard filling is silky and smooth, and whipped coconut topping is just irresistible.
This recipe also gives you an easy and foolproof method for making the pastry so you know it will be perfect every time.
If you love tropical flavors, why not add some fresh fruit to this tasty dessert – mango or pineapple or even some sliced banana. 
This easter trifle is a real show stopper. It's colorful, fun, eye-catching and super tasty. You will need to make a cake batter and split it into four bowls so you can dye them different colors.
Use these to make a marble tray and bake cake. Once the cake is cool, you can cut it into squares to use as the trifle sponges.
Make a milk pudding or a custard according to the instructions on the packet, and whip up some cream.
Layer the sponges with the pudding and the whipped cream topping. Decorate the top of the trifle with whatever easter-themed treats you fancy. 
Summary
These delicious desserts are ideal for your Easter celebrations. Whether you want something chocolatey, or you want to avoid chocolate altogether, we have something for everyone on this list.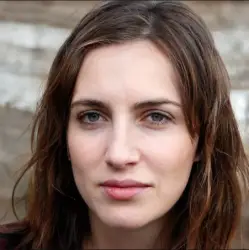 Latest posts by Anna Ingham
(see all)