A hot new wedding cake trend has landed – literally! – in the form of butterflies. Butterfly wedding cakes are taking social media by storm, so it's easy to see why it's got our minds racing and has us scouring the web for the most unique, beautiful butterfly wedding cake ideas.
Butterflies symbolize many things such as change, growth, and transformation, making them fitting and poignant motifs for a wedding cake.
After all, isn't that what weddings are all about? Celebrating a new phase in the lives of you and your partner?
In our article, you'll find 38 of the best butterfly wedding cake ideas to make your special day beautiful, and that will get your heart fluttering!
1. Pastel Butterfly Wedding Cake
Butterfly wedding cakes are great for spring or summer weddings, and this pastel butterfly wedding cake – with its beautiful springtime colors – is the perfect example.
2. Golden Butterfly Wedding Cake
For a more decadent and opulent wedding, go for this butterfly wedding cake that takes the trend to whole new sophisticated levels. 
3. Purple Butterfly Wedding Cake
We love this beautiful deep purple butterfly wedding cake! Especially when it's combined with these simple metallic butterflies.
4. Cascading Black & Gold Butterfly Wedding Cake
Another opulent, sophisticated wedding cake with gorgeous black and gold butterflies.
5. Black And White Butterfly Wedding Cake
If you love butterflies and their symbolism and want to incorporate them into your wedding cake, but you also like a black and white color scheme, then this is the perfect compromise.
6. Whimsical Woodland Butterfly Wedding Cake
On the other end of the spectrum, this whimsical woodland butterfly wedding cake is perfect for anyone wanting a whimsical, maximal wedding! This is the ideal cake for someone who wants to bring a woodland fairy wedding to life. 
7. Butterfly Wedding Cake With A Bouquet On Top
Now this is what we call an avant-garde butterfly wedding cake! It has lace detail, subtle butterflies, but then blooms into an abundant bouquet. 
8. Explosion Of Butterflies Wedding Cake
Another effective butterfly wedding cake, this is sure to stun guests at the reception. 
9. Rustic Butterfly Wedding Cake
Paring things back a little, this is ideal for a rustic wedding. Plus, it would be fabulous for an autumnal wedding. Who says butterfly wedding cakes are only for spring or summer?
10. Monarch Butterfly Wedding Cake
Another elegant and understated butterfly wedding cake, it features a smooth white finish, plain white butterflies, and stunning monarch butterflies for a pop of color.
11. Rose Garden Butterfly Wedding Cake
If you want to incorporate pink into your wedding, then why not go for this totally romantic pink rose garden butterfly wedding cake?
12. Metallic Pastel Butterfly Wedding Cake
This metallic pastel butterfly wedding cake is the perfect compromise between colorful maximalism and sophisticated metallics.
13. Silver Butterfly Wedding Cake
Yet another cake that proves butterfly wedding cakes are not just for spring or summer! With its silvery, frosty colors, this cake is an amazing way to incorporate butterflies into winter weddings.
14. Purple And White Butterfly Cupcake Wedding Cake
Think butterfly motifs are just for tiered wedding cakes? Think again! This cupcake tower butterfly wedding cake is fun and elegant. 
15. Rainbow Butterfly Wedding Cake
Can't decide on what colors you would like for your wedding cake butterflies? Well, this rainbow butterfly wedding cake proves you don't have to decide on just one color!
16. Blue And Purple Ombre Butterfly Wedding Cake
This blue and purple ombre wedding cake is not only stylish and beautiful, but the butterflies give it a touch of dark romance.
17. Golden Butterfly Wedding Cake
We love this intricate butterfly wedding cake that not only features Monarch butterflies, but birds, purple buds, and shiny golden icing too.
18. Rainbow Butterfly And Lizard Wedding Cake
We love how unique this wedding cake is! It looks like a pretty, unassuming cake on the outside, with beautiful fondant butterflies. But when you cut it open you're treated to a different color on every tier, and icing flowers, vines, and lizards! Inspired!
19. Pink & White Butterfly Wedding Cake
This pink and white butterfly wedding cake with sparkly butterflies, pink icing, and pearly decorations is sure to steal the heart of every girly bride! 
20. Watercolor Butterfly Wedding Cake
We love how elegant, beautiful and understated this cake is, with watercolor flowers and paper butterflies. It's so gorgeous you're not going to want to cut into it!
21. Stained Glass Butterfly Wedding Cake
We're obsessed with this cake! This stained-glass cake truly is a work of art, and is another cake that's so beautiful and masterful that you're not going to want to cut into it. 
22. Lilac Butterfly Wedding Cake
If lilac is your favorite color, then you need to have this lilac butterfly wedding cake! We're particularly impressed with the pearly details around the cake.
23. Sage Butterfly Wedding Cake
This cake is a great option for those who don't want to go overboard with the butterfly decoration. Plus, the sage icing compliments the coloring of the monarch butterflies beautifully. 
24. Blush Geometric Butterfly Wedding Cake
Not only do we love the white butterflies and frilly pink icing decoration of this cake, but the unusual geometric shape of the tiers.
25. Blue Winter Butterfly Wedding Cake
This romantic butterfly wedding cake is perfect for winter, with cool blue icing and butterfly decorations, and shiny metallic detailing. 
26. Blue Crystal Butterfly Wedding Cake
This may be the coolest wedding cake on our list! Not only does it have cool blue butterflies but awesome and impressive blue crystals bursting out of the cake! The gold detailing also adds a touch of elegance. 
27. Green Butterfly Wedding Cake
Think green isn't a suitable color for a wedding cake? Think again! This green butterfly wedding cake proves your cake can be pretty in green.
28. Butterfly Tower Wedding Cake
This is a butterfly wedding cake of epic proportions! We love the butterflies cascading from the top tier to the bottom as well as the soft white floral details. 
29. Butterfly House Wedding Cake
Now this is the perfect butterfly wedding cake for unique couples! We not only love the cozy house topper and the small, cute butterflies, but the illustrations of people skiing down the snowy cake mountain. 
30. Red And Blue Butterfly Wedding Cake
So you like blue and your fiancé likes red. You like butterflies, while they prefer flowers. This butterfly wedding cake is a convincing argument to combine them!
31. Blue Monarch Butterfly Wedding Cake
We've mentioned a couple of cakes with classic orange monarch butterflies, so it's about time we mention one with blue monarchs! We love how the royal blue butterflies contrast against the white cake and other shades of blue. 
32. Butterfly And Daisy Wedding Cake
This butterfly and daisy wedding cake is perfect for a summer wedding! Butterflies and daisies are synonymous with summer, and blue and green are typical summer colors.
33. Butterflies And Tulip Wedding Cake
While the orange monarch butterflies compliment the tulips perfectly, what really sets this cake apart for us is the lush green grass border around the cake. 
34. Butterfly And Lovebird Wedding Cake
Birds are also poignant symbols for wedding cakes. We're all familiar with lovebirds after all! And when you combine them with butterflies you get one romantic wedding cake. 
35. Topsy Turvy Butterfly Wedding Cake
For an eccentric wedding, why not have a topsy-turvy wedding cake? This floral, topsy-turvy butterfly wedding cake reminds us of something you'd see on the Mad Hatter's tea party table, and is perfect for a wedding in Wonderland.
36. Swirl Effect Butterfly Wedding Cake
This butterfly wedding cake with pastel swirl effect is drop-dead gorgeous! We love the touches like the sparkly butterflies and the pebbles around the tiers. 
37. Black And Red Butterfly Wedding Cake
For a sophisticated, understated cake you can't go wrong with this black and red butterfly wedding cake. The striking red butterflies help keep things interesting!
38. Chocolate Butterfly Wedding Cake
This rich chocolate wedding cake is mouth-watering, and the mint green butterflies add a pop of cool color.
Final Thoughts
We hope our picks for the best butterfly wedding cake ideas have inspired you! Butterflies are not only a pretty and whimsical motif for your wedding cake, but they have similar symbolism to that of weddings, i.e. they represent transformation, growth, and change. They can even represent the butterflies you feel when standing at the altar!
Frequently Asked Questions
How Do You Make Butterflies For A Wedding Cake?
Depending on your wedding theme, decor, and wedding cake, edible wafer butterflies are available on sites like Amazon, in a wide range of colors, sizes, and styles.
Still, much like real butterflies, these edible wafer butterflies are very delicate! So it's very easy for them to sustain damage when being shipped to your house. You can also create delicate butterflies with rice paper. This method also makes the butterflies look more realistic!
What's The Difference Between Butterfly Cakes And Fairy Cakes?
Butterfly cakes are a twist on the traditional fairy cake. It is a small cake that is cut and decorated to resemble butterfly wings. You can do this by cutting a circle from the top of the cake and slicing it in half.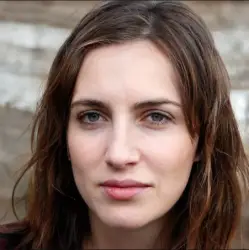 Latest posts by Anna Ingham
(see all)