You have to admit – naked wedding cakes are super cute.
They have a much more natural, rustic aesthetic, that in my mind is often warmer, more welcoming, cozy and romantic, than some sleek, over-polished, almost sterile creation.
And naked doesn't mean undecorated – you can still have a layer of frosting on top of each tier if you so wish. Not to mention decorations of fruit, berries, flowers and more on the top and around the edges.
I have found some truly amazing naked wedding cake recipes online, and now I'm going to share my favorite ones with you. There are a wide range of flavors and cake decor ideas coming up. I think you're gonna love this!
And without further ado, let's get straight to it!
I thought we'd kick things off with something super simple – a vanilla sponge cake, complete with a complimenting vanilla buttercream frosting.
The cake features three layers of vanilla sponge, each topped with a thick layer of frosting, followed by a layer of berries.
In this recipe, the layers are of identical size, and it's technically semi-naked. You can decorate it with extra foliage and/or berries on the top and around the edge.
Now, this is one showstopper of a cake!
It features 3 tiers, just like a traditional wedding cake. But each tier features 4 layers of sponge, jam, and sugar syrup.
The recipe provides the instructions for 3 different cake flavors, namely vanilla, lemon, and rose water flavor. And it looks lovely when decorated with fresh pastel flowers, such as roses.
Want to take the flavor to the next level? Check this out!
In this naked wedding cake recipe, you get 3 tiers, each with 3 layers of sponge topped with buttercream frosting. But what makes this recipe really stands out is that it features desiccated coconut in the sponge along with coconut milk in the buttercream, for the most heavenly coconut hit. 
You also get to add fruity raspberry jam and fresh raspberries for a delicious contrast of flavors.
When I tried this recipe out, I knew it deserved a place on my shortlist!
It comes out light and fluffy, and with an intense vanilla hit with a hint of lemon, thanks to the use of vanilla bean paste and lemon zest.
The cake has two sponge layers of equal size, and has the most delicious frosting made with mascarpone cheese, powdered sugar, vanilla bean paste, and double cream.
And that's not all – it also features crushed strawberries in sugar. Sweet and refreshing.
Who doesn't love chocolate – am I right? Such a crowd pleaser!
This is the simplest naked chocolate cake recipe you will find anywhere. You can make it with store-bought chocolate pudding mix, and chocolate cake mix with the accompanying additional ingredients. 
There's a contrast of flavors with an easy vanilla buttercream frosting, and you can get creative with the decoration, using your choice of nuts, fruits, and/or edible flowers.
OMG, this recipe is amazing!
It may feel like cheating, when you're using so many store-bought mixes, but there's no denying just how good it tastes.
It features sponge, buttercream, crème pâtisserie, fruits such as red currants, strawberries, cherries, raspberries, blueberries, and blackberries.
But what really makes it for me is the addition of Marroquín liqueur and Maraschino liqueur – so indulgent.
This is delicious, too – such a lovely light flavor, with each of the three sponge layers made with the likes of fresh blueberries, and the zest and juice of 3 lemons, for a refreshing citrus hit.
There's also a yummy frosting, made with cream cheese, butter, powdered sugar, heavy cream, vanilla extract, and a pinch of salt as a finishing touch.
This is such a pretty naked wedding cake, with its varied lavender and purple colors alongside a yummy white chocolate buttercream.
Better yet, this wonderful creation requires few ingredients…
The white chocolate buttercream frosting is made with just melted white chocolate, salted butter, and powdered sugar, while the homemade blackberry lavender jam is made with blackberries, dried lavender, honey and lemon juice.
You never know if one of your guests may be vegan, in which case, you may wish to consider going for a vegan naked wedding cake, as per this recipe.
The three sponge layers are made with vegan butter and non-dairy milk, while the vegan buttercream frosting to go in between these layers is made with more vegan butter, vegan cream cheese, powdered sugar, and lemon juice.
It's easy to make and it tastes great!
I am so glad I found this recipe – now I just need a friend to get married, so I have an excuse to make it again!
It is loaded with flavorful, complimenting ingredients – there's chocolate fudge sauce, instant coffee, cherries, dark chocolate, heavy cream, powdered sugar, buttermilk, cherry liqueur, and more besides! 
It looks stunning, and the taste is unbeatable!
I just love the flavor combination in this stunning yet simple naked wedding cake recipe.
There are 4 layers of vanilla sponge enhanced with lemon zest, and there's a homemade lemon curd, and an amazing homemade coconut Swiss meringue buttercream as well.
I also love how it's decorated, too, with simple, rustic flowers and foliage.
This is just such a pretty naked wedding cake – thanks to the addition of Baileys Strawberries and Cream liqueur, which gives the vanilla sponge layers the most wonderful pink color and strawberry flavor.
It also features a delicious homemade strawberry jam, and a simple cream cheese frosting , made with whipping cream and powdered sugar.
The recipe also explains how to make a nice vegan version too.
This is one stunning naked wedding cake!
It would be absolutely perfect for a fall theme wedding. There are as many layers as you like of apple spice sponge featuring such complimenting ingredients as cinnamon, cloves, allspice, brown sugar and applesauce.
There's also a yummy vanilla bean buttercream frosting, and a just as yummy homemade caramel drizzle, which looks great drizzling down the sides.
If you're anything like me, you love the famous Italian dessert tiramisu. And this naked wedding cake recipe has all of those wonderful flavors.
There are 3 layers of fluffy vanilla sponge, brushed with strong coffee flavored syrup. And sandwiched in between these layers, there's an irresistible frosting made with mascarpone cheese, enhanced with Amarula cream liqueur.
What's more, rather than using egg yolks in the cake sponge, there's more Amarula cream liqueur instead. It's rich and creamy, not to mention silky smooth, and it doesn't taste like anything else. 
I just love the celebratory feel of this naked wedding cake – so fun and happy!
There are 3 layers of vanilla sponge, and within each are colorful rainbow sprinkles, which produce random splashes of color all around the outside of the cake.
And for full effect, you can load plenty of colorful rainbow sprinkles on the top of the cake as well!
If you want to go for a really rustic look, then this is the naked wedding cake recipe I would recommend.
It features three layers of sponge cake, made with the likes of shelled pistachio nuts, vanilla extract, almond extract, green food coloring and more. Between each layer, you smooth over some silky cream cheese frosting.
This is a super simple naked cake to make. The sponge is made with chocolate cake mix, oil, and eggs. Then there's a scrumptious cookies-and-cream frosting made with Oreo cookies, and to top it all off, you make a chocolate ganache and add more Oreo cookie crumbs to decorate.
Last, but not least, I've got a divine, tangy buttermilk naked red velvet cake for you.
The sponge layers are made with the likes of cocoa powder, vanilla extract, and red liquid food coloring for color. And each cake layer is topped with a yummy vanilla flavored cream cheese frosting. 
Wrap Up
I hope you've enjoyed browsing through, there are some excellent recipe ideas there to consider. I'm sure at this point you'll agree that naked wedding cakes are a worthy consideration for your special day!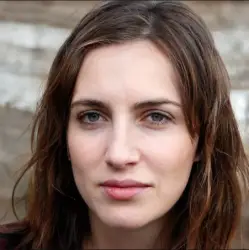 Latest posts by Anna Ingham
(see all)