If you've never had a funnel cake before, then you're missing out!
These are a North American traditional dessert treat that you'll often find for sale at amusement parks and carnivals, and they have a totally unique appearance that looks like something between a churros and a doughnut. Mixed with a pretzel! 
They get their name because a funnel (or piping bag) is filled with batter that's then drizzled into some hot oil, creating the thrilling squiggly shape.
However, though the process remains the same, funnel cakes can vary in their ingredients. That's right, you can get funnel cakes in a whole variety of delicious flavors!
With that being said, there are so many different funnel cake recipes out there that it can be difficult to narrow them down and find the absolute best ones. 
That's why we've done the work for you! In our tasty guide below, we've got a list of 10 scrumptious funnel cake recipes for the whole family to enjoy(see also: 10 Scrumptious Healthy Cake Recipes For The Whole Family To Enjoy).
Whatever your tastes, you're sure to find funnel cakes below that get your mouth watering. Read on!
10 Scrumptious Funnel Cake Recipes For The Whole Family To Enjoy
We have to start our list off with a traditional funnel cake – it's a classic! This recipe will help you make a deliciously crispy, sugary funnel cake that you can divide between your family.
Better yet, this recipe is incredibly quick and easy to make, with just 5 minutes of preparation time and then 4 minutes of cooking time.
As a result, it's a great dessert to throw together at the last minute in an evening after dinner!
You'll need a variety of ingredients to make this, but they're all the kinds of things you'd expect to use when baking – and will hopefully already have lying around the kitchen!
For example, you'll need an egg, some vanilla extract, all purpose flour, and baking powder, to name a few. 
Once the ingredients are mixed together according to the recipe, it's simply a case of drizzling the batter in a swirl around the prepared pan.
Finally, when it's cooked for enough time, dust it with powdered sugar. 
Next on our list is a slight twist on the traditional classic that we just looked at, with these brown sugar and cinnamon funnel cakes!
These are an especially great treat to make in the winter, because their cinnamon will really help to warm you up with its subtle spice!
In addition to the cinnamon flavoring, the brown sugar also adds to their delicious flavor.
When it comes to ingredients, you'll obviously need some cinnamon, cinnamon sugar, and brown sugar, but you'll also need baking staples like milk, eggs, and vanilla extract. 
This funnel cake does take a little while longer than the traditional funnel cakes we just looked at, so make sure that you're not leaving this one too last minute!
It should take about 15 minutes to prepare and then 20 minutes to cook.
When you've got the delicious finished results after following the instructions, we'd recommend that you serve it with fruits such as blueberries or pears.
They go very well with the warm, spicy cinnamon flavor!
This recipe for pumpkin funnel cakes is a treat all year around, but you might want to save it for the fall period – it's especially great to throw together on Halloween!
They take about 15 minutes to prepare and 15 minutes to cook.
You'll need the usual variety of ingredients to make these funnel cakes, with plenty of baking staples.
For the pumpkin flavoring, the recipe uses both pumpkin puree and pumpkin pie spice for a double dose of pumpkin goodness!
In addition to that, the recipe also uses some cinnamon, which goes particularly well with pumpkin. There's something about the fall period and spiciness! 
Of course, every type of dessert needs a deliciously rich chocolate version, and this chocolate funnel cake is simply mouth watering.
Better yet, the recipe includes whipped cream and cherry compote in order to make it even tastier.
The cherry goes really well with the chocolate (you won't be surprised to know!), making this more of a black forest funnel cake.
It's a little more complex than other funnel cakes, so it takes a little longer to prepare at 18 minutes.
With that being said, the ingredients and the recipe are still simple!
You'll need the usual ingredients that you'd expect (milk, eggs, baking powder, etc.), and some cocoa powder for the rich chocolate flavor. 
As for the mouth watering toppings, you'll need vanilla, a couple of cups of cherries, heavy whipped cream, regular sugar, and powdered sugar.
As you can imagine, the topping is going to be very sweet, fruity, and creamy!
Strawberry shortcake is one of the best dessert treats there is, because of the brilliant combination of fruity, sharp strawberry and doughy, crumbly shortcake biscuit.
Well, with this recipe you can bring all the wonderful flavor of that dessert to the funnel cake, making a lovely and crisp funnel cake that has a strawberries and cream garnish.
The recipe is broken into two parts.
The first teaches you how to make the funnel cake itself, which will require a handful of typical ingredients, like large eggs, flour, and granulated sugar, among others.
Oil is heated in a pot before the ingredients are then mixed into a batter (in a particular order!), which can then be squeezed out of a funnel and swirled into the oil.
After that, there's a delicious (and deliciously simple) garnish that can be added, which uses macerated strawberries, whipped cream, vanilla ice cream, and more. 
This is a great recipe because it's the perfect snack, giving you bite-sized treats of funnel cake that you can take with you and enjoy throughout the day.
Alternatively, they're great to serve at a party! Better yet, they're banana flavored, making the funnel cake bites really fruity and sweet, and they can be dipped into caramel sauce too.
If you've never tried banana and caramel, it's a mouth watering match!
You'll need all the usual ingredients for these funnel cake bites – things like an egg, whole milk, all-purpose flour, vanilla extract, and so on.
In addition to these, you'll also need some  bananas! 
Ingredients are mixed in a specific order, then the bananas are cut into 1-inch sections and then coated in the batter. 
Jalebi is a sweet snack that's very popular in Asia and Africa, and it resembles a funnel cake quite heavily, so this tasty recipe combines the two!
It's a chewy and crispy treat, with a touch of tanginess. Better yet, there's a sticky syrup for you to dip the cake into!
The ingredients for the funnel cake batter include some ones you may not have used in other funnel cakes, which is exciting!
For example, the batter uses turmeric and lemon juice, which gives the funnel cake some of its tanginess, and some refreshing yogurt. 
As for the syrup, it uses spices like cardamom and saffron.
You may not have initially thought that spice and tanginess was good for a dessert, but this delicious and warming Indian funnel cake will change your mind!
This is a classic funnel cake that you'll probably find at an amusement park or carnival, with its brilliant blend of fruity, juicy apple flavoring and a sweet caramel topping. 
In terms of ingredients, you'll need quite a variety, but the effort is more than worth it.
For a start, you'll need staples like large eggs, milk, granulated sugar, baking powder, and more.
In addition to those, you'll need a large granny smith apple, as well as some ground cinnamon and pumpkin pie spice to give the cake just a hint of spicy warmth.
Finally, the sticky topping is a combination of caramel sauce and sugar – sickly! It goes really well with the fruity funnel cake, trust us.
Another apple flavored funnel cake here, but with a twist! This uses a cup of apple cider in its ingredients, which makes this a slightly alcoholic treat that's best left for the adults to enjoy.
The ingredients are pretty typical, though there's some cinnamon and allspice to add a warm edge to the apple taste. 
We're finishing our list with a fancy one! Thanks to the inclusion of red food coloring and cocoa powder, this resembles a rich red velvet cake, a dessert which combines well with the funnel cake. 
It's a simple recipe that uses plenty of ingredients that you're used to by now, and the end result is delicious, striking, and rich!
Final Thoughts
There are loads of different funnel cakes you can make – use our list to find the best!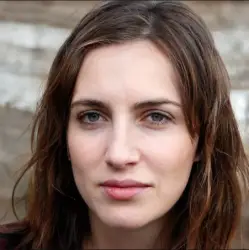 Latest posts by Anna Ingham
(see all)