If you're looking for some of the most amazing chocolate cake doughnut recipes, then look no further, as these are some of the best recipes you can find.
Whilst there are a wide range of different flavor of doughnuts out there, almost nothing can compare to the incredible taste of a delicious chocolate cake doughnut, and if you've been dying to make these for yourself at home, then these recipes should provide you with plenty of inspiration to do so!
So, if you want some examples of great chocolate cake doughnut recipes that we're sure you'll absolutely love to make, then keep reading on, and we're sure that you'll discover a recipe that you will want to try and make for yourself in the near future.
Just remember that chocolate doughnuts are sure to be popular with everyone in your home, so you should make plenty of them to ensure that there is enough to go around!
Making doughnuts for yourself at home is considered hard for many reasons, but one of the biggest barriers that prevent more people from trying their hand at baking doughnuts at home is the lack of a doughnut tray!
Doughnut trays are a type of baking tray specifically designed to make doughnuts with, and each section features room for the dough, with a space in the middle of the circle to ensure that the doughnut has that distinctive hole in the middle.
So what do you do if you don't have one of these specialized doughnut trays?
This recipe calls for the use of a traditional cupcake baking tin, and then in order to ensure that your doughnuts have holes, mold a square of tin foil around your finger, place it into the cupcake tin, and then spread the batter around it.
If it's your first time attempting to bake chocolate cake doughnuts at home, then this is a sensible recipe to go with, and the results are sure to be delicious too!
If you're looking to take your chocolate cake doughnuts up to the next level, then this incredible chocolate fudge cake doughnut recipe is going to be sure to do the trick, and we can guarantee that it will leave your mouth watering even as you make it.
These doughnuts are all you could ever ask for from an all-chocolate doughnut, and the incredible chocolate fudge on the inside will leave you wanting more once you've finished, and the addition of espresso powder to the batter mix makes these doughnuts particularly decadent.
Although you can simply decorate these incredible doughnuts with icing sugar, why stop there?
This recipe also includes an optional section for making delicious chocolate icing too, and you can then decorate the top of the doughnuts with extra chocolate sprinkles.
So if you're looking to make the most decadent chocolate cake doughnuts around, then this recipe is going to be the one you'll want to use!
When it comes down to making chocolate cake doughnuts, trying to decide what you're going to decorate them with can be a tricky decision, the last recipe called for you to make the decadent chocolate icing, and extra chocolate sprinkles in order to finish off the super chocolatey treats.
However, when people think of chocolate cake doughnuts, their minds will instantly remember the incredible glaze that old-fashioned chocolate cake doughnuts used to have. So why not try to recreate it?
These chocolate doughnuts have an incredibly light and fluffy texture, but still remain delicious and sweet, which is all thanks to the old-fashioned glaze that coats them.
So, if you're looking to recreate an absolute classic doughnut flavor, then this recipe might just be able to help you out!
If you think the name of this recipe is a mouthful, wait until you get a mouthful of these absolutely amazing Oreo cake doughnuts.
If you're already a fan of chocolate cake doughnuts (and let's be real, who isn't?) then you're going to instantly fall in love with these incredible doughnuts, which feature a lot of crumbled Oreo cookies added to the batter alongside the huge helpings of cocoa powder, which help to make these doughnuts especially tasty.
The other good thing about these doughnuts? The double glaze!
Because these doughnuts have two coatings of that delicious icing, which you'll probably remember as being one of the best additions to most Krispy Kreme doughnuts sometime ago, it actually makes it seems although the Oreos in the batter still has that incredible creme filling, although this time it's on the outside of the doughnut!
If you're someone that has a particularly strong craving for sweet foods, then these double-glazed Krispy Kreme copy chocolate Oreo cake doughnuts are definitely going to be a recipe worth trying out.
Many people complain that some chocolate cake doughnuts are slightly lackluster, as they don't quite have the fluffy texture found in a traditional cake sponge, whilst also lacking the immense flavor found in a yeast-based doughnut batter.
But if you're looking for a recipe that we think will restore your belief in good cake doughnuts, then focus up, as these incredible white chocolate cake doughnuts are going to be a surefire way to fall in love with these amazing dessert items again.
If you're not overly fond of milk or dark chocolate, then these white chocolate cake doughnuts are a great alternative, and will likely be popular with children too, which means that they'd make an excellent option for any birthday party, especially in lieu of an actual birthday cake!
The batter of these doughnuts has an incredible kick thanks to the inclusion of vanilla extract, whilst the milky and sugary icing glaze helps to satisfy even the strongest of sweet tooths.
So, for the perfect sweet treat for the white chocolate lovers in your life, this recipe for white chocolate cake doughnuts is sure to be a popular one in your house!
On the other side to the light and fun white chocolate cake doughnuts is this recipe, which is for the super indulgent dark chocolate cake doughnuts, perfect for the true chocolate aficionado, and definitely a dessert that you're going to want to make more of once you try them.
These incredible cake doughnuts are super moist and doused in an incredible dark chocolate glaze, and they're also much better suited to those who don't like their doughnuts too sugary.
One of the secret ingredients to these immense cake doughnuts is the light sprinkling of sea salt throughout, which compliments the richness of the dark chocolate very well and makes these especially delicious and luxurious cake doughnuts even more alluring.
Since they don't contain any white or milk chocolate, these doughnuts are completely free of any dairy products, as well as being gluten-free, and despite their impressive appearance, they're also super easy to make too.
For doughnuts that are going to make people believe that you're a pro doughnut maker and some sort of chocolate wizard, then these dark chocolate cake doughnuts are the perfect way to impress!
Everyone knows that treating yourself to some delicious doughnuts is able to turn your day from a bad one to a good one in a matter of moments, but for those among us who are vegan, this is often not a possibility, with many chocolate cake doughnut recipes including either dairy products (namely chocolate), or other products that ultimately prevent them from joining in on these delicious treats.
However, that ends now, as this recipe will allow you to create the most delicious vegan chocolate cake doughnuts out there in just 15 minutes, so you're never too far away from chocolatey doughnut heaven with this recipe!
As well as being entirely vegan, these doughnuts also happen to be free of nuts, as well as being gluten-free too, so if you're someone who abides by these dietary guidelines, then you can still enjoy this incredible doughnut recipe without having to stress about whether or not they are suitable for you.
You can even recreate some of that old-fashioned glaze too if you'd like by mixing together some non-dairy milk and some powdered sugar, which ensures that these still remain vegan.
Or you could just dust them using powdered sugar if you'd prefer.
These doughnuts will last for 3 days in an airtight container, 5 days in the fridge, or up to 2 months in the freezer, but with these doughnuts being so delicious, we can't see them lasting that long at all!
Final Words
We hope you've enjoyed our list of some of the most amazing chocolate cake doughnut recipes, and hopefully you get a chance to try out at least one of these incredible recipes for yourself soon!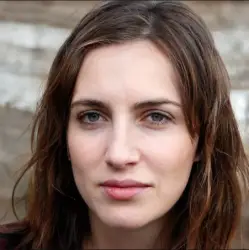 Latest posts by Anna Ingham
(see all)