There's this massive preconception that once you start trying to eat healthily that you have to part way with all food that tastes good. And it's 100% totally and completely not true.
Please don't say your farewells to desserts just yet, because there are so many scrumptious recipes that will placate that sweet tooth without adding tons of calories. 
Plus, healthy eating is all about balance. Say your forever goodbyes to your favorite foods, and you'll soon be back to eating unhealthily.
So, if you're looking for a scrumptious dessert, but can't think of anything to make that is healthy, give these recipes a go. They are all so much healthier than their calorific counterparts and they still taste absolutely amazing. 
10 Scrumptious Healthy Desserts 
Sometimes it's the simplest cakes that are the most scrummy as this recipe proves. This cake is super squidgy, moist, and just really hits the spot when you've got those cake cravings. 
It has no refined sugar or flour and is loaded full with delicious yoghurt to give it that amazing texture. It's super cheap and effortlessly easy to make and is also super healthy. I can't think of a better option that the whole family will love. 
And if you're feeling a little naughty, why not serve with a small helping of custard or cream? 
Pinch me, I must be dreaming, right? A rich, moist, and flavorsome chocolate cake that is healthy?  Yep! This chocolate cake is decadent and delicious yet contains barely any fat or sugar and it's even vegan too! 
It's a one-bowl cake that is super easy to chuck together and even easier to chow down on. It still has that fudgyness to it and you wouldn't even begin to imagine that it was healthy. So hey, if you don't tell the kids, I won't either! 
In this recipe, you'll be ditching the typical cream cheese frosting that usually adorns a carrot cake, but do not despair for you won't miss it at all. And by doing so, you'll be eliminating a whole lot of sugar from a cake that is actually totally scrumptious without it. 
Not only is it super low in sugar, but it also tones down the butter and other fatty ingredients.
This cake still comes out really tender and moist and is packed to the brim with carrots which gives it an amazing flavor and color too. And surprisingly, you'd never actually know. 
It's the perfect way to sneak in those oh-so-needed nutrients into your little ones diets. 
Apple and cinnamon are a match made in heaven. And it is an absolute crime to lose those flavors due to a sugar overload. So in this recipe, we pull back on the sugar to allow you to really appreciate these sweet and spicy flavors. 
This recipe uses tons of yoghurt and apples to ensure that you're getting those well-needed nutrients and one of your five a day – even from your desserts. The cake is squidgy and moist on the bottom but crisp and crunchy on the top. And it's so good. 
This cake tastes amazing. Is cake for breakfast a thing when you're eating healthy? Apparently so, now. I love a slice of this on the go in the mornings.
The sweetness from the fruit combined with that bold coffee flavor and good crunchy texture is just the perfect way to rid yourself of those Monday blues. 
It's nutritious and tasty and you can even mix things up a little if you start to get bored. You can swap any of the fruits for your favorites and you can add nuts or seeds. Go wild – the world is your oyster. 
I love this cake. It is sweet, sticky, and spiced. You would literally never know that this cake was healthy. It oozes this really creamy cashew maple glaze along with sticky caramel sauce. 
The cake itself is moist and sweet too using maple syrup and coconut sugar. And the secret ingredient to this tasty treat is definitely the addition of applesauce that makes the cake just so soft that it crumbles and melts in your mouth. 
I really thought my eyes were deceiving me when I made this cake. I looked at this drool-inducing stomach-rumbling wedge of rich chocolatey hazelnut cake and thought this has to be around 1000 calories. 
Nope. In fact, it doesn't even contain sugar! This cake is naturally sweetened with the addition of pureed dates and uses a sweet potato base for the creamy and delicious chocolate frosting. 
This cake is so good you can be assured of licked-clean plates within a matter of minutes. 
Who doesn't adore cheesecake? That biscuit base and creamy topping is so heavenly. The only issue is that it's not exactly the healthiest. Well, don't you worry, because with a few ingredient swaps you can have a cheesecake that is equally as delicious but much, much healthier. 
In this recipe, raw almonds and dates create a crunchy and delicious base which is topped with a creamy cashew and coconut layer of cheesecake that is flavored with vanilla. Oh, and the whole cake is then doused in a decadent caramel sauce…Yum!   
If being healthy meant never eating a brownie again, would a healthy life even be worth living? I'm not too sure. Luckily, these healthy chocolate brownies are just as decadent, super moist, and totally tasty. 
No sugar involved, but a whole lot of flavor. The greek yoghurt gives them that sticky and moist texture and the addition of nuts gives them a much needed crunch. And, of course, you couldn't forget the chocolate chips! Just be sure to opt for the sugar-free versions. 
Is there anything like the smell of fresh pumpkin bread coming out of the oven? I think not. This super moist and luscious cake uses pumpkin puree, a whole host of spices, along with a drop of honey or maple syrup for that sweetness. 
What's more is that it is super easy to make too! Just pop all of your ingredients into one bowl, mix, and pour into your baking pan. 
Frequently Asked Questions 
Can I Eat Cake And Still Lose Weight?
Yes. Restricting yourself from all of the foods you enjoy is never a good idea when trying to eat healthier. Everything is fine in moderation. As long as you do not eat cake constantly and opt for healthier swaps like the recipes in this article, a slice of cake here and there will not stop you from losing weight. 
How Much Sugar Is OK In A Day? 
Adults shouldn't be consuming more than 30g of sugar per day. This is the equivalent of around 7 sugar cubes. For older children the limit should be 24g while for younger children it should be no more than 19g. 
Can Cakes Ever Be Healthy? 
Most cakes aren't all that healthy. This is because there are many high-fat and high-sugar ingredients that go into them. With that being said, as you have seen from these recipes, there are ways to make swaps to ensure a much healthier option. 
How Can I Make Cakes Healthier?
First of all, look at the cake that you're picking. A plain cake is going to be much healthier than one with a mountain of frosting. You can also replace any oil or butter with applesauce.
You can cut back the amount of sugar you put in your cake – most don't need quite as much as they say anyway. And finally you can replace eggs with ground flax. 
What Can I Replace Sugar With In Baking? 
If you want some sweetness without using a ton of sugar then you can substitute it for coconut sugar, agave nectar, fruit concentrates, molasses, or maple syrup. 
Final Thoughts
No matter how healthy you're trying to be, you should never completely cut out the food groups that you enjoy. And a life without cake…that sounds unbearable.
There are so many healthier alternatives that you can use so that you can still fill that sweet-tooth hole without actually piling your body full of fat and sugar. 
Every single recipe in this article tastes absolutely amazing and are all pretty healthy options. And don't be fooled by the nay-sayers. Healthy cakes are still delicious. These cakes are all moist, and rich, and gooey, and packed full of delicious flavor. 
So, pick your favorite recipe, and head to the grocery store. Get everyone involved and have fun baking. And regardless of how much fun you have making the cake, I can guarantee that you'll have even more fun scooping up mouthful after mouthful.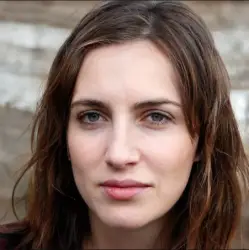 Latest posts by Anna Ingham
(see all)