There are so many different types of cake to try, with all different flavors and styles.
However, anyone would have to admit that the banana cake is one of the very best varieties of cake, with its deliciously sweet and fruity flavor that's unlike any other fruit. 
With that being said, there are so many different types of banana cake around, that it can be difficult to narrow down the list and find the ones that are going to be best to bake – and give you the best flavor. 
That's why we've done the work for you! In our tasty guide below, we've given you a list of 10 of the most amazing banana cake recipes for you to enjoy(see also: 10 Amazing Blueberry Cake Recipes To Enjoy).
However you like your banana cake, you're bound to find recipes that suit you! 
10 Amazing Banana Cake Recipes To Enjoy
We're starting our list off with this simple to make banana loaf. When you're baking something as delicious as a banana cake, who wants to spend lots of time preparing and cooking?
You just want to eat it! Thankfully, this banana loaf is simple to bake, taking just 15 minutes of preparation and an hour of cooking time.
As for the ingredients, it's a small list. You'll need 2 ripe bananas, which have to be mashed in order to use them.
On top of that, you'll need all the ingredients you'd expect of any kind of cake: eggs, butter, baking powder, flour, caster sugar, and milk. 
The ingredients are measured into a mixing bowl and then beaten for 2 minutes, before being blended and poured into a prepared baking tin. Simple!
The combination of banana and blueberries is simply mouth watering, with the fruity sweetness of the banana mixed with the refreshing, subtly sharp taste of the juicy blueberries.
This wonderful banana cake uses both of these great fruits to delicious effect, with a golden loaf of moist, tasty bread.
When it comes to ingredients, you'll need all the usual ones – eggs, butter, flour, sugar, and so on.
Then, for the double hit of fruit, you'll need 2 ripe bananas (that have been mashed) and a whole cup of fresh blueberries.  
Ingredients are mixed together at various stages, with the bananas being added before the blueberries. The fruity batter is then poured into a prepared loaf pan and baked in a preheated oven.
The preparation should only take 10 minutes, while the cooking time takes 30 minutes and the cooling time a further 10 minutes after that.
Of course, you couldn't have a list of the best banana cake recipes without one that combines banana and chocolate – one of the best food combinations there's ever been.
There's something about the sweetness of banana that pairs brilliantly with the rich sickliness of chocolate, and this fantastic cake brings them both together.
Despite its deliciousness, this cake takes only 10 minutes to prepare! For the ingredients, you'll need things like an egg, vanilla extract, unsalted butter, baking soda, and other typical staples.
However, when it comes to the bananas, you'll want 3 large brown ones mashed up.
On top of that, you'll need some Dutch process cocoa for the chocolate, and then a cup of semi-sweet chocolate chips to give it even more chocolate-y goodness (and crunch!)
When everything has been mixed according to the instructions and you've poured the batter into a pan, the cake only takes 50 minutes to bake, making it a pretty quick one!
As long as you don't have a nut allergy, this banana & walnut bread is another great type of banana cake for you to try.
The sweet fruitiness of the banana pairs very well with the mild and occasionally tangy taste of the walnuts. 
In terms of ingredients, you'll need eggs, vanilla extract, flour, table salt, caster sugar, unsalted butter, and a teaspoon of bicarbonate of soda.
On top of those, you'll want 3 very ripe bananas that have been mashed. As for the nuts, this recipe requires 50 grams of toasted walnut pieces that have been roughly chopped. 
It's a cake that just takes 1 hour and 15 minutes in total to make, and it'll be able to serve as many as 12 people when made with the measurements of the recipe.
This makes it a great choice for a party, as long as no guests have nut allergies!
This next banana cake recipe on our list is a delicious banana sponge that's got the great addition of a cream cheese frosting on top of it, whose creaminess contrasts really well with the soft sponge of the cake itself. 
The cake requires a lot of the ingredients that you will by now know well, but there are some surprises in there.
For one, it uses some ground cinnamon, which complements the banana perfectly and gives the cake just a slight warm kick. In addition to that, the cake also uses buttermilk. 
As for the cream cheese frosting, this uses full-flat block cream cheese that's been softened down to room temperature.
The creaminess and cheesiness of this frosting, with its mild and slightly tangy edge, really goes well with the fruitiness and sweetness of the sponge. 
Of course, one of the best types of cake is a muffin. These are great bite-sized dessert treats that you can take with you anywhere to enjoy on the go.
On top of that, making a massive batch of banana muffins is a great way to feed a party!
Banana muffins are easy to make and taste simply delicious.
Better yet, the muffins in this recipe use vanilla, nutmeg, and cinnamon to give the tiny cakes an added boost of flavor that matches the fruity banana really well.
In fact, the cinnamon gives the muffins a little kick of warmth in every bite!
This is probably a recipe that you didn't expect to see!
With that being said, the combination of strawberry and banana is brilliant, with the juiciness of the strawberries going so well with the sweet and unique taste of the banana.
Better yet, this recipe uses greek yogurt instead of butter or oil, which helps to make the cake even more creamy and refreshing (as well as reducing the amount of saturated fat!)
In terms of ingredients, it's a list of all the ones you'd expect of a cake, only with Greek yogurt replacing the use of butter or oil.
When it comes to the fruit, you'll need ¾ of a cup of fresh strawberries that have been washed, dried, and diced.
As for the banana, you need a cup of mashed ripe banana. 
This recipe also uses some chopped walnuts in order to give the brilliantly fruity sponge a hint of nuttiness and tang, but you can leave out the walnuts if you have a nut allergy.
Another combination made in heaven, putting apples and bananas together is a stroke of genius.
Apple brings an added note of sweetness (and a bit of tartness!) to the cake, which goes well with the refreshing and sweet banana.
Better yet, this cake has a cinnamon streusel (making it like coffee cake), which goes really well with the apple especially.
Additionally, it's also got a sweet icing drizzle.
As for the ingredients, the cake will need all the usual suspects, as well as a cup of peeled and diced apple and a cup of mashed ripe bananas.
The streusel topping, on the other hand, takes sugar, flour, butter, and cinnamon, while the icing is made from nothing but hot water and powdered sugar. Easy!
If you haven't tried them together before, banana and coconut also go extremely well together, making this banana cake recipe a must-try.
The sweetness of the banana goes really well with the creaminess of the coconut. Better yet, this recipe is ridiculously easy to follow, with only a few ingredients.
It'll take just 5 minutes to prepare it and then 50 minutes of baking time.
As for the ingredients, it uses all the typical ones that we've covered again and again – it's a cake!
However, this recipe uses 3 bananas, and it recommends that they're overripe. In addition to that, the coconut comes in the form of shredded coconut, which is sprinkled in.
The final banana cake on our list is this great marbled one, which has a ribbon of chocolate running through it. It looks great – and tastes even greater! 
The marbled technique is achieved by using a knife to swirl the chocolate with the cake batter, leaving a great swirling pattern of brown and yellow.
It all comes out of the oven looking wonderful, and the rich chocolate and sweet banana taste great.
Final Thoughts
Banana cake is one of the best desserts – use our guide to find your new favorite recipes!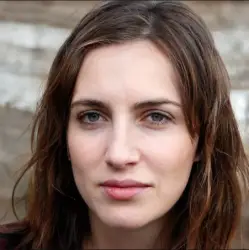 Latest posts by Anna Ingham
(see all)