It's hard to find anyone on this earth who doesn't love the incredibly sweet and juicy flavor of some strawberries, and since they are so small in appearance and can be bought in bulk from any food store, they are a great ingredient to use as part of a chilled and fruity dessert that can be enjoyed all year round.
Here are 15 downright delicious strawberry desserts that you should consider making when you get a craving for something sweet, plump, and juicy all at the same time.
This poke cake can be ready to serve in just over 20 minutes and since it can feed multiple people at once, you won't want to miss out on this chewy, creamy and delicious dessert option.
With strawberry gelatin packed in between two thick layers of thick and fluffy cream, each bite of this cake is full of fantastic flavor.
This dessert is a little more chilled while also being incredibly creamy thanks to the silky mascarpone layer which is complemented elegantly by the tangy compote.
With a crunchy ginger biscuit base to add a little more texture to each bite, this strawberry mousse is perfect for those summer events when you need something a little smaller and lighter that can be made in no time to feed multiple people at once.
The crunchy pretzel crust really does steal the show in this recipe, however, you can also use the same crust recipe for other desserts which makes it incredibly versatile.
With a bed of juicy strawberries layered over the top and finished off with a fresh strawberry and a serving of whipped cream, you can either serve this dessert in a big batch or as a smaller snack that can be enjoyed as a solo dish.
Deep-fried fritters have an incredibly crunchy texture and a slightly savory taste that makes them enjoyable all on their own, but to add even more vibrancy to these fan-favorite treats, you can mix them in a bowl of a few sliced fresh strawberries and a thick layer of creamy lemon mousse to turn them into one of the tastiest spring or summer desserts out there.
Not to mention, the lemons help to grant the recipe a much stronger, richer and more potent taste than most fruity desserts normally would.
As one of the best winter desserts recipes you can make, part of the beauty of a pavlova is you can add as much fruit as you like over the top, so if you have a batch of perfectly ripe strawberries at hand, there's no better way to use them than in a pavlova that uses a crispy meringue on the outside complimented by a Chantilly cream that surrounds the entire dish to make it the perfect choice for those with a sweet tooth.
Adding a tablespoon of orange juice also helps to keep the pavlova moist and delicate while adding a slightly zesty taste that you can never go wrong with as part of a light and refreshing dessert (see also '15 Delicious Fancy Desserts You'll Love To Make!').
If you're looking for a dessert that takes the fruitiness up to the max, this tiramisu is packed with all kinds of appetizing fruit including raspberries, blueberries and of course, some juicy strawberries that rest upon some delightful crunchy ladyfingers as the base and a light layer of mascarpone cheese to make this delightful snack as moist and delicious as possible.
Don't be afraid to mix and match some of the ingredients if there's a particular fruit you think would add even more flavor to this delicious evening dessert recipe (see also '15 Best Extraordinary Desserts To Make Today').
Some excellent choices include kiwi, pineapple chunks and even grapefruits which will all complement the sweetness of the strawberries perfectly.
With just a handful of ingredients, you can prepare a juicy, fruity and delicious strawberry parfait that can be made in less than 10 minutes, making for the perfect dessert to share around for those summer gatherings or as a delicate appetizer before or after a hefty meal.
All you need to do is spend a couple of minutes to mix the cream in with a hint of vanilla and amaretti biscuits to give this parfait the deep and rich fruity flavor it's so well loved for.
This delicate and cute dessert is not only extremely low in calories, with each serving only being around 100 calories, but it is also incredibly easy to make while still being one of the most delicious and creamy strawberry desserts you can make.
The sourness of the rhubarb mixes perfectly with the sweetness of the runny honey and strawberries to create a dish that's packed to the brim with contrasting flavors.
The combination of strawberry and chocolate really shouldn't taste as good as it does, however, whether it's part of a romantic date or as a fruity surprise for the entire family to enjoy in the evening, there really is no bad time to serve this strawberry dessert option, and since it can be made in no time at all and just requires you to drizzle a layer of chocolate spread and milk over some fresh or perfectly ripe strawberries, it's perfect when you're expecting guests and need something to whip up in a pinch.
This unique spin on the traditional sour cream coffee cake recipe uses thick and chewy crumbs to make the texture a little crunchier than usual which is packed in the middle with juicy strawberries along with a hint of vanilla and sugar to even out the incredible mixture of flavors.
Not to mention, the sourness of the rhubarb is counteracted perfectly by the inclusion of the sugar.
While a fruit salad can seem like a fairly basic dessert recipe to many of us, this dish uses only the juiciest fruits to make the overall flavor as vibrant and flavorful as possible.
Along with the strawberries comes peeled cantaloupe melon, a few seedless grapes and even some fresh mint to really allow all the natural fruity flavors to become even more profound for when it's time to tuck in.
Don't forget to add a topping of your choice to make this dish even more exciting. Some excellent options include coconut flakes, tasted seeds or bashed mixed nuts.
If you love the taste and texture of strawberry cheesecake but don't need to make it in bulk to feed multiple people, an easy way to get around this issue is to keep all the ingredients and flavor but instead turn it into a much smaller Eton Mess.
Adding some ginger biscuits over the top of this fluffy dessert helps to give you a little more to crunch down on each time you take a bite of this elegant and classy strawberry dessert.
Since strawberries are so versatile, you don't only need to use them as part of a tasty dessert snack after or before a hefty meal, if you're already feeling full you could instead whip up an incredibly healthy and nutrient-dense strawberry smoothie filled with vitamins and protein that uses a yogurt mix to make this drink sweet and also a little thicker in its texture.
This vibrant and colorful spin on the traditional soup recipe can be made in just 15 minutes and uses the delightful mixture of grape and pineapple juice to surround the sponge cake and make it as moist as possible to bite into.
When topped off with a few fresh strawberries over the top and surrounding the entire dish, this is an easy-to-make yet delightful dessert that you can guarantee everyone will enjoy.
This French recipe is the perfect choice when you want something that really is guaranteed to wow any friends, family or guests who take even a single bite of this fruit-packed dessert that is not only full of vitamins and nutrients, but also incredibly delightful to bite into.
Packed with a creamy and sweet vanilla custard and surrounded by a few crunchy ladyfinger biscuits, this is a fruity strawberry dessert you won't want to miss out on.
Summary
You really can use strawberries as part of nearly any recipe you can think of, however, when used as part of a dessert, they are the perfect recipe to add that perfect blend of sweetness, sourness and fruitiness that makes a dish so light and appetizing.
No matter what time of the year it is whether you need something to keep you cool in the summer or a delightfully tasty crumbly snack in the winter months, try out a few of these recipes to find the one that fits your situation and catches your eye the most.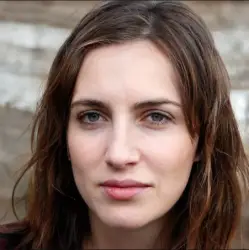 Latest posts by Anna Ingham
(see all)