It's always nice to go big and bold for a wedding, but if you decide you want something a bit smaller and lowkey, that's totally ok too!
Smaller weddings are becoming more and more popular because there are a lot more intimate and they aren't as stressful to plan.
There's something more personal about smaller weddings, and they are still just as fun as big ones.
If you are planning on having a small wedding, then you are probably looking to downsize your cake. Smaller wedding cakes are less hassle, and less expensive, but still just as beautiful and tasty!
If you want to ditch a bigger cake for something a bit more intimate, then check out our list of the best two-tier wedding cakes!
15 Best Two-Tier Wedding Cake For Every Small Wedding
Two-tier wedding cakes are perfect for smaller weddings because they are still a lot grander than a single-tier, but not as over the top as a three-tier.
With the right accents and inspiration, you can make your two-tier wedding cake look absolutely stunning for your wedding.
Regardless of your preferences, the 15 two-tier wedding cakes we have included in this list will be perfect for your wedding and you will be glad you switched to two-tier!
1. Modern Chic Pink & White Cake
This first cake is perfect for anyone who wants to stick to a classic wedding theme. It is both modern and chic, blending soft pink and white together to create a beautiful cake that will look amazing in pictures.
Using pink icing to create a fantastic drip effect, this cake is also covered in beautiful pink and white flower accents that really tie the whole cake together.
It gives the illusion that the cake is bigger than it is, making it perfect for an intimate wedding!
2. Simple Two-Tier Wedding Cake
Sometimes, simple is better than extravagant, and this cake really proves that! It's just a nice and simple white cake that has beautiful edible flowers used as decoration.
It's made using buttercream as well, so you know that it will be a fan favorite.
Using a simple wedding cake doesn't mean it's boring, and if you choose to use this cake or something similar, it will really tie your whole wedding together.
You can add different accents if you want as well, you don't have to stick to flowers!
3. Two-Tier Semi-Naked Wedding Cake With Gold Drip & Roses
Here's another simple two-tier wedding cake design that is incredibly effective in its use of decorations.
Made to be all white, this cake then incorporates gold (see also: How To Create A Gold Drip Cake Effect)accents and a "rose drip" to give the whole cake a classy and elegant look.
To add a bit more oomph to the design, you can incorporate soft pink roses or some extra gold accents.
Regardless of what finishing touches you choose, you will absolutely love everything this two-tier cake has to offer.
4. Two-Tiered Elegant Wedding Cake With Roses
If you want a wedding cake that isn't white but it's too obviously another color, then you will absolutely love this two-tier elegant wedding cake with roses.
The whole cake has a beautiful soft pink color to it, adding a lovely splash of color to the event.
All you need to decorate this cake are some soft pink roses. These roses add a bit of depth to the cake and stop it from looking too plain.
Your guests will absolutely love this cake too, so if you want something simple and elegant, this is a great choice!
5. Two-Tier Buttercream Wedding Cake With Pearls
You can never go wrong with a buttercream wedding cake, and this cake (see also: 15 Best Buttercream Wedding Cake Recipe Ideas For Your Special Day) is absolutely delicious!
It is a nice and simple two-tier cake that is all white with beautiful edible pearls included to give the whole cake a fantastic texture.
There are also white roses included in the design to give it a bit of extra depth and they keep it looking classy and wedding ready!
This is a fantastic option if you want something that isn't too over the top but is still incredibly eye-catching!
6. Two-Tier Ivory Wedding Cake
If you want to stick to the wedding theme while also keeping your cake unique and different, why not try something a little more rustic?
This two-tier ivory wedding cake is adorned with blush flowers and dried flowers to give it a very outdoorsy feel and gives the plain white cake underneath a bit more depth.
This is the perfect cake to use if you are having an outdoorsy wedding or you want your the whole event to be a little more rustic. This is a very unique wedding cake that still sticks to traditional values!
7. Simple Two Tier Wedding Cake With Pampas Grass
Here's another simple white wedding cake that has had a little bit of detail added to it that really elevates it to a whole new level.
All you need for this two-tier wedding cake to make it wedding ready is some pampas grass and foraged fern, which is added to the central bottom area of the cake.
This is an incredibly easy cake to put together and it still absolutely screams "wedding ready"! Even just the smallest tweaks can make the plainest of cakes elegant and beautiful!
8. Tiered Pale Blue And Cream Wedding Cake
Not every wedding cake needs to be white, (see also: The Secret Meaning Behind White Wedding Cakes)and this tired pale blue and cream wedding cake really proves that! This cake has the perfect amount of color without straying too far away from the wedding vibe.
The blue and cream colors pair incredibly well together and the inclusion of flowers really ties the whole thing together.
This is a great choice for a two-tiered wedding cake, especially if you want something with a pop of color!
9. Rose Gold Wedding Cake
Here's another wedding cake idea that is a bit different from your standard white cake!
Rose gold has become increasingly popular over the years and it's not hard to see why! It's stylish and elegant and adds a lovely splash of color to everything.
This cake is great if you want something with a bit of color, but you still want to add a bit of color to the overall design. To finish the cake off, add some lovely flowers that match the colors of the cake!
10. Modern Elegant Buttercream Wedding Cake
This cake is incredible because it takes the two-tier cake design and completely flips it on its head! The stand in the middle gives the whole cake a "floating" feel and it will definitely be eye-catching at your wedding.
Made using buttercream, this wedding cake also incorporates trailing foliage and beautiful white roses, which really makes the whole cake pop a bit more.
11. Rust Terracotta And Misty Green Wedding Cake
This two-tier wedding cake is another unique one that has an incredibly rustic and boho feel to it.
Incorporating rustic terracotta and misty green colors into a beautiful combination, this cake is perfect for anyone who want's something unique and different for their wedding(see also: Your Guide To The Perfect Wedding Cake).
You can add foliage to really bring the design together and keep it from looking too plain.
12. Boho Inspired Wedding Cake
If you like the idea of a boho-themed wedding cake but you want something slightly different from the previous entry, then you will love this boho-inspired cake!
It sticks to the terracotta color, but its complementary color is more cream based. It also incorporates a wonderful, rustic pattern to the cream tier and plenty of flowers to really give the cake a bit more oomph!
13. Two-Teir Floral Print Wedding Cake
If you love the idea of floral wedding cakes, then you should definitely have a look at this one!
It uses flowers to make a creative and unique floral print all over the cake, which is really different from more traditional cakes.
There is something incredibly arty about this cake and it will make a beautiful centerpiece at your wedding.
14. Pink Bow Two-Tier Cake
Here's another unique wedding cake that really stands out. It's incredibly simple by design, being light pink in color, but the inclusion of a GIANT bow really gives it a grander feel.
This is a simple cake to put together but it really makes a statement, and your guests will be seriously impressed by it!
This cake is still very traditional, but the inclusion of both navy and blush colors gives it a bit of an edge.
This is perfect for anyone who wants to go down the traditional route, but still wants a touch of uniqueness to their cake!
Conclusion
There are plenty of smaller, two-tier cakes out there for you to choose from that will suit your smaller wedding perfectly. Sure, larger cakes are always great, but they aren't always appropriate!
Have a look into these two-tier cakes for yourself and see which one resonates with you and your wedding plans the most! You are sure to find what you are looking for!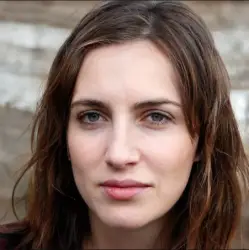 Latest posts by Anna Ingham
(see all)