Often decorated with flowers, a wedding cake is a celebratory food item that is not just beautiful but totally delicious too!
But is it simply a cake, or does it have a deeper meaning? Why are wedding cakes white, and where does our stereotypical concept of a wedding cake come from?
We'll be answering these questions below as well as a couple of more burning wedding cake questions.
What Is The History And Symbolism Behind Wedding Cakes?
The traditions of the first wedding cakes were linked to the fertility of the bride.
In Ancient Rome, grains of wheat were symbols of fertility and were thrown at the feet of the bride and groom to encourage a 'fruitful' marriage.
Ancient Greece also had similar traditions with loads of grain to promote fertility and prosperity, but as weddings evolved over the years, this wheat was then baked into wedding cakes.
Greek and Roman wheat cakes soon became the traditional wedding cakes we're familiar with today, as the famous tier design of wedding cakes also has roots with encouraging prosperity.
The more tiers you have, the more prosperous your marriage will be!
Nowadays, however, some couples go for cutting cakes rather than the tiered design, and serve them alongside desserts like chocolate tarts, coconut macarons, mini caramel apples, and shortbread cookies, to name a few!
Still, wedding cakes remain popular (see also: 8 Most Popular Wedding Cake Flavors)in modern weddings, and newlyweds will often set aside the top tier of their wedding cake, and eat it for when they're celebrating their 1-year anniversary.
So why are wedding cakes white? White wedding cakes (see also: 12 Best White Wedding Cake Recipe Ideas For Your Special Day)were popularized during the Victorian era to represent the 'purity' of the bride. Their height, meanwhile, is due to the innovation of baking soda.
While tiered cakes have long been used in wedding cakes to symbolize prosperity, the invention of baking soda allowed cakes to reach unprecedented heights.
How To Choose A Wedding Cake
Social media is full of wedding cake stories and innovative wedding cake ideas, but before you plan the wedding cake of your dreams, make sure to do your homework.
Gather as many images as possible of your favorite cake designs, and make sure that the baker or cake designer of your choice has similar designs in their portfolios so you know what's possible.
You should go into your cake tasting with a good idea of what you want, but also keep an open mind and discuss factors such as the dinner menu, how many guests are attending, and the venue.
You should begin your search for a baker or cake designer once you've booked your wedding venue and your caterer.
These are the two most important factors, as the venue can impact the cake design, while catering can impact the flavors of the cake.
For example, bakers often recommend selecting a flavor that is complementary to the food menu so that the flavors work in harmony with the other food on offer.
Preparing For Your Cake Tasting Consultation
Before you go to your cake tasting consultation, gather all your ideas into an album on your phone, and also consult the baker's portfolio.
The theme or style of your wedding, the time of year you're getting married, and the venue helps the baker decide how to decorate the cake and what flavors to use.
It's also worth noting what small design details you find appealing. For example, do you like buttercream or fondant? Sugar flowers or fresh ones? Do you want something simple and elegant? Or ornate and glamorous? Thinking about these questions kick-starts the design process.
Of course, flavors are also crucial. Some bakers will have a flavor selection for you to sample, while some will ask you to select flavors ahead of time for you to try during your appointment.
Some bakers also might charge a tasting fee that can sometimes be added to the cost of your cake, but sometimes not.
While it's great to bring family or friends to your tasting, make sure you're bringing along someone who will provide helpful, constructive advice.
Otherwise, it's probably just a good idea for you and your fiancé to attend the tasting. After all, it's fun for the cake to be a surprise to your guests on the big day!
Wedding Cake Superstitions
One wedding cake superstition and tradition is to set a slice of your wedding cake aside and enjoy it one year later.
Not only is this a great way to celebrate one year of marriage, but it is also believed to bring you good luck for the years ahead.
Another superstition is that a bride should sleep with some of the wedding cake under her pillow to influence the dreams of her fiancé.
Frequently Asked Questions
Where Do Wedding Cakes Originate?
Wedding cakes originated in Europe, and were originally breads before becoming sweet buns as Europe gained better access to fruits and spices.
Why Do We Eat Cake At A Wedding?
In 16th century Britain, the friends of the bride would each bring a sweet bun to their wedding, and the more buns a bride received, the more popular she would be!
The origins of icing are believed to be when bridesmaids began to stick the buns together with applesauce and honey to prevent the pile of buns from toppling over.
When Do Couples Decide Their Wedding Cake Design And Flavor?
Although you will want to decide on your wedding cake design and flavor about 4–6 months ahead of your big day, there are other important decisions to make before you select your cake design as these decisions will actually inform details of your cake.
Once you've decided on the venue, and color schemes for details like your outfit and the floral arrangements, then you can now pick a cake design that compliments that.
But, of course, it's not just how a cake looks… it has to taste good too! Book a cake consultation and tasting to try out the cake flavors and designs available to you.
Who Traditionally Pays For A Wedding Cake?
It is tradition for the bride's family to pay for the wedding cake, but just like any other aspect of the cost, there is no reason why the groom's family can't pay for the cake, or for the couple themselves to pay if that makes more financial sense.
Does A Wedding Cake Need To Have Just One Flavor?
Who says your wedding cake should be limited to just one flavor? Modern bakers are often creating tiers with different flavor and filling combinations to suit the tastes of both halves of the couple and their guests.
If you want a dark chocolate cake but your partner wants salted caramel, why compromise when you have both?
Discuss with your baker which tiers should contain which flavor so they're dispersed evenly, and to give your guests the options of choice too, consider purchasing a cake that is slightly larger.
Final Thoughts
We hope our article has enlightened you about the origins and traditions of wedding cakes, and how they inform modern cake designs today!
We also hope that our advice has given you a better idea of what to expect from a wedding cake tasting and what factors to consider when choosing a wedding cake.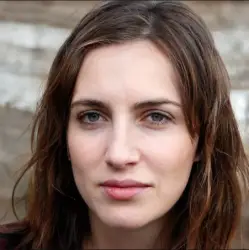 Latest posts by Anna Ingham
(see all)