Are you an aspiring wedding photographer? Or planning your own wedding and looking for cool alternatives to massive wedding cakes? Then you are in the right place.
Fake wedding cakes are an excellent idea for ensuring you get the perfect pictures without spending a load of cash.
Fake wedding cakes are becoming more popular as photographers and guests can get excellent pictures and when it comes time to cut the cake, a real, smaller, and cheaper one takes its place.
Below are 15 of the best fake wedding cakes that will go perfectly for every (see also: 15 Best Wedding Cake Pops For Every Wedding)fake wedding. Or a real one. Everyone loves a bargain!
1. Pink Rose Fake Wedding Cake
When you want elegant and soft yet something that will completely wow your guests. This Pink Rose Fake Wedding Cake is perfect. Roses are the flower of love and are a necessity for any wedding cake, real or fake.
But this blend of soft pink tones makes your cake look like something from a movie.
Made using fake flowers, cardboard, and styrofoam, this cake will last you for decades. It is perfect for getting those momentous photo ops and is sure to have everyones mouths watering!
2. White Diamonte Faux Wedding Cake
While it is becoming less popular, an all-white cake is timeless. If you prefer something a little more understated for your fake wedding, then this White Diamonte Faux Wedding Cake is absolutely wonderful.
With only four tiers and carefully placed diamontes for a splash of dazzle, this cake is extremely inexpensive while still having that wow factor that every fake bride dreams about.
Add some color with your choice of bride and groom cake topper or leave it as is, pristine, elegant, and timeless.
3. Orange Lily 5-Tier Faux Wedding Cake
Color and flowers are a great way to add more pop to your fake wedding cake. And if your color scheme happens to be in the orange range of the color wheel, this is sure to have you bouncing with joy.
This 5-tiered cake will keep you feeling like a true bride while the winding orange lilies and a softness to a rather attention-grabbing cape.
With borders of orange diamontes, it is sure to have everyone running over for a picture.
Just make sure the real one tastes as good as this one looks.
4. Gold & Ivory Fake Wedding Cake
Nothing screams extravagance quite like a gold-tiered wedding cake. Even if it is fake.
Alternating tiers of gold and ivory give this cake something truly special. With intricate gold trim, inspired by henna, it is the perfect cake for any fake wedding.
The pearl trim on each tier makes you want to nibble one off every time you walk by. Although, that may not be the best idea.
Use this lush Gold and Ivory Fake Wedding Cake to give your guests the cake they want for half the price!
5. Pale Blue & White Trim Fake Wedding Cake
The '80s are calling! This traditional style wedding cake is sure to get your guests talking. The pale blue base color adds a soft pop of color while the white trimming are intricate and bold.
This is the perfect fake cake to have displayed in the door way of the reception to allow your guests to fawn over it.
You are sure to get question after question about this rather chic and vintage style cake.
Your mom and dad are definitely going to love it!
6. Faux Crystal LED Tiered Wedding Cake
Believe it or not, there are ways to make your wedding cake seem larger without adding more tiers. The faux crystal LED tiers add thousands to your cake without altering the price tag.
In between each tier of the cake, or should we say foam, add a skirt of LED crystals for a romantically light wedding cake that will have everyone feeling the true love between you and your groom. Or your fake groom.
Everyone will be falling in love. Plus it makes for great pictures. An added bonus!
7. Pastel Green Vintage Fake Wedding Cake
Pastel green base, pink and white pipping, decorative cherries! This vintage style cake is ready to be the star of the show. The think white and pink trimmings are what make this cake pop.
This may not be for everyone but if you have a love for the 80s and stuff that is a little out there, then this cake is perfect.
It makes for a great fake wedding photoshoot prop and is sure to give you a giggle everytime you see it.
8. Vintage 1800's Fake Wedding Cake
Have you always dreamed of having a wedding cake so decadent that it would fit perfectly in the Netflix hit TV show 'Bridgerton'? Then you have come to the right place. This Vintage 1800s Fake Wedding Cake is straight from the past.
Complete copper baby cupids and bows, it is everything a bride in the 1800s would've killed for. And now you can have it forever at your wedding.
And don't worry, the cherries won't go bad on your special day, they are fake too! Right down to the green stem.
9. Victorian Vintage Fake Wedding Cake
Are white and bright colors not for you? This Victorian Vintage Fake Wedding Cake might fit your color scheme better.
With all of the traditional trimmings of a wedding cake, complete with a Victorian portrait, a black top hat, and a large red for a pop of color.
Pair with a black dress and a dark-themed room for the complete fake gothic wedding.
This is especially perfect for a late fall or early winter wedding-themed photoshoot. And you can even use it for Halloween photoshoots!
10. Boho Fake Wedding Cake
While this cake may look extravagant and rather intense, at its core, it is extremely simple.
This 4-tiered cake is adorned with fake flowers and delicate flower-inspired borders. Giving it a natural and bohemian look.
The cream-colored trimmings paired with natural greens, rustic oranges, and mauve pinks give it a fresh look without being too dramatic.
This fake cake will go perfectly with even the most understated of fake weddings.
Just remember not to cut this one. Your guests will not be fooled by eating foam instead of delicious cake.
11. Fake Naked Wedding Cake
If you have never heard of a naked wedding cake, well it is time to listen and learn!
Instead of overloading your cake with icing, trimming, flowers, and anything else you can think of, this idea strips everything back.
This Fake Naked Wedding Cake leaves some of the 'cake' exposed through the icing and features a few pink roses and leaves for a little decoration without being over the top. It is the perfect addition to any rustic wedding.
This is for lovers of natural beauty, although, for a fake wedding, any bride and groom will love it.
12. Dark Flowered 3-Tiered Fake Wedding Cake
One way to add some dimension to your wedding is through your cake. And this Dark Flowered 3-Tiered Fake Wedding Cake does all the work.
A bright white base decorated with a selection of dark flowers and fake berries. A pop of pale pink is carefully placed on each tier for a wonderful vibrancy.
For couples that simply cannot choose between the light or the dark, this is the cake for you.
Swap the pale pink for whatever color you fancy and you have a cake that goes with any fake wedding.
13. Faux Heart Cake With Pink Rose
Sometimes less is more. This is a rather peculiar shape for a wedding cake but it can make all the difference. With a simple heart shape, it is the perfect design for a simple wedding.
With a light pink tulle skirt and a decorative rose, this Faux Heart Cake is the definition of simplicity. For those who don't enough large cakes, this small fake cake is the perfect alternative.
Although the groom may need convincing on the tulle skirt, we are sure you can make it work. Just for one day!
14. Fake Cake Slice
Tired of seeing whole cakes go to waste, real or fake? Then this Fake Cake Slice could be the thing you are looking for. This 3 layered cake slice gives the illusion that there is a scrumptious full cake to come.
Decorated pink with wonderful fake flowers on top, it is eye-catching and feminine, perfect for any bride's big day. Although, you may have to have a real cake in the back or your guests will become restless.
15. Fake Cupcakes
A cool way brides are shaking up their wedding cake is to have cupcakes instead. And these Fake Cupcakes are just perfect.
Use them for the groom's photos or enjoy watching guests discover that they aren't real to create some hilarious memories.
Each cupcake can be individually shared with white frosting and decorative flower to capture pictures and create some of the best memories from your big day.
Final Thoughts
No matter your style or budget, there is a fake wedding cake to be enjoyed at every fake wedding.
We have 15 incredible fake wedding cake ideas above to ensure you get the perfect cake and can enjoy it for years to come.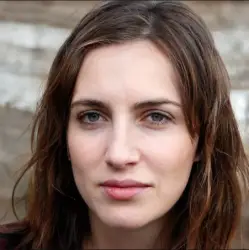 Latest posts by Anna Ingham
(see all)