Almond flour is a miracle little ingredient.
Packed full of protein, and low in carbs, almond flour instantly sets itself apart from traditional flours as one of THE go-to ingredients for people who either can't digest gluten or are trying to stick to low-carb diets.
And of course, where there is flour, cake recipes are sure to spring up like weeds. Only here, the weeds are amazingly tasty almond cake recipes(see also: 10 Tasty Soda Cake Recipes To Make Today)!
So, if you're looking for some new recipes to try out for a keto diet, or want to make something special for your gluten-intolerant friend or family member, you may be interested in this list that we have put together for you!
Start us off with a classic take on a classic dish, with this reliable take on the classic almond cake.
This recipe makes an almond cake that is just as light and fluffy as a traditional flour (see also: 9 Scrumptious Coconut Flour Cake Recipes You Will Love)cake (provided that you follow the instructions as given, obviously!), and is sure to win over anyone that has doubts about whether or not almond flour can make a solid, or even great, cake.
This cake is also pretty good both with or without frosting on top, if you find that the top of the cake is looking a little bare, or want to add a little extra sweetness to the mix. Or rather, the cake!
That's kind of the beauty of these kinds of cakes. While their initial instructions might seem a little basic, there is plenty of potentials for customization to be had with this dish!
Of course, there are plenty of variations on the classic recipe that you can try out for yourself, including this one right here.
Thanks to the maple syrup that this recipe calls for, there's little to no chance of ending up with a dry cake here!
This particular recipe is pretty low on the calorie count, clocking in at only 720 calories in total.
And sure, that sounds like a pretty big number for calories, but when you factor in that this cake is going to be sliced up into pieces, that number suddenly gets cut to 6, or 8, or however many slices you make it into!
One of the things that can often put people off baking is the seemingly massive complexity of so many recipes.
And while simplifying instructions can be helpful, for many amateurs it is the large ingredient lists that often steer people away. After all, what if they can't find the necessary ingredients in their local stores?
Well, fortunately, there are recipes like this that say 'actually, no' to the 16-ingredients long recipes, and simplify this one down to 4.
Not only does this help simplify the whole recipe, but it also keeps the cost of baking down too, making it an even more appetizing dish to try out both for your wallet, and your belly!
Of course, while all the recipes that we have covered so far are delicious (after all, what is a cake recipe if it doesn't taste good?), we're pretty partial to this recipe in particular 
Of course, despite what we stated at the top of this piece, you may be worrying that almond flour cakes aren't tailored to keto diets, and be wary of baking one for yourself.
If that's the case, don't worry. Here we have a recipe that is specifically catered to keeping the carbs on the down-low here so that you can enjoy the recipe with total peace of mind!
Now that we have covered a few different versions of the original recipe, we can now start to show you some of the variations that we've found for this particular cake dish!
Strawberries are always a favorite to include in any cake recipe, both as an ingredient in the batter, or as a decoration, and the same is true for this almond flour cake too!
This recipe not only works as a dessert cake recipe but can be eaten as a hearty breakfast too.
After all, who doesn't want to wake up to eat cake in the morning?
Strawberry almond cake is one thing, but have you considered making an orange almond flour cake too?
Citrus flavors have a funny way of getting into a ton of confectionary and pastry recipes, and the almond flour cake is no exception to that rule!
You'll find that there is plenty of orange juice in this recipe, both for the batter, and glaze to give the cake that citrus flavor, as well as an ornate decoration (if you're feeling like you want to put in a little extra effort for presentation).
And, of course, nothing is stopping you from adding a few almond flakes to those decorations too, for good measure!
If you thought the 4-ingredient cake recipe that we covered was pretty impressive, just wait til you get a load of this one!
The wizard behind this particular recipe has managed to reduce the number of ingredients needed for this dish down to 3, making it even easier and cheaper to try baking this for yourself!
Even with just three ingredients, it's surprisingly easy to get this cake to the perfect level of moisture, yet still crumbly, somehow.
How do they come up with these simple recipes?
Vanilla might be considered basic to some. But for others, it is a foundational ingredient and flavor for recipes across the world.
If virtually every recipe that you come across uses vanilla or has a vanilla version of it, you know you're doing something right!
While some of the recipes that we have covered so far already use vanilla extract for extra flavoring (as if to prove our point), this recipe makes vanilla the main focus of the cake, its the kind o cake that is not too sweet for those who aren't wild about overbearing flavors, but not so plain that you'll struggle to tell that it's there.
That's why this ingredient is so great. Because it appeals to every taste, it's really hard to go wrong with it!
We've covered one of the staple cake flavors here, so we might as well cover another!
If a cake is not vanilla-flavored, then chances are that it's going to be made with cocoa for that chocolaty flavor instead!
With 45 minutes on the clock, you can make wonders with this particular recipe, making a chocolate cake that is low in carbs, and high in protein.
Plus, there's very little to find in this recipe anyway, so everyone can try it with no worries, dieting or otherwise!
We've got another strawberry almond cake recipe for you here. Only this time, this isn't just some strawberry decoration that you're putting on top. This is a whole cake with creamy icing topping as well!
The trick with getting ht right fruity and sweet flavor for the cake is some strong strawberry purée and, of course, a little extra flavor from our old friend vanilla!
If you're looking for extra strawberry flavoring, make sure that you use strawberry almond flour for the batter. This will make the whole cake feel even more fruity!
And this recipe even comes with a low-calorie count too, so there's no excuse not to try this dish out for yourself!
If orange is a citrus flavor that is on the table for almond flour cakes, then you can be sure that lemon isn't too far behind, waiting for its chance in the spotlight!
This particular version of this cake is on the slightly longer side, compared to some of the other recipes that we have covered.
However, this cake can still be made from batter to bake in less than an hour, so you're still in for a quick recipe, all while enjoying a slightly more sour version of this dish!
Finally, to cap off this list of exquisite recipes, we're turning back to the citrus ingredients for one final fruity-flavored cake!
Blood orange has quite a distinctive flavor profile, being slightly more bitter, giving it an almost grapefruit flavor, and adding a whole new dimension of possibilities to its use in baking, particularly with almond flour cake.
Plus, if you're using orange juice for flavor and glaze, the striking reddish-pink coloration will certainly set your cake apart from others out there!
Final Thoughts
So, there you have it!
Many people are often surprised at just how much variety you can get out of a single type of cake, especially one with as seemingly nice ingredients as almond flour.
However, with the right additives, sweets, or fruit for flavor, you'll find that there's plenty that you can do to make your almond flour cake something special.
Now, get out there, and make that special almond cake recipe that is unique to you and you alone!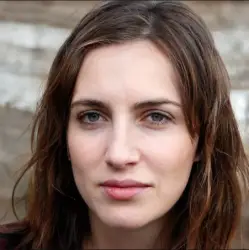 Latest posts by Anna Ingham
(see all)