Finding delicious baked goods recipes when you're gluten-free could sometimes feel like searching for a needle in a haystack until recently. 
However, as the prevalence of conditions such as coeliac disease and gluten intolerance are becoming more and more openly discussed, more recipes are popping up all over the internet for gluten-free food, including bakes. 
One of our favorite types of cakes is coffee cake. It's so versatile because coffee can be paired with so many different flavors to create incredible cakes. 
If you've been looking for a recipe for gluten-free coffee cake, you're in exactly the right place!
We have 15 of our favorite gluten-free coffee cake recipes to share with you today(see also: 11 Tasty Protein Cake Recipes To Make Today).
This recipe for gluten-free coffee and walnut cake is not only gluten-free, but it's also low fodmap and can easily be adjusted to be dairy-free by replacing the butter with vegan butter.
This makes it suitable for people with various dietary intolerances and preferences, although it's not vegan because it does contain eggs. 
Make sure to use gluten-free baking powder if you're intolerant to gluten because some baking powder brands contain gluten. 
The recipe works best when made with instant coffee powder or granules as opposed to coffee essence. 
Gluten-Free on a Shoestring is one of our favorite resources for gluten-free baking, and this cake recipe definitely didn't disappoint.
Plus, it's really easy to make so you can try your hand at this recipe no matter how much or how little baking experience you have. 
The secret to this coffee cake's deliciousness is that it's moistened with sour cream.
This is a technique you'll see used a few times in our recommended recipe, and that's because it works so well for providing moisture while lending the cake an extra-rich flavor. 
This gluten-free coffee cake recipe from Gluten Free Palate is one of our all-time favorites. 
If you're looking for a dairy-free coffee cake, this is not the recipe for you because it relies on unsalted butter and the secret ingredient of buttermilk for its flavor and texture (don't worry though, we have a dairy-free recipe coming up). 
With that being said, this recipe does provide instructions on how to adjust the recipe to remove the dairy, so substitutions shouldn't be too difficult if you follow the guidelines. 
How to Coeliac is hands-down one of the best baking sites for people who need gluten-free recipes, which is why this gluten free coffee cake is a favorite of ours. 
This is an easy recipe to follow with minimal equipment because you can make it out of a single bowl. 
To make the coffee mixture for the cake's flavor, make sure to dissolve instant coffee granules in boiling water first rather than adding them directly to the batter. 
If you're looking for the perfect coffee cake recipe for Fall, (see also: 7 Tasty Persimmon Cake Recipes To Make This Fall!)this could be the one for you. It's a cinnamon roll coffee cake that's not only gluten-free but beginner-friendly. 
A lot of the moisture in this cake comes from Greek yogurt, but you'll also be using eggs and milk to achieve that fluffy texture.
In addition to the coffee and cinnamon, you'll be flavoring the batter with brown sugar and vanilla extract, and topping the cake with pecan nuts.
Coffee and walnut is a classic flavor combination, so if you're looking for the ultimate gluten-free coffee cake, try making this coffee and walnut cake by the Gluten Free Alchemist. 
This recipe recommends toasting the walnuts before adding them to the cake.
This makes them extra crunchy and gives them a slightly bitter flavor that complements the coffee really well. 
The cake is made even better by the creamy butter frosting, which also contains coffee for extra flavor.
This crumbly gluten-free coffee cake is the perfect sweet treat to enjoy with a mid afternoon cup of tea or coffee. 
The cinnamon-sugar ribbon running through the center of this cake really contributes to the overall flavor and elevates the simple bake to the next level. 
Make sure to add the butter in cold cubes rather than softening it because this is how you achieve the crumb consistency. 
We've seen cinnamon come up  a few times so far in these recipes, but if you want to try something a little different with this flavor, make this gluten free cinnamon streusel coffee cake by King Arthur Baking. 
This coffee cake has a vanilla aroma and flavor that combines really well with the cinnamon, and even though the cake is delicious, it's easy to make in under an hour. 
To make the cake extra rich, use buttermilk instead of milk, but you can always use milk in a pinch.
This double-layer coffee cake from Freee Foods looks impressive and tastes amazing, but it's actually not difficult to make, which is great. 
Thanks to the cream cheese, which you'll use to make the frosting to hold the layers together, the cake is rich and luxurious. 
You will need two separate tins to make the layers. If you try making a lager, single-layer cake and cutting it in half, you're likely to end up with messier results.
Another gluten-free coffee and walnut cake we absolutely love is this one from Bake with Stork. 
You just need 30 minutes to prepare the cake and 25 minutes to bake, so it takes under an hour to make altogether. 
You will be using coffee essence instead of instant coffee to give the cake its flavor. This is often easier and gives more concentrated flavor. 
This gluten-free coffee cake from Food Heaven comes with instructions to make a delicious frosting that covers the entire cake instead of just the top.
Therefore, if you like a lot of frosting on your cake, this is the gluten-free coffee cake recipe(see also: 14 Tasty Vegan Gluten-Free Cake Recipes You'll Love To Make) for you. 
The instant coffee granules in the recipe go in the frosting as well as the batter, so you can be sure the coffee flavor will come through.
Dusting the frosting with cocoa powder also adds to the decorative element while providing a chocolatey taste. 
Another gluten-free cinnamon streusel coffee cake we recommend trying out is this recipe from Betty Crocker. 
Instead of frosting, this recipe calls for a glaze that you drizzle on top of the cake. If you want to make a lighter coffee cake without so much rich frosting, this recipe is perfect. 
To make this cake as per the instructions, you should use rice flour.
You could try using other gluten-free flour types, but the recipe will turn out best if you stick with gluten-free rice flour.
Having to use multiple bowls when baking can lead to stress and mess, so we love that this gluten-free coffee cake from Minimalist Baker only requires one bowl.
On top of that, the cake is vegan, meaning it contains no eggs or dairy products! 
The cake is cinnamon-infused for extra flavor, making it one of our favorite Fall recipes.
Additionally, the unsweetened applesauce contributes flavor as well as moisture, and we love the added crunch from the pecan nuts. 
Food Faith Fitness has this excellent recipe for gluten-free coffee cake.
The cake itself is made following a fairly simple sponge recipe, but the bake is taken to the next level by the buttery cinnamon topping and the brown sugar and cinnamon filling. 
For this recipe, you put the filling and the topping into the oven with the cake, and allow it to cool down before serving. 
Our final gluten-free coffee cake recipe recommendation for the day is this one from Meaningful Eats. 
This is an easy rectangular cake with no layers, fillings, or fancy toppings, so it's beginner-friendly, but that doesn't make it any less delicious!
You'll use sour cream to give the cake moisture and add either pecans or walnuts for extra crunch and flavor. 
Final Thoughts 
If you thought that making coffee cake gluten-free would be difficult, we hope that this selection of recipes has shown you that it's not only possible, but easy!
You can even make a gluten-free coffee cake that's dairy-free, vegan, or low-fodmap as well, so no matter what dietary needs you or your guests have, you can enjoy delicious, homemade coffee cake at any occasion.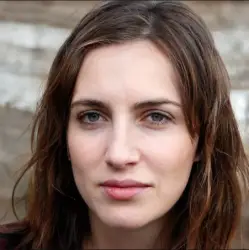 Latest posts by Anna Ingham
(see all)