Seasonal cookies are always lots of fun.
They not only allow you to get stuck into some delicious baking but seasonal cookies are also bound to bring you into the holiday mood.
Easter is the perfect time to make some seasonal cookies. Easter doesn't just have to be about eating piles of chocolate. 
If you want to make some excellent Easter cookies, then you've come to the right place!
16 Scrumptious Easter Cookie Recipes You Will Love
Mini Eggs are a popular sweet treat that is widely consumed over the Easter holidays. If you adore Mini Eggs, you're going to fall in love with these delectable cookies. 
These cookies have the perfect texture. They're crisp on the outside while the insides are lovely and chewy.
This texture contrasts brilliantly with the crunchiness of the Mini Eggs. 
Ready in just 20 minutes these cookies are quick and easy to make.
The addition of Mini Eggs not only gives them a sweet taste, but they are also incredibly colorful. Consequently, these cookies look almost too good to eat.
Designed to look like various icons from the Easter holidays, these sugar cookies are absolutely adorable.
You can easily decorate these cookies to look like Easter eggs, chicks, bunnies, or carrots. 
The addition of cream cheese is ingenious, as it provides the cookies with an appetizing taste. Not to mention, it contributes to the melt-in-your-mouth texture.
With a sweet taste and a colorful aesthetic, kids are going to fall in love with these gorgeous cookies.
This recipe is best suited to people who love to intricately decorate cookies.
Carrots are a popular symbol of Easter. Ideal for baking in the spring, these amazing cookies taste just like real carrot cake.
They're a little lighter than other Easter cookies but are nonetheless scrumptious.
These heavily spiced cookies have a cozy and homely vibe that's hard to resist.
This is thanks to flavorsome ingredients like brown sugar, shredded coconut, walnuts, and cinnamon.
These cookies are sandwiched together by cream cheese, giving them a rich taste that perfectly compliments the carrot flavors. 
Marshmallows are renowned for their fluffy texture.
This fluffy texture is ingeniously incorporated into these light and fluffy marshmallow cookies, which are designed to look just like chicks and bunnies. These cookies are super cute!
Coated with chocolate, these cookies have a sweet and rich taste that chocolate lovers will fall head over heels for.
Combined with marshmallows, these chocolate cookies are impossible to turn down.
These charming cookies are ornamented to appear just like Easter eggs.
The cookies have been decorated with a wide variety of colors, making them look amazingly appealing.
Thanks to these icing decorations, these cookies are certainly Instagram-worthy!
With a mild sugar and vanilla flavor, these extraordinary Easter cookies are sure to be a hit. We also love their soft and fluffy texture. 
These cookies are ideal for bakers with impressive icing skills. You can be as creative as you want with these indulgent decorations. 
Chocolate is the food that is most heavily associated with Easter. If you're a fan of chocolate, you're bound to adore these decadent Easter chocolate chip cookies. 
The chewy texture of the cookie has been paired with chocolate chips and M&Ms, creating a delightful textural contrast.
The chocolate filling is extremely sweet and rich, making these cookies ideal for kids. 
These cookies are best served warm. They have a delightfully soft texture.
Not to mention, the rich chocolatey filling will ooze out when you bite into the cookie, creating a sweet treat that's super tempting.
These unique cookies are inspired by hot cross buns, a beloved Easter food.
Thanks to their fruity fillings, these cookies feel a little more sophisticated than other Easter cookies.
With just a cross made from elated white chocolate, these cookies are super simple to decorate.
Packed with white chocolate chips and sultanas, these incredible cookies are sweet and fruity.
Seasoned with cinnamon and orange zest, these cookies are bursting with flavor. They have a zesty and earthy taste that you're bound to adore. 
The Easter story is an important lesson to teach kids. To get your kids interested in the story of the resurrection of Jesus, why not bake these tasty cookies?
These resurrection cookies are made with meringues, giving them a fluffy inside and a crispy outside.
Packed with chocolate chips and nuts, these mouth-watering cookies are always irresistible.
Made with just a few ingredients, these resurrection cookies are convenient and affordable to make.
Brookies are a brilliant mixture of cookies and brownies that merges the best of both desserts. So why not celebrate the Easter period with these excellent Easter brookies?!
To make this delectable dessert fit the theme of the holiday, these brownies contain delicious Cadbury's Mini Eggs.
Plus, they've been topped with oozing melt-in-your-mouth Cadbury's Mini Creme Eggs. The result is fudgy brownies with an extremely sweet and rich taste.
Bunnies are an important symbol of Easter. According to folklore, the Easter bunny brings Easter eggs.
As a reference to this tradition, these sensational sugar cookies are decorated to look like bunny rabbits and carrots.
With the help of this recipe, you can make cookies that look just as adorable.
This royal meringue icing is not only super straightforward to make, but it also tastes quite pleasant.
The addition of meringue powder to this icing is incredible, as it offers a thicker texture.
If you love sweet desserts, you are going to fall in love with this recipe! It merges a giant cookie with a cake to create an indulgent dessert.
This giant cookie cake is the perfect way to celebrate the Easter holiday. 
Filled with Malteaser candies, this cookie cake has a chocolatey twist. 
When decorated with colorful icing and Malteaser Bunnies, the cookie cake is a show-stopping dessert that's ideal if you've got guests.
They're bound to be impressed by this cookie cake!
Inspired by Italian cuisine, these incredible Easter egg cookies have a fantastically light and fluffy texture that contrasts with other cookies. 
Seasoned with lemon zest, these cookies have a somewhat tangy taste without it being overpowering. The result is a sugary taste with lemon undertones.
With a lightly lemon-flavored glaze, these cookies are light and luscious. This glaze is glorious when accompanied by the buttery texture of the cookies.
Koulourakia refers to a Greek cookie that is widely consumed around Easter.
So if you want to familiarize yourself with Greek cuisine, why not bake this tantalizing recipe?
These gorgeous Greek cookies are both fluffy and crunchy, creating a unique consistency.
One of the many reasons why this recipe is so great is that you can make the cookies into whatever shape you fancy. 
These cookies have a mild yet enjoyable taste that's seasoned with orange and vanilla, giving them a slightly zesty flavor.
Sensational for spring, these excellent Easter egg nest cookies are extremely easy to make. You will need just 4 ingredients, namely peanut butter, Rice Krispies, chocolate chips, and Mini Eggs. 
One of the benefits of this recipe is that it won't require any baking. Thus, it's ideal for kids and inexperienced bakers. 
Sophisticated and elegant, these cookies are incredibly beautiful. They are ideal for parties, as these gorgeous cookies will amazon anyone who sees them. 
Edible flowers are the perfect finishing touch to these cookies. They perfectly symbolize the spring, symbolizing the vibrant liveliness that is accosted with this period.
Last but not least, these shortbread Easter egg cookies come in a plethora of vibrant colors.
Fun for all the family to make, these scrumptious shortbread cookies are amazingly appealing to kids. Not to mention, they make gorgeous gifts over Easter. 
Made with food colorings, you can make these shortbread cookies in whatever colors you fancy.
Seasoned with vanilla extract, these cookies have a slightly floral and aromatic taste. 
Frequently Asked Questions
What Flavors Are Associated With Easter?
Chocolate is the most prominent flavor associated with Easter. However, you can also try making carrot-flavored desserts over this season.
Alternatively, fresh fruity flavors, such as lemon and orange, are also linked to Easter.
Can You Put Royal Icing On Cookies?
Yes, royal icing is an outstanding option for decorating cookies. It is easy to make.
Yet, royal icing can be transformed into a variety of colors, allowing you to decorate cookies in whatever way you want.
Additionally, once this icing dries, it will develop a harder texture, which pairs nicely with cookies.
Final Thoughts
Easter cookies are fun for all the family! If you have a passion for baking, you will adore making these vibrant cookies.
They not only taste delicious, but they're certain to get you in the Easter mood. So why not try baking some of these brilliant cookies?!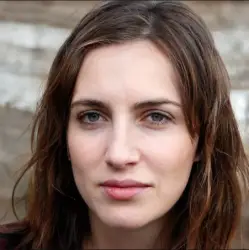 Latest posts by Anna Ingham
(see all)