Everybody loves strawberries, with their incredibly juicy feel and their deliciously sweet flavor.
This means that when it comes to baking cakes, strawberry cakes are going to be some of the absolute tastiest you're going to find, with the perfectly sweet unique taste of the fruit pairing well with a soft sponge. 
However, most strawberry cake recipes will use a strawberry cake mix to get their wonderful flavor, rather than use actual strawberries in fruit form.
Strawberry cake mix is wonderfully versatile, though, because you can use it for loads of different desserts – not just cakes!
However, with so many different and delicious strawberry cake mix recipes out there, it can be difficult to find the very best ones.
Thankfully, we've done it for you! In our delicious guide below, we've got a list of 10 tasty strawberry cake mix recipes that you'll (see also: 10 Tasty White Cake Mix Recipes You'll Love To Make)just love to make.
Whatever type of cak you're into, you're sure to find great recipes in this list!
10 Tasty Strawberry Cake Mix Recipes You'll Love To Make
We're starting our list off with this fabulously unique strawberry cake mix recipe. If you've never eaten or seen a Bundt cake before, then they're hard to describe!
Basically, they use a Bundt pan for baking, which gives them a unique doughnut-like shape, making it like a massive doughnut ring that you can then cut into segments.
As you can imagine, a strawberry Bundt cake is just perfect, giving you a massive pink ring of mouth watering cake. Better yet, since this cake uses strawberry cake mix, it's even easier and quicker to make! By the end, you'll have a wonderfully soft and moist cake.
For the cake itself, it requires a few ingredients. You'll need eggs, instant vanilla pudding mix, vegetable (or canola) oil, sour cream, and the strawberry cake mix.
As for the strawberry frosting, you'll need things like heavy cream, vanilla extract, and some freeze-dried strawberries.
Dump cake is an American classic, looking like a delicious cobbler, but using a cake-like topping instead. It's a great kind of cake to whip-up, being easily served out of a dish, and strawberry dump cake is one of the best varieties you can get.
How easy is it to make this cake? Well, it's called "dump" cake because you just "dump" the ingredients into a cake pan. There's no mixing involved! 
Case in point, it takes just 5 minutes to prepare this delicious cake, with 35 minutes of baking time needed after that. You'll need an incredibly short amount of ingredients -just 3!
The recipe requires some unsalted butter, a can of strawberry pie filling, and then the strawberry cake mix itself.
A baking dish is coated with non-stick cooking spray, before the strawberry pie filling is dumped into it and spread over the bottom.
After that, it's just a case of evenly covering that with the strawberry cake mix, then melting some butter over the top of it. Simple! If you ever need a strawberry cake mix dessert (see 15 Best Strawberry Desserts To Make Today) to whip up quickly in an evening, this is the one to go for.
This next strawberry cake mix recipe is a standard strawberry cake. That's right, a delicious and moist pink sponge cake with some frosting on top! Sometimes the simplest desserts are the best, and this is proof. 
This recipe uses white cake mix, but you can replace it with strawberry cake mix instead.
In fact, the recipe says that your cake will be a triple threat if you do this, because it'll mean there are three different types of strawberry in the cake itself: the mix, strawberry puree, and strawberry Jello.
If you want the most strawberry-filled cake possible, then this is the recipe for you!
And how about FOUR types of strawberries? You see, this cake even has a strawberry frosting added onto the top of it.
The frosting is made with half a cup of strawberry jam, as well as heavy cream, powdered sugar, salted butter, and vanilla extract. Sickly!
If you're throwing a party with plenty of guests, then these bite-sized strawberry cake balls will go down a treat, because you'll have more than enough for everyone.
Alternatively, save them for Valentine's Day, because they're a brilliantly sweet and fruity treat. 
Better yet, these are incredibly quick and easy to make! The balls themselves take just 5 minutes of preparation and then a further 15 minutes for baking.
You'll need just three main ingredients for the entire snack: the strawberry cake mix, some strawberry candy melts, and a tub of vanilla frosting.
If you're making these for a romantic Valentine's Day, you'll also want some loving Valentine sprinkles into the mix too!
Of course, when we mention that baking time, it isn't accounting for the strawberry cake mix itself.
This recipe requires you to first make the strawberry cake as per the instructions on the mix (see also: 11 Scrumptious Orange Cake Mix Recipes To Make This Weekend)box, but then you scoop out the balls from that delicious cake and go from there!
Who doesn't love cookies? Nobody! These brilliantly pink cookies are made from strawberry cake mix, and they're perfectly sweet and soft. 
This recipe is quick and easy, making it the perfect choice of dessert for when you want to whip something tasty up spontaneously. You'll need just four ingredients for it.
For one, it uses the ever-handy strawberry cake mix. On top of that, it uses a couple of eggs, some white chocolate chips (a cookie isn't a cookie without chocolate chips!), and some melted butter.
White chocolate chips, rather than regular chocolate ones, go so much better with the flavor of strawberry.
Ingredients are mixed together in a bowl and then a cookie scoop measures out the portions of dough so that they can be added to a pre-lined cookie sheet.
After that, it's just a case of baking it for 8-10 minutes and leaving them briefly to cool. Delicious!
This delicious strawberry cake not only uses the strawberry cake mix but some "vanilla instant pudding & pie filling mix" as well, giving it a seriously tasty vanilla edge and creating a delicious blend of a cake and a pie.
You've got to try it!
Despite sounding pretty complex, it's quick to prepare, taking just 15 minutes. After that, it'll be baked in a snappy 25 minutes. 
There's a handful of ingredients you'll need, besides the strawberry cake mix and the pie filling.
You'll need baking staples like an egg, powdered sugar, and milk, but you'll also need specific additions like cream cheese, thawed frozen whipped topping, and even some sour cream.
On top of that, you'll need 7 actual fresh strawberries! With those, you know this will be especially fruity and authentic.
Next on our list is this great strawberry upside down cake.
If you've never made an upside cake, you basically make the cake topping in the bottom of your pan, then prepare the cake mix on top of that, so that you can then flip the final result when it's baked.
This recipe uses the strawberry cake mix, as well as strawberry Jello and fresh strawberries – that's a lot of strawberries!
The strawberries and strawberry Jello are part of the topping, as are some miniature marshmallows for a really gooey treat. 
These are some wonderfully unique cupcakes! Mixing the deliciously sweet flavor of strawberry with the lime and lemon flavor of Diet 7UP, it creates brilliantly fruity cupcakes that's sure to please.  
In fact, you only need two ingredients! All this recipe requires is the strawberry cake mix and a bottle of Diet 7UP, mixing the two together and then dividing them into cupcake liners before baking.
Everyone loves a good brownie, but have you ever had a strawberry flavored one? These are some of the best brownies you can have, with their fruity flavor and delicious crumbliness!
Better yet, the shortcake twist makes them crunchy too.
This recipe not only includes instructions for making the strawberry brownies with the strawberry cake mix, but it also tells you how to make a tasty cream cheese frosting, as well as well as a mouth watering strawberry shortcake crumble that add a brilliantly biscuit-y twist to the brownie.
We're finishing our list with a delicious strawberry sheet cake! Sheet cakes are easy to make and give you an enormous sheet pan's worth of cake, making them perfect for parties. 
This recipe covers the strawberry cake itself (made with strawberry cake mix, eggs, sour cream, and other ingredients), but also covers how to make a strawberry cream cheese frosting which really makes it creamy and moist.
On top of that, there's instructions for a juicy strawberry puree too!
Final Thoughts
Strawberry cake mix can be used for countless delicious desserts – find the best with our list!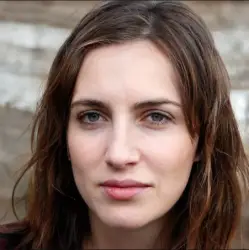 Latest posts by Anna Ingham
(see all)