Everybody loves cookies! They're a very versatile sweet treat that can be made with a variety of delicious ingredients such as chocolate, fruit, nuts, or spices.
However, cookie recipes usually include flour which means they're off the menu for anyone with a gluten allergy or intolerance.
Thankfully, an increasing number of delicious cookie recipes are now available without any gluten included.
Whether you're baking cookies for yourself or for a family member or guest that needs a gluten-free alternative, you no longer have to worry about your cookies tasting like a poor imitation.
In this article, we have 13 scrumptious gluten-free cookie recipes for the whole family to enjoy(see also: 11 Scrumptious French Cake Recipes For The Whole Family To Enjoy)(see also: 15 Scrumptious Gluten Free Coffee Cake Recipes For The Whole Family To Enjoy). Regardless of whether you can eat gluten or not, you're sure to find these cookies to be delicious.
Let's get started!
We start our list of scrumptious gluten-free cookie recipes (see also: 10 Scrumptious Keto Cookie Recipes To Make This Weekend)with arguably the most common and popular cookie of them all, the chocolate chip cookie.
You can never go wrong with a chocolate chip cookie and having a gluten-free recipe for them is very important!
The recipe uses both almond flour and gluten-free all-purpose flour to get the best consistency for the cookies.
It's recommended to use an all-purpose flour that has xanthan gum in the ingredients list so make sure to follow that instruction! A little bit of milk helps keep the cookies smooth and golden.
Sugar cookies are an often overlooked cookie because of how subtle the flavors are compared to many of the other cookies that have more ingredients and flavors.
That doesn't make them any less delicious though, and sugar cookies are another great recipe to have in your kitchen.
These cookies aren't overly sweet and have more of a cake consistency than some other cookies on this list.
They're made with gluten-free flour and with a couple of adjustments you can make the recipe vegan as well. The light flavor of the cookies comes from a few drops of vanilla extract.
Any cakes that are flavored with lemon are sure to taste light and fresh and these cookies are no different. The ingredients of the cookies result in a light dough and a cookie that will melt in your mouth.
The cookies themselves have a taste of lemon due to the inclusion of some freshly-squeezed lemon juice. You can adjust this amount depending on how much lemon you want in your cookies.
As a finishing touch, you can make a glaze and ice each cookie. This is a lemon glaze and with a little yellow food coloring, it makes your cookies look great.
We love peanut butter and we love cookies, so of course we love peanut butter cookies!
If you're not a skilled baker then this is a great cookie recipe to begin with as they only require three ingredients (see also: 12 Scrumptious Easy Cookie Recipes With Few Ingredients You Will Love)and none of them are flour. All you need is sugar, peanut butter, and an egg. It couldn't be simpler!
Simply mix the ingredients together and then place them on a cookie sheet. Bake for 10 to 13 minutes and they're ready to go. You will have some delicious and gluten-free peanut butter cookies.
These almond crispies cookies have several finely balanced seasonings and spices in them that will make it impossible for you to stop at just one cookie.
The main flavor is almond thanks to the inclusion of almond extract and some almonds, but this is backed up with cinnamon and maple syrup to make a cookie that is sweet without being sugary.
You will need both brown rice flour and almond flour for these cookies. They only take 10 to 12 minutes to cook and can be quickly cooled and eaten.
This is another very simple cookie recipe but the resulting cookies are so tasty (see also: 11 Tasty Unique Cookie Recipes You'll Love To Make)that everyone who tastes them will think you spent hours making them!
The core ingredient that makes them so simple is a box of gluten-free cookie mix. This removes the need for any flour or any other ingredients that might include gluten.
The other ingredients are simple as you just need butter, egg, granulated sugar, and water. You should allow the dough to chill for a couple of hours before making the cookies though
These cookies are a delicious treat that are worth indulging in after a long day. Although they're basically a chocolate chip cookie, the addition of some toffee to the cookie sets them apart from any other chocolate chip cookie.
The toffee comes from either toffee bits or bar bits and if you opt for bar bits, make sure you choose a bar that is gluten-free. The cookies are made with gluten-free flour as well so you can enjoy these cookies without any concerns.
This is our second variation on a chocolate chip cookie in a row and you will find that these cookies taste completely different from the toffee ones we just introduced. They're not only gluten-free, but also dairy-free, egg-free, and vegan!
We love these cookies because of the pumpkin flavor they have. As pumpkin puree can add extra moisture to the cookies, you should make sure to follow the recipe exactly and don't be tempted to add that egg!
The combination of pumpkin and dark chocolate chips is amazing and a little cinnamon really brings out the flavors that little bit extra.
Who doesn't love snickerdoodles? These are some of the most common and popular cookies and everyone is sure to love them. When baked, the cookies have a chewy and soft texture which means you can't stop at just one!
Like all good snickerdoodles, they're flavored with cinnamon and this is what makes them so delicious.
The cookies are made with a gluten-free flour mix that is made from white rice flour potato starch, sorghum flour, and xanthan gum.
You can make this gluten-free flour mix in advance and it will keep for up to three months.
We've included other recipes for sugar cookies (see also: 14 Tasty Sugar Free Cookie Recipes You'll Love To Make)on this list but we love this recipe for how cute the finished cookies look.
As well as using a flower-shaped cookie cutter to make shaped cookies, it also includes directions for buttercream frosting so you can decorate your cookies and make them look like delicate and delicious cookies.
Like the previous recipe, this also uses a gluten-free flour mix which you can make from scratch. The buttercream frosting is easy to make as well and all you need is a couple of drops of food coloring to make the frosting even prettier.
Cookies with white chocolate and macadamia nuts are one of our favorite types of cookies so we were thrilled to find this gluten-free recipe.
The recipe uses a gluten-free flour mix and tastes just as delicious as any cookies that have regular flour.
You can substitute the white chocolate chips for dairy-free ones if you wish. The mix of white chocolate and macadamia nuts combines so well together and a few drops of vanilla also help to enhance the flavors.
These are one of the more unique cookies on this list. They're a popular cookie for the festive season thanks to the variety of flavors that are included in the cookie.
For many people, figs, oranges, and apricots mean the holidays so these cookies are ideal if you're looking for a festive recipe.
There is no flour at all in these cookies so you can be certain that they're gluten-free. Once the cookie dough has been made, roll them in confectioners' sugar for the finishing touches.
The combination of orange, fig, apricot, and some almond paste makes these cookies delicious. 
Our final recipe is for these delicious oatmeal cookies. Like all good oatmeal cookies, they're soft and chewy, but with a little crunch to the edges.
The cookies are not only oats in the recipe but also chocolate chips as well, so you can enjoy some chocolate with your healthy oats!
The recipe uses both gluten-free flour and gluten-free rolled oats. Oats are naturally gluten-free so you don't have to worry about eating these cookies as long as you pick the right flour. 
Final Thoughts
In this article, we included 13 scrumptious gluten-free cookie recipes for the whole family to enjoy(see also: 10 Scrumptious Hummingbird Cake Recipes For The Whole Family To Enjoy). We picked a variety of different cookies with different flavors so no matter what type of cookie you love, you're sure to find a recipe here for you.
Every recipe is gluten-free so anyone with a gluten allergy or intolerance can enjoy the cookies as well.
We hope you enjoy these recipes as much as we do!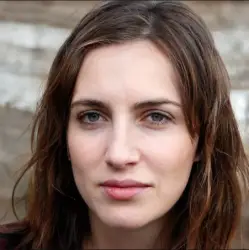 Latest posts by Anna Ingham
(see all)