Everyone loves cookies!
They can be chewy or crunchy, depending on your tastes, but they're always delicious and whenever you make a batch they're sure to be eaten quickly.
One of the most popular varieties of cookie is the humble chocolate chip cookie but not everyone is a fan of this common cookie.
Whether you can't eat chocolate, don't like the taste, or are simply after something different, you can still find some delicious cookie recipes (see also: 14 Scrumptious Cookie Bar Recipes You Will Love).
You don't need to include chocolate chips in your cookies and in this article, we have 16 scrumptious cookie recipes (see also: 15 Scrumptious Italian Cookie Recipes To Make This Weekend)without chocolate chips that you're sure to love.
Our first choice of cookies without chocolate chips is these coconut cookies.
They're the perfect combination of crispy edges and chewy insides and they're also gluten-free as they're made with almond flour!
The cookies are made with unsweetened coconut flakes, vanilla essence, and some brown sugar to give them a sweet taste without being overpowering. 
If you're looking for a unique holiday cookie, then this recipe is definitely for you!
They're full of flavors that are traditionally associated with the festive season and are sure to get anyone into a holiday mood.
As the name suggests, the cookies contain eggnog, but they also have nutmeg and cinnamon as well to add more festive spices.
Once baked, you can drizzle an eggnog glaze over the top for the finishing touch. Any Christmas guests are sure to be impressed and amazed by these eggnog cookies.
For most people, gingerbread is a flavor that is only reserved for the holiday season but we don't believe that should be the case.
We love all things ginger and are happy to eat these cookies all year round. 
The combination of ginger, cinnamon, and molasses gives the cookies a smooth kick.
These cookies are perfect for having some fun with as well so get your cookie cutters out and cut your dough into fun shapes before you bake it.
What's better than one cookie? Two cookies with jam in the middle!
These sandwich cookies are made from two thin layers of cookies that have raspberry jam spread in the middle to keep them together.
The cookies themselves are very simple and don't require any special ingredients. You can probably make these cookies with the ingredients in your cupboards. 
Once the sandwiches have been assembled, give them a light dusting of confectioner's sugar for the finishing touches.
You can switch the raspberry jam to any other jam flavor of your choice.
Also known by their Italian name of Anginetti, lemon drop cookies are a very light cookie that is almost cake-like in its texture.
They're not too sweet so they're great for anyone that doesn't want an excess of sugar in their cookie.
The cookies have a light lemon flavor thanks to the addition of lemon juice and lemon zest in the ingredients.
This lemon flavor is further developed thanks to the lemon-flavored frosting that covers the baked cookies.
These are a form of sugar cookie (more on those later!) that are decorated with buttercream frosting and sprinkles.
The base cookie is very soft and as this recipe (see also: 16 Scrumptious Easter Cookie Recipes You Will Love)uses sour cream, they become even moister than you might usually expect from sugar cookies.
You can make your own buttercream frosting from butter, sugar, vanilla extract, and milk. Although the recipe uses pink food coloring you can use any color you like.
Once the cookies have cooled completely, top them with your buttercream frosting and some sprinkles.
If you're familiar with the drink mimosa, you might be wondering why these cookies also have the same name.
They're called mimosa butter cookies because, like the cocktail, these cookies also contain champagne and orange juice! 
If you're looking for some cookies for a decadent brunch, why not serve these with some real mimosas?
You can change some of the ingredients as well so feel free to experiment with other fruit juices or alcohols.
There is nothing monstrous about these delicious cookies!
The name is thought to come from how they're a combination of several different cookies and dispute their stitched together, Frankenstein origins, they're completely free of chocolate chips. 
They do have M&Ms in them but if you're completely trying to avoid chocolate you can easily leave these out as there are more than enough other ingredients.
Even without the M&Ms you will still have oats, peanuts, and pretzels in the cookies.
As there is no baking required in these cookies, they're one of the easiest recipes (see also: The Easiest Recipe For Edible Glue)on the list.
Preparing them is simple as it only takes around 10 minutes to make the cookies and then you simply wait a couple of hours for them to harden.
You will need to melt together the ingredients over a stovetop but this requires no skills at all!
Boil together the sugar, cocoa powder, butter, and milk, and then stir in your peanut butter and oats.
Who needs chocolate chips when you have oatmeal and raisins? These are one of the more popular cookies that are completely chocolate free.
They're chewy and moist and are healthier than your average cookie!
As expected, the main ingredients are oats and raisins, but you can also add pecans to give these cookies a nuttier flavor.
The cookies have some cinnamon in them as well to help enhance the flavors of the oats and make the cookies even more delicious.
These cookies have a rich, buttery flavor and have the consistency of shortbread cookies. The large amount of butter gives the dough a sandy texture which is where the name comes from! 
Of course, they're also full of pecans and the recipe advises roasting these before making the cookie dough.
Roasting the peanuts helps to bring out their flavor and make them crunchier than they would be otherwise.
Sesame seeds are used to coat a variety of different foods and in this case, they're used for some cookies.
The flavors of the sesame are balanced out by the other ingredients such as anise and citrus zest to make a cookie that is delicious but not too sweet.
Other ingredients in these cookies include almond extract and rye flour, so you can be sure of a nutty and tart flavor.
Serve with some chai or hot chocolate as the perfect accompaniment.
These are one of the easiest and most classic types of cookies you can bake. They have a light flavor that has a hint of cinnamon and vanilla. 
They may be plain and simple compared to many other cookies on this list, but that just makes them suitable for everyone! Nobody can resist a snickerdoodle.
If you love cookies that are soft and chewy, then you can never go wrong with peanut butter cookies! These cookies are thick and will melt in your mouth when baked. 
They're best made with creamy peanut butter but you can use the crunchy variety if you prefer. Just be aware that this will change the texture of the cookies.
They only require common ingredients and the dough doesn't need to be chilled either, so they can be made in under 20 minutes!
If you're new to making cookies, then sugar cookies are the best place to start.
They're probably the simplest cookie recipe there is but that doesn't stop them from being popular with everyone who tries them. 
You can cut them into interesting shapes and once baked, they're a great base for frosting and decorations.
Sugar cookies are a staple cookie in many kitchens for this reason and are especially ideal for holiday cookies due to how they can be customized.
The beautiful purple flavors of these cookies are sure to impress anybody who sees them. How can anyone resist trying a cookie that looks like this?
The key to the color and unique flavor is ube. This is a purple yam that has a nutty and vanilla flavor.
It may not be your usual cookie ingredient but that's what makes these cookies so great. 
There is a little skill involved in making the cookies as the crinkle effect requires taking care so that the powdered sugar doesn't melt into the dough.
Follow the instructions in the recipe and you'll have perfect cookies(see also: 15 Tasty Summer Cookie Recipes You'll Love To Make)!
Final Thoughts
In this article, we listed 16 scrumptious cookie recipes (see also: 10 Scrumptious Keto Cookie Recipes To Make This Weekend)without chocolate chips that you're sure to love.
We included a wide variety of different cookie recipes that are all delicious and are sure to be a big hit with your family and friends.
And there's not a chocolate chip in sight! 
We hope that you enjoy these recipes as much as we do.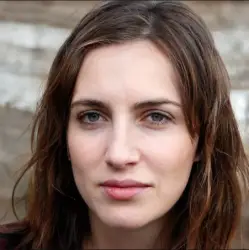 Latest posts by Anna Ingham
(see all)