Cutting the cake is one of the most iconic, and anticipated wedding traditions, and a lot of couples opt to use their own wedding cake serving sets to make the event feel more personalized, and unique to them.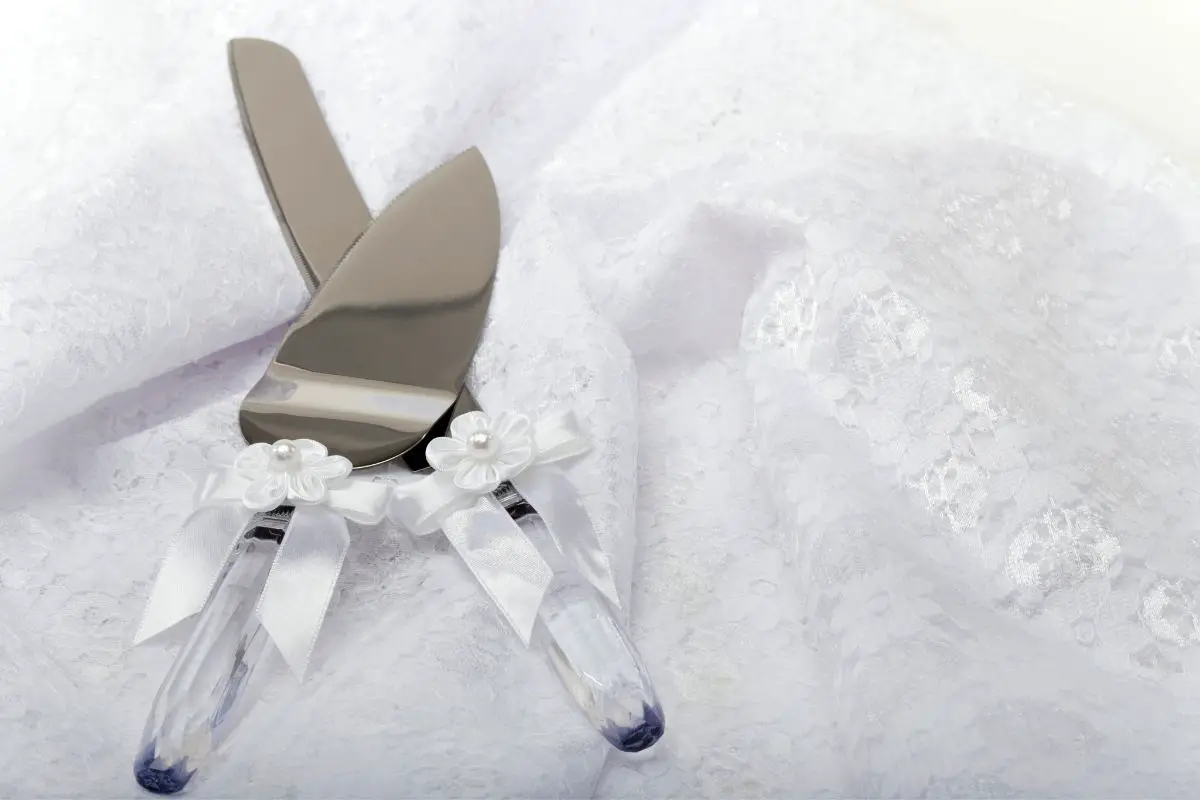 But the utility of a wedding cake serving set extends far beyond your big day, you can use it for years to come for other special cakes like birthday cakes, and it is often a beautiful reminder of your wedding. 
If you're in need of serving set inspiration – whether as a gift for a couple or for your own special day – we have 15 of the best wedding cake serving set ideas (see also: 15 Best Cheesecake Wedding Cake Recipe Ideas For Your Special Day)for every wedding. 
What Is A Cake Server?
A cake server is used to place cake slices on a plate which will then be served to guests.
Cake servers also come in a variety of shapes, sizes, and designs but all of them come with a triangular, flat blade that supports a slice of wedding cake. 
A cake server is normally made from plated silver, plastic, stainless steel, or wood. A cake server isn't just used for cake, however.
It can be used for any kind of sweet dessert, from dense cheesecakes to fudgy brownies, from tiered birthday cakes to mouthwatering pies.
Cake serves are crucial for hygienically and safely serving slices of cake to your guests without dropping it!
As well as weddings, cake servers are often used at anniversaries, birthdays, holiday parties, work events, and, of course, weddings!
1. Winter Wedding Cake Serving Set
This serving set is perfect for those having a festive wedding, and can be used for future holiday celebrations with your family too. 
2. Blush Pink Cake Serving Set
This blush pink serving set is guaranteed to steal the heart of any bride who wants to feel like a princess on her big day. 
3. Pearl & Rhinestone Wedding Cake Serving Set
This pearl and rhinestone serving set is the definition of glamour, and wouldn't look out of place at a lavish, sophisticated reception.
Champagne and navy is a sumptuous combination and this serving set would complement a similar color scheme beautifully. Wedding cake and champagne is a combination made in heaven!
5. Rose Gold Wedding Cake Serving Set
This rose gold serving set is simple but effective, and would be great for a laidback wedding ceremony. 
6. Mr & Mrs Wedding Cake Serving Set
This personalized serving set is both romantic and elegant, and would be an amazing keepsake from your big day.
7. Rose Gold & Crystals Wedding Cake Serving Set
This rose gold serving set is dripping in crystals and just screams 'extravagant!' After your big day, it's guaranteed to dazzle any guests when you whip it out to serve a delicious dessert.
8. 'We Tied The Knot' Wedding Cake Serving Set
We love the sweet engraving on this simple serving set, and believe it would be a beautiful keepsake from your big day.
9. Rustic Wedding Cake Serving Set
If you're having a rustic, outdoor wedding then this may be the serving set for you! Despite its rustic charm, we also love the pearl detailing that gives it a touch of glamour. 
10. Rustic Eucalyptus Wedding Cake Serving Set
Another rustic serving set, this set is a bit more embellished thanks to a touch of eucalyptus! Perfect for a summer wedding.
11. 'Recipe For A Sweet Marriage' Wedding Cake Serving Set
This serving set would be a perfect gift for a couple about to be wed. We love the sweet, clever addition of a recipe 'for a sweet marriage.' 
12. Artificial Lavender Wedding Cake Serving Set
Eucalyptus not your thing? Why not add a touch of artificial lavender to your serving set instead? 
13. Dusty Blue Wedding Cake Serving Set
We absolutely adore the dusty blue color of this serving set, and it would be perfect for a wedding ceremony by the sea. 
14. Boho Wedding Cake Serving Set
This gorgeous, Bohemian inspired serving set would be a pretty addition to any rustic, outdoor wedding. Who says an outdoor wedding can't be glamorous? 
15. Black Wedding Cake Serving Set
Calling all non-traditional couples! This black serving set is for you! We can totally see this wedding cake serving set at a gothic, darkly romantic wedding reception. 
What Are Cake Servers Made From?
Every cake server set will have a host of bespoke features designed to fit your needs, whether that be a practical feature that makes washing the set easier, or a set that comes with embellishments perfect for a wedding ceremony, but the most important factor of a cake server is what it's made of.
Let's take a look at some common materials below. 
Silver: This gives your cake server a traditional look, and is most commonly found at wedding ceremonies. 
Brass: These servers have a more vintage vibe, and depending on the theme and color scheme of your wedding ceremony, would also be a great choice for serving slices of wedding cake. 
Stainless steel: Normally corrosion-resistant, these cake serving sets are also dishwasher safe making cleanup so much easier. 
Wood: Since these cake serving sets don't have sharp edges, they're considered the safest cake servers, particularly for use around children. However, they are rare.
Plastic: These cake servers can be disposed of easily and are sometimes recyclable. 
What Special Features Can A Cake Server Have?
Although traditional cake servers never really go out of fashion, some designs are more fashionable than others.
While they serve the same purpose, some cake servers have unique features that can make serving guests a lot easier. 
Cake server with matches: These serve a double purpose. One for serving cakes, and the other for serving other types of desserts.
They also include matches and a striker, making them perfect for birthday cakes.
Contemporary cake servers: These servers pair cake cutters and servers and are a modern take on the humble cake server.
Their dual function lets you cut even slices easily and grip the slices of cake in one movement. 
Double-serrated edge: These servers are made with an ambidextrous construction, so no matter if you're right-handed or left-handed it's guaranteed to feel comfortable in your grip.
Engraved cake servers: These cake servers have a personal touch, making them perfect for more formal events like weddings.
One-handed cake servers: This is a unique kind of cake server that assists in pushing the slice of dessert off the blade just by squeezing the handle. 
Serrated Edge VS Straight-Edge Serving Sets: What's The Difference?
Cake server blades can have two types of edges. These are serrated and straight.
Every blade finish has its own unique benefits that correlate to particular uses as well as the cake or dessert it is being used for. 
Serrated edge cake servers are often used to cut, lift and serve slices of cake. For denser desserts, a cake knife is recommended. 
Straight edge cake servers are often used for lifting and serving a slice of cake. You will need a separate cake knife to cut through desserts that are not pre-cut or soft.
There are even cake servers with a straight and serrated edge so they can cut and serve slices of cake.
Disposable Cake Servers VS Reusable Cake Servers: What's The Difference?
Reusable cake servers are an essential utensil in most kitchens and all food establishments to make serving slices of cake as easy as possible.
Most reusable servers are safe for use in a dishwasher, while some are only suitable for handwashing. 
Meanwhile, disposable cake servers are better suited for more casual events.
You also don't have to worry about washing a disposable cake server because you can easily dispose of it once you've done.
While some disposable servers are made out of recyclable materials however, single-use plastic disposable servers are not great for the environment. 
Frequently Asked Questions
What Makes A Cake Server Different From A Pie Server?
Traditional cake servers tend to have a flat, smooth triangular blade that is attached to a straight-set handle.
Although the edge of the blade can be serrated or straight, traditional cake servers normally have a straight edge. 
Meanwhile, pie servers are made with the same blade style and shape but also have a small bend at the base of the blade so it can easily reach into slanted pie pans.
They normally have a serrated edge to make it easier to cut through tough pie fillings and crusts.
If You Have A Cake Server, Do You Need A Cake Knife?
A cake server is used to lift and serve cake, while a cake knife – naturally – is used for cutting a cake.
These knives have a long, serrated blade to make cutting through cakes easier without smudging, tearing, or crushing any frosting.
Some cake servers have a design that allows you to cut through cakes and serve them neatly.
For weddings, cake knives and servers often come in a set to provide a more cohesive look suitable to the wedding's theme and color scheme.
Final Thoughts
We hope our 15 best wedding cake serving sets have inspired you!
Whether you're having a traditional, glamorous wedding, an outdoor, rustic wedding, or a darkly romantic wedding, we're sure any of these serving sets would be suitable for your big day.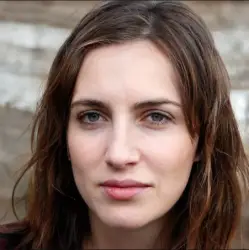 Latest posts by Anna Ingham
(see all)