When it comes to creating the right atmosphere for a wedding, you'll need to think about every detail, from the flowers on the table to the decorations hanging from the tree.
Well, another thing you'll want to think about is how the main table that your cake is resting on will look.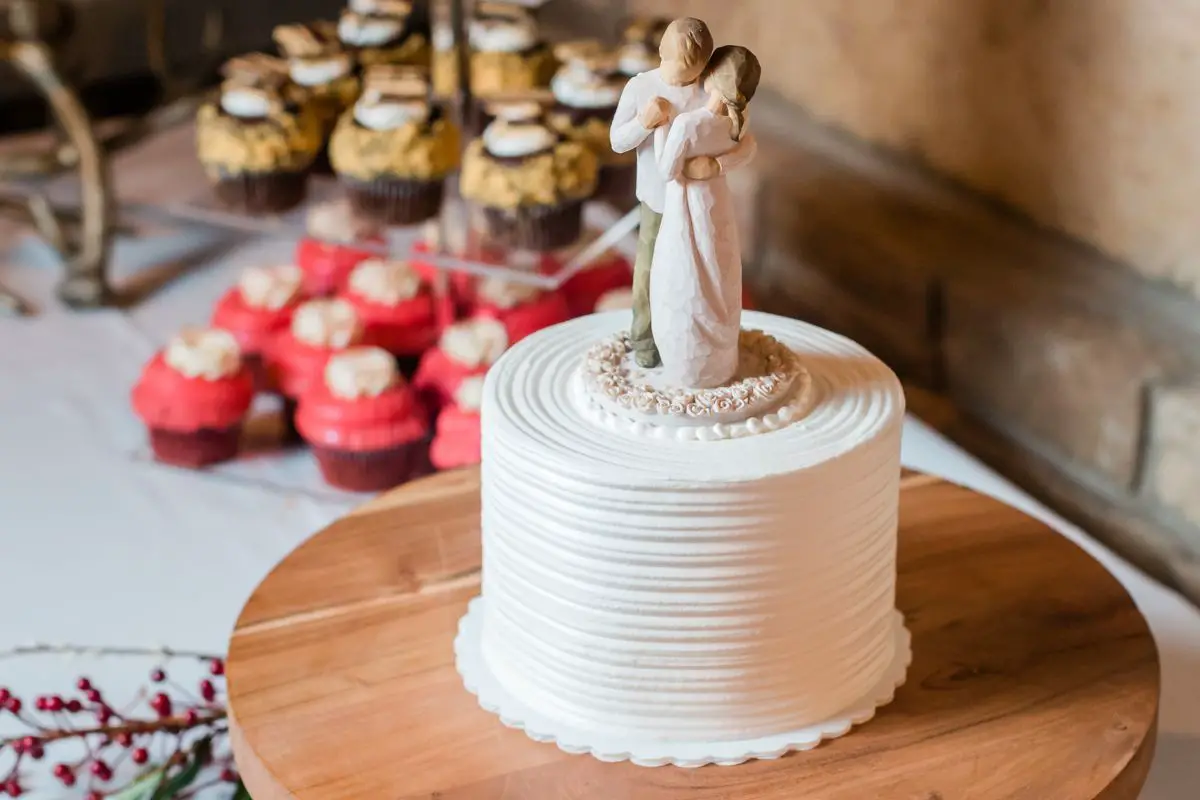 The wedding cake table must look a lot more decorative than the guest tables.
You'll need to make sure that it is well decorated, with plenty of flowers, ornaments, food, the wedding cake as well as the table cloth and other features.
So, what do you need to think about when it comes to decorating your table? Where are you going to place it in your wedding room?
What shape is it going to be? Well, we're going to be looking at 15 great wedding cake table ideas to give you some inspiration.
15 Best Wedding Cake Tables Ideas
1. Floral Wedding Cake Table
This first table is one that is brimming with flowers, practically creating a floral waterfall that flows down the edge.
Whether it is red, yellow or blue flowers, you can deck this out in whatever way you like. As you can see, this is a standalone table in a circular shape.
If you have a floral design on your cake, then you can blend in real-life flowers with the floral design on the cake.
The tablecloth just comes in a plain white color, which will contrast nicely with any white trimmings that you have.
2. White Standalone Wedding Cake Table
This next table is circular and compact, perfect if you do not want it to detract from the look of the table.
This is great for a higher cake with plenty of tiers and really great for helping you to minimize the amount of space that you're taking up.
This is a great design for anyone who wants conventional wedding décor along, white with white diamond.
You can have a plain white tablecloth with this type of table, or you can choose something a little more off-beat like cream or pink.
3. Round Wooden Wedding Cake Table
This next table is very solid and shiny, especially when you buff it. This table will support almost any size of cake and really blends in well with a rustic or modern-style wedding.
As you can see from this picture, it is festooned with bright flowers which really frame the cake nicely.
This is a great table to have for an outdoor wedding, as it will not wobble or topple over.
You can also get a message engraved on the outer rim, either the personal initials of you and your spouse or the date of your wedding itself.
4. Outdoor Floral Table
This table is very simple in terms of decoration and design, coming in a circular shape on which you can place any number of objects.
This table is around waist high, which means that you won't be bending over or reaching up to cut your wedding cake.
The great thing about this table is the addition of flowers creeping up to the side. This is an excellent method of creating drama to what otherwise might be a plain wedding cake table.
You can also create a similar effect when it is flowing down the side.
5. Tiered Wooden Table
If you want to keep it simple in terms of decoration but still grand, then you'll want to consider what type of material you'll be using.
This comes with a thick stem and a lot of space on the surface, which certainly adds to the openness.
You can match this table with a wooden cake stand. If this matches exactly, then it will look like an extension of the table itself.
This will match a white, chocolate or even yellow-tinged vanilla cake. This can come with embossing on the bottom, which will add that extra vintage sophistication.
6. Lace Wedding Cake Table
This next wedding cake table is made with lace, which adds a delicate touch to an austere type of wedding celebration.
A lace table looks great with or without flowers, although we would recommend the cascading flower effect that you see on a lot of wedding cakes.
This would go perfectly with a tiered wedding cake system, which is perfect if you are having that classic, straight-down-the-line white wedding.
This has enough space for you and your guests to rest their wine glasses, but we would avoid cluttering up this table too much.
7. Green Velvet Tablecloth Wedding Cake Table
This is the perfect addition to your wedding cake table, all it requires is a simple piece of velvet cloth. This invites class and also that natural spirit, both of which are perfect for an outdoor wedding.
You can add a few other decorative touches to this wedding cake table if you think it looks a little bare.
You can put a small vase with a few flowers in it on the side as a counterpoint to the main cake. Don't worry, green works just as well with white as any other color.
8. Pink Wedding Cake Table
This next table is one that will fit in with any style of wedding, whether it is white, off-white, or various shades of pink.
A pink wedding table hints at class, elegance and romance, all of which you'll want to conjure as part of your wedding day.
This will go perfectly with a selection of red, pink or violet flowers and a white-tiered wedding cake.
You can have various pink- or purple-shaded flowers punctuating your guide and acting as a great complement to the predominant pink tablecloth.
9. Mirrored Wedding Cake Table
Now we move onto something radically different that should only be reserved for people who have the money to really splash out on their big day.
This table will almost look invisible, although it depends on what surface you are going to place it on.
This will look nice on a natural surface such as grass or tile. Make sure that the design is fairly uniform and not too busy, as it might overwhelm the cake itself.
We would recommend that you top this one with a wooden or golden cake stand and a white-tiered cake.
10. Gold-Framed Wedding Cake Table
Sometimes you'll just want to keep it as simple as possible, this is why a gold-framed wedding cake really comes in handy.
You can see how the slender frame really complements the hoop that circles the cake itself. This works best with a high-tiered wedding cake and lots and lots of flowers.
If you buff this properly, it can look bright and shining.
This kind of table will suit any kind of cake, although you might want to opt for something smaller, as the legs are quite thin.
11. Small Wedding Cake Table
Why go full-blown with flowers and garlands and lots of gold and other accessories when you can just opt for a few simple tea lights and a pale green cloth?
This wedding table is petit, but it is great for anyone who has staged a modest wedding party.
12. Low Blue Wedding Cake Table
This next table is another minimalist one, low to the ground and with a wide top, it will easily support a medium or large wedding cake, along with any flowers or tealights that you might want to use to adorn it.
13. Deluxe Wedding Cake Table
If you have the time and the effort, you can make your wedding cake table look like a wedding cake itself.
This is festooned with garlands of flowers of all different shapes and colors, which is great if you want to create that sense of drama.
This table is used to support a white wedding cake, but you can mix it up with a tablecloth that comes in a different color.
14. Bridal Veil Wedding Cake Table
This next wedding cake table is one that will grab your attention as soon as you look at it. It comes with the bridal veil as part of the table, which gives it a cloudlike effect.
You can heap this one with tealights, flowers or mirrors, all of them will add to the dreamy ambiance. This table is great for a multi-tiered wedding cake.
15. Thin Legged Wedding Cake Tables
Finally, we have something that is distinctly modern, coming with slender legs and a small table that can easily support a smaller, single-tiered cake.
This cake table has a plain white design with not much room around the edge, but you can decorate it with a cascading flower garland effect.
Conclusion
We hope our wedding cake table ideas will help you decide which will suit your wedding. 
Remember: sometimes too many decorations can have the effect of making your cake table look too crowded.
Often simplicity is the best form of decoration and really draws attention to the cake, the cake stand and the cake table.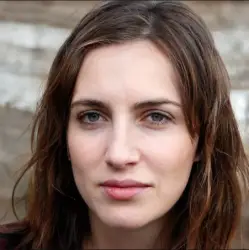 Latest posts by Anna Ingham
(see all)