If there's one part of Thanksgiving that all the friends and family look forward to the most, it has to be the feast.
There's nothing quite like sitting around the table tucking into a turkey with a side of garlic and lemon, and a few other delicious side options of your choice to make this annual celebration more memorable than the last. 
It's not just the main meal that is important to plan in advance however since the dessert is just as important, being the delicious appetizer to end off the celebrations.
Therefore it's always best to make sure you have a few recipes in mind before the big day arrives. 
Here are 10 sweet, delicious, and easy-to-make desserts that are guaranteed to have everyone feeling more than satisfied when Thanksgiving rolls around. 
The vanilla wafers and chopped banana pieces in this recipe are wedged right in between a thick creamy layer of cream cheese, sweetened condensed milk, and whipped topping to make for a dessert that is a sheer delight to share around the dinner table so everyone can get a scoop. 
While it may be delicious and contains the perfect blend of being both creamy and crunchy in its texture, alongside containing a hint of fruitiness thanks to the banana, this dessert can be made with simply seven ingredients with the wafers making up the bulk of the pudding itself. 
Don't forget to add any extra leftover wafers and banana pieces over the top of the pudding so that nothing goes to waste and you can get as much fruity flavor out of each bite as possible.
The toasted ginger meringue really steals the show in this recipe, made from a mixture of egg whites, granulated sugar, cream of tartar, vanilla extract, and ginger, it grants these cupcakes a hint of spiciness that makes them downright delicious to bite into. 
What makes the cupcakes even more scrumptious is the sweet potato casserole with a texture as smooth as silk that crumbles away as soon as you sink your teeth into it, making this delicious twist on the standard cupcake recipe the perfect way to end off Thanksgiving. 
Serving up to 16 people at once and requiring just six ingredients including a yellow cake mix, mashed ripe bananas, and some chopped pecans to add a little more crunchiness to the texture of this creamy and delicious dessert, this cake can be made in mere minutes, making it perfect for whipping up in a pinch when you're struggling for ideas. 
Simply prepare the cake mix before adding in the mashed bananas, pecans, and spices to form the batter and make it nice and crunchy.
Leave to bake, and that really is all you need to do to make this slightly fruity and moderately crunchy cake.
When you're struggling to decide on a dessert that will satisfy all your friends and family, there's nothing wrong with going back to a harvest season classic, the spiced pumpkin pie. 
The flaky pie crust dough pairs elegantly with the deep and rich flavor of the pure pumpkin and freshly grated nutmeg that adds a little more warmth and a hint of spiciness to this classic recipe.
Ready to serve in just 30 minutes, always remember to top a spiced pumpkin pie up with a wallop of whipped cream to help even out the flakiness of the pie crust. 
Low in calories and perfect as a light and appetizing treat after the hefty and satisfying main meal, this Thanksgiving trifle is full of a mixture of wispy and creamy ingredients that come together to create an explosion of flavor. 
Heavy whipping cream and vanilla extract are the primary ingredients that give this trifle such a lush, smooth, and airy texture, alongside a can of pumpkins, ground cinnamon, and a good dose of some non-alcoholic rum extract to add some of the warmth that many of us associate with the popular beverage. 
Not only can these pumpkin trifles be prepared with just a handful of ingredients, but they can also be made in bulk, so get the glasses out, and whip these delightful desserts up for all the friends and family to get stuck into this Thanksgiving. 
Apple fritters are some of the easiest-to-make seasonal desserts out there, however, this isn't to suggest that this substitutes any of their fruity flavors.
The truth is that while these popular dessert treats can be prepared in bulk in just half an hour, they still retain that warm, crispy and sweet texture that goes down so well when you want a snack to settle down with and enjoy in the evening. 
The apple pie spice and apple cider help to enhance the fruity flavor of these fritters even more, making them the perfect dessert to enjoy in the fall, and a reliable treat everyone is sure to enjoy to finish off the day.
In less than half an hour, you can whip up a nutty and buttery coconut pie sprinkled with a few pecans and complimented by a thick whipped cream, alongside the addition of flaked coconut which really steals the show here. 
Flaked coconut gives the pie a little more crispiness in its texture while also making the overall flavor that bit more milky and creamy, as if it wasn't already appetizing enough. 
With some chopped pecans mixed into the core and layered over the top, this is a nutty pie that manages to strike the perfect blend of being both crunchy and creamy, making for a unique treat that you and the family need to try out after the big Thanksgiving meal. 
If you want a dessert option that's a little smaller and not as grand as a cake or a filling trifle, why not try out these cute miniature pecan pie bars that are bite-size classics and incredibly easy to make while also being extremely rich in their flavor thanks to the inclusion of maple syrup and vanilla extract. 
The shortbread crust has a very distinct sweet buttery flavor that works so well with the crunchy texture of the pecans, giving each and every one of these bars a tremendous amount of flavor that you can guarantee everyone will be eager to tuck into later in the day. 
If you've never tried layering some caramel over a few graham crackers with an apple filling jammed in the middle, then you definitely need to try out this caramel apple icebox cake which may sound like a lot of work to prepare, but in reality, this sweet and sticky dessert can be ready to serve in just 20 minutes, meaning rather than stressing about gathering all the ingredients and planning when the best time to make the dessert is, you can simply whip a few of these tasty snacks up after the main meal is finished. 
The caramel sauce spread over the top of the crackers is the perfect way to compliment the cream cheese, vanilla pudding, and apple pie filling stuffed in the middle that gives this cake both a fruity and slightly savory flavor that is hard to go wrong with.
You can also use Oreos instead of the crackers in this recipe if you want something with a little more crunch and a more familiar flavor, however, they usually tend to be a lot thicker than is needed, so the choice is entirely up to you and how you want the texture of your icebox cake to come out. 
While the taste of the dessert is undoubtedly the most important part, the appearance also matters a lot, especially during Thanksgiving when you may have friends and family members coming over who you really want to impress with a brand new recipe. 
This is where this gooey hazelnut and caramel tart excels since not only does it look the part, with its merging of golden hazelnut crust and dark milky chocolate in the middle, but it also tastes incredible too with the caramel giving that melt-in-the-mouth sensation with each and every bite. 
Along with a dose of heavy cream to make the chocolate as smooth and silky as possible and a few hazelnuts sprinkled over the top to add just a little more sweetness to the already mouthwatering combination of ingredients, this is the perfect Thanksgiving dessert when you want something small, easy to make, but still incredibly tasty. 
Summary
While you're planning each and every detail of the main course, rather than stressing about the desserts, save yourself the worry and try out one of these simple, but incredibly delicious options that are all perfect fits for Thanksgiving and the fall season.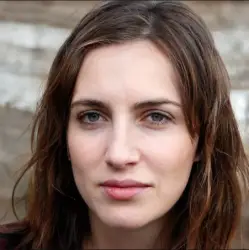 Latest posts by Anna Ingham
(see all)