What is a birthday without a birthday cake?
There are so many different styles of birthday cakes that you can choose from so whatever your tastes in cake, you can have the perfect cake for your birthday. 
If you're a vegetarian, however, you have to be more careful with the recipes you choose.
You need to make sure that all of the ingredients are suitable for your diet and that the cake is still delicious.
That's why we've created this article with 13 tasty vegetarian birthday cake recipes (see also: 11 Amazing Birthday Cake Recipes For Adults To Enjoy)you'll love to make. The majority of the recipes are also vegan, so they're suitable for everyone.
This piñata cake is ideal for a child's birthday celebration due to its bright and engaging colors but even adults are sure to love it as well.
It's made from four layers of vegan chocolate cake that are divided by layers of icing. 
In the middle, the cake is an empty well that is loaded with candy and this is sure to pleasantly surprise any guest that cuts into it.
The outside of the cake is covered in colored swirls of frosting to give the cake a cute finishing touch.
We love how fluffy and light this vanilla cake is. It's completely vegan and is a very moist cake that is built in layers of vanilla cake that are separated by layers of vanilla frosting as well.
The cakes are very easy to make and only take 35 minutes to bake so this is a great cake for anyone that isn't the most skilled of bakers.
After the cakes have cooled, you can assemble them and then decorate the outside with drips of frosting and as many colored sprinkles as you want.
There's no need to be neat with your decorations as this cake looks just as good when it's a little messy as when it's perfectly neat.
We love how cute this cake looks! The mix of colors from the messy chocolate top to the layers of white and pink frosting really makes this cake stand out. 
The cake is three layers of chocolate cake separated by layers of chocolate frosting.
All of the cake is vegan and it's also surprisingly healthy as other than the frosting, there is no added sugar in the recipe. 
The outside of the cake is decorated with white and pink layers of frosting and you don't need to make these layers perfectly neat.
The topping is simply melted dark chocolate that is allowed to run and drip over the cake.
Although not specifically designed to be a birthday cake, this beautiful strawberry cake is delicious and pretty enough to be used for any special occasion.
It can easily serve as a birthday cake for any vegan that loves strawberry cakes.
We love that it's very easy to make and only requires seven ingredients for the cake!
You can choose your topping and the recipe suggests buttercream frosting, cream cheese frosting, or chocolate ganache.
We prefer buttercream frosting that is flavored with strawberry and colored bright pink, as it is in the cake photos.
This cake looks spectacular and is sure to impress any guests that attend your birthday party.
It's three tiers of delicious chocolate and hazelnut cake and is decorated with more chocolate and hazelnuts.
You will need three different sizes of baking tins to make the different tiers and keep in mind that the different sizes of cakes will take different amounts of time to bake.
When the cakes have cooled, glaze each one separately with the chocolate glaze.
Allow the glaze to harden and you can then assemble the tiers and decorate them with hazelnuts.
Just the name of this cake is enough to make our mouths water.
The inclusion of bourbon in the bourbon caramel suggests that this cake is a better fit for an adult's birthday than a child's, and we're sure that any adult will love this stunning cake!
The cake is made from two layers of chocolate cake and a middle layer that is a cookie cake.
Every layer of the cake should be drizzled with the bourbon caramel as you're assembling the cake and when the top is frosted, you can decorate it with chocolate chip cookies and some Oreos.
And more bourbon caramel!
The use of raspberry and lemon flavors in this cake makes it ideal for a spring or summer birthday.
We love the layers of this cake and how it has thick layers of cake divided by thick layers of lemon curd and raspberries.
The layers of cake are vegan lemon cake and each layer is deliciously light and fluffy.
The outside of the cake is covered in raspberry-flavored frosting and drizzled with more lemon curd.
You can also add some whole raspberries to the top of the cake for the finishing touch.
Although this is called a Nutella cake, it doesn't actually include Nutella as this isn't vegan.
Instead, it makes use of a homemade Nutella mix that is just as delicious and full of chocolate and nut goodness.
The base cake is three layers of chocolate cakes and this is then iced with homemade Nutella. Top the cake with crushed hazelnuts to add even more nuts to the flavor.
If you're a fan of Nutella, you're sure to love this cake!
This cake is ideal for any adult that has a summer birthday and loves a splash of gin.
It looks amazing as well, thanks to the swirled blackberry jam buttercream frosting that is spread around the outside of the cake.
The cake is made from three layers of vanilla sponge cake. This isn't a plain vanilla cake, however, as it is also loaded with raspberries.
Each cake layer is drizzled with gin syrup to add some flavor to the cake as well.
Black forest cake is one of our favorite cakes thanks to its combination of chocolate, cherries, and cherry liqueur.
It's a cake that when done right, can turn heads and is sure to be a hit at any birthday event.
This black forest cake is also dairy-free and easy to make so even if you haven't made one before, you're sure to succeed with this recipe.
The recipe also includes instructions for making your own cherry liqueur soak, which is key to getting those unique black forest cake flavors.
Blood oranges aren't in season for very long, so if you're making a cake for someone who has a birthday within that short window, a blood orange cake is a great way to celebrate.
The combination of colors used on this cake makes it look really interesting and different from any other birthday cake on this list.
Although this cake is a chocolate cake, it has a different tang to it than you may expect due to the inclusion of rich and dark chocolate and some coffee.
Coffee is a great accompaniment for chocolate and really brings out the rich and dark flavors.
Red velvet cake has become increasingly popular and common over recent years and no list of birthday cakes is complete without one.
It's characterized by the bright red color of the cake and also its smooth and velvety texture.
In order to keep this cake vegan, make sure you choose either vegan red food dye or opt for beetroot powder instead.
The cake is made from cocoa powder and vanilla extract so it has a variety of mixed and light flavors.
When the cake is assembled, it is covered in thick layers of vegan cream cheese frosting.
Our final cake is this luxurious caramel mocha cake. It has four layers of vegan chocolate cake that are deliciously decadent and moist.
Each layer is separated by a layer of buttercream made with caramel coffee and this is also spread around the outside of the cake.
To make this cake even more decadent, finish it off with a ganache made from dark chocolate and coconut milk.
The ganache topping doesn't need to be tidy and the cake will look better if it's allowed to haphazardly drip down the side of the cake.
This is a delicious and rich cake that all of your guests are sure to love and remember.
Final Thoughts
In this article, we listed 13 tasty vegetarian birthday cake recipes (see also: 13 Tasty Pumpkin Cake Recipes To Make Today)you'll love to make.
We included a wide variety of different cakes so no matter what type of cake you like, you're sure to find the perfect birthday cake for you on this list.
Most of them are also vegan, allowing you to cater to more guests.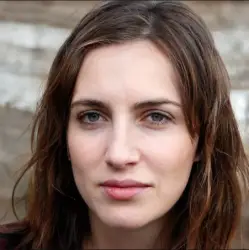 Latest posts by Anna Ingham
(see all)