Pumpkins might typically be associated with Fall and Halloween, but the good news for pumpkin lovers is that this fruit is actually in season from September all the way through to March.
That means that you can sustainably make your favorite pumpkin recipes for 6 months out of the year!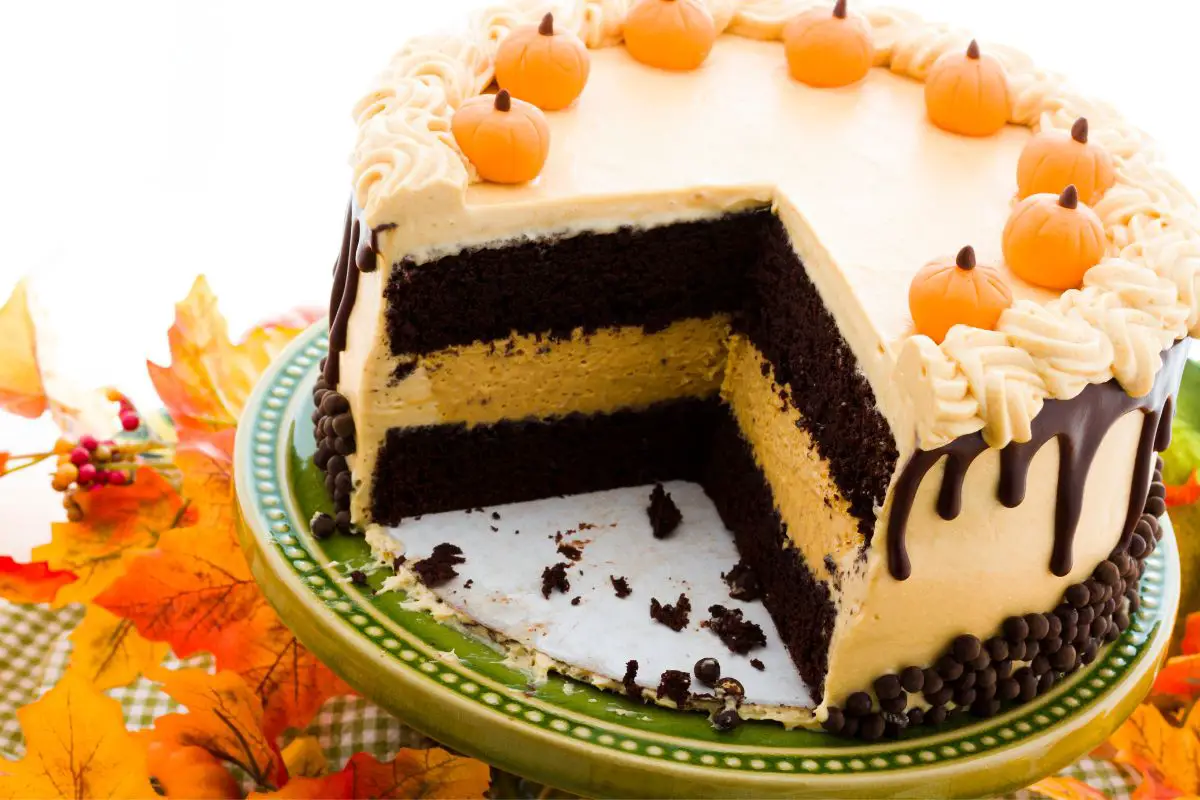 One of our favorite types of pumpkin recipes to make over and over again is pumpkin cake.
If you've tried pumpkin cake before, you already know how delicious it is, and if you haven't, you definitely should! 
We've chosen our 13 favorite pumpkin cake recipes for you to try at home, so what are you waiting for? Let's get baking! 
This pumpkin cake recipe from Sally's Baking Addiction is one of the most delicious pumpkin cakes we've ever tried, but even better, it's easy and inexpensive to make because you don't need any fresh pumpkin, just pumpkin puree. 
The recipe calls for oil, which ensures the cake stays moist for a good while as long as you store it correctly, and the brown sugar in the batter compliments the flavor of the pumpkin and the rich cream cheese frosting perfectly. 
To make sure your cake has the recommended texture and thickness, you'll need a pan measuring 9 by 13 inches as well as two mixing bowls. 
We love this sheet pan pumpkin cake from AllRecipes, and it's one of our go-to pumpkin cake recipes when we want to bake something simple yet really tasty(see also: 10 Tasty Soda Cake Recipes To Make Today). 
Because this is a sheet cake, you don't have to worry about anything complicated like layers.
You just need a pan measuring 12 inches by 18 inches, the ingredients, and an hour of time for baking.
Although the cake is simple to make, it's very flavorful due to the cinnamon and vanilla in the recipe, and you can serve it with your choice of cream or add a store-bought frosting to level up your bake. 
Another beginner-friendly pumpkin cake recipe is this Easy Pumpkin Cake Recipe from Natasha's Kitchen. 
When made according to the instructions, this easy single-layer pumpkin cake is perfectly moist, and like the previous recipe, there's a good amount of cinnamon in the batter to bring out the pumpkin flavor and add a little spice to your dessert. 
You can make the cake using store-bought pumpkin puree if that's easier for you, but if you want to try your hand at making your own, there's a link in the recipe. 
You'll see cream cheese frosting come up a lot in our top pumpkin cake recipes because, just like carrot cake, cream cheese goes so well with pumpkin bakes.
One of our favorite pumpkin cake recipes with cream cheese frosting is this one from Once Upon a Chef. 
If you want to bake a cake that's packed with Fall flavors, this is the one.
The batter contains not only pure pumpkin, but also cinnamon, nutmeg, and ground cloves. For the frosting, you just need cream cheese, butter, sugar, salt, and vanilla extract. 
If you're vegan, don't worry, we didn't forget about you! This Vegan Pumpkin Cake is from one of our favorite creators of vegan baking recipes: (see also: Recipe And Tutorials For Baking Letter Cakes)Loving It Vegan! 
To make your pumpkin cake completely free from animal products while still remaining delicious and moist, you'll be using flax egg and canola oil to replace dairy and egg. 
In addition to the pumpkin puree, cinnamon and nutmeg, you'll also be adding ginger to the recipe for a bit of extra sweet spiciness.
If you're not a fan of ginger, you can always omit it from the recipe, but we think it adds a lovely touch and makes this recipe a great choice for the Winter season.
Just as we remembered our vegan readers, we know that a lot of people can't eat baked goods containing gluten.
Luckily, there are plenty of delicious gluten-free pumpkin cake recipes out there, and our favorite is this one from Gluten Free Palate. 
You can use any gluten-free flour you like to make this recipe, although the recipe does recommend one.
Other than that, the recipe is very similar to regular pumpkin cake recipes and you don't need to make any more modifications. 
Make sure to use full-fat cream cheese and powdered sugar for the frosting to achieve that rich flavor and smooth consistency. 
The great thing about this Pumpkin Cake recipe from Preppy Kitchen is that it's easy to make in a relatively short time, and you can even make it a couple of days ahead of time as long as you keep it in the refrigerator.
You could even freeze it in a pinch – just leave the frosting until after it's defrosted. 
There's no need to buy or cut up fresh pumpkin for this recipe since the pumpkin comes from pumpkin puree.
It is best to use freshly-grated nutmeg for maximum flavor, though. 
Keeping It Simple definitely keeps it simple with this Best Pumpkin Cake recipe, but it's also one of the best-tasting recipes for pumpkin cake we've ever (see also: Tutorial For The Best Gelatin Art Cake Ever!)tried. 
Technically speaking, a lot of people would call this cake a type of pumpkin bread because it's loaf-shaped and doesn't have any frosting in the recipe, although you can, of course, add your own frosting later if you want. 
Make sure to use unseasoned canned pumpkin for this recipe.
It's a common mistake to use pumpkin pie filling instead of plain canned pumpkin but since you'll also be adding spices to the mix, you need the pumpkin itself to be plain.
Another pumpkin cake recipe with delicious cream cheese frosting! Spruce Eats never disappoints when it comes to baked goods.
This recipe is great if you want to try your hand at baking a pumpkin cake with layers. If you find that idea intimidating, don't worry, this recipe makes it straightforward and stress-free.
You'll be separating the layers in this cake using cream cheese, which is also what you'll use to make the frosting.
The recipe recommends topping the cake with chopped pecan nuts, too, which adds extra flavor, crunch, and decoration.
If you really want to push the boat out with the layering, this four-layer pumpkin cake recipe from Yummly will be sure to impress your guests!
This cake does take a little longer to make than some of the others on our list, but it's totally worth it for the end result.
For the best frosting texture, the recipe recommends specifically using Philadelphia cream cheese.
Like the previous recipe, this cake is topped with nuts, but even more excitingly, you can add a drizzle of caramel sauce. 
The Baking Explorer's recipe for pumpkin loaf cake is perfect if you want to make a simple dessert in under an hour and a half. 
You'll be laying the cream cheese frosting on thick for this recipe.
As you can see from the pictures, there's a lot of room to add your own decorations if you want, but this cake is just as delicious without them. 
Another thing we love about this recipe is the fact that it's versatile! If you don't want to make a large cake, the batter will cook perfectly well in cupcake form, too.
Made with fresh pumpkin with a dark chocolate drizzle in place of frosting, this pumpkin cake recipe from Everyday Healthy Recipes is ideal if you're trying to make healthy choices without sacrificing delicious desserts altogether. 
The fresh pumpkin gives the cake a more authentic flavor, and if you can get your hands on spices such as ginger in their purest form, that's even better.
To make the frosting, you can simply melt the chocolate in the microwave and stir in the butter before drizzling it over your cooled bake. 
Finally, if you want to make a cake with just a hint of pumpkin rather than it being the primary flavor, we recommend this Chocolate Brown Sugar Butter Cake with Spiced Pumpkin Frosting. 
In addition to pumpkin, the frosting in this recipe contains white chocolate and cream cheese, so it's rich, sweet, and thick – everything you want in a cake frosting.
The cake itself is delicious and moist, too. 
Final Thoughts 
Hopefully, this selection of pumpkin cake recipes has shown you that you can make delicious pumpkin cake no matter how experienced you are at baking.
You can also still make pumpkin cake even if you're vegan or gluten-free.
Remember to pay attention to what kind of pumpkin your chosen recipe recommends before you buy your ingredients!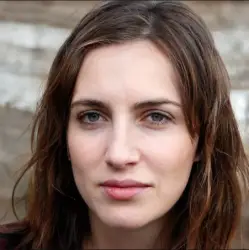 Latest posts by Anna Ingham
(see all)