You're getting married? Congratulations! If you're looking for some inspiration for your dream wedding cake then you've come to the right place. I've got you covered.
 Now, I'll hold my hands up extravagance surely has its time and place, but there's something about the undisputed elegance of a simple yet beautiful wedding cake.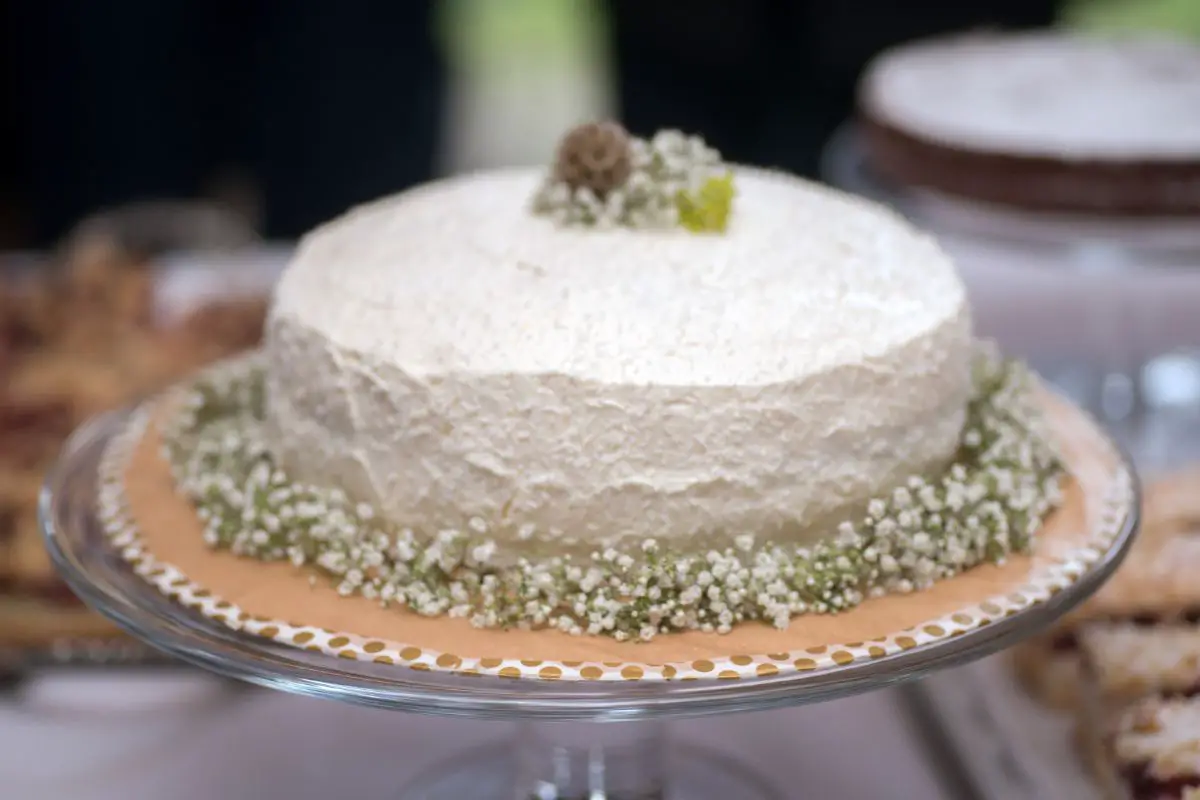 They're just so timeless and classic. And yet, you can still infuse a modern twist with your choice of decoration and flavor. 
You may worry that opting for a simple cake will decrease your options or that they will 'all look the same' but let me put those worries to rest.
In this article, you'll see ten absolutely stunning simple wedding cakes that all have their unique and distinctive features.
The only worry you'll have now is actually deciding which one of these stunning cakes is the best. 
10 Simple Wedding Cakes
This cake is oh-so-simple but oh-so stunning. The semi-nude tiered cake is lightly frosted in a stunning white color and then adorned by one flower centerpiece.
The earthy tone of the delicate roses pairs perfectly with the white frosting and the vivid greenery that surrounds them. 
It is the perfect choice for a rustic wedding that screams beauty and elegance. I can't imagine how your eyes could not be drawn to something so graceful. 
This simple two-tiered cake breaks tradition by having much sleeker and more slender tiers as opposed to the more typical short and wide tiers.
This slimline cake looks amazing. Underneath the simple coat of icing, you'll find a delicious lemon cake with raspberry jam.
The small addition of flowers gives some decorative delicacy to the cake and the pop of color gives it a romantic minimalist feel.  
If you want to add some interesting elements to your cake but aren't a massive fan of all the glitz and glamour that can come with doing so, then texture is a great option.
You're not adding a lot of bright or harsh colors but you are still creating exciting visuals without breaking tradition or losing that classic look.
The small addition of natural autumnal-colored flowers keeps in theme and adds yet another entrancing element to the cake. 
This would be perfect for a fall wedding, you could even spice things up with an unusual and seasonal surprise flavor inside. 
Who would ever have known that two layers of cakes, a bit of fruit, and a few green leaves could look so beautiful? Picture this cake taking pride and place on the table at a countryside or farm-style wedding.
The rustic and beautiful design would fit so well. It's simple and elegant but that pop of color makes it stand out from the crowd.
So if flowers aren't really your vibe, you should definitely consider swapping them out for fruit instead. 
As a catmom myself, I gasped when I first saw this simple wedding cake. The cake is so simple with a slight hint of texture and just a touch of color.
But it's the personal detail of the bride and groom's pet cat playing with the shrubbery below that sets it apart from any other wedding cake I've seen. 
It's such a small detail but it makes the cake theirs. If you are opting for a simple wedding cake, I think the idea of adding a small nod to something personal between you and your fiance is such a lovely idea.
This is your day, it's your cake, why not have something that represents you on your wedding cake? 
There's no law that says you have to follow tradition if you don't want to, and who said that all wedding cakes had to be fancily covered in fondant(see also: The Best Cake Options For A Wedding Cake With Fondant)? On the day where you bare your soul to your other half, why not opt for a bare cake? 
This naked cake is simple but looks so elegant, and super scrumptious.
The thick and decadant layers of white frosting contrasted with those delicious chocolate cake layers is such a bold design that is yet so simplistic.
And of course, once you add the splash of color from the fruit you hae the perfect showstopper. 
Want something that is so simple to do that will blow your guests mind and make a real statement? Then why not offer up multiple wedding cakes instead of opting for a tiered cake? 
And let's face it, we've all been to a wedding cake testing session and loved every single flavor.
So why not take a bite out of all those delicious samples and then let your guests do the exact same.
More flavors means less stress over choosing between your options and it also means more cake. And that could never be a bad thing! 
If you're having a winter wedding then I couldn't think of a better choice than this one.
Semi-naked cakes just have this beautiful elegance to them which will forever keep me in love with them.
But the white frosting on this cake mimics the image of snow amazingly, and what could be more on theme for a winter wedding than snow? 
Minimalist decorations can then be added to cake that stick on the theme of winter.
The seasonal fruits are a lovely simple touch and the greenery with the stunning red colors gives you a perfect winter color scheme. 
You could even add some mistletoe to the top of the cake. Remember to kiss underneath it when it comes time to cut the cake! 
If you'e big day comes in the summer, then why not add some sommery vibes to your wedding cake.
Frost a delicious and scrumptious carrot cake with a mouth watering cream cheese frosting. 
And then adorn your cake with roses for that summer garden feel. And don't forget the ranunculus to place along the edge of each tier. 
Blush wedding dresses are on the rise as many brides want to add a subtle hint of color to add some extra beauty.
The exact same can be done with your wedding cake.
This cakes colors and flavors compliment each other so well in a way that is downright gorgeous and sophisticated. 
The cake itself is a champagne vanilla and sparking rose flavor which is paired with a champagne vanilla buttercream.
This is such a perfect flavor pairing and the blush color of the semi-naked cake just further screams decadence. 
The subtle addition of flowers underneath the cake also adds a little more in terms of visual elements, and though the cake is very simple, it is so undeniably elegant. 
Honorable Mentions
This simple and elegant cake holds a secret on the inside. While it may appear to be a very traditional white wedding cake, there is nothing traditional about the cake flavor.
This cake itself is banana flavored, but the sky is the limit. You could add any unexpected flavor that your heart desires. 
If you want a very simple wedding cake that doesn't have any bold colors or decorations then gold leaf is a great way to go.
It adds the most subtle hint of color to this completely white semi-naked cake. It gives the wedding cake a sense of glamour without it being too overt. 
If you want a simple wedding cake then you can't get much simpler than a completely white cake. And this neutral semi-naked cake is timeless and elegant.
The addition of the stunning white roses adds a bit of intrigue without deterring from the white theme. 
Final Thoughts
As you can see there are so many different directions you can take with a simple cake.
Just because it's simple by no means that it has to be boring, and a minimalist style can have a true elegance and sophistication that just cannot be recreated with busier cakes. 
The use of color, texture, details, and flavorings can all help to set your cake apart from any others.
You can choose colors that fit your wedding colors or some of the themes throughout your wedding. 
Seasonal colors are flavors are great to play around with. And of course, just because the outside of your cake is simple that doesn't mean that your flavor combinations have to be.
This can be a great way to cohesively mix contemporary and traditional styles together. 
Decorations can also massively impact the design of your cake, would you prefer a few flowers or would you prefer to opt for fruit arrangements? You can also opt to add texture to your cake as opposed to additional decorations.
And then there is always the option to add a small detail that represents your relationship with your finance. 
Whichever direction you do decide to take with your wedding cake, I am sure it will be as stunning, beautiful, and unique as both you and your partner are.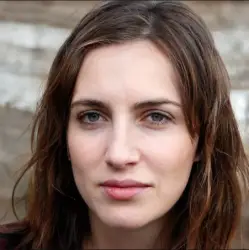 Latest posts by Anna Ingham
(see all)